Injuries throw Blue Jays' rotation for a loop
Happ has inflammation in elbow; team expected to promote from within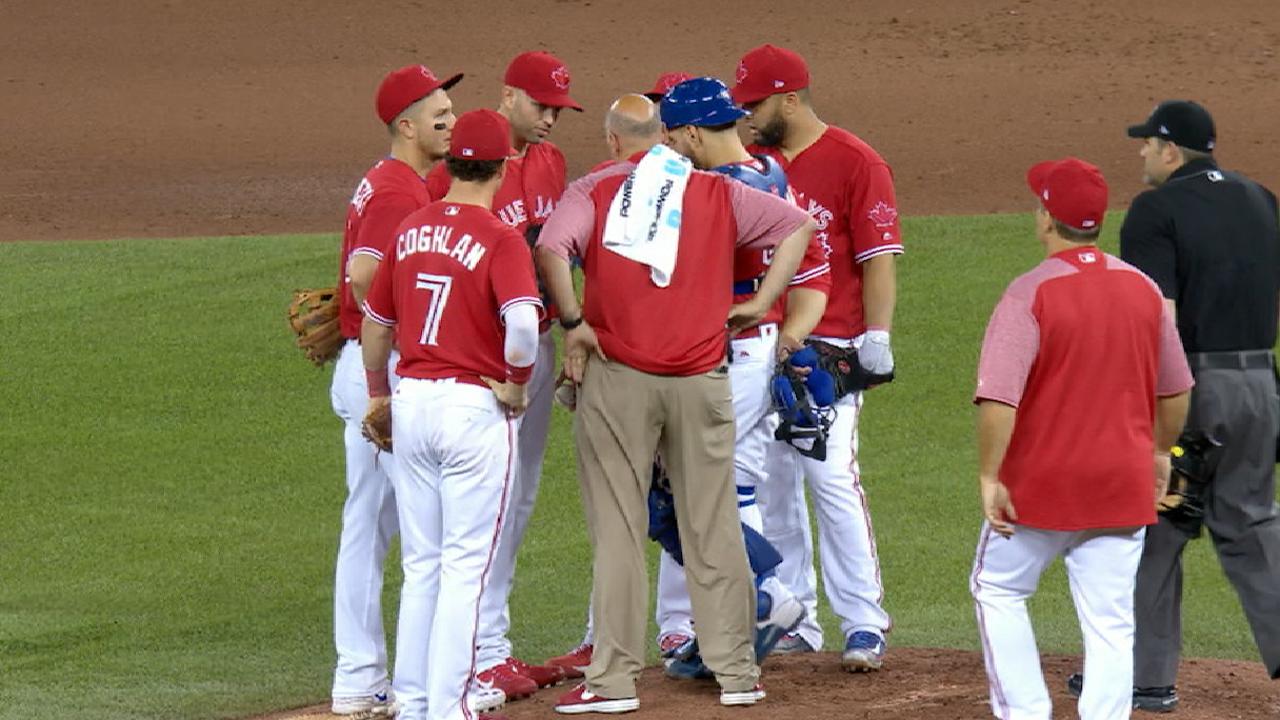 TORONTO -- On Josh Donaldson's umbrella day, it was a seemingly endless flow of injury news that kept raining down at Rogers Centre Sunday afternoon.
First it was Aaron Sanchez, who hit the 10-day disabled list because of a blister on his right hand. Then it was lefty J.A. Happ, who could be headed for a similar fate after he left Sunday's 11-4 loss in the fifth inning because of soreness in his left elbow.
Add in Josh Donaldson being placed on the DL earlier this week, and the scene becomes even more surreal. All three players were expected to be major contributors this season and the hope is that will still be the case, but before that can happen the Blue Jays will have to find a way to survive without them.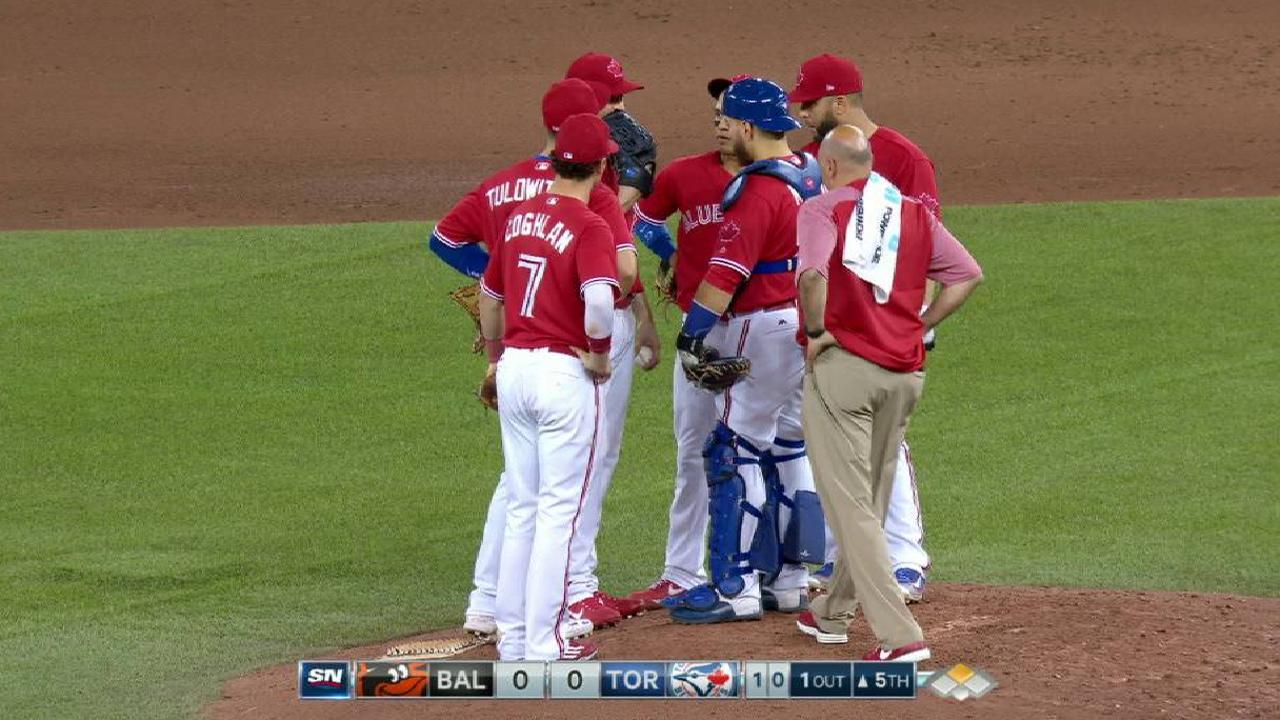 "It's part of it," Blue Jays manager John Gibbons said. "There's no question we were pretty fortunate the last couple of years with the injury bug. That stayed away pretty good ... Really, somebody goes down, it means an opportunity and hopefully you have a guy who can do it. Just roll with the punches, the pain, whatever you want to call it."
Happ became the latest victim when he felt something during his final pitch of the fourth inning. He returned in the fifth, but after throwing an awkward looking fastball to Adam Jones it became clear something was seriously wrong. Blue Jays catcher Russell Martin went to the mound and was quickly joined by the club's medical staff, who removed Happ from the game.
The 33-year-old was scheduled to undergo an MRI on Monday. Based on that exam, the injury "is not believed to be serious," MLB.com's Jon Paul Morosi reported on Tuesday, though it is likely that Happ is headed to the 10-day disabled list after being diagnosed with elbow inflammation.
Happ is coming off a year in which he tossed a career high 195 innings, and while he's dealt with some minor shoulder issues over the years, this is the first time since his early days in Philadelphia that there has been any concern about the elbow.
"The last pitch of the fourth inning I felt kind of a pull, a tug, in my elbow," Happ said. "I went back out there for the fifth and it just kind of got progressively worse. I tried my last pitch, a fastball, and it just grabbed on me enough. Kind of involuntary type of reaction. We're going to find out what's going on in there and then make a decision from there."
With Sanchez also down, the Blue Jays will have to promote a couple of starters from the Minor Leagues by the end of the week. Casey Lawrence, Mat Latos and T.J. House are the prime candidates. Toronto was very fortunate during each of the last two years to not have any of its starters go down for an extended period of time.
That luck might have run out for a team that dropped to 2-10 following the latest loss to Baltimore.
"It just seems like whatever potential momentum we have throughout a game, we're just unable to kind of seize it right now," Happ said on Sunday. "With Sanchy and myself, hopefully we get good news. Hopefully Sanchy is back quick and hopefully once we hear back tomorrow, hopefully the same for me."
Gregor Chisholm has covered the Blue Jays for MLB.com since 2011. Follow him on Twitter @gregorMLB and Facebook, and listen to his podcast. This story was not subject to the approval of Major League Baseball or its clubs.