Adrianza set for first extended spring game
Infielder on DL with oblique strain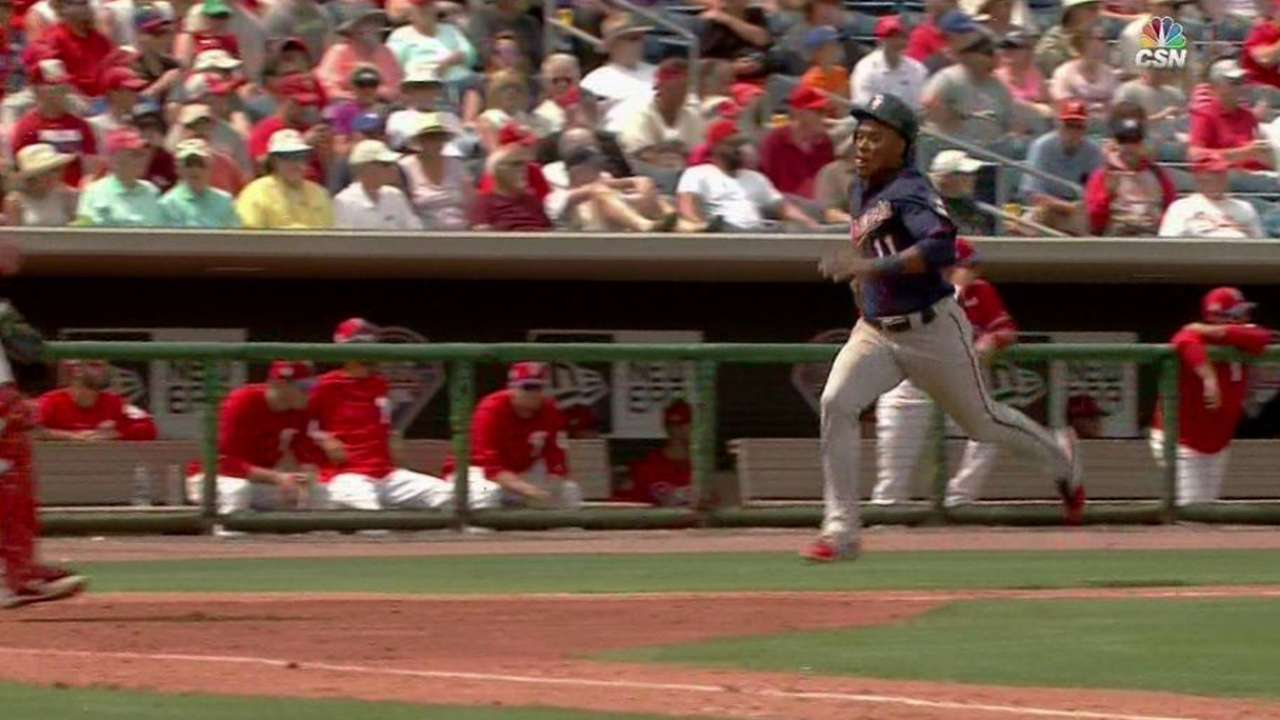 MINNEAPOLIS -- Twins infielder Ehire Adrianza, who has been on the 10-day disabled list with a right-oblique strain since March 30, is set to play in his first extended spring training game on Monday.
Adrianza suffered the injury on a swing during Spring Training on March 25, and he has been rehabbing at the club's complex in Fort Myers, Fla. But he's progressed enough to play in a game Monday, and he is expected to go on a rehab assignment later this week.
"Yesterday was a little bit of a back-off day for him with some conditioning and field work," Twins manager Paul Molitor said. "He's scheduled to play three or four innings tomorrow, and we'll get a couple at-bats in an extended game."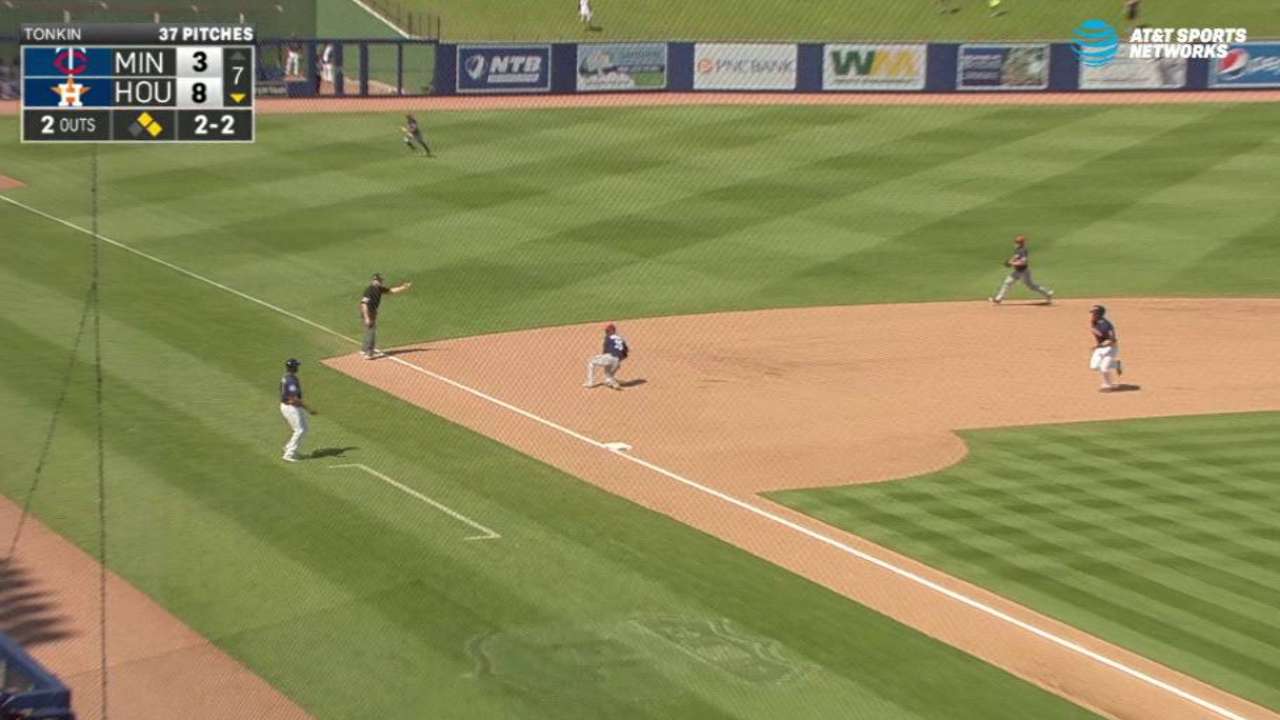 The Twins will have an interesting decision to make when Adrianza is healthy, as he's out of Minor League options. The Twins already have backup infielders Eduardo Escobar and Danny Santana on the 25-man roster, and they're both out of options as well. Escobar is off to a strong start offensively, while Santana offers value because of his versatility, as he can play center field, unlike Escobar and Adrianza.
Adrianza is a career .220/.292/.313 hitter, better known for his defense at shortstop in four years with the Giants. He could be a candidate to be designated for assignment once healthy. He'd have to pass through waivers to remain with Minnesota in that scenario.
Adrianza was designated for assignment by both the Giants and Brewers in the offseason, getting claimed by the Twins on Feb. 6.
The Twins have a short bench, carrying a 13-man pitching staff, but if they're going to drop a pitcher in favor of a position player, it's more likely they'd go with a power bat such as Kennys Vargas or ByungHo Park than a third utility infielder. However, Park isn't on the 40-man roster and is currently on the Minor League disabled list with a hamstring strain. Molitor also said he doesn't believe going down to 12 pitchers is imminent.
Worth noting
• Second baseman Brian Dozier, who missed Saturday's game with a sore right knee, returned to the lineup as leadoff hitter on Sunday.
• Park will head to Fort Myers as part of his rehab. Twins general manager Thad Levine said Park has a mild hamstring strain, and the hope is Park will be back in 10-14 days.
• Lefty Stephen Gonsalves, the club's No. 2 prospect per MLBPipeline.com, has been slowed by shoulder soreness. He flew to the Twin Cities to have it checked by Twins doctors, but everything came back clean. Gonsalves is throwing from 90 feet as part of his throwing program.
• Closer Glen Perkins (labrum surgery) has been throwing every three days in Fort Myers, but he will head to Minnesota soon to rejoin the team. Right-hander Trevor May (Tommy John surgery) will rejoin the Twins in Texas on April 24 to start his rehab.
Rhett Bollinger has covered the Twins for MLB.com since 2011. Read his blog, Bollinger Beat, follow him on Twitter @RhettBollinger and listen to his podcast. This story was not subject to the approval of Major League Baseball or its clubs.