Prado close to returning to Marlins' lineup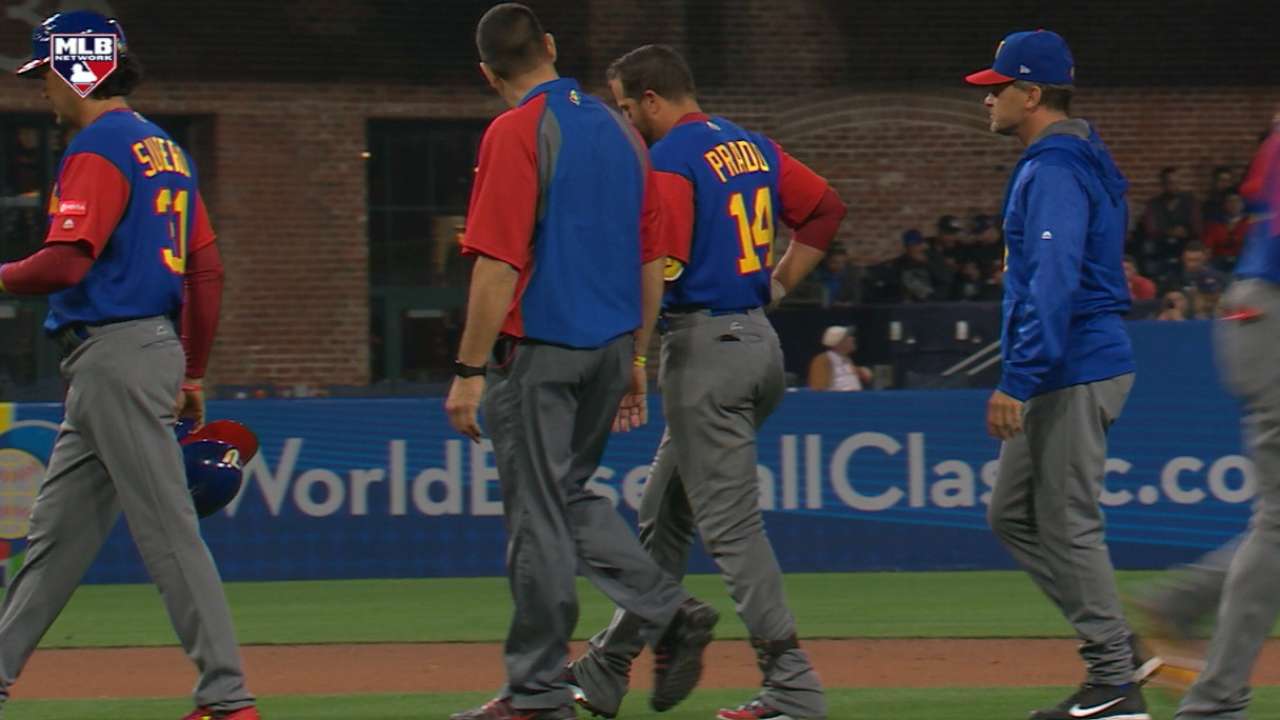 MIAMI -- Marlins third baseman Martin Prado checked off all the boxes during his four-day rehab assignment at Class A Advanced Jupiter. The 33-year-old ran the bases, before and after games, had nine at-bats and played the field.
Given Sunday off, Prado says he is ready to come off the disabled list, and it's now a matter of becoming official. The Marlins are expected to reinstate their veteran leader before facing the Mariners on Monday at Safeco Field.
"We're feeling ready to go," Prado said Sunday. "It's been a fun four days, getting back to my routine, and being able to play defense and offense and not worry about running the bases and stuff. I think I'm as close as I can be to play at this level now."
Prado suffered a Grade 1 right hamstring strain on March 15 while playing for Venezuela in the World Baseball Classic.
Before returning in big league games, Prado tested his hamstring playing in successive rehab assignment games. He started off with the Hammerheads playing five innings on Wednesday and Thursday, before picking up the pace and playing seven innings on Friday and Saturday.
"During those four days, I've been running the bases before the games," Prado said. "I felt like a kid. I wanted to go back, and at least physically, be close to 100 percent. Finally, [Saturday], I felt like it."
Prado went 3-for-9 with three walks and two strikeouts at Jupiter.
Admittedly, it will take a little bit to get his timing at the plate just right. But getting Prado back will be a big addition for the Marlins because he brings so much to the team on and off the field. Last year, he had a slash line of .305/.359/.417 with eight home runs and 75 RBIs.
Derek Dietrich has filled in mostly at third base since Prado has been on the disabled list.
With Prado out, the Marlins have been highly competitive facing the Mets seven times, the Nationals three games and the Braves twice.
"I was having a blast just watching these games," Prado said. "It's so fun to watch these guys play. I'm so proud of this group of guys. We've been through a lot of stuff. How they've matured from one year to another, it's fun to see. Hopefully, they keep that attitude.
"They're not worried about the results. They're going out and playing baseball. They're having fun. That's the culture we're trying to build from 2015. We feel everybody is going in the right direction right now."
Joe Frisaro has covered the Marlins for MLB.com since 2002. Follow him on Twitter @JoeFrisaro and listen to his podcast. This story was not subject to the approval of Major League Baseball or its clubs.