Semien's wrist fractured; surgery scheduled
A's shortstop to undergo operation Tuesday; no timetable for return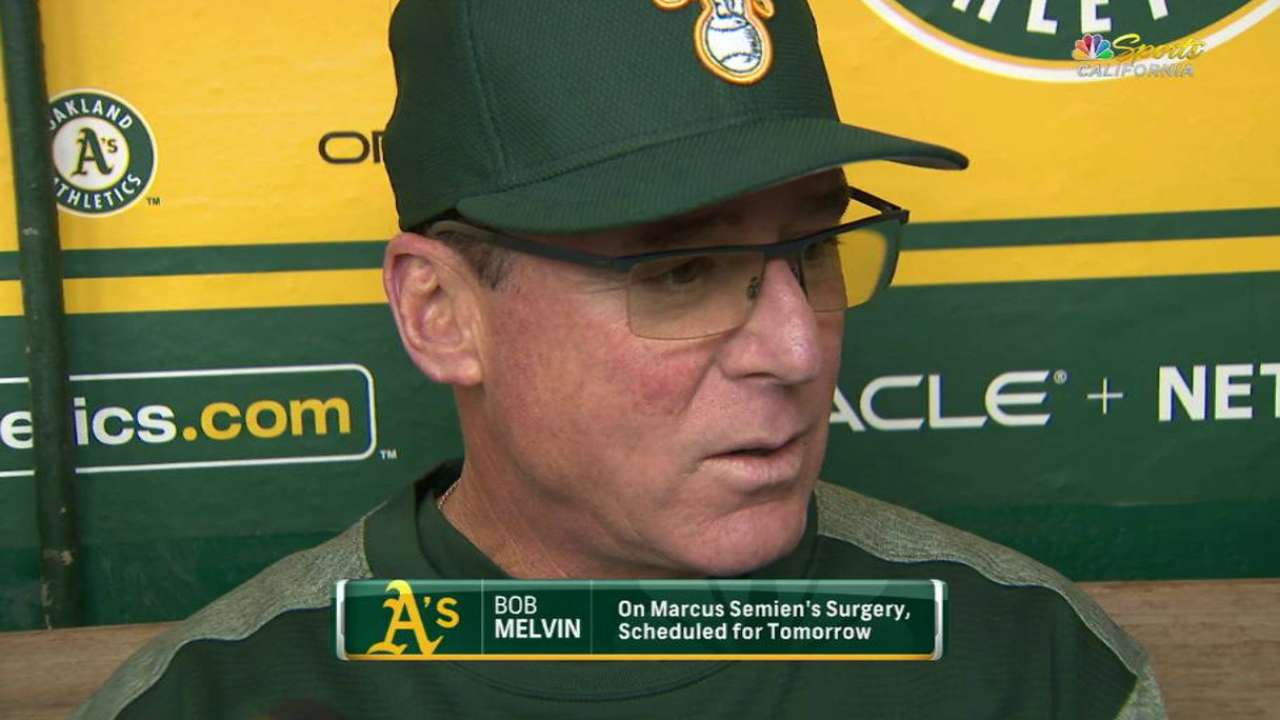 OAKLAND -- The A's will be without shortstop Marcus Semien for several months, announcing Monday that he will undergo right wrist surgery to repair a fracture of the scaphoid bone.
Only after six weeks will Semien be re-evaluated, leaving the A's without an exact timetable for his return. In the meantime, they'll make do at shortstop with utility man Adam Rosales, who will get the brunt of playing time, and Chad Pinder.
"It creates a hole," A's general manager David Forst said. "He's the one guy out there we count on close to 160 days. It's not easy. We know this has been bothering him for a while back in Spring Training. Unfortunately, it's gotten to the point he couldn't play through it. And when you say that about a guy like Marcus, it's significant because he plays through a lot."
Semien was initially placed on the disabled list Sunday after being diagnosed with a bone contusion based on MRI results. But he traveled to Los Angeles on Monday to see Dr. Steve Shin, and a CT scan revealed the fracture. Shin will perform the procedure Tuesday, with plans to place a screw in the broken bone to assist the healing process.
"If anybody was holding out with the potential to keep playing, it's him," A's manager Bob Melvin said. "I've been around very few players that have played in pain and don't say a word about it and just want to be out there to help their team, so obviously it was bothering him some, a little more than it looked like to me too. Tough day on the personal side for him, obviously, but for us as a team, too."
The injury bug, seemingly always attracted to the A's, has hit Oakland early and often this year. Ace Sonny Gray is still rehabbing from a lat strain, and Opening Day starter Kendall Graveman joined him on the disabled list Monday with a strained shoulder.
The A's take pride in their depth, but there's no denying the significance of these losses. Rosales is a serviceable option in place of Semien but lacks the type of offensive production Oakland has come to expect from its shortstop. Semien hit 27 home runs last season, missing just three games for the birth of his son.
Oakland has a power-hitting shortstop waiting in the wings at Triple-A Nashville, but don't expect to see Franklin Barreto, the club's top prospect, anytime soon. Barreto is hitting .310 with two home runs in 11 games for the Sounds.
"He has all of 59 at-bats there," Forst said. "So let's be fair to the kid and let him get the development he needs at Triple-A. When the right time comes, we'll consider it. But that time's not now.
"It's not science, it's an art, knowing when a player is ready. We've had enough guys come through that they'll tell you when they're ready. ... You hope the player forces your hand and says it's time."
Forst said Barreto will continue to see time at both second base and shortstop, despite the news on Semien, because "it's important for his development."
Jane Lee has covered the A's for MLB.com since 2010. This story was not subject to the approval of Major League Baseball or its clubs.