Suzuki improving at catching Dickey's knuckler
Veteran catcher adapting to his first knuckleball pitcher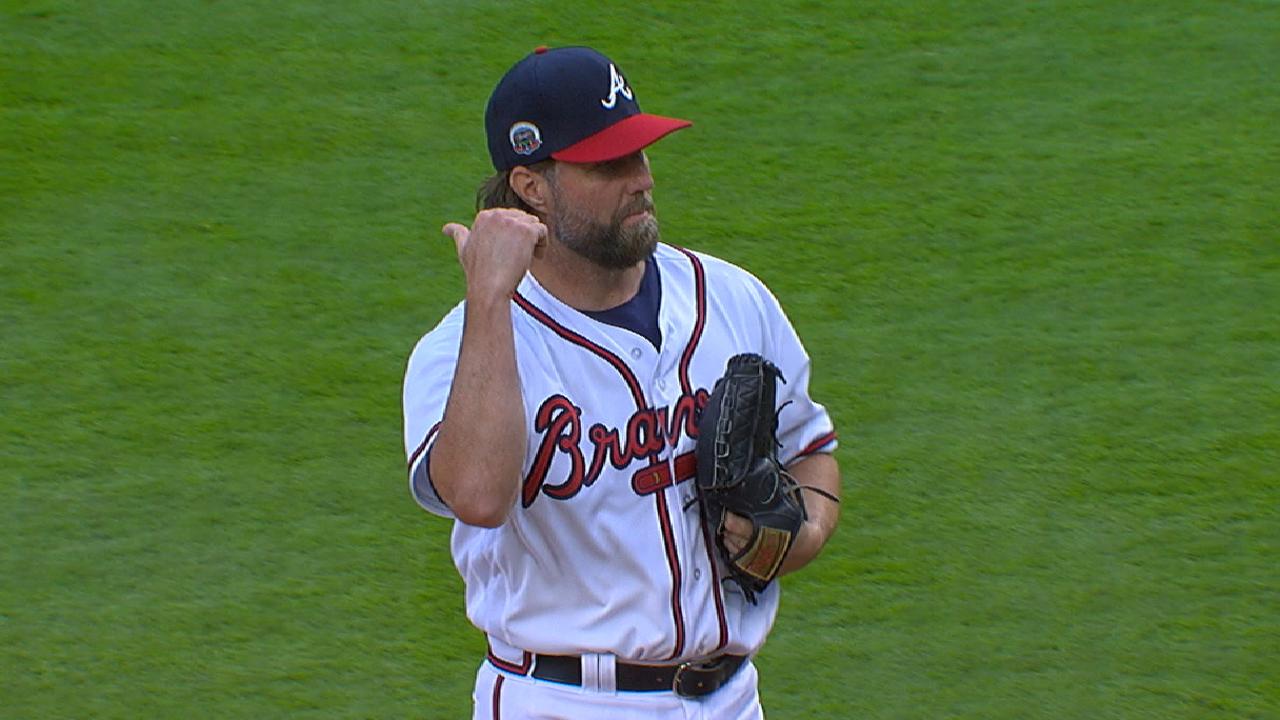 ATLANTA -- As R.A. Dickey divvied out credit after helping the Braves claim a 4-2 win over the Padres on Saturday night at SunTrust Park, the veteran knuckleballer made a point to first compliment his catcher, Kurt Suzuki, who had just experienced a night that was less frustrating than the one he'd had exactly one week earlier.
Dickey has gained an appreciation for the challenge presented to his catchers like Suzuki, who before this season had never caught a knuckleballer.
"It's a freaking knuckleball," Suzuki said. "One day it can be nasty and the next day you're thinking you've got the hang of it, then the next day might put you right back to reality, where you're going. 'Oh, we're right back to square one again.'"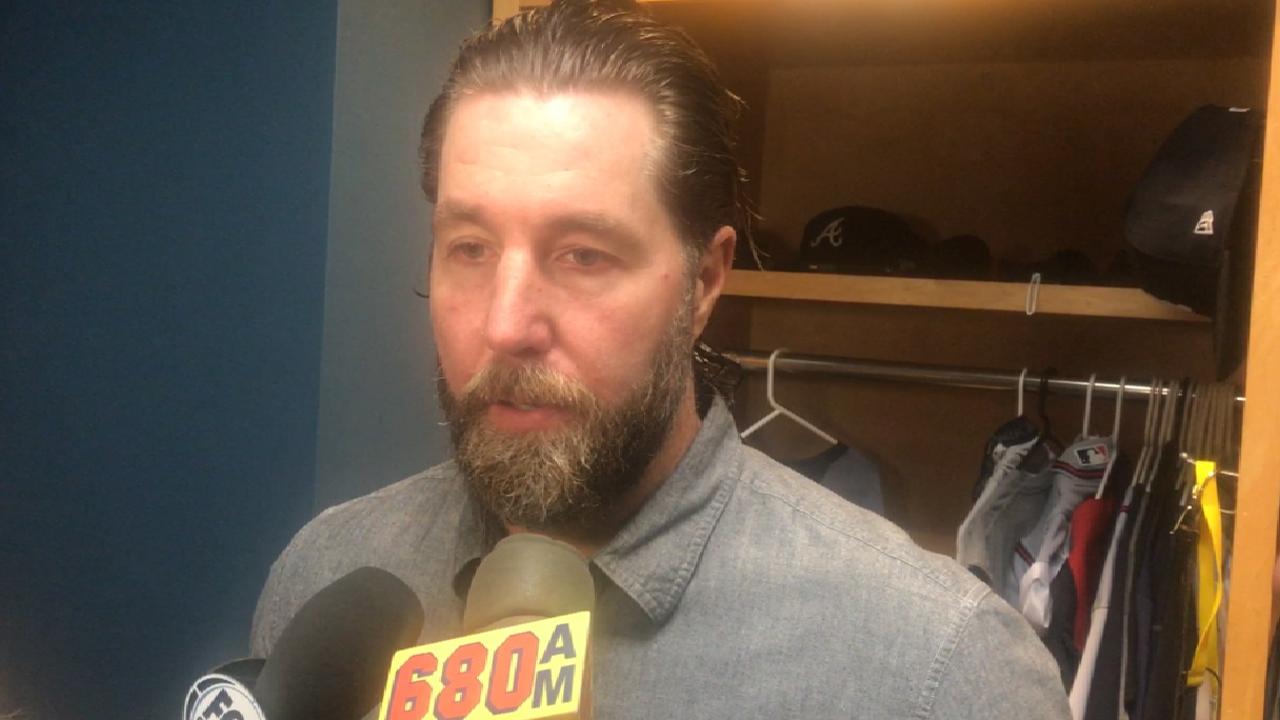 After having his confidence bolstered by the trial runs Spring Training provided, Suzuki was humbled as he chased one wild pitch and was charged with three passed balls in Dickey's season debut, an April 8 loss in Pittsburgh.
When Dickey returned to the mound for his second start Saturday night, he progressed through six solid innings without the blemish of a wild pitch or passed ball. He surrendered back-to-back home runs and hit Padres starter Clayton Richard with a pitch during a two-run second inning, then proceeded to retire eight consecutive batters.
"After the third inning, [Dickey] was like, 'I've got it. What do you think?'" Suzuki said. "I was like, 'You've always got it to me.' That pitch is always nasty to me. The umpire [Dan Iassogna] was laughing a few times. After calling a few strikes, he was like, 'That's unbelievable.'"
Dickey produced a swinging strike with just 8.2 percent of the pitches thrown during his season debut in Pittsburgh, but that percentage rose to 11.2 percent as he faced an aggressive, young Padres lineup Saturday.
After surrendering a solo home run to Padres right fielder Hunter Renfroe on a good knuckleball that was down in the zone, Dickey regrettably opted to mix in a curveball against Austin Hedges, who lined the delivery over the left-field fence.
Dickey will show a fastball and occasionally flash either a curveball or changeup just to keep hitters honest. But Saturday, the knuckleball accounted for 92.1 percent of his pitches, marking his second-highest such percentage since the start of the 2016 season. He threw a knuckleball on 95.3 percent of his pitches against the Astros on Aug. 2.
"There was a lot of weak contact after [the home runs]," Dickey said. "I threw one curveball tonight, and [Renfroe] put that over the fence. I put that one in the back pocket after that."
Mark Bowman has covered the Braves for MLB.com since 2001. This story was not subject to the approval of Major League Baseball or its clubs.