Trio of ex-Cubs excited to receive WS rings
Hammel, Wood and Soler, now with Royals, will be at Wrigley on Monday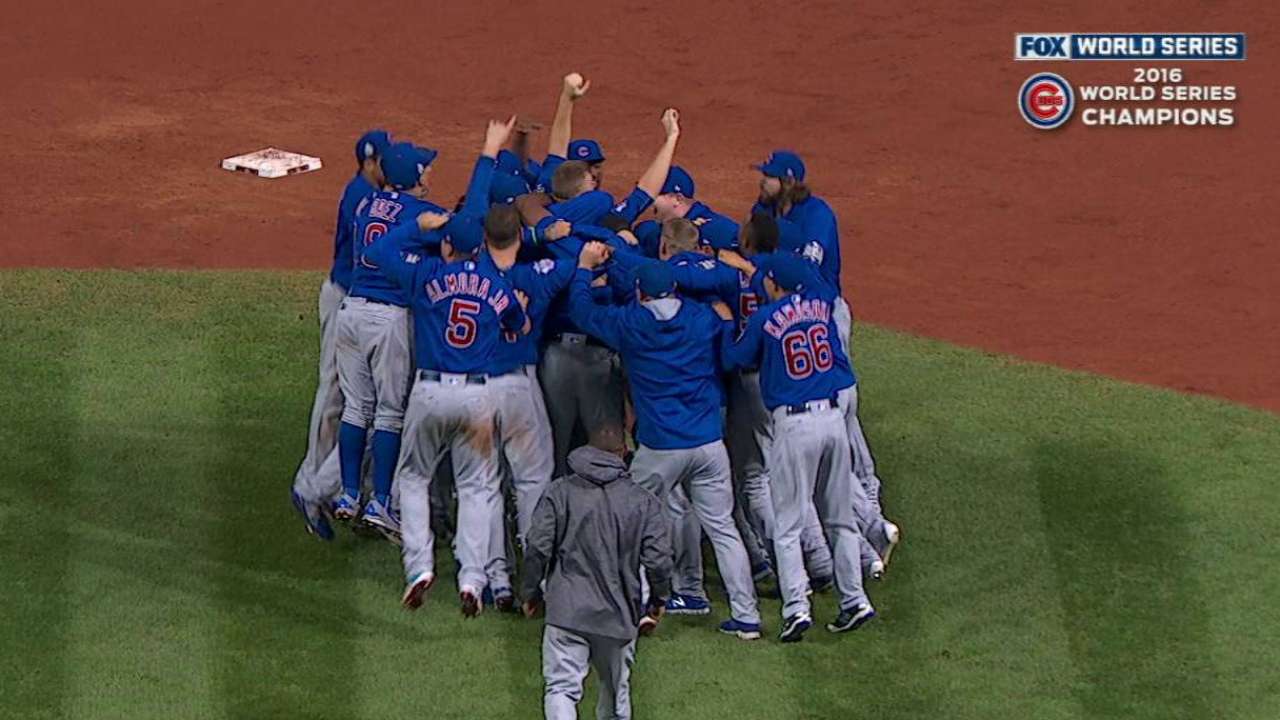 CHICAGO -- For one day, Jason Hammel, Travis Wood and Jorge Soler will feel like Cubs again. The trio, who now all play for the Royals, will be back at Wrigley Field on Monday to receive their World Series championship rings before the Cubs' game against the Brewers.
"It will be a cool feeling because we definitely enjoyed our time there, and the fans were a huge part of it," Hammel said in Kansas City on Saturday. "To do it in front of the [Wrigley] crowd would make it right."
The Cubs players received their rings Wednesday at Wrigley Field.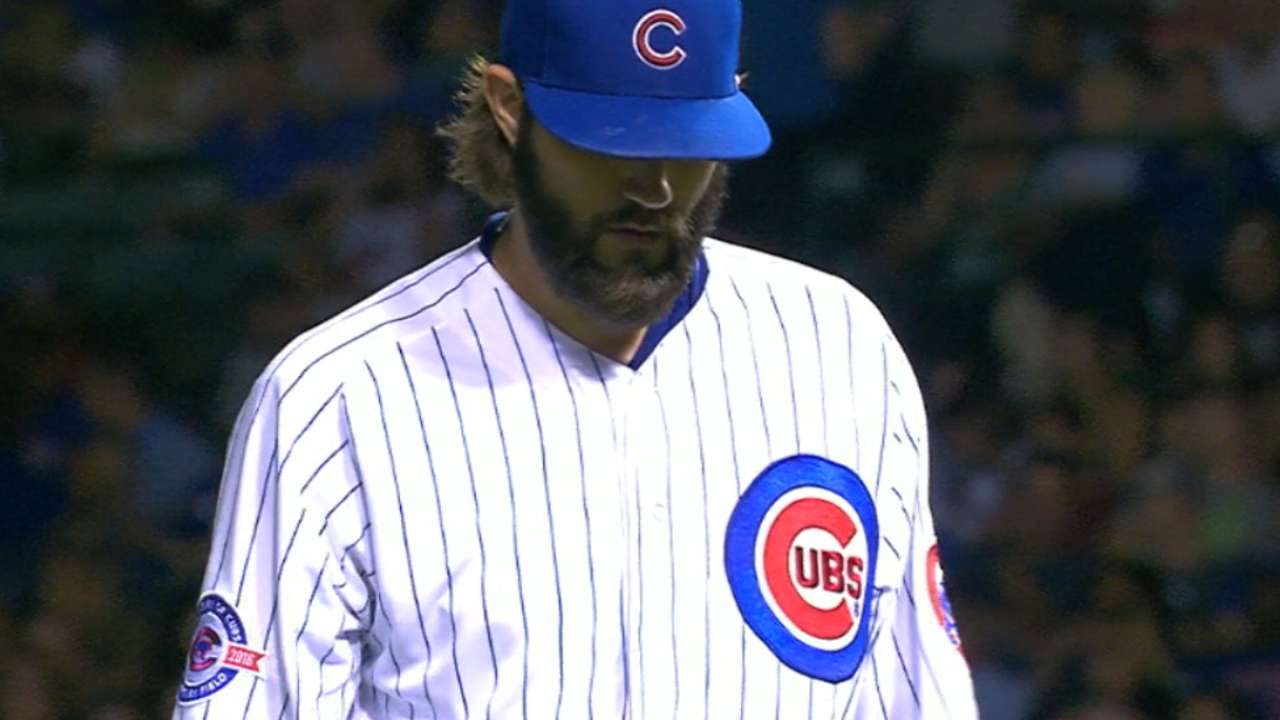 "I think it's awesome the fact that we're doing it, it speaks to the organization to have that kind of foresight to do that," Cubs manager Joe Maddon said Sunday. "We'll be excited to see all those guys."
Hammel went 15-10 with a 3.83 ERA in 30 starts for the Cubs, while Wood posted a 2.95 ERA in 77 games. Soler batted .238 with 12 homers and 31 RBIs. Hammel and Wood signed with the Royals as free agents; Soler was traded to Kansas City for closer Wade Davis.
"That'll be pretty special for them to come back," Cubs reliever Justin Grimm said. "I think they'll get a nice ovation from the fans. They were a huge part in what we did last year. It'll be good to catch up with them. Hopefully the fans give them a nice standing [ovation]."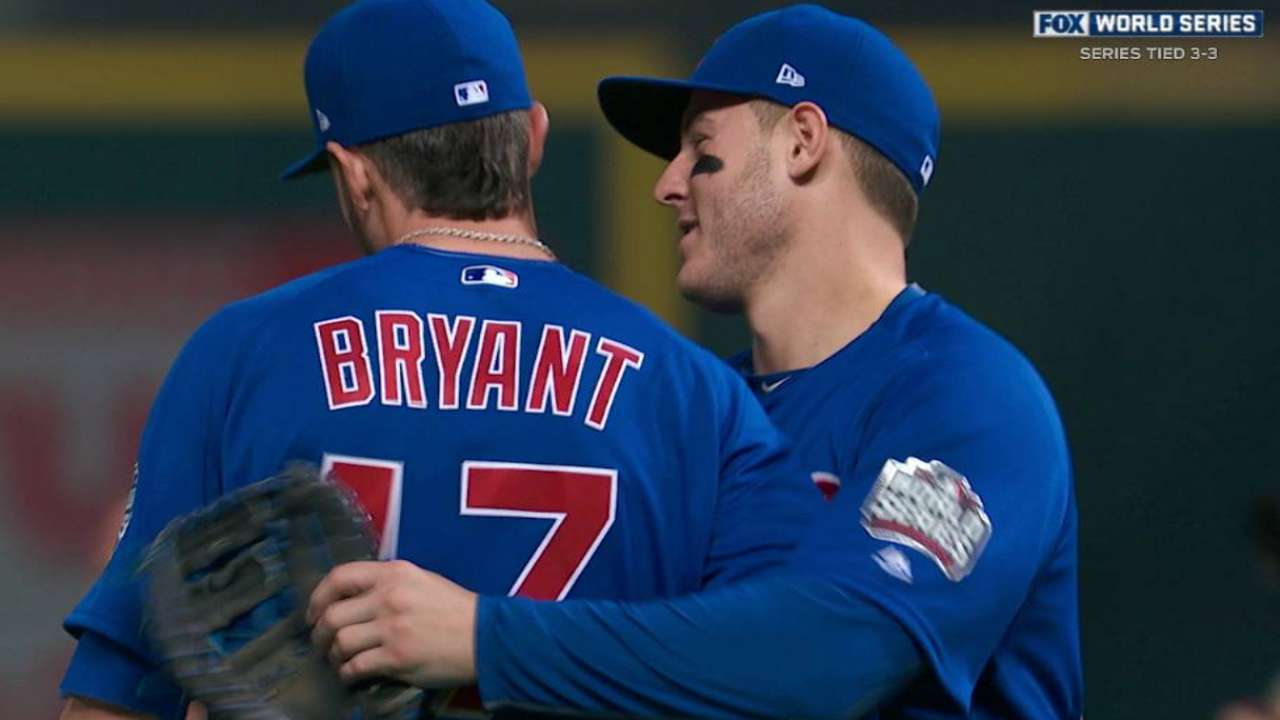 "It will be nice to get it there," Wood said Saturday. "Especially since it took 108 years to get one, so that will be something special that I'll take with me. It will be fun, a good time."
• It seems obvious, but if Addison Russell can reduce the number of strikeouts and increase the number of walks, it will show growth offensively and give the Cubs shortstop's other stats a boost, Maddon said.
"If he's doing that, he'll have some nice numbers overall -- batting average, home runs," Maddon said. "His RBI were pretty good the way it was [last year]. ... I would bet at the end of the year, if you look at walks and strikeouts versus last year, that they are improved in the right direction. You'll see closer to what he's capable of doing."
Last season, Russell finished with 135 strikeouts, 55 walks and batted .238, but did set career highs in home runs (21) and RBIs (95).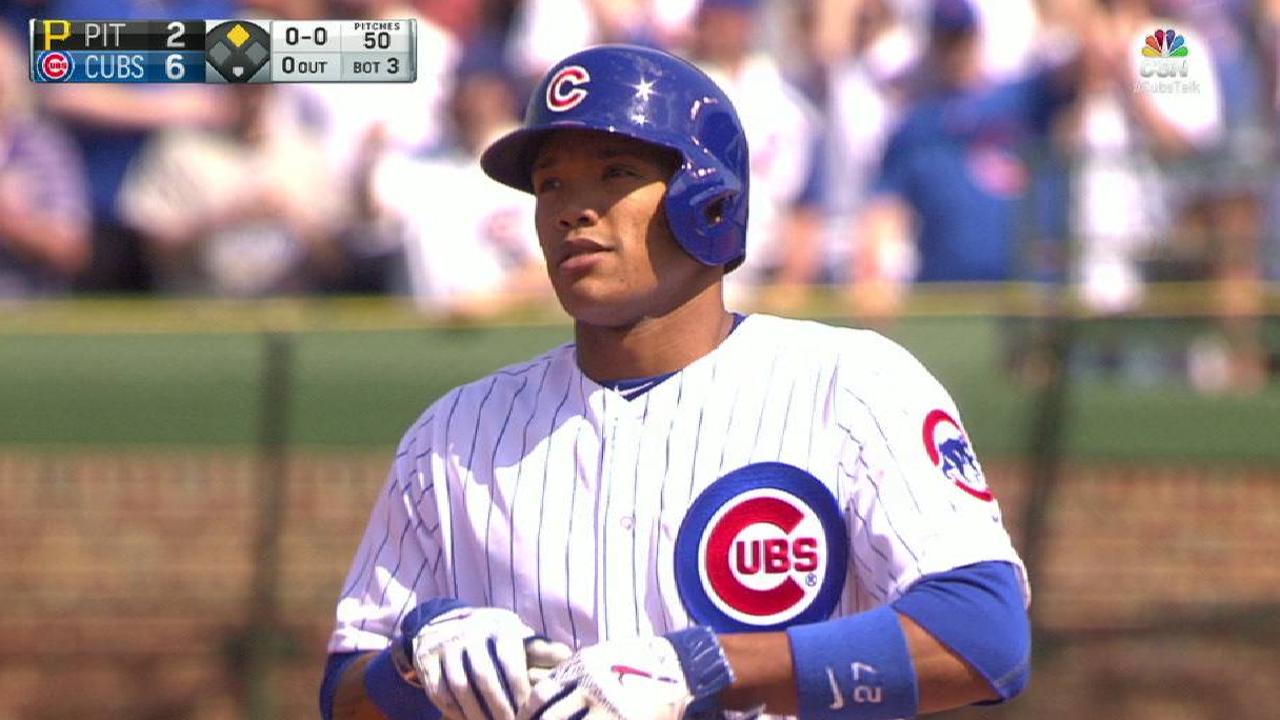 • Kris Bryant has hit four home runs off the video board in left field at Wrigley Field, more than any other player, and when he does that, it gives the Cubs dugout a little jolt of energy.
"That's what plays good on TV at night and it's stuff on [which] legend is built," Maddon said. "He's continuing to create that mythological figure, but it's a run. It counts as one [run]. I thought it was great to see it."
• Strength coach Tim Buss spent Sunday morning hiding Easter eggs in the clubhouse for the players. Maddon spent the morning trying to get his truck because someone had locked the keys in the vehicle. Maddon was able to take advantage of the time to call his mother, who was attending a family get together in Hazleton, Pa.
Carrie Muskat has covered the Cubs since 1987, and for MLB.com since 2001. She writes a blog, Muskat Ramblings. You can follow her on Twitter @CarrieMuskat and listen to her podcast. This story was not subject to the approval of Major League Baseball or its clubs.