Karns fitting in nicely in Royals' rotation
Right-hander turns in another strong outing Saturday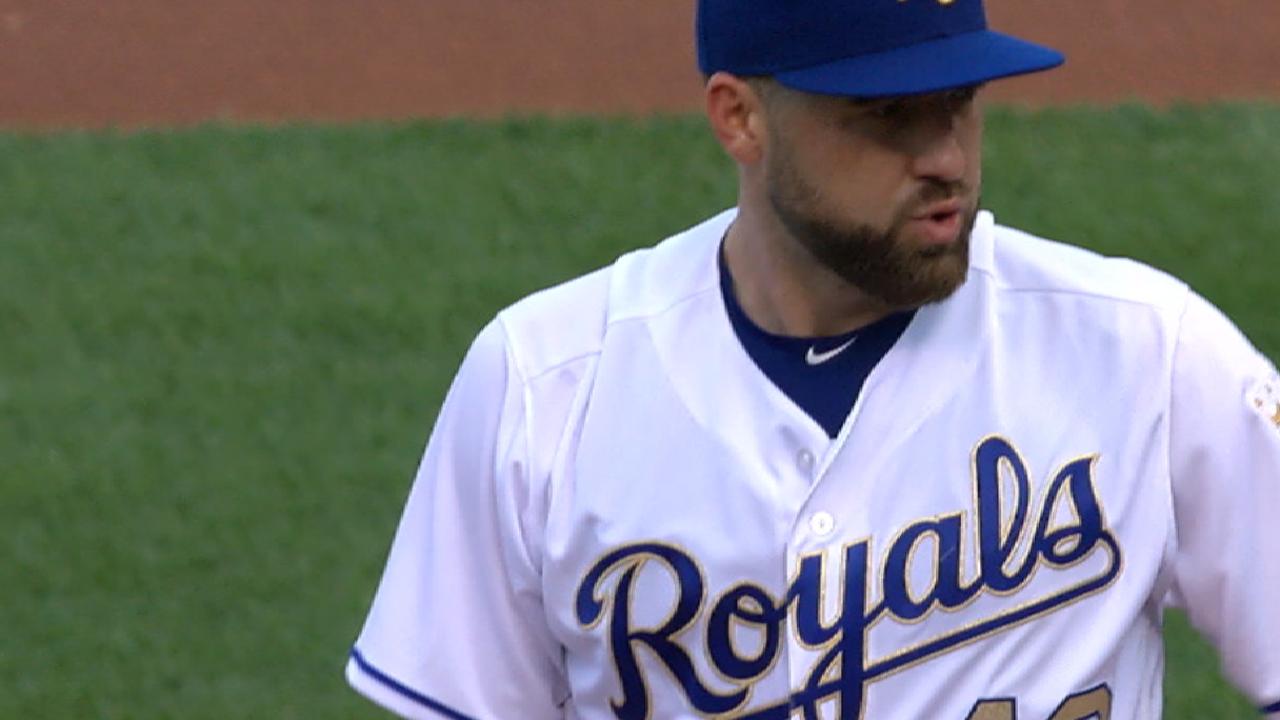 KANSAS CITY -- Nathan Karns is fitting in well as a newcomer to the Royals' starting rotation -- he's throwing strikes, taking advantage of spacious Kauffman Stadium and letting a pristine defense do its work.
Karns followed that formula in Saturday's 3-2 win over the Angels, allowing one run on four hits (all singles) over six innings. He didn't get the win after departing with a 2-1 lead, but Karns can be plenty proud of the 1.54 ERA he has posted for Kansas City in his two starts.
"I relied on my defense a lot today," Karns said. "The guys made a lot of great plays. My job today was to work ahead, challenge the hitters and really rely on that defense. That's going to be a key for me the rest of the season."
Karns had some first-inning challenges. The Angels had runners on second and third for Albert Pujols, who had an RBI groundout. Then, Karns settled in, retiring 16 of 18 through the sixth.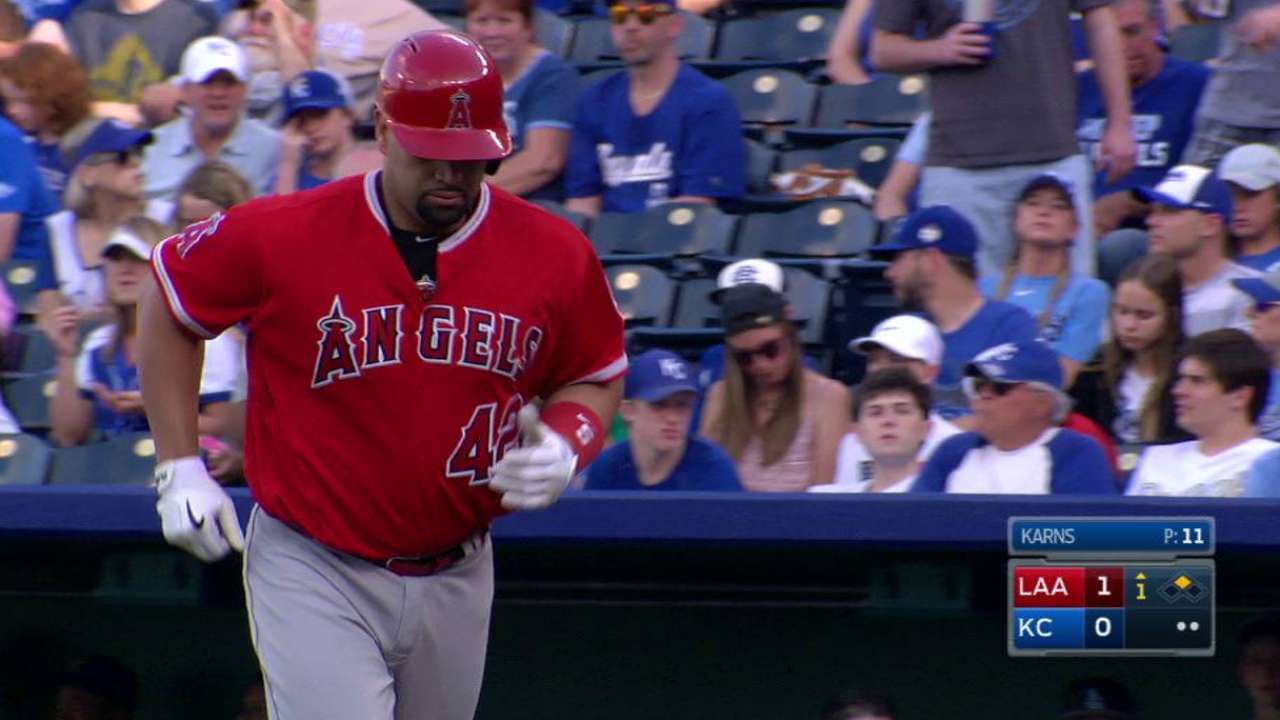 "[Karns] had a really good changeup, and did a great job keeping them off his fastball," manager Ned Yost said.
Acquired from Seattle in the offseason, Karns said he didn't dwell on trying to make a good first impression before the home fans.
"It wasn't really on my mind," Karns said. "I just wanted to go out and give my team the best chance to win. It was definitely nice to have a strong crowd, and I could definitely feel the electricity in the air. After the first inning, I think I was able to really accomplish some things out there."
Karns loaded the bases with two outs in the sixth. Andrelton Simmons hit a liner to left, but Alex Gordon ran it down in the corner and Karns was able to reflect on another positive outing.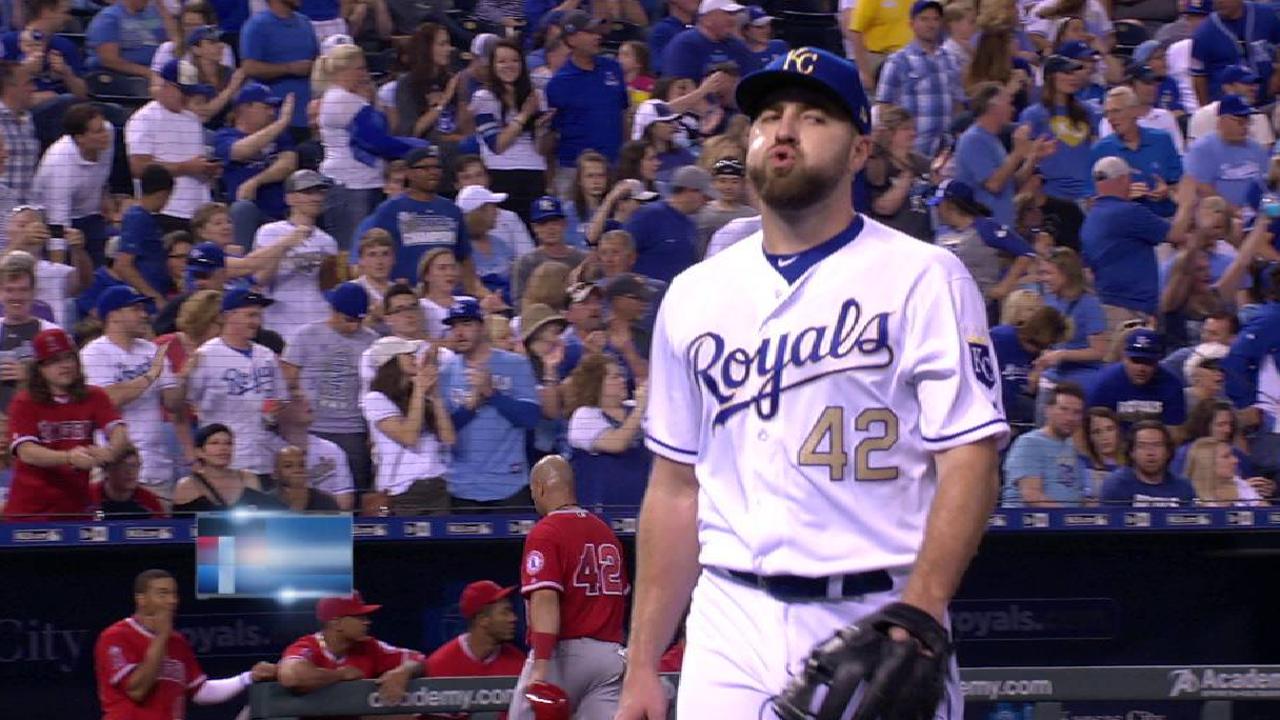 "We're on a good roll," Karns said of a Royals' pitching staff that has allowed just a combined four runs in the last three games. "Our bats are coming around as well. It's exciting to see this team grind out wins."
Robert Falkoff is a contributor to MLB.com. This story was not subject to the approval of Major League Baseball or its clubs.