Hedges' hits coming at a faster clip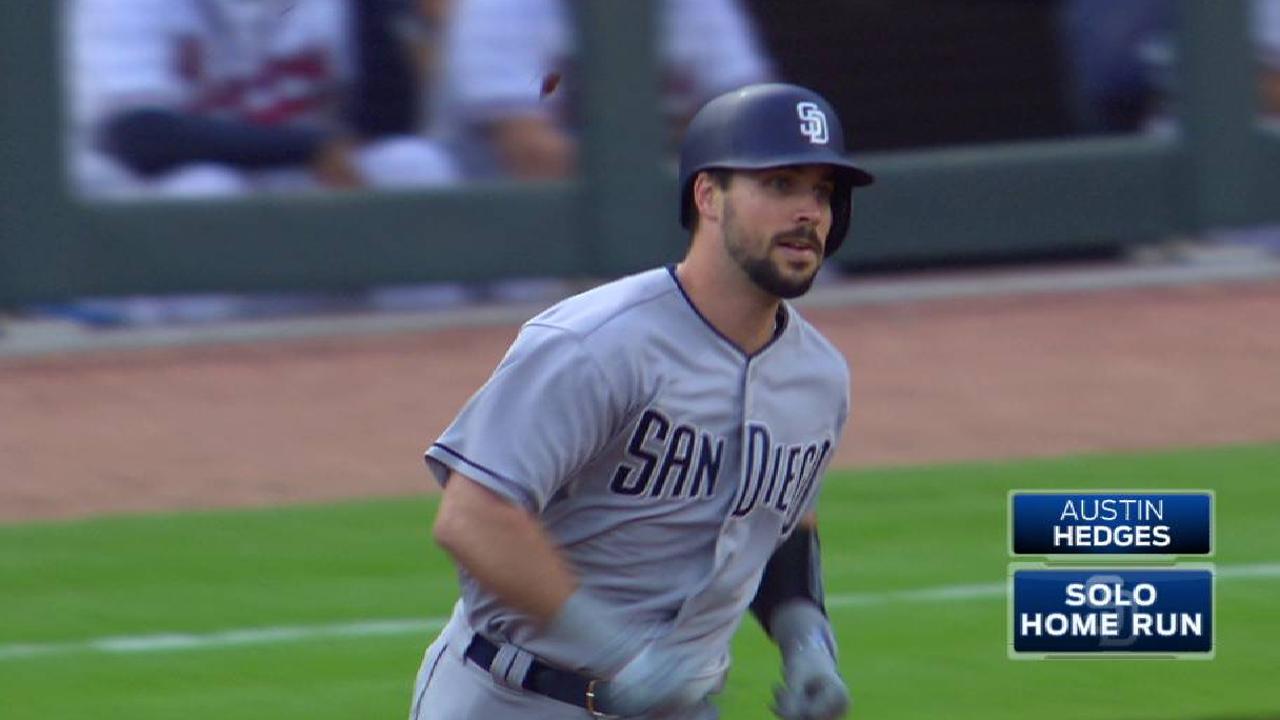 ATLANTA -- It took Austin Hedges 24 at-bats to record his first hit of the 2017 season. Now, it seems, they're coming in bunches.
Hedges went 2-for-4 with a double and a homer in the Padres' 4-2 loss to the Braves on Saturday. He crushed a 1-2 curveball from Braves starter R.A. Dickey into the left-center-field seats for his first homer of the season in the top of the second inning.
"I made a few adjustments yesterday with [hitting coach Alan Zinter] and felt a lot more under control in the box," Hedges said. "Our approach today was to be aggressive, try to pull him. I got a mistake curveball, and put a good swing on it."
Thing is, Hedges has put good swings on quite a few pitches this season. It's only recently that he's been rewarded. During his 0-for-24 stretch, Hedges hit six outs with exit velocities of 100 mph or harder, according to Statcast™.
"It's a part of baseball, you can only control what you can control," Hedges said. "It's good to have a few fall. You just kind of trust the process, because it's a long season ahead of us. But, yeah, it's good to have some results."
Hedges, who took over as the starting backstop this season, will likely never be known primarily for his bat. He's one of the game's premier defensive catchers, and the Padres pitching staff has raved about working with him.
"He's very intelligent," said left-hander Clayton Richard, who allowed four runs over six innings Saturday. "He does his work preparing for games. It's good to have that. We have a good correspondence before the game starts, and understand, going in, what we want to accomplish."
Offensively, however, there are still questions surrounding Hedges -- who received very limited playing time at the Major League level the past two seasons. Hedges batted .161 for the Padres in 2015-16 (in only 161 at-bats). Contrast that with his .326 average at Triple-A El Paso last season, and the Padres would gladly take the middle ground.
Still, Hedges' long-term value to the club comes primarily from his ability behind the plate. And Hedges has always put that aspect first.
"The homer, the double, good swings from him," Padres manager Andy Green said. "I know he wants to come through every time with the bat in his hand. But I know he takes the other side of the game very personally."
AJ Cassavell covers the Padres for MLB.com. Follow him on Twitter @ajcassavell. This story was not subject to the approval of Major League Baseball or its clubs.