Phillips at home playing in backyard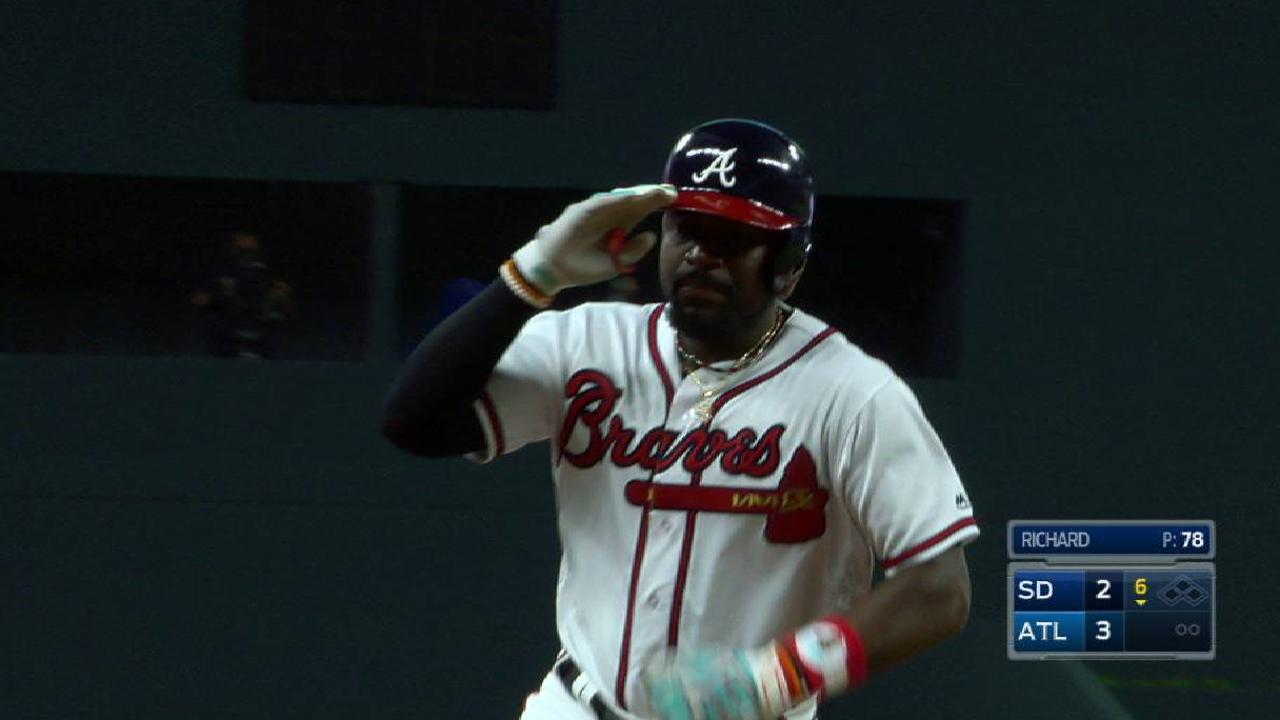 ATLANTA -- Given a chance to play for his hometown team and distance himself from the abrupt conclusion to his long tenure with the Reds, Brandon Phillips has quickly gained comfort with the Braves, who benefited from the second baseman's bat and glove during Saturday night's 4-2 win over the Padres at SunTrust Park.
"The only thing I can do is be myself," Phillips said. "I try not to do too much. I'm not going to lie to you, I've been trying to do too much, especially with runners in scoring position. I want to be the guy who goes around slapping people's hands."
Phillips was slapping hands when he put the Braves ahead for good with a sixth-inning leadoff homer off Padres starter Clayton Richard. After notching his first homer of the season, the 35-year-old veteran celebrated again when the top of the seventh inning ended with him teaming up with Dansby Swanson and Freddie Freeman to complete a run-saving double play.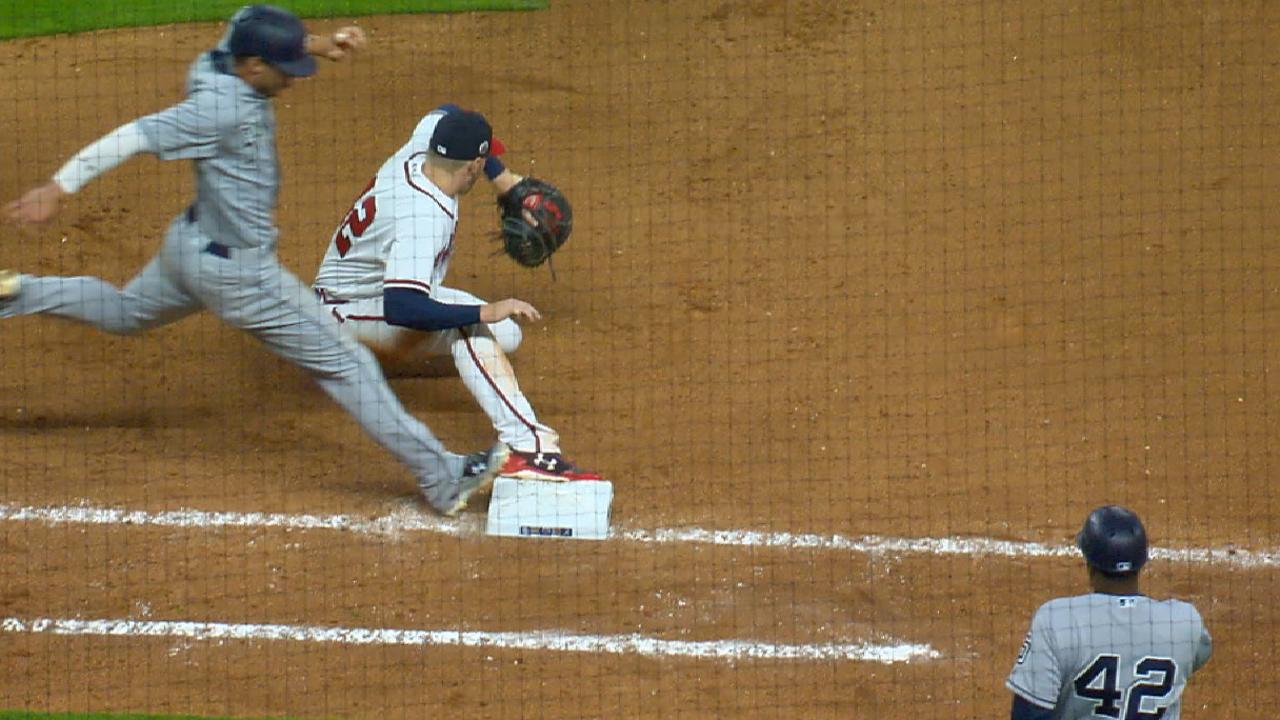 "[Phillips] has fit in from Day 1," Braves manager Brian Snitker said. "He's always smiling, and has a lot of energy. He's a good player. We're lucky to have him. You saw tonight what he's capable of. He's a dangerous, dangerous bat. It was good for him to put us on top."
When the Braves learned Sean Rodriguez would undergo what was likely season-ending shoulder surgery in February, they acquired Phillips by sending two Minor Leaguers to the Reds, who were willing to pay all but $1 million of the second baseman's salary.
Instead of dwelling on how his 11-season tenure in Cincinnati concluded, Phillips has savored the opportunity to play for the hometown team he followed while growing up in suburban Atlanta. He hasn't been happy with the fact he has just one hit in his first 11 at-bats with runners in scoring position. But through 10 games, there's no reason to be disappointed with the .805 OPS he's produced or the guidance he has provided Swanson, who is progressing through the early stages of his second full professional season.
"Bransby is where it's at," Phillips said, combining the two names. "You've got to come to the field to see what we do. We're making highlights."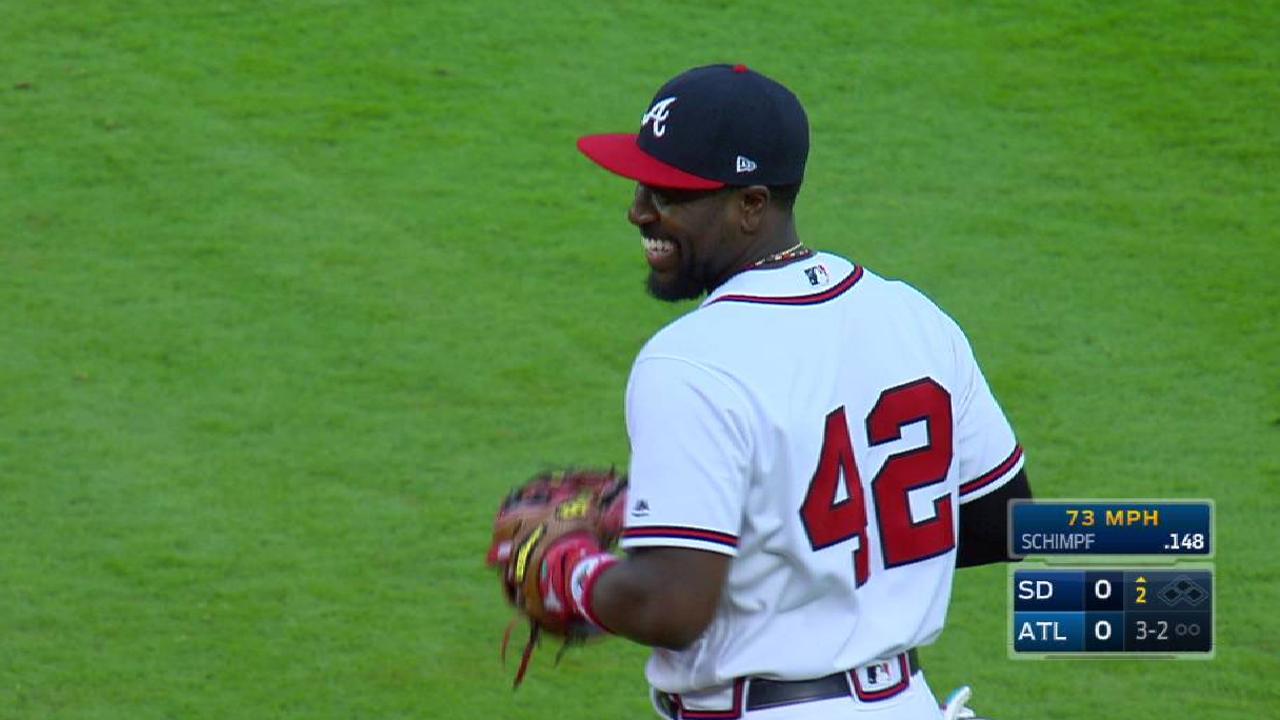 Phillips delivered the decisive blow with his sixth-inning home run, which had a 107 mph exit velocity -- matching the top exit velo for any of the home runs he hit within the Statcast™ era, either of the past two seasons. But it was the nifty double play that may have secured a third straight victory that moved the Braves to 4-6.
In the seventh with runners at the corners and the Braves holding a two-run lead, Atlanta reliever Jose Ramirez induced a Wil Myers' grounder that Swanson grabbed in front of second base before flipping to Phillips, who barehanded the double play relay before bouncing a throw that Freeman picked just before Myers reached the bag.
"We're having fun," Phillips said. "The [double play] we turned today was very beautiful, and Freddie made a nice pick. That was like a game-changer. So, I'm glad Freddie made us look good."
Mark Bowman has covered the Braves for MLB.com since 2001. This story was not subject to the approval of Major League Baseball or its clubs.