MLB.com Columnist
Terence Moore
SunTrust a fitting new home for Braves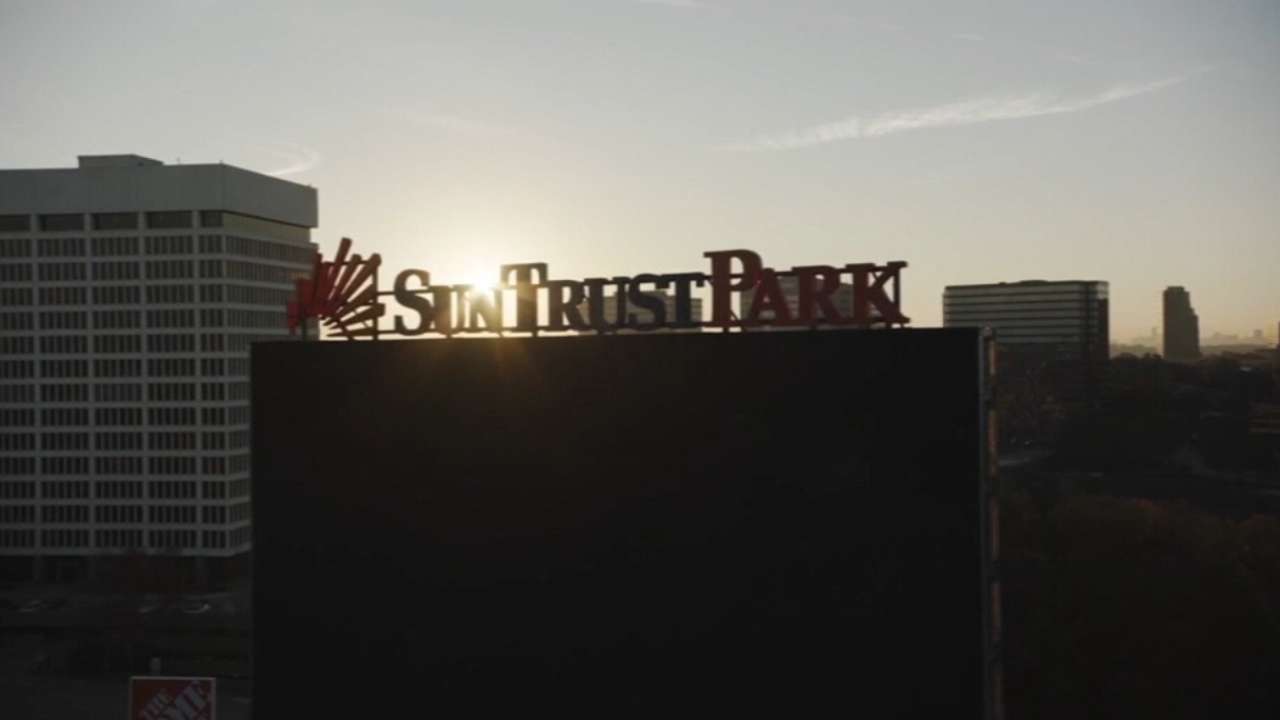 ATLANTA -- There isn't a bad seat in the house. I know, because I nearly sat in all of them at SunTrust Park on Friday night after the Braves opened their own little city with a baseball diamond in the middle of it.
During what turned into a 5-2 victory for the Braves over the Padres, I visited every section in SunTrust along the way to this conclusion: Nobody around here will miss Turner Field. As for Atlanta-Fulton County Stadium, the other home for the Braves during their stay in Georgia, I'm still laughing, because the best things about those ballparks wouldn't top the worst things about this one. (I never saw the worst things about SunTrust Park.)
Even the fretting was unwarranted by me and others over what we thought would be the mother of all traffic nightmares since SunTrust sits near one of the most congested parts of a metropolitan area known for clogged highways.
Along with the fact that SunTrust is seven miles from my front door, here are other reasons this place rocks:
• The food choices are plentiful and tasty.
• A bunch of SunTrust things smack of the 22nd century, ranging from advanced Wi-Fi service for fans, to bright yet not blinding lights, to a sound system that would make most concert venues jealous.
• No way grass can grow greener than this.
• What a wonderfully quirky outfield wall that is eight feet and four inches high in left before rising to 8-feet-8 the rest of the way. Well, that's true until you reach that 16-foot-high brick wall, which begins with the right-field power alley.
• Oh, and there's the view.
"See those office buildings next to the ballpark?" Braves president John Schuerholz said, beaming, pointing toward spots of the skyline beyond the outfield bleachers as we stood near the home dugout. "It gives you the feel that we're right in the middle of a neighborhood, just like Wrigley Field. People can stay at that hotel. They can sit [outside on the patio area], have lunch and watch the game from there."
Braves officials impressively incorporated their history in Boston, Milwaukee and Atlanta throughout the ballpark in unique ways. For instance, you can watch video of Hall of Famer Greg Maddux fooling hitters with his Picasso-like precision. Or you can see the glove that Johnny Sain used to pitch during the 1948 World Series. Dozens of fans on Friday were snapping pictures of a champagne bottle from when the Braves won their last World Series championship in 1995.
"The Hank Aaron statue is maybe the best baseball statue I've ever seen," Commissioner Rob Manfred said of the bigger-than-life tribute to Aaron inside of SunTrust that showcases the moment he hit home run No. 715 in April 1974 to pass Babe Ruth on the all-time list.
As Manfred glanced around his surroundings with eyes as wide as fans, he called the ballpark "the future for baseball." For verification, there is the recent and the distant past for our national pastime in this area. I keep remembering those other two ballparks for the Braves after they moved here from Milwaukee in 1966. As someone who has lived in the Atlanta area for 32 years, Atlanta-Fulton County Stadium and Turner Field had their plusses, but their minuses were plentiful.
Atlanta-Fulton County Stadium didn't age well, since it was built in a hurry for the arrival of baseball and football. Until Ed Mangan became heads groundskeeper during the early 1990s, only the lunar surface rivaled that of Atlanta-Fulton County Stadium for craters. The Braves preserved the spot where No. 715 landed, but that was about it for distinguishing features in the ballpark.
I'll let Hall of Fame pitcher John Smoltz, who started his career playing in Atlanta-Fulton County Stadium take it from here.
"I learned to appreciate going there and realizing that was one of the last double-decked, symmetrical stadiums," Smoltz said. "I grew up [in Detroit] as a Tiger Stadium fan, and then seeing Cincinnati, Three Rivers [Stadium in Pittsburgh], those types of enclosed and circular stadiums, they were kind of the same model. But when I realized how quickly the ball flew out of there, I wasn't a fan per se of Atlanta-Fulton County Stadium as a pitcher. I was a fly-ball pitcher, and I gave up a lot of home runs early in my career."
All you need to know about Atlanta-Fulton County Stadium is that it was called "The Launching Pad." I spoke with former Braves star Chipper Jones, who got the last hit at Atlanta-Fulton County Stadium and the first at Turner Field when it opened in 1997. He told me the reason Atlanta-Fulton County Stadium was a delight for power hitters in particular went beyond what was commonly said for decades -- you know, that the ballpark was higher above sea level than any of its Major League counterparts until Coors Field came around in Colorado.
"The tunnel inside of Atlanta-Fulton County Stadium was a wind tunnel during games, and it became a vacuum for balls," Jones said, solving one of life's greatest mysteries.
Since though Turner Field was across the street from the site of the demolished Atlanta-Fulton County Stadium, both places would have a very similar altitude. So you also would think both places would have the same affect on batted balls, but that wasn't case. Turner was pitcher friendly enough for Maddux and Tom Glavine to join Smoltz in a collective sprint toward Cooperstown.
"You have to remember that those Braves teams were built around pitching and defense, and Turner Field helped that cause," Jones said. "We were able to make due as hitters, but it wasn't for us."
Smoltz disagreed with Jones, saying, "I wouldn't call it a pitcher's ballpark. It was fair. As a hitter, you could get it out. If you executed as a pitcher, you benefited. ... Turner was my favorite, because it was pleasing to the eyes. It was a great place to call home."
The problem was that Turner Field only became the Braves' home after the 1996 Olympics came and went, and the structure was renovated. It topped Atlanta-Fulton County Stadium in terms of beauty, with a view of downtown Atlanta from different parts of the ballpark and with a field that more closely resembled something from earth. It's just that you always had in the back of your mind that Turner was christened by the opening and closing ceremonies of the Olympics, with shotputting and hurdling in between.
Now the Braves have a slogan for fans and players: "Welcome home to SunTrust Park." It's the overall feeling of joy that separates the latest ballpark for the Braves from Atlanta-Fulton County Stadium, Turner Field and many others.
"This place just gives off a great vibe," Braves shortstop Dansby Swanson said. "It doesn't feel like the fans are right on top of you, but they're still up close and personal."
Trust me. I know.
Terence Moore is a columnist for MLB.com. This story was not subject to the approval of Major League Baseball or its clubs.