Dodgers unveil Robinson statue at stadium
Depiction of Jackie weighs 800 pounds and is in left field reserve plaza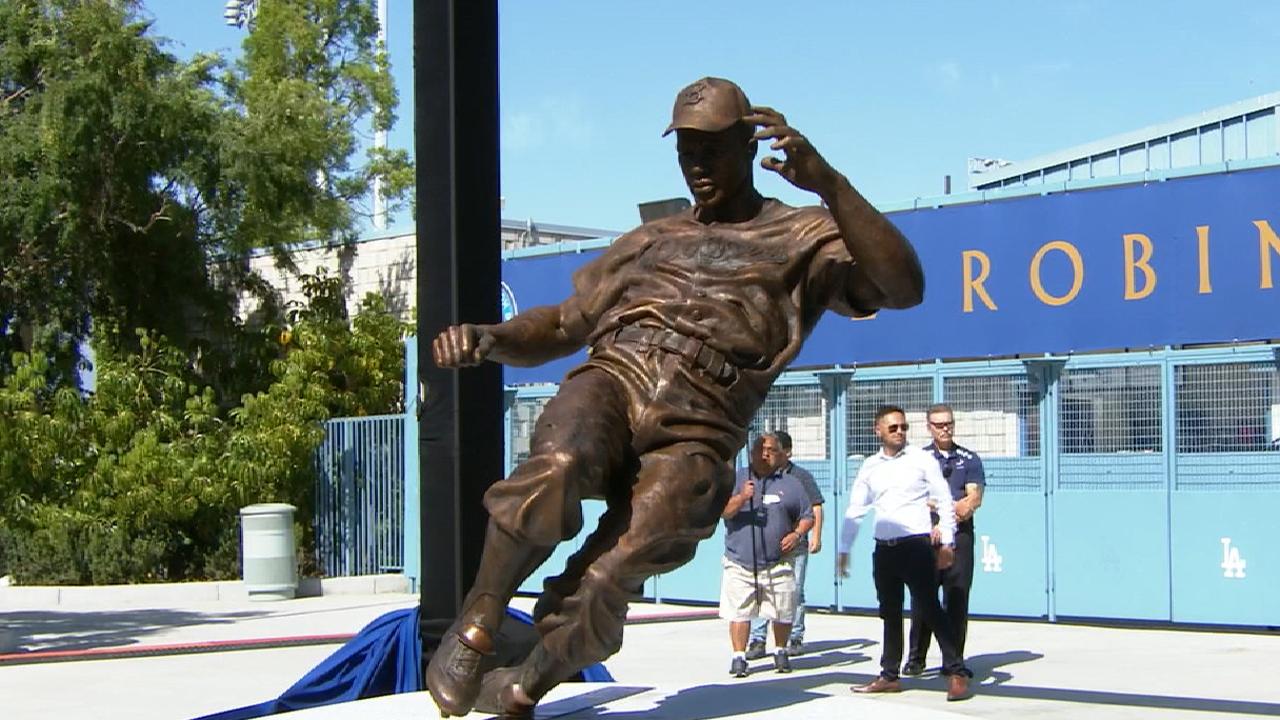 LOS ANGELES -- The Dodgers honored baseball legend Jackie Robinson, MLB's first African-American player, on Saturday with the dedication of the first sculpture at Dodger Stadium.
The 800-pound, eight-foot bronze statue -- an image of Robinson stealing home during his rookie season brought to life by sculptor Branly Cadet -- resides in the left field reserve plaza at the Chavez Ravine ballpark, the area through which the highest percentage of fans enter the stadium.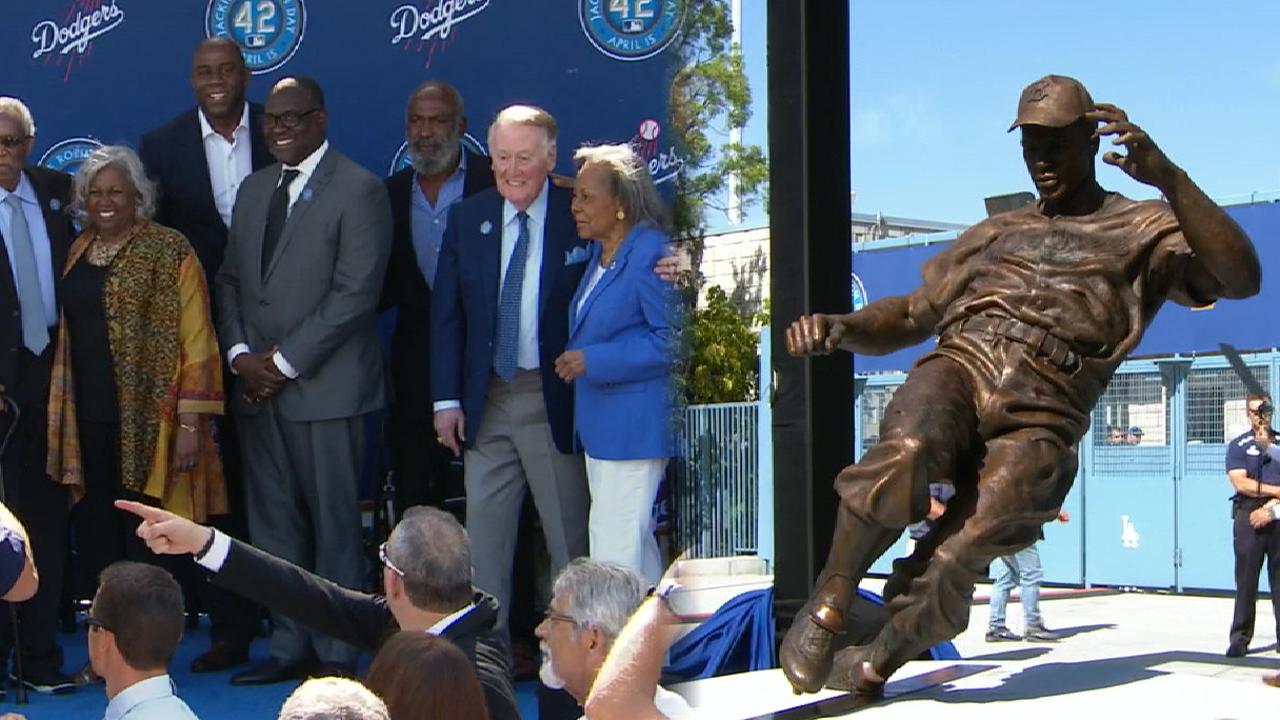 Robinson's wife Rachel and children Sharon and David were in attendance, along with Lakers legend and Dodgers owner Magic Johnson, president and CEO Stan Kasten, Hall of Famer and MLB's first black manager Frank Robinson, as well as Dodgers icons Vin Scully, Tommy Lasorda, Sandy Koufax, Don Newcombe and Jaime Jarrin.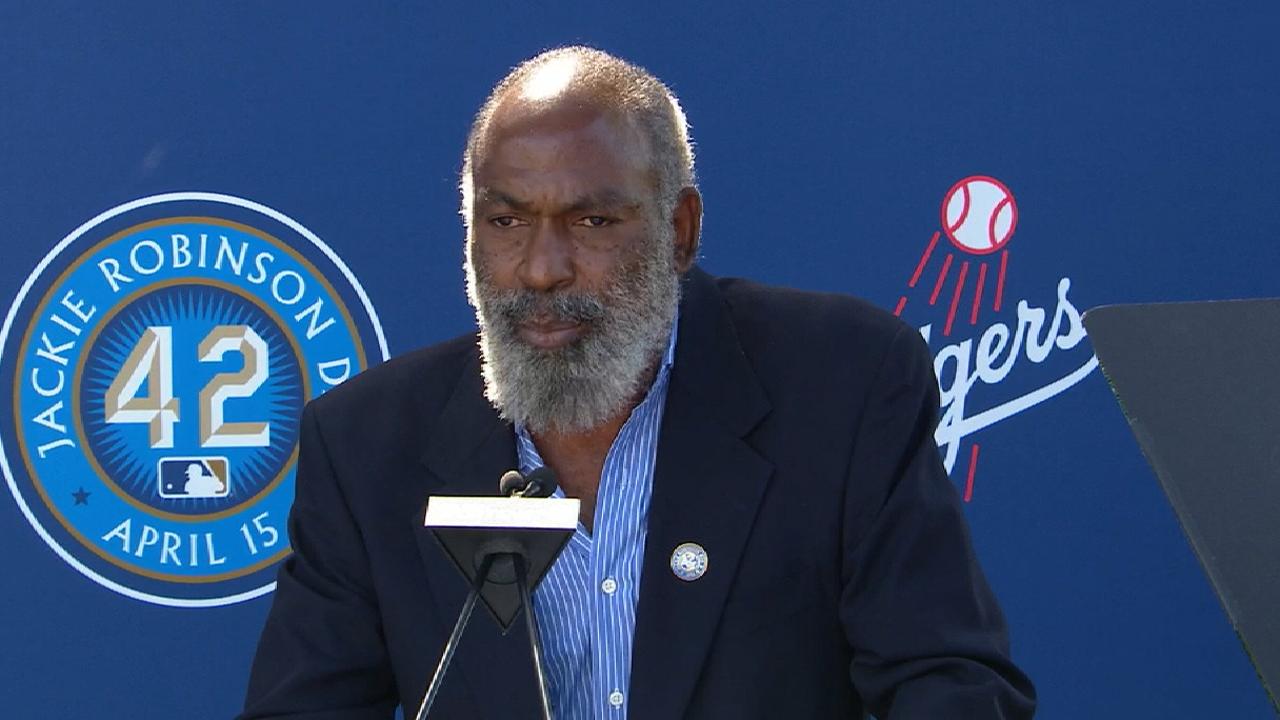 "I think it's a very good thing when a society can look back and maintain a respect in honoring a kind of person who represented characteristics for these 70 years," David Robinson said. "And then build a physical statue for all of us to think back on where we've come, where we have to go."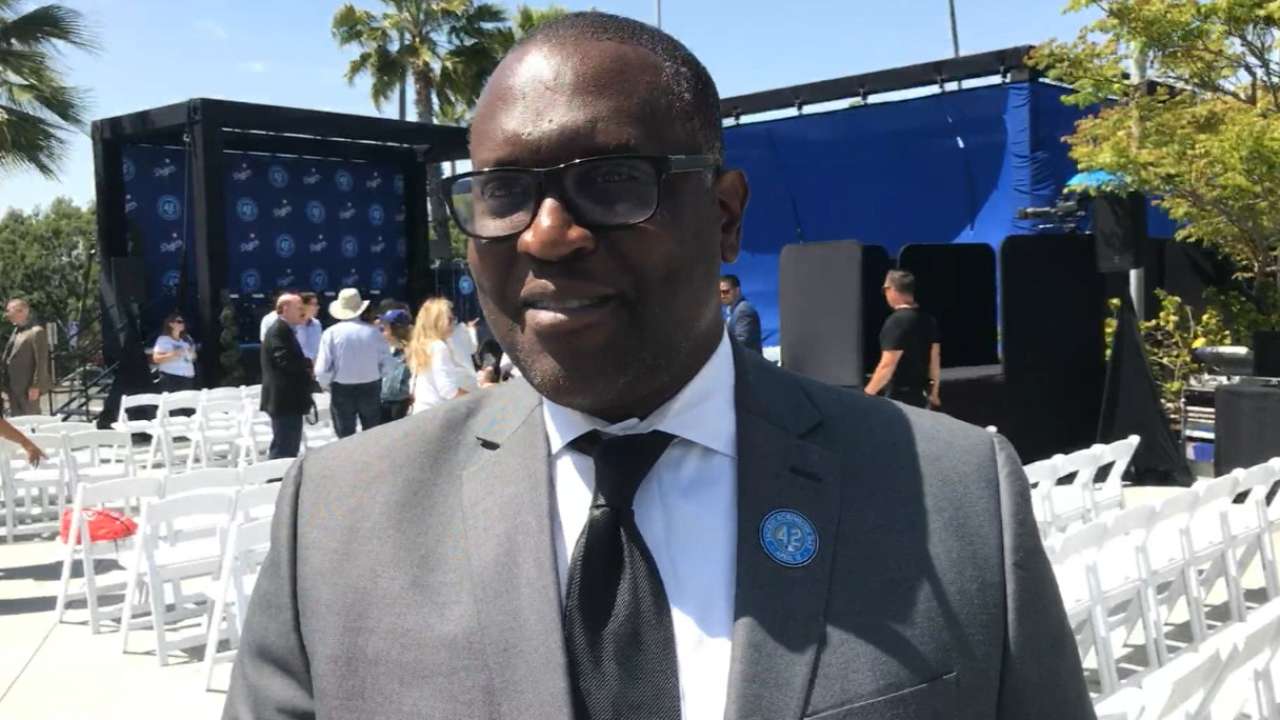 Saturday's dedication was held in conjunction with Jackie Robinson Day celebrations throughout the Major Leagues, with every player, coach, manager and umpire donning Robinson's iconic No. 42, which was retired by MLB in 1997.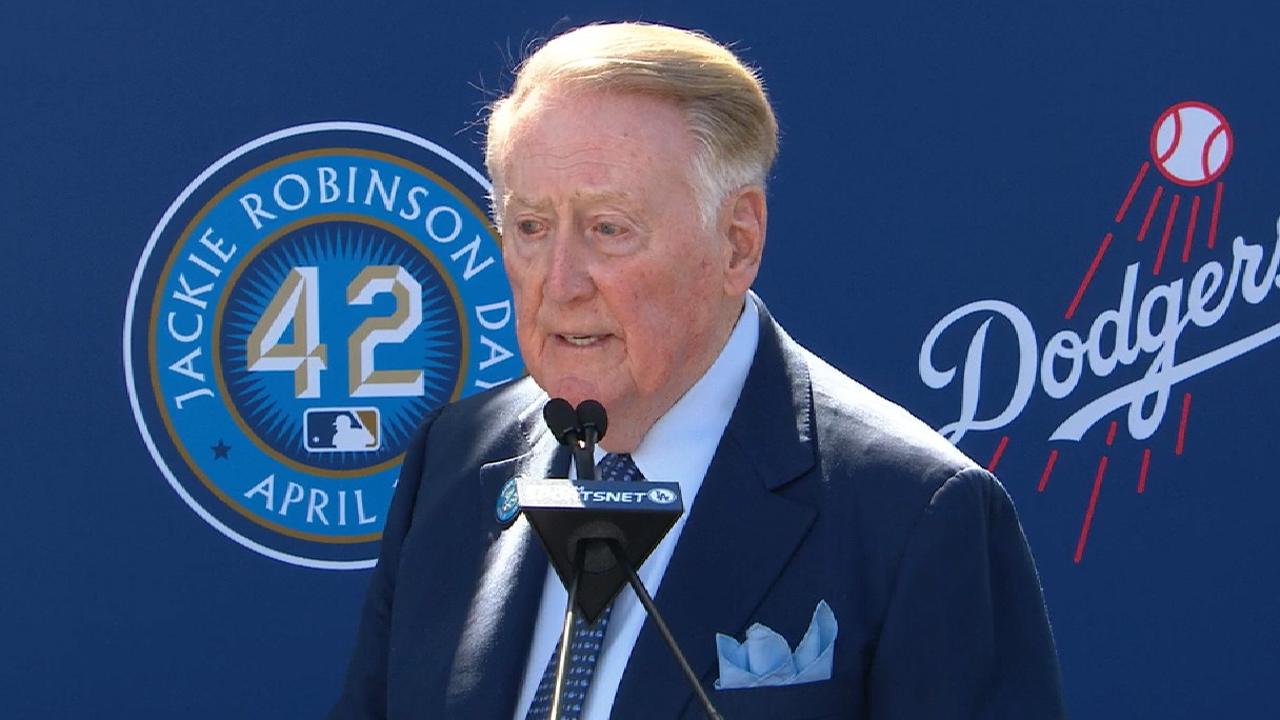 "Some [players] are taller than others, some are heavier than others, some are left-handed, some are right-handed," Scully said. "But the one thing they share in carrying No. 42 is the fact that the man who wore it gave them the one thing that no one at the time could ever have done. He gave them equality, and he gave them opportunity."
Home. #Jackie42 pic.twitter.com/gZJSTCA3sO

— Los Angeles Dodgers (@Dodgers) April 15, 2017
The Robinson family was also honored during a pregame ceremony and throughout the Dodgers' 6:10 p.m. PT game against the D-backs. The first 40,000 fans in attendance received a replica Robinson statue, and Jackie Robinson Foundation scholars Robert Ballance III and Logan Patton threw out ceremonial first pitches to Dodgers manager Dave Roberts and foundation sponsor Andre Ethier.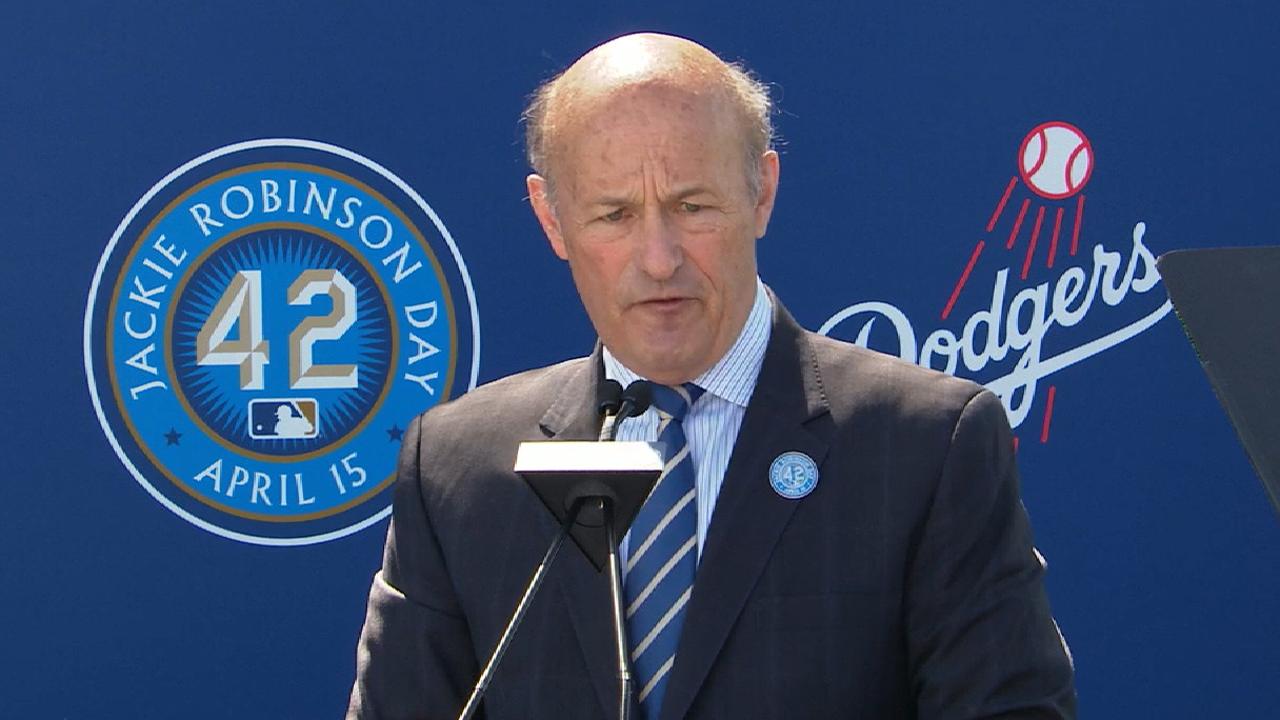 "Jackie paved the way for me," Johnson said. "I couldn't be an owner of the Dodgers without Jackie breaking the color barrier and playing in Major League Baseball when he did for the Brooklyn Dodgers.
"This is one of the greatest days in my life to be associated with the Dodgers and to honor an American hero, a guy who deserved to have a statue."
Robinson, one of sports' most influential pioneers and activists, broke MLB's color barrier when he debuted for the Brooklyn Dodgers on this day in 1947. He played 10 seasons in the Majors, all with the Dodgers, winning a World Series in 1955 and earning six consecutive All-Star selections ('49-54), as well as a National League Most Valuable Player Award ('49).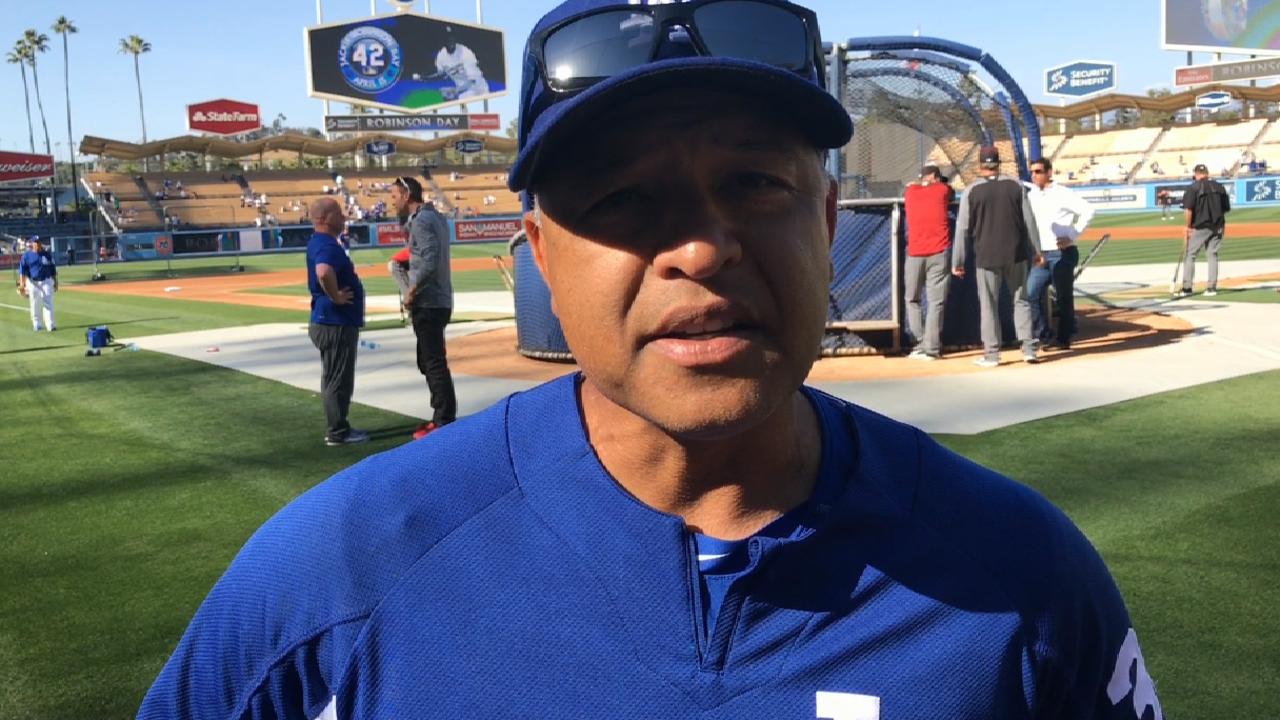 Robinson was inducted into the Baseball Hall of Fame in his first appearance on the ballot in 1962, 10 years before his death.
Both Robinson children said their father would have wanted to focus the attention not the man he was, but the message of equality he fought for -- a message that still fuels inclusion efforts today.
"If it's not important to us, it's just not going to happen. More black kids are not going to be given the same opportunity," Sharon Robinson said. "It has to be that we really believe in being a diverse society and want to be inclusive, and that's just not the direction that we're going in currently. So I think baseball is symbolic of America. We have a lot of work to do."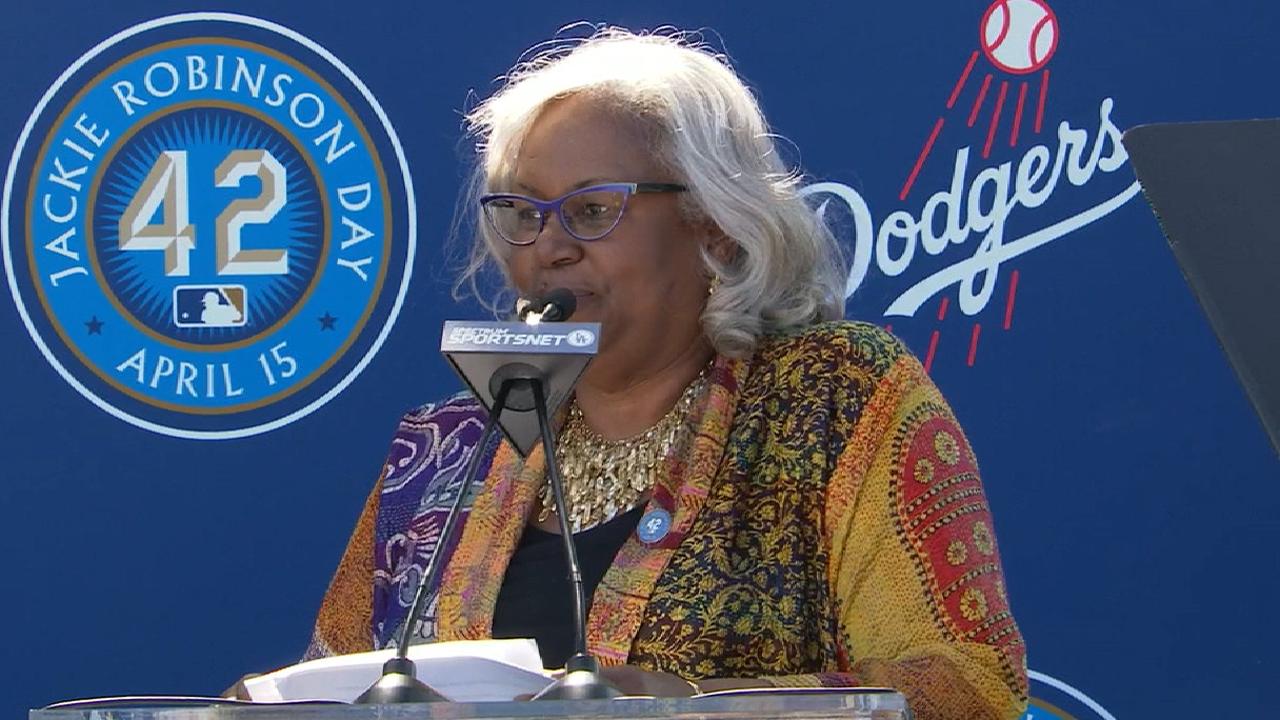 "When we all have equal opportunity, both the game and the society improves," David said.
Sharon attended a dinner Friday evening for MLB and USA Baseball's inaugural Trailblazer Series and addressed the nearly 100 players who participated in the all-girls tournament at the MLB Youth Academy in Compton, Calif. The three-day event culminated in a visit to Dodger Stadium to celebrate Jackie Robinson Day. Eight players representing each of the tournament teams, as well as former All-American Girls Professional Baseball League players Shirley Burkovich and Maybelle Blair, were recognized as part of the pregame ceremony.
"They come [to the Trailblazer Series], and for the first time, they have 100 girls that are all doing the same thing they're doing," Sharon said. "Back home, they're different, they're challenged constantly, they're not good enough -- all things that dad and the other Negro Leaguers who advanced into the Majors [went through], these girls are going through.
"They had the courage to join that boys team, and to begin to dream that this might happen."
Chad Thornburg is a reporter for MLB.com based in Los Angeles. This story was not subject to the approval of Major League Baseball or its clubs.