Scioscia confident in Pujols' defense at first
Veteran appears in field for first time since last August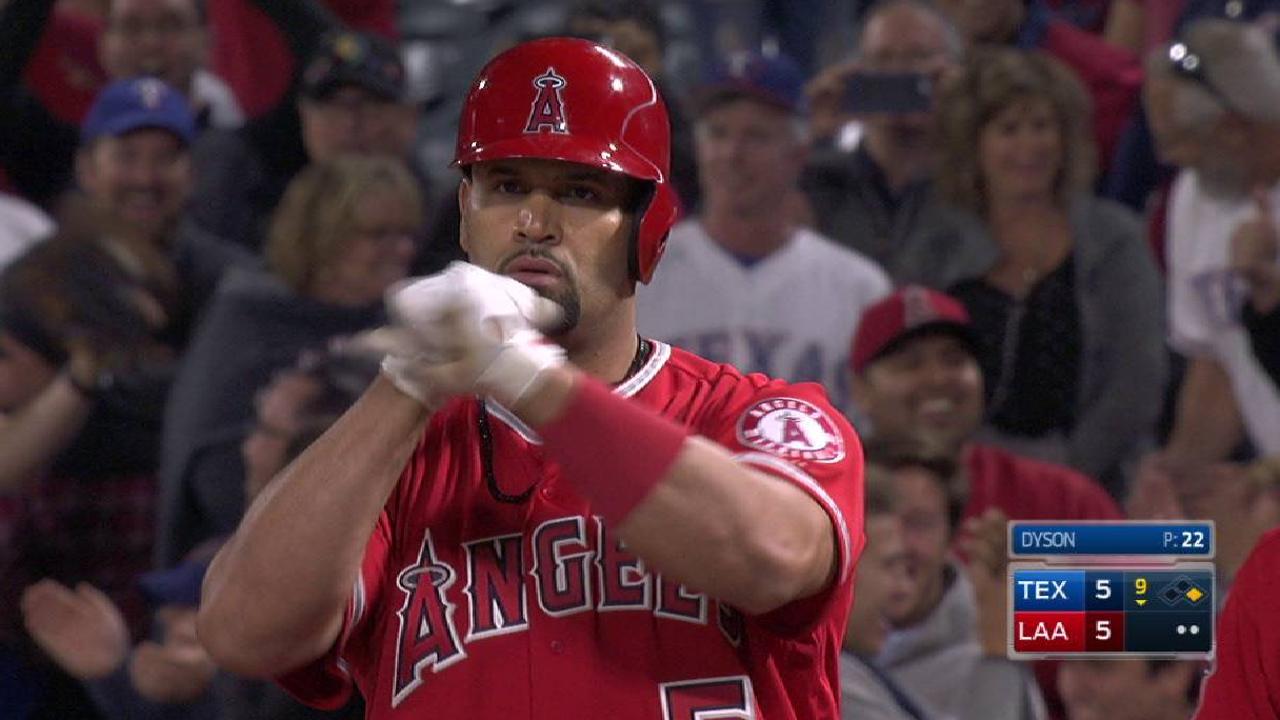 KANSAS CITY -- Angels slugger Albert Pujols started at first base Saturday against the Royals for the first time since Aug. 10, 2016.
Pujols, who underwent foot surgery in December, didn't play first in any games during Spring Training, and he served exclusively as the Halos' designated hitter through the first 11 games of the regular season. But manager Mike Scioscia said he decided to play Pujols in the field Saturday in order to give Mike Trout a partial day off at the DH spot.
The Angels are currently in a stretch of 20 consecutive games without an off-day. The next break in their schedule won't come until May 1.
"I think Albert is ready for it," Scioscia said. "He's been working out on the defensive side really all spring and feels good. We're in a stretch where we're playing 20 in a row without an off-day, so we're going to need to start to get guys a little break here or there. We're going to use our bench. I think we've got a deeper bench this year, as we've talked about, and any time we get a chance to give Mike a chance to DH, we're going to take advantage of it."
Cameron Maybin played center field in place of Trout, with reserve outfielder Ben Revere getting the start in left. With C.J. Cron and Jefry Marte out of the lineup, Scioscia also decided to have Kole Calhoun bat fifth and slot Revere into the No. 2 spot.
"I think Kole is multi-dimensional. He's versatile," Scioscia said. "He's really comfortable in the two-hole, we know that. Right now, we need somebody to take advantage of when Mike and Albert are going to get on base. Kole is a really good pick to hit behind Albert right now against righties."
Scioscia said he doesn't expect to permanently shift Calhoun from the top to the middle of the lineup, however.
"Offensively, there are some different ways we can go," Scioscia said. "We really like the top four with [Yunel Escobar] and then Kole, Mike and Albert, but we can adjust off of that if we need to."
Worth noting
• Scioscia said there is no update on ace right-hander Garrett Richards, who landed on the disabled list with a right biceps strain last week and underwent an MRI of his cervical spine on Thursday, which ruled out cervical-disc or brachial-nerve issues. An extended absence from Richards would be a huge blow for the Angels, whose starters combined to post a 6.27 ERA through the first 11 games.
Asked if he believes the Angels have enough depth to withstand Richards' absence, Scioscia said, "I think the guys that we have here can get it done, because it's not much different than guys we had the last quarter of last season, when we went 25-20. So I think there is enough depth there."
JC Ramirez started in place of Richards on Friday and allowed five runs over five innings in the Angels' 7-1 loss. He will make another start Wednesday against the Astros, but if the Angels need a long-term replacement in their rotation, they could choose to call up Alex Meyer from Triple-A Salt Lake.
Meyer, the club's No. 8 prospect per MLBPipeline.com, has a 4.50 ERA in two starts for Salt Lake this season, and he has been "better than we saw in the spring," according to Scioscia.
• Cron was out of the lineup for a third consecutive game, but Scioscia said he'll be back at first on Sunday for the Halos' series finale against the Royals.
Maria Guardado covers the Angels for MLB.com. This story was not subject to the approval of Major League Baseball or its clubs.