Lost in translation? Not for Thames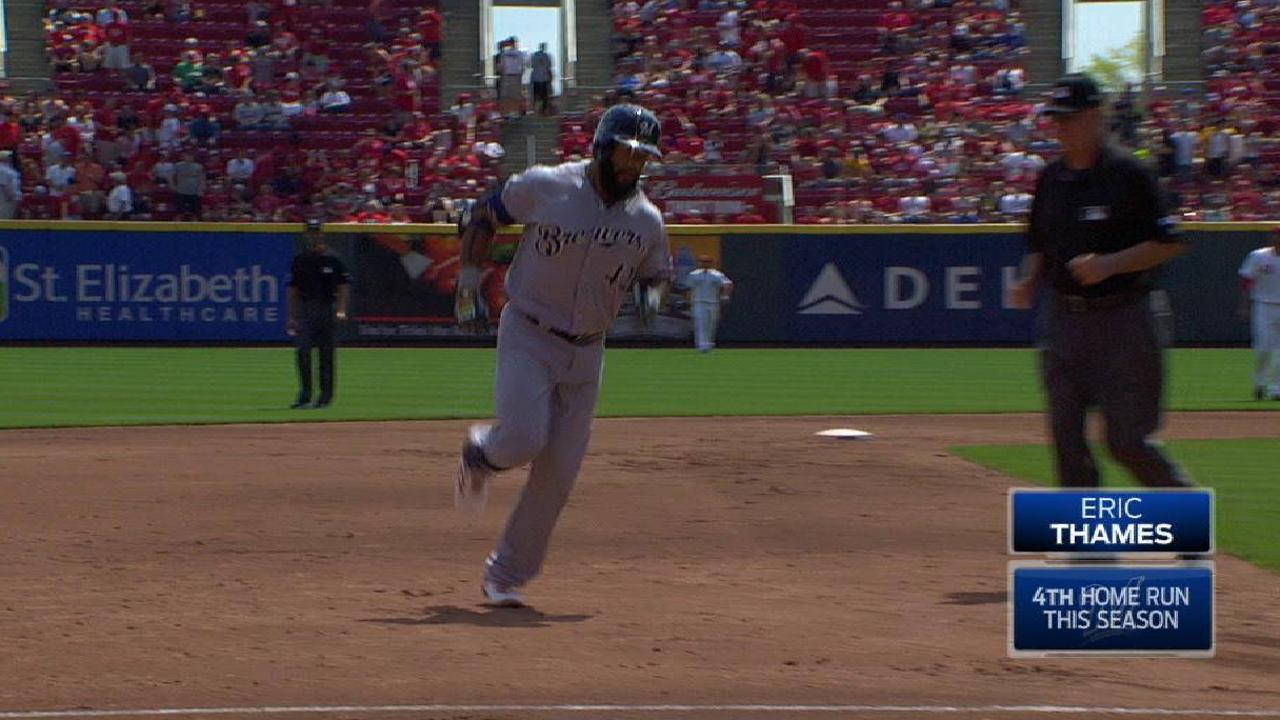 CINCINNATI -- Is it possible that, in the span of one road trip, a star has been born?
Eric Thames certainly has the stuff to be one. He has the super-sized muscles, tattoos and beard, but also an easy smile and the ability to articulate his thoughtful approach to his craft. Brewers fans might learn to love this guy -- especially if he keeps hitting like this.
Milwaukee's 30-year-old first baseman, who spent the last three seasons playing in Korea, extended his hitting streak to eight games with two home runs during Saturday's 7-5 loss to Cincinnati at Great American Ball Park.
"He's taking good swings right now -- it's fun to watch," Milwaukee manager Craig Counsell said of Thames, who is 6-for-12 with four home runs and seven RBIs in the first three games of the four-game series.
Thames has hit safely in all nine of the games he has started. During his current eight-game hitting streak, he is batting .414 (12-for-29) with five home runs and eight RBIs.
The Brewers signed Thames as a free agent over the winter. He had played three seasons with the NC Dinos of the Korean Baseball Organization, where he was the league's MVP and won a Gold Glove in 2015. His last Major League game before this season came in October 2012. Some teams that had scouted Thames viewed him as a platoon player. In fact, the Brewers broke camp with both the left-handed hitting Thames and the right-handed hitting Jesus Aguilar as potential first basemen
"In Spring Training, I wasn't trying to swing as hard as I could," Thames said. "I wanted see how big leaguers throw nowadays, not five years ago. But I'm not here to walk and slap balls around."
"During Spring Training, we didn't see the backspin fly ball much," Counsell said. "Now we're seeing it a lot."
Thames' first homer Saturday came off right-hander Robert Stephenson, and the second off left-hander Tony Cingrani -- only his third at-bat of the season against a lefty.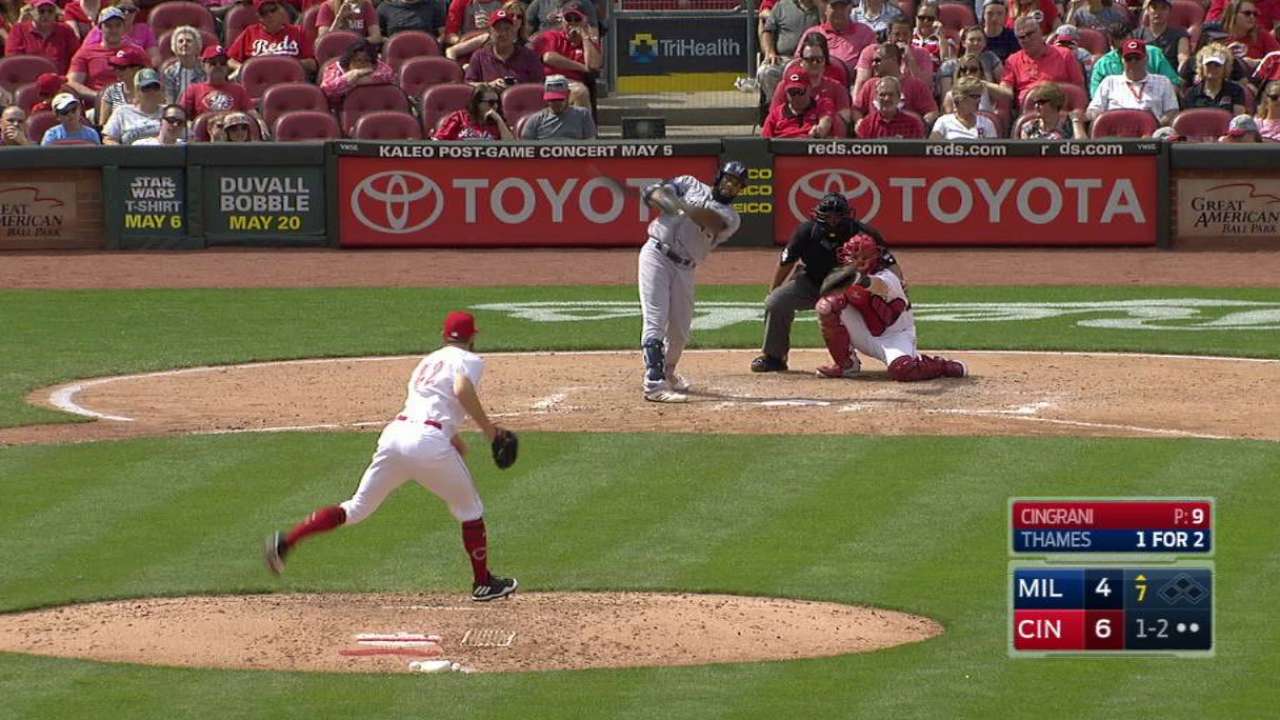 "I like his approach against anybody," Counsell said. "He's locked in right now."
Thames hopes he can prove to be as effective against opposing left-handers in the long run.
"The more at-bats you have, the more comfortable you feel," Thames said. "I am used to playing every day. If being in a platoon helps the team, I'll do it. But, if I pinch-hit, [the other team] will bring in a left-hander throwing 98 mph with good stuff. So, I better be ready for it."
If he maintains his current .382 average, Thames better be ready for a lot of attention, from both fans and opponents.
"Teams are going to be studying me and making adjustments," Thames said. "We'll see."
Andrew Call is a contributor to MLB.com. This story was not subject to the approval of Major League Baseball or its clubs.