Royals, Halos honor Jackie Robinson at The K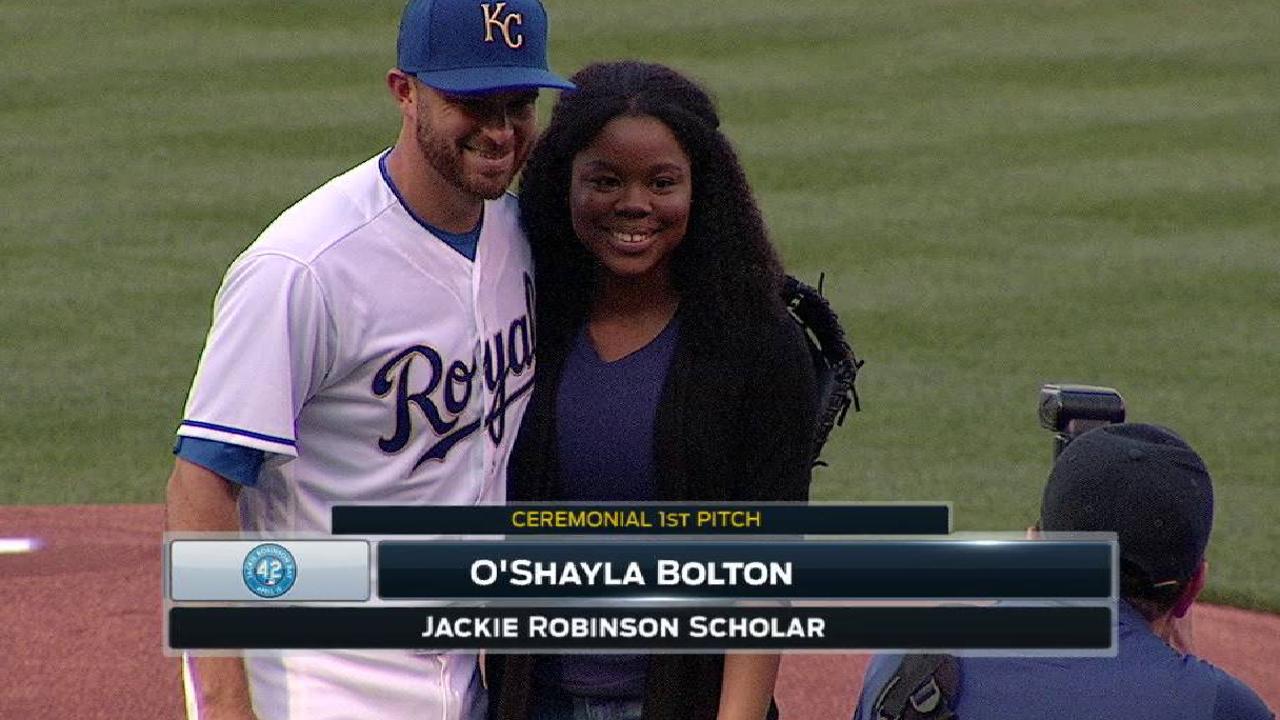 KANSAS CITY -- The Angels and Royals joined Major League Baseball in celebrating Jackie Robinson Day on Saturday, with all players and on-field personnel wearing his universally retired No. 42 at Kauffman Stadium.
Robinson made his MLB debut with the Brooklyn Dodgers on April 15, 1947, when he broke baseball's color barrier and became the first African-American player to take the field in the modern era. Saturday marked the 70th anniversary of Robinson's achievement, which has made the Hall of Famer one of the most revered figures in baseball history.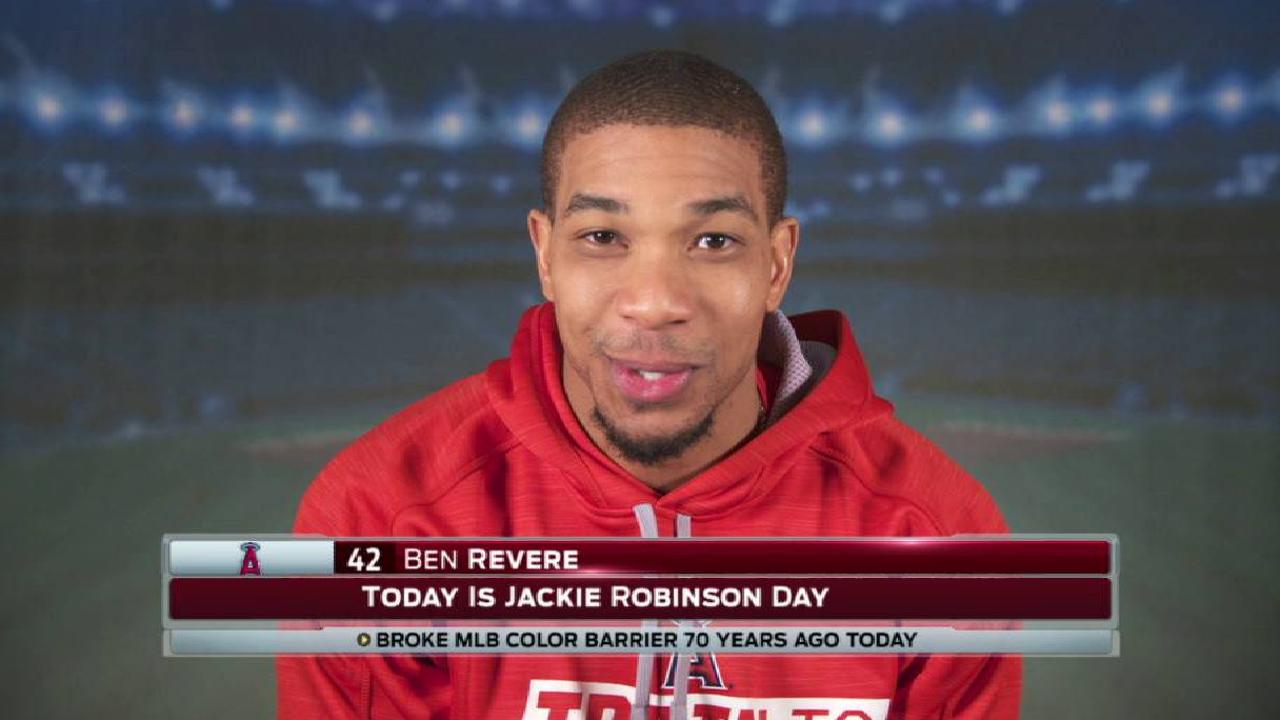 "It's always special, to be honest," Angels outfielder Cameron Maybin said. "To have a chance to acknowledge his legacy, carry his legacy on. It's fun that we get to do it for a day, but as far as being a part of the African-American community, he's somebody that we celebrate daily. Because without his achievements, without his perseverance, we wouldn't be able to be here."
Robinson was honored during a special pregame ceremony, and Kauffman Stadium joined all other ballparks with Jackie Robinson Day jeweled bases and lineup cards.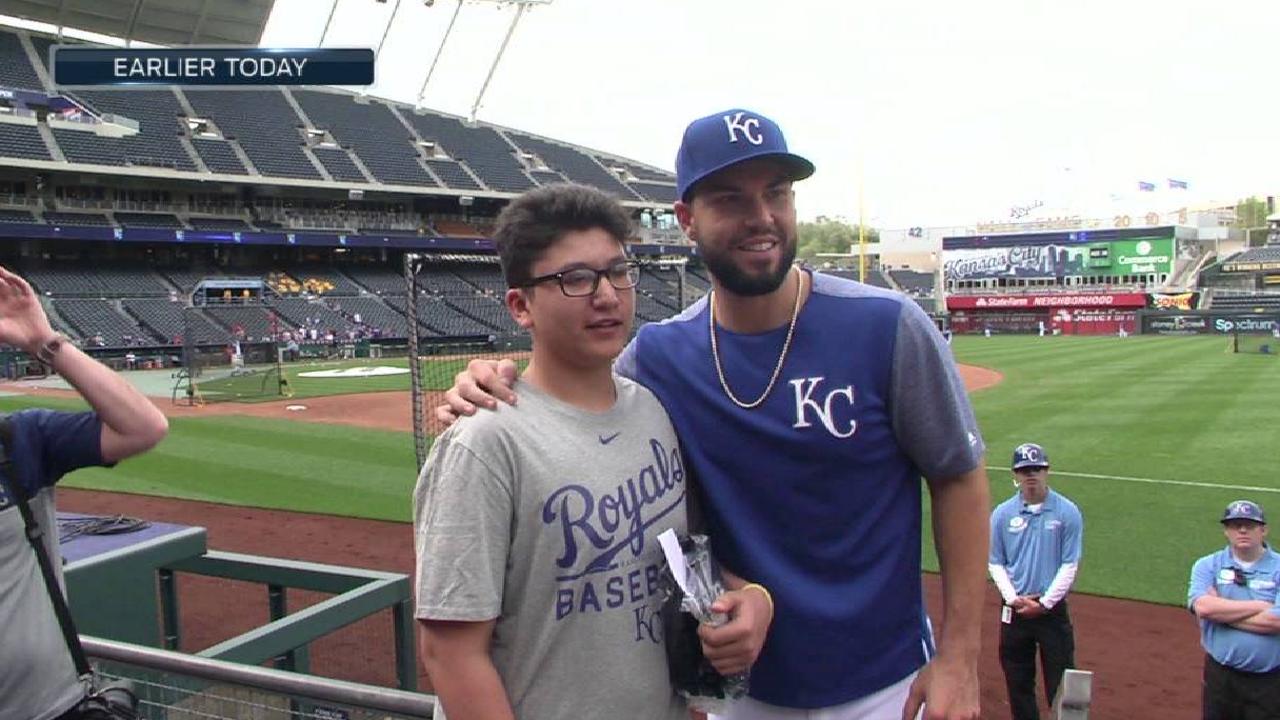 "I just think it's great that we can honor Jackie's legacy, year in and year out," Royals manager Ned Yost said. "He has meant so much not only to the history of the game, but to United States history. It's a neat thing to take April 15 and celebrate Jackie Robinson Day."
Added Royals outfielder Lorenzo Cain: "It's definitely a special day, and I'm just happy to go out there and represent. The things he went through … I'm not sure I would have been able to handle that. It just shows how strong-minded he was. He was focused on overcoming all of it."
In addition to participating in Saturday's festivities, Maybin also celebrated Jackie Robinson Day by inviting students from Grades 4-9 to participate in an essay contest about the positivity that can emerge from overcoming obstacles. Maybin, who helps run the Maybin Mission Foundation, plans to visit the schools of each winner and welcome the students as future guests at Angel Stadium.
"We wanted to do something different for the kids, to give them the opportunity to talk about any scenario in their life that might have enabled them to overcome a situation and grow from failures," Maybin said. "Giving them the opportunity to talk about situations that have allowed them to persevere, as Jackie did."
Maria Guardado covers the Angels for MLB.com. This story was not subject to the approval of Major League Baseball or its clubs.