Marlins liking early-season ballpark conditions
With less humidity in air, balls carrying well at Marlins Park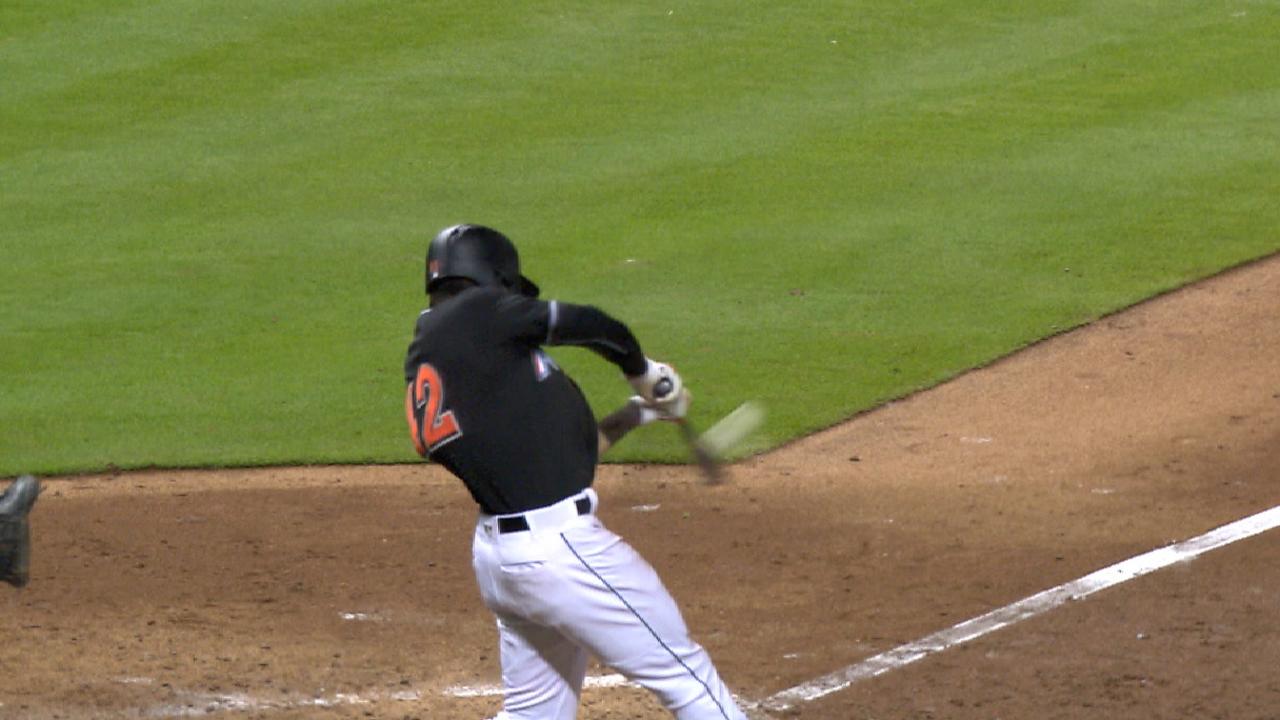 MIAMI -- Marlins Park has the reputation of being pitcher-friendly, which might be hard to believe with the way the ball has been flying out of the building of late.
Twice on Saturday night, Miami had back-to-back homers. The two decisive shots were Christian Yelich's two-run homer in the eighth inning, followed by Giancarlo Stanton's liner to center that put the Marlins ahead in their 5-4 victory over the Mets.
"The ball is jumping, that's for sure," Marlins manager Don Mattingly said. "These homers are not like cheapies. You're going to have to hit them here."
The two teams have combined for 11 home runs in the first three games of the series, which wraps up Sunday.
Miami's four homers Saturday produced all five runs. In the second inning, Justin Bour and Marcell Ozuna went back-to-back against Jacob deGrom, while Yelich and Stanton did it off Fernando Salas.
Yelich's two-run homer with two outs tied the game at 4. According to Statcast™, the drive to right had an exit velocity of 109 mph and was projected at 397 feet with a 37-degree angle.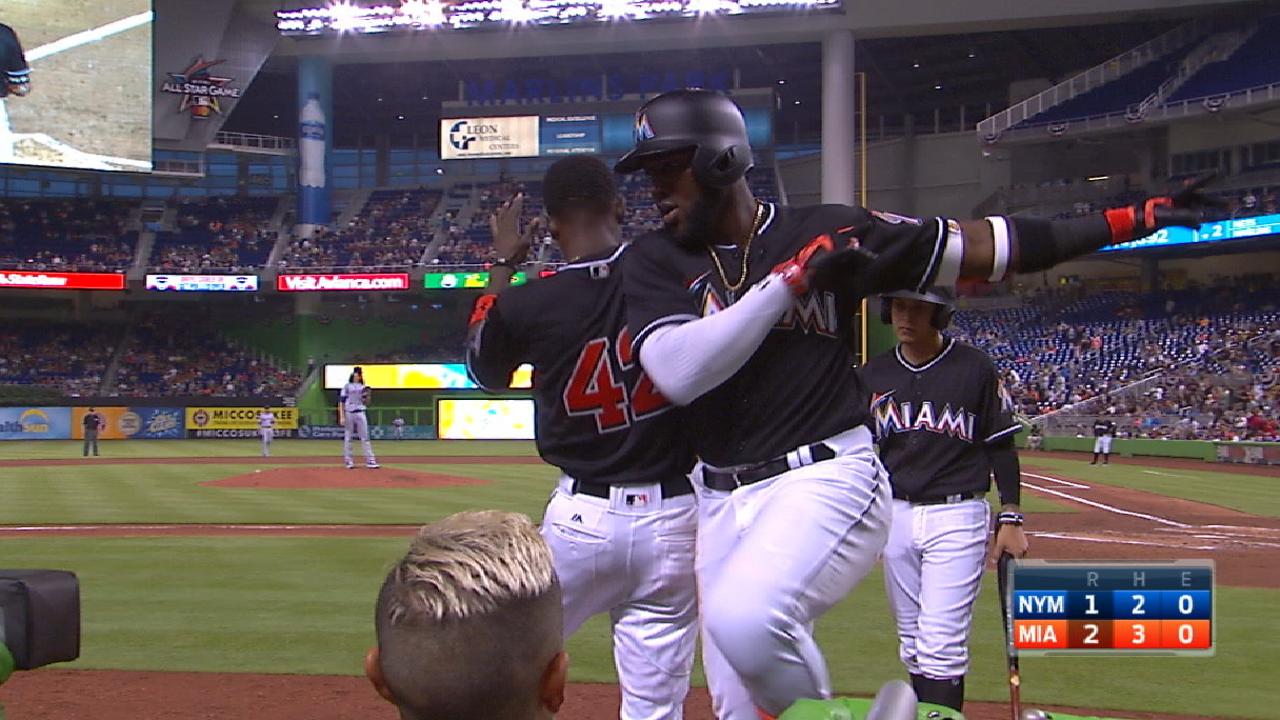 And for just the third time in franchise history, Miami had two separate players go back-to-back in the same game.
Ozuna's homer was a no-doubter, tracked at 429 feet with a 108 mph exit velocity, while Bour's was more of a towering shot that cleared the wall in right; it was projected at 352 feet, with a velocity of 98 mph.
On Aug. 27, 2010, at Atlanta, Cameron Maybin and Logan Morrison went back-to-back in the first inning, with Dan Uggla and Gaby Sanchez repeating the feat in the sixth. Before that, you have to go back to Aug. 26, 1998. That day at St. Louis, Cliff Floyd and Kevin Orie did it in the first inning, while Derrek Lee and Floyd responded in the ninth inning.
Marlins Park opened in 2012, and Stanton has the most home runs of any player ever at the retractable-roof building, with 84. The slugger reminds to be cautious about the long-ball trend continuing.
"It's been carrying well, which it does until it's humid outside," Stanton said.
.@Giancarlo818, on a ROPE.

This laser had a 111.9 mph exit velo with a 19 degree launch angle. Unreal: https://t.co/8hEH4Vw3Uf #Statcast pic.twitter.com/JP5p8k5Wjc

— #Statcast (@statcast) April 16, 2017
So while hitters are enjoying the ball carry now, Stanton says that may change during the dog days of summer.
For now, Stanton is savoring the big blasts.
"I think I threw a lot of fastballs," Salas said. "I don't worry about it. It's baseball. I feel bad for the team because they played hard every inning. Late, you've got to hold them in the game."
Stanton's drive to center was impressive because it was a low-liner that kept carrying. Per Statcast™, the home run projected at 442 feet.
"It could have hit the fence or keep going," Stanton said. "It was wait and see."
It was the 30th home run that Stanton has hit with an exit velocity of 110 mph or more, the most of any player in the Statcast™ Era.
"He got on top of that high heater there, and it was a nine-iron into the bushes," Yelich said. "But he's been known to do that every now and then."
Joe Frisaro has covered the Marlins for MLB.com since 2002. Follow him on Twitter @JoeFrisaro and listen to his podcast. This story was not subject to the approval of Major League Baseball or its clubs.