A's, Astros pay tribute to Jackie Robinson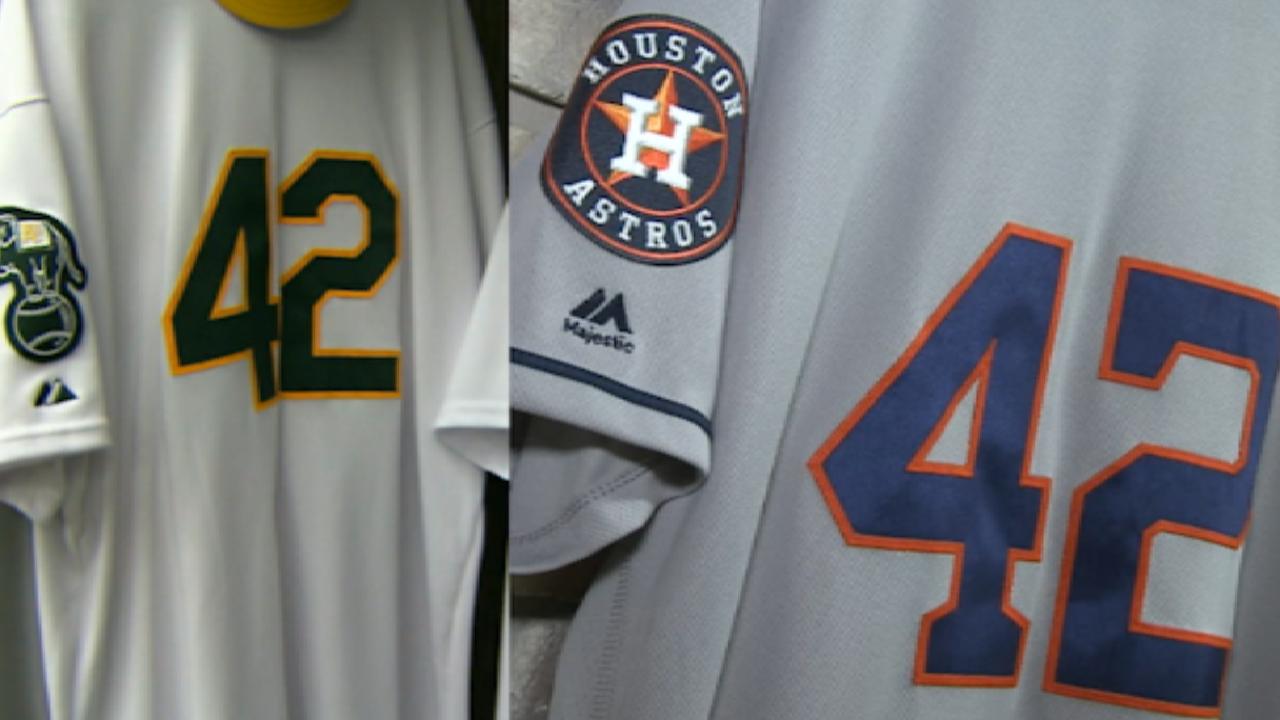 OAKLAND -- The Astros and A's joined the rest of baseball Saturday by wearing No. 42 on the 70th anniversary of Jackie Robinson breaking baseball's color barrier in 1947. Major League Baseball retired No. 42 in 1997, so it's worn once a year by all big league players.
Astros reliever Tony Sipp cherishes the chance to wear Robinson's number each year, and he says he makes sure to carry himself in a way that would make Robinson proud.
"Like every year, it's a blessing to be able to try to be that example that he was," Sipp said. "Being the first guy, obviously, went against what a lot of people wanted him to do and the game still wasn't quite ready for it, but he was ready for the game. Everything he sacrificed and the way he carried himself and just taking all the ridicule and everything and doing it in a classy way to make it more acceptable for guys like myself to be able to play the game without feeling that pressure, he bridged the gap to bring color into the game."
A's reliever Liam Hendriks didn't stop at the No. 42 jersey. The Australian right-hander wore special-edition Jackie Robinson cleats with brown trim and striped laces. He said Robinson not only opened the door for African-American players, but for players from all cultures.
"It helped break down the borders," he said. "Now we can have Australians coming over and playing. We can have Germans. We can have people from all those countries playing."
Hendriks admittedly didn't know much about Robinson's story when he came to the U.S. 10 years ago, but he researched Robinson one spring.
"I like learning things," he said. "I like figuring out what everything's about. As soon as I saw, it was like 'OK, everybody's wearing 42.' This is obviously a huge important day. Let me research and get into the history of it. It's an incredible feat what he was able to do."
A's manager Bob Melvin says Robinson's impact has a big presence on today's players.
"Everybody embraces it," he said. "More and more now, everybody's wearing No. 42 and rightly so. This is one of those special days that's not part of the 162-game grind that you're used to. It's a special day for everybody. To celebrate him for what he's done not only for the game, but society as a whole, makes it a special day.
In addition to the game jerseys, some players wore black shirts with No. 42 on the back and "Equality" on the front pregame.
"It is special," Astros manager A.J. Hinch said. "It's a special recognition of a real trailblazer in our game that it's hard to describe in words or appreciate too much. We love doing it, the players embrace it. They're wearing their No. 42 T-shirts and they'll put their jerseys on. It means a ton to the history of our game. Not a greater impact in our game than what Jackie did."
Brian McTaggart has covered the Astros since 2004, and for MLB.com since 2009. Follow @brianmctaggart on Twitter and listen to his podcast. This story was not subject to the approval of Major League Baseball or its clubs.