Mesoraco nearing return to Reds
Catcher could be activated next week; Bailey close to throwing off mound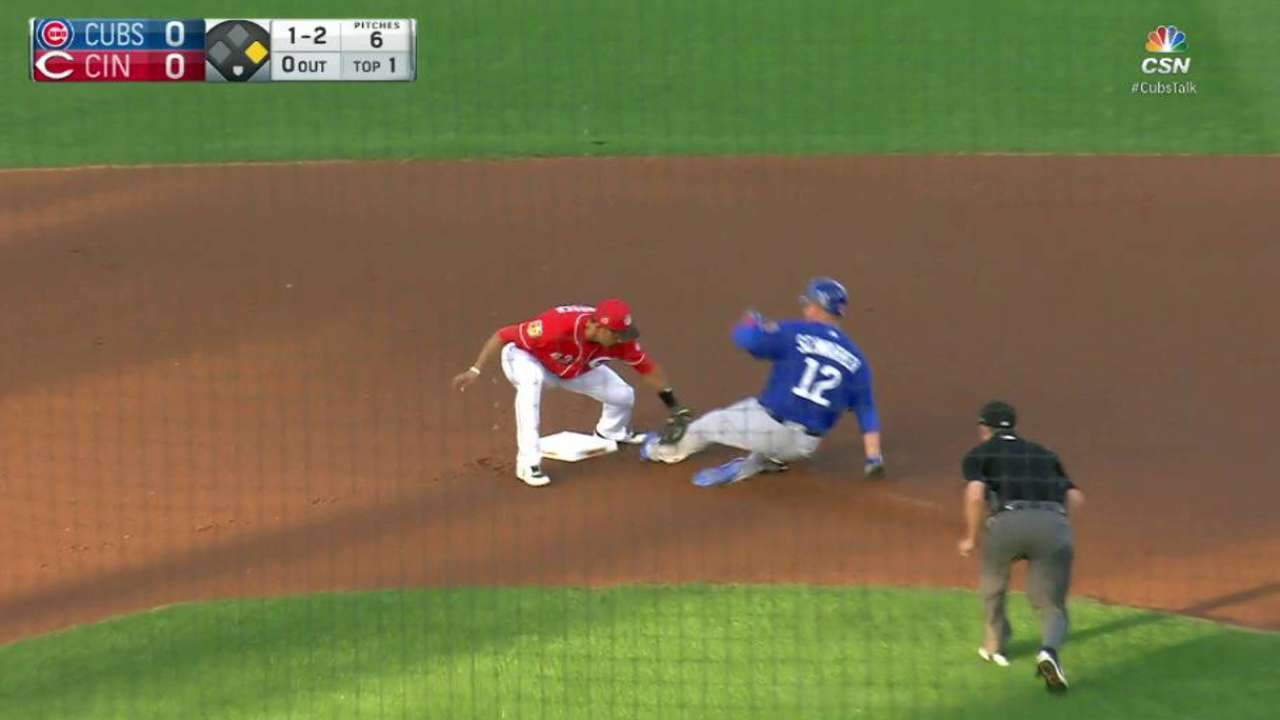 CINCINNATI -- Reds manager Bryan Price is big on saying injured players have to "check all of the boxes" before they can return from the disabled list or rehab from a surgery. Catcher Devin Mesoraco is close to achieving those goals.
Mesoraco, who is working back from left shoulder and right hip surgeries in 2016, has played eight games on his rehab assignment with Double-A Pensacola.
"He's doing great. I talked to him [Friday]," Price said on Saturday. "I talk to [Pensacola manager] Pat Kelly after every outing."
Mesoraco, who is 4-for-11 with a home run, caught all nine innings for the first time on Wednesday and followed with playing seven innings on Thursday. He was off on Friday and scheduled to play again on Saturday.
Price expected Mesoraco to catch nine innings in three upcoming games, including back-to-back on Tuesday and Wednesday. After that, the Reds could decide to activate him.
"We'll have a chance to take a look to see if he's ready," Price said. "We had checklist of three boxes he has to check off. The durability factor. How does he feel after the back-to-back nines? Is it realistic to think he could catch three games in the row without having any setbacks or causing any issues? How does he feel behind the plate? How's he moving behind the plate? The flow of the game, getting his feet out from under him to block. Will he be able to get out of stance and throw? That would be box No. 2. Box No. 3 is how he feels at the plate. Is he comfortable? Is he seeing the ball well? Is his swing where it needs to be?
"When those three boxes are checked off, we'll bring him up to Cincinnati."
Mesoraco's return would create a roster decision for current backup catcher Stuart Turner, a Rule 5 Draft pick.
If the Reds don't keep Turner on the 25-man roster all season, they would have to return him to his former organization, the Twins.
"All I will say to that is we don't what to lose Stuart Turner," Price said. "I like what Stuart does. I think he's a kid that helps us in the organization. I think he can play at this level now. He doesn't need more seasoning. However, in the three-catcher [system], it's hard to get him regular playing time, so we have to find a way to do it with a five-man bench."
Worth noting
• Pitcher Homer Bailey, who is rehabilitating from February surgery to remove bone chips from his elbow, is making progress. Bailey is long tossing at distances of 180 feet.
"That's getting very, very close to being cleared to get off of the mound -- at least throwing some flat-ground bullpen stuff," said Price, who didn't expect to see Bailey back in the Majors until likely mid-June.
• Before he is cleared to resume throwing, the medical staff plans to have pitcher Anthony DeSclafani (right elbow ligament sprain) to undergo an MRI. That has yet to be scheduled.
Mark Sheldon has covered the Reds for MLB.com since 2006, and previously covered the Twins from 2001-05. Follow him on Twitter @m_sheldon and Facebook and listen to his podcast. This story was not subject to the approval of Major League Baseball or its clubs.