Holliday scratched with lower back stiffness
NEW YORK -- Yankees designated hitter Matt Holliday was scratched from the starting lineup about 90 minutes before game time on Saturday with what the club termed "lower back stiffness."
"I don't think it's a long-term thing," manager Joe Girardi said following a 3-2 win over the Cardinals. "I may choose to give him one more day. It was just stiff today."
In his first season with the Yankees after leaving St. Louis as a free agent, Holliday had started all 10 previous games, including Friday night's 4-3 win in the series opener, where he went 0-for-4 with three strikeouts in his first game against his former teammates. That extended Holliday's hitless streak to 11 at-bats.
Holliday is batting .242 with a home run and five RBIs, and he has an impressive .419 on-base percentage.
Holliday was replaced in Saturday's lineup by Chris Carter, who had an RBI single.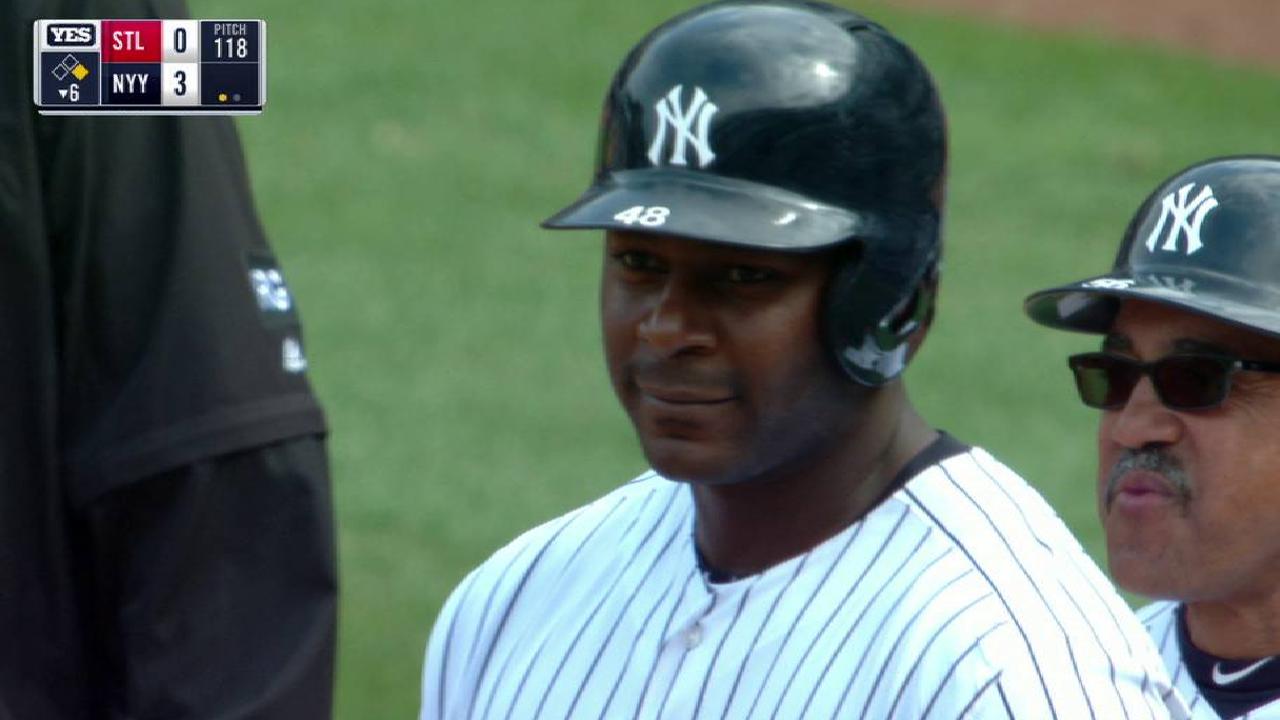 Need for speed
The Yankees have put a new emphasis on aggressive baserunning this season. They entered Saturday with 10 stolen bases, tied with the Mariners for the most in the American League. The Yanks' 4.8 runs per game ranked third in the AL.
There were times last season when the Bombers struggled to score runs. Girardi gave a directive to his two speedsters -- Brett Gardner and Jacoby Ellsbury -- for this season.
"My directive to them was to score 100 runs each," Girardi said. "However you've got to do it? I don't care. Just score 100 runs and, when you can get an extra base, get an extra base."
Gardner has five steals on the season, while Ellsbury (four) and Chase Headley (three) each stole a base on Saturday.
"I've never wanted our club not to be aggressive on the bases, but sometimes with the people you have, they're not going to steal a lot of bases," Girardi said. "Gardy has done a good job. Ells has done a good job. Headley has done a good job.
"I told our guys whenever you can get an extra base, get that extra base. That's the bottom line. I've been saying that from Day One."
Sticking with Bird
Greg Bird went 0-for-3 with two strikeouts on Saturday and is 1-for-26 (.038) with 13 K's to start the season.
"I can hit. I know I can hit," Bird said. "I just have to keep going and keep working."
Bird missed all of the 2016 season due to shoulder surgery, but he was the Yankees' best hitter in Spring Training with a .451 average and eight home runs.
"I think he has to fight his way through this," Girardi said.
Roger Rubin is a contributor to MLB.com based in New York. This story was not subject to the approval of Major League Baseball or its clubs.