Statcast spotlight: 5 players to watch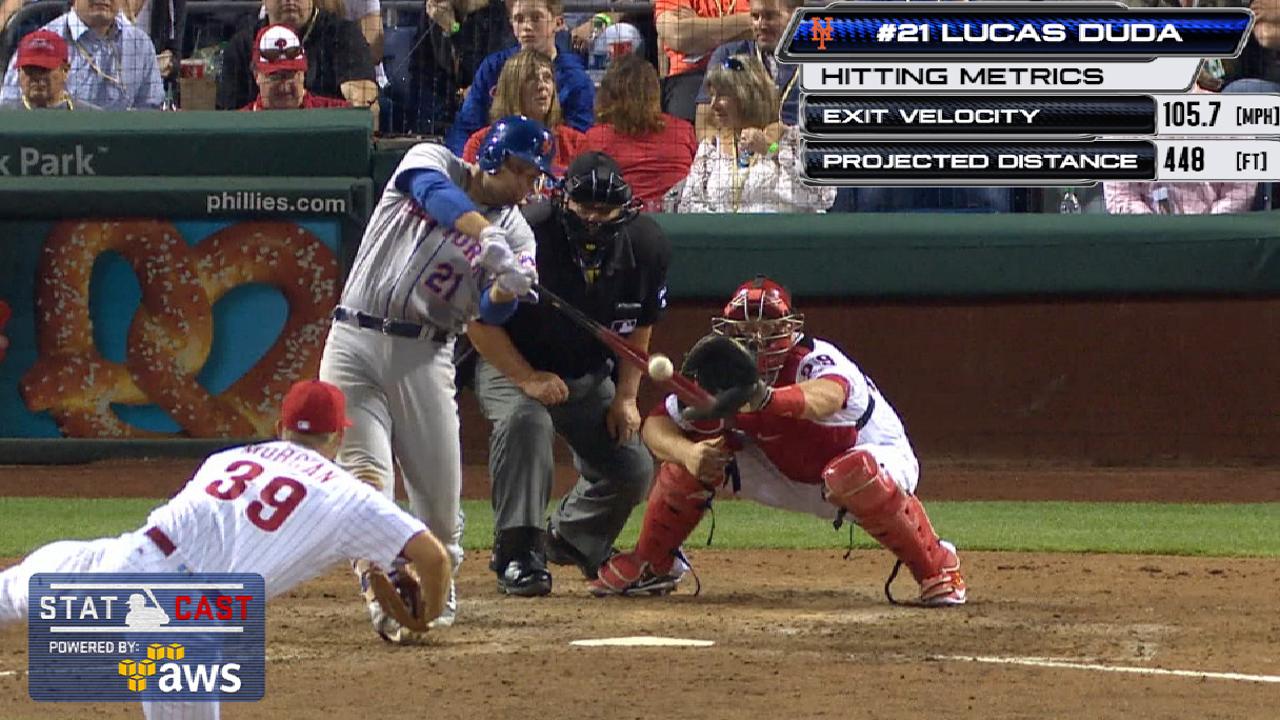 Using revolutionary Statcast™ data, here are five players to keep an eye on this weekend. Watch it all on MLB.TV.
Lucas Duda, Mets
Duda has been resurgent early in 2017, and he has shown what he can do when healthy by clubbing a pair of huge homers this week. On Tuesday in Philadelphia, Duda cleared the center-field batter's eye with a blast that Statcast™ projected at 448 feet. On Friday in Miami, Duda launched one out to dead center at cavernous Marlins Park, with this one projected at 441 feet. That made the first baseman the first player in the Majors to have a pair of homers this season that traveled at least 440 feet, and they also stand as his third- and fifth-longest homers of the Statcast™ Era.
Longest home runs by projected distance in 2017
1. Carlos Gomez: 461 feet
2. Charlie Blackmon: 458 feet
3. George Springer: 454 feet
4. Carlos Correa: 449 feet
5. Duda: 448 feet
6. Kendrys Morales: 444 feet
7 (tie). Joey Gallo: 443 feet
7 (tie). Matt Davidson: 443 feet
9. Avisail Garcia: 442 feet
10. Duda: 441 feet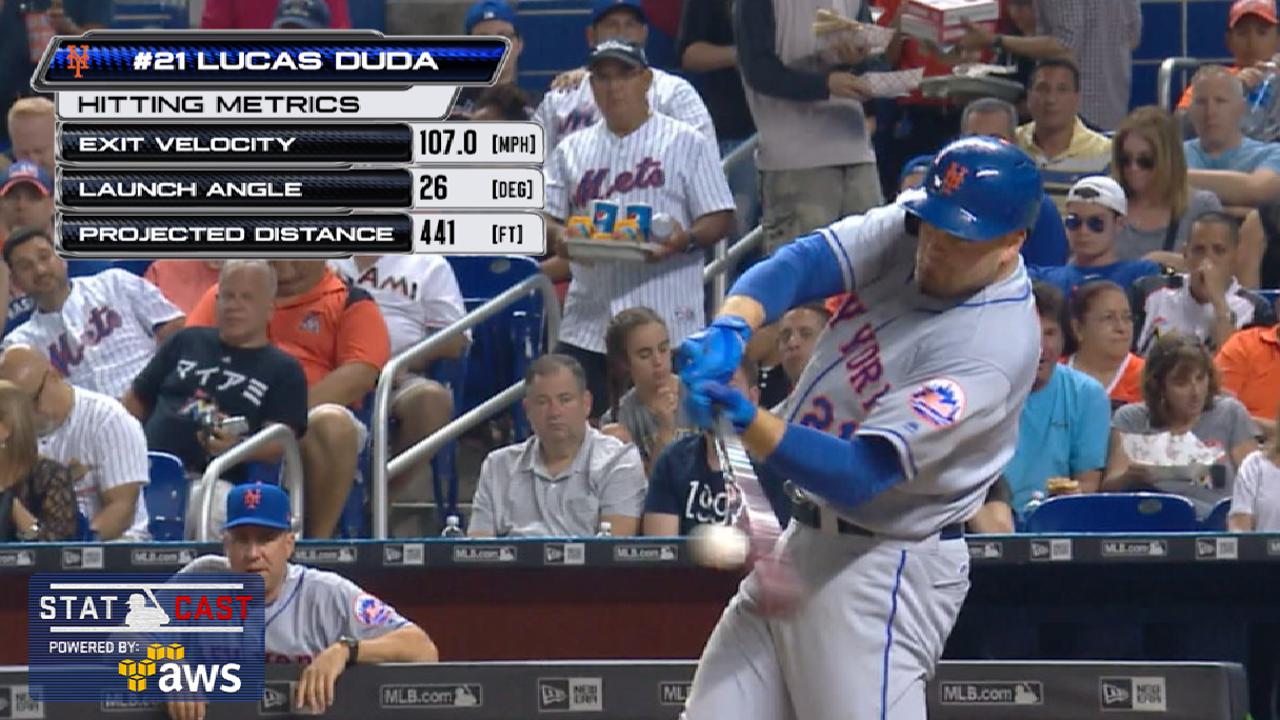 Bryce Harper, Nationals
After a hot start in 2016, Harper hit only .235/.367/.392 from May 1 onward. However, early in '17, Harper seems to have turned things back around, and he entered Saturday with a .333/.478/.556 line. Through only 10 games this season, Harper already has struck three balls with exit velocities that rank among his top six since his slide began last May. That includes a 110.3-mph single in the 10th inning Friday that set him up to score the walk-off run on Daniel Murphy's double.
Harper's hardest batted balls since last May
1. 113.9 mph -- 4/5/17
2. 112.7 mph -- 7/20/16
3. 111.9 mph -- 9/21/16
4. 111.6 mph -- 4/10/17
5. 110.9 mph -- 9/2/16
6. 110.3 mph -- 4/14/17
7. 110.2 mph -- 5/5/16
8 (tie). 110.1 mph -- 6/13/16
8 (tie). 110.1 mph -- 5/19/16
10. 110.0 mph -- 7/3/16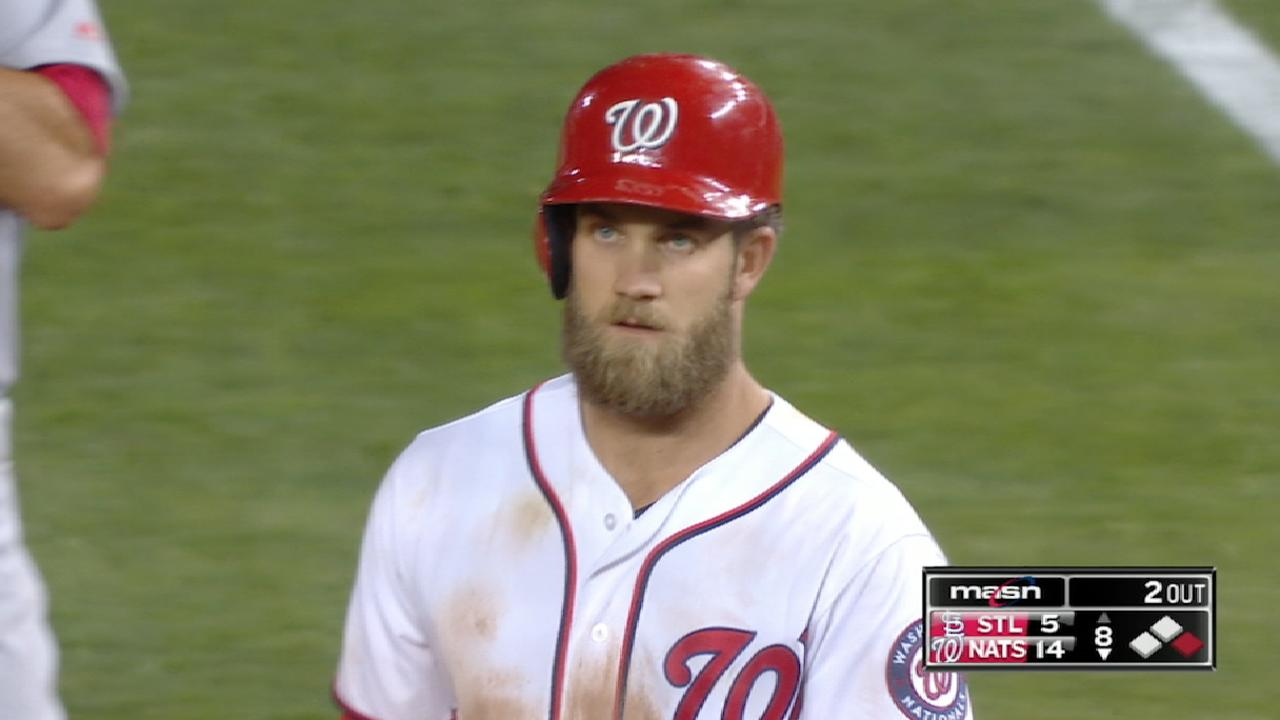 Nelson Cruz, Mariners
After launching at least 40 home runs in each of the past three seasons, Cruz finally got on the board in 2017 on Friday night with a slicing line drive off the Rangers' Martin Perez that cleared the center-field wall at Safeco Field. In true Cruz fashion, the ball was crushed. It had a 112.4-mph exit velocity, making it one of the 10 hardest-hit homers this season. It was also Cruz's 24th home run of at least 110 mph in the Statcast™ Era, a total that trails only Giancarlo Stanton.
Most homers hit at least 110 mph since 2015
1. Stanton: 29
2. Cruz: 24
3. Mark Trumbo: 19
4. Mike Trout: 16
5. Pedro Alvarez: 15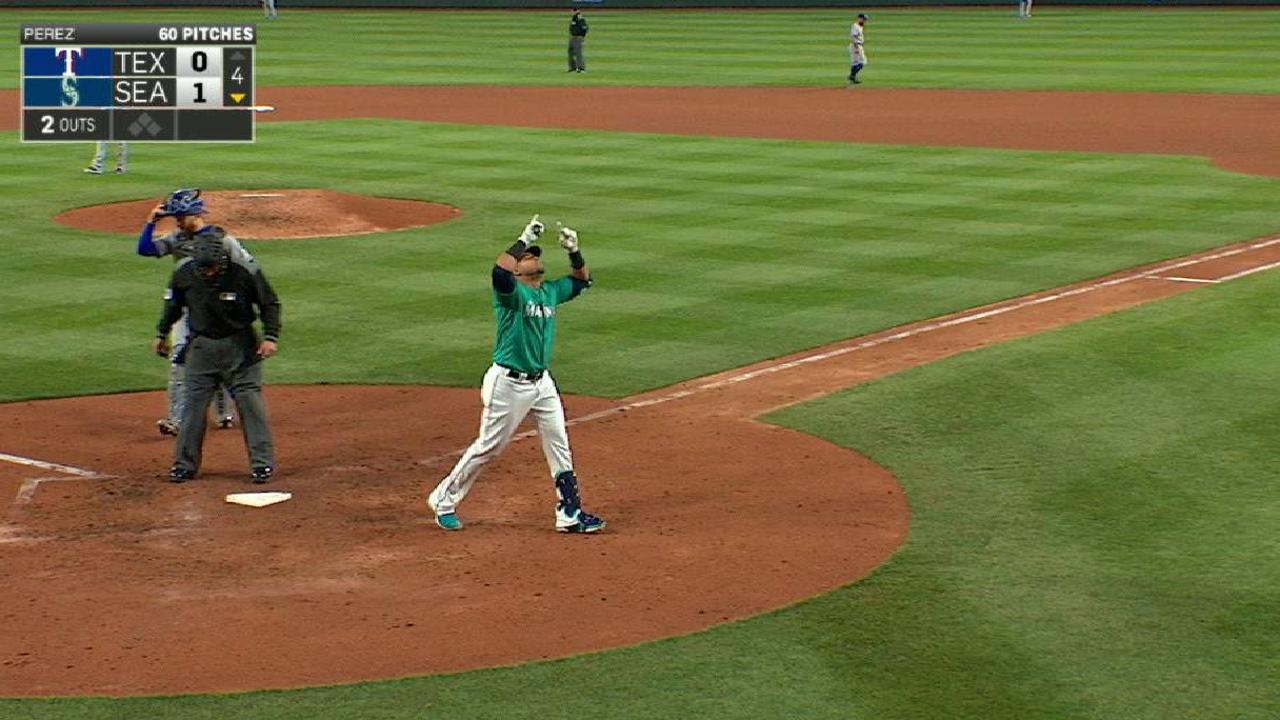 Kevin Kiermaier, Rays
We know Kiermaier can judge fly balls and catch them as well as anyone, but speed may still be an underrated part of his game. On April 4 against the Yankees, Kiermaier got out of the box and down to first base in just 3.89 seconds. That's the fourth-fastest time from home to first base (excluding bunt plays) tracked by Statcast™ so far this season. What's even more impressive is how well Kiermaier can move considering his 6-foot-1, 215-pound frame. The other four players among the top home-to-first times listed below come in at an average of 5-foot-10 and 176 pounds.
Fastest home-to-first times in 2017 (non-bunt plays)
1. 3.84 -- Billy Hamilton -- 4/6/17
2. 3.87 -- Emilio Bonifacio -- 4/11/17
3. 3.88 -- Dee Gordon -- 4/6/17
4. 3.89 -- Kiermaier -- 4/4/17
5. 3.9 -- Jose Altuve -- 4/4/17