Balk calls frustrate Anderson, raise Black's ire
SAN FRANCISCO -- Rockies manager Bud Black and left-handed pitcher Tyler Anderson saw their Friday nights end early for related, if different, reasons.
Anderson was called twice for balks on pickoff moves to first base. One preceded a home run, the other came after a homer. Anderson lasted just four innings and Black was ejected for arguing in the top of the fifth, as the Rockies lost to the Giants, 8-2, at AT&T Park.
The issue is the left-handed Anderson's pickoff move. The rules say a pitcher must step directly toward a base when making a pickoff move, although lefties are rarely by the letter of the law.
The first balk came after Eduardo Nunez had walked. Chris Marrero, batting at the time, then knocked a two-run homer -- the Giants' first hit -- for a 2-0 lead. The second came in the fourth, with Marrero at first two batters after Brandon Crawford had homered.
Anderson, who protested briefly to first-base umpire Bill Welke, said after the game he was still baffled by the calls.
"I asked for [an explanation] and didn't really get one," Anderson said. "I feel like I do the same one all the time. I was just confused because I did a couple [pickoffs] after the first balk that were pretty much the same ... I mean, exactly the same as the one he called the second balk on. I was kind of frustrated there."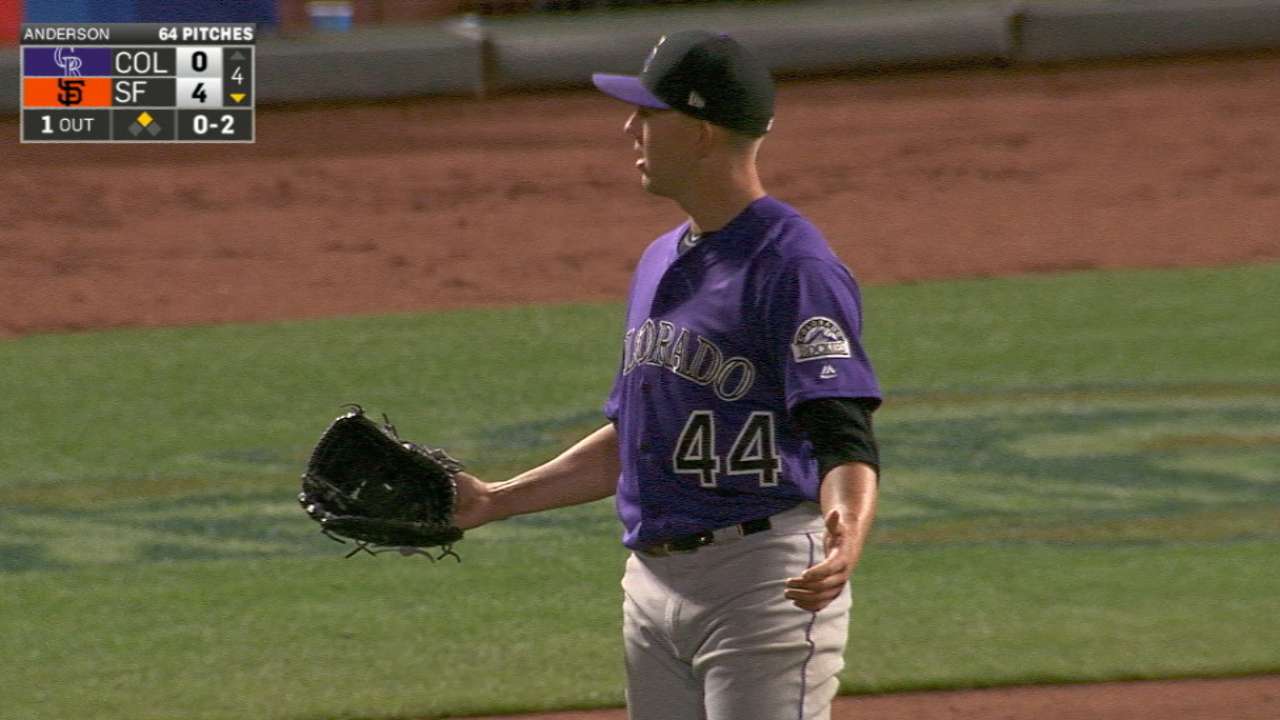 Anderson had three balks in 19 starts as a rookie last year, so umpire unfamiliarity could be an issue.
Black was ejected during the top of the fifth, while the Rockies were batting. The Rockies had already decided to remove Anderson, who gave up four runs on five hits in four innings.
"I think he has a good move -- that's what I think," said Black, who was ejected by plate umpire Mike Everett and had words for him and Welke before departing.
Giants manager Bruce Bochy, who was glad it was the Rockies' problem, said, "It's hard for us to see from the dugout. With the left hand, there's a fine line there where you're crossing the plane or where you're stepping."
Whatever occurred on those calls, the issue was Anderson had retired the first five batters before the first balk but teetered after the walk, balk and Marrero homer with two out in the second. A pitcher who doesn't mind letting emotions show, Anderson receives scrutiny when he has a bad result after something goes wrong.
Black didn't believe the balks unraveled Anderson.
"He handled it fine," Black said. "I mean, he's a competitor. That's part of what makes him who he is. This is his competitiveness and fire. He competes like a lot of Major League players do. As far as it affecting his performance after the balk, I think it had nothing to do with it."
Anderson said, "I was definitely frustrated. I made some bad pitches after that, but I don't know if it was definitely because of that."
Thomas Harding has covered the Rockies since 2000, and for MLB.com since 2002. Follow him on Twitter @harding_at_mlb, listen to podcasts and like his Facebook page. This story was not subject to the approval of Major League Baseball or its clubs.