Kershaw bounces back, outmatches Greinke
LA ace holds D-backs to 1 run after rocky outing in Denver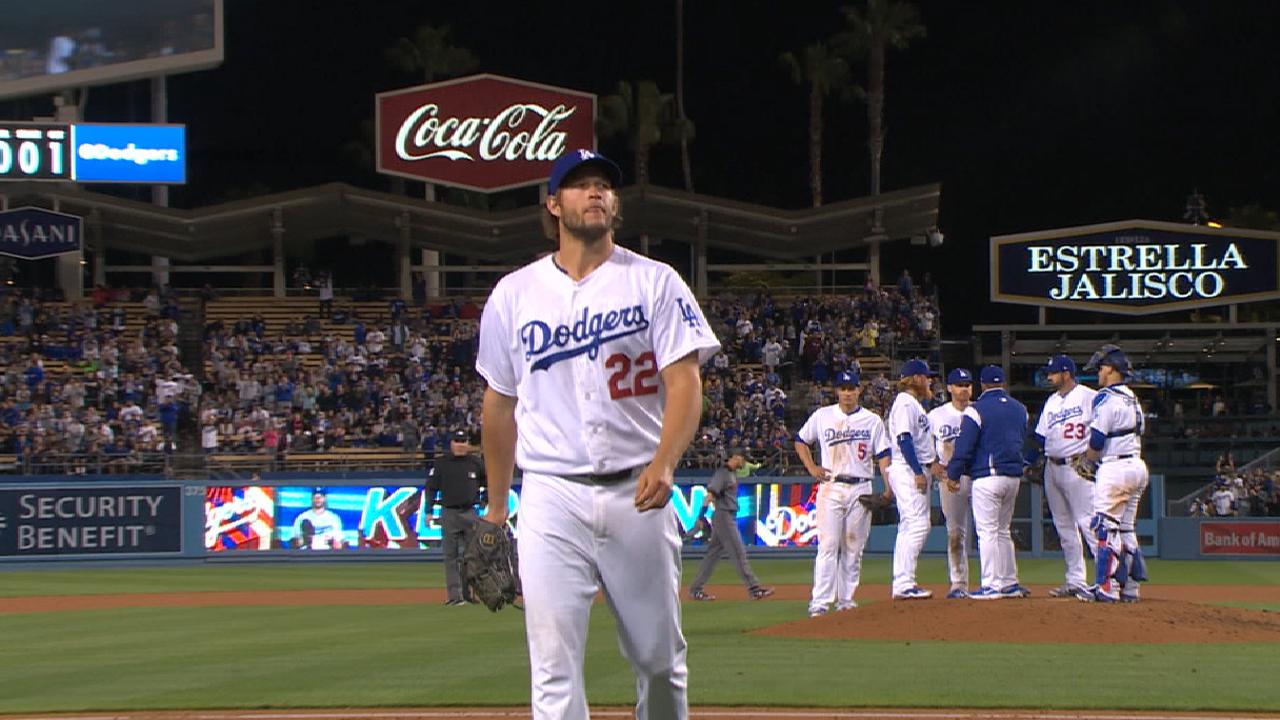 LOS ANGELES -- A showdown with former teammate Zack Greinke made for a logical pregame narrative, but the Dodgers believe Clayton Kershaw's Friday night gem had more to do with his loss at Coors Field last week.
"After he didn't have a great outing in Colorado, you knew somebody was going to have to pay," manager Dave Roberts said, and it was the D-backs who paid in a 7-1 loss to the Dodgers Friday night, as Kershaw threw a four-hitter over 8 1/3 innings.
Kershaw struck out eight (six called), while Greinke was roughed up for five runs in five innings. Kershaw, in his last 10 games at Dodger Stadium, is 9-0 with a 0.47 ERA with 86 strikeouts and five walks. He's 7-1 with a 1.69 in 12 career home starts against Arizona. Greinke has allowed 13 runs in 9 2/3 innings in two starts against the Dodgers since he left for a $206.5 million contract.
But six days earlier in Denver, Kershaw gave up back-to-back homers for the first time in his career, allowed multiple homers in the same inning for only the third time and allowed three homers in a game for the third time.
"Coming off his last outing, he didn't need any added incentive," said Justin Turner, who had a two-run double in the fourth inning and a key single that contributed to a two-run third inning. "He's not facing Greinke, he's facing a good lineup over there. I think after that outing in Colorado, he wanted to have a bounceback outing and he definitely bounced back."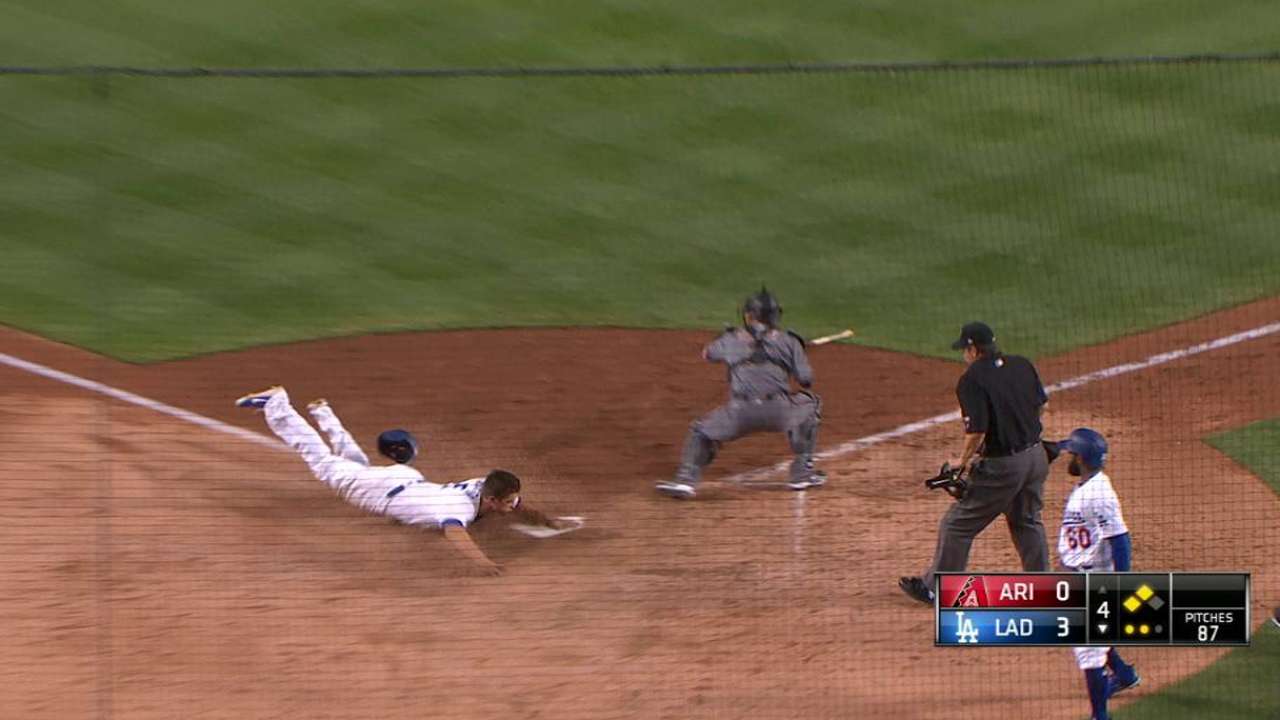 The offense also bounced back from a 1-for-26 series with runners in scoring position in Chicago to pound out 10 hits off Greinke, leaving the main question for the final four innings whether Kershaw would finish off the shutout.
Through eight innings, he had allowed a line single up the middle by Chris Owings that grazed the pitcher's right (non-pitching) forearm and a one-out single in the eighth by Nick Ahmed. But pinch-hitter Chris Iannetta led off the ninth inning with a line single to left, and after A.J. Pollock was called out on strikes, Owings ruined the shutout by doubling home Iannetta, with plate umpire Doug Eddings' safe call standing after a challenge.
Kershaw was at 107 pitches and wanted to continue, but with Paul Goldschmidt coming up, Roberts brought in Pedro Baez for his 2017 debut, having come off the disabled list earlier in the day.
"I felt fine, but you can't give up hits in the ninth inning if you want to finish," said Kershaw. "With Goldschmidt coming up for a fourth at-bat, that would be a battle no matter what. He got Petey in there in a good spot. I understood it."
Arizona manager Torey Lovullo said Kershaw looked like typical Kershaw to him.
"He's done it a few times to teams in this league over the course of his career," he said. "He was locating his pitches, good sharp, late movement. Our hitters were coming back trying to make adjustments, but he was counterpunching us. You've got to give him some credit. We tip our hat to him, turn the page and get after it tomorrow."
Ken Gurnick has covered the Dodgers since 1989, and for MLB.com since 2001. This story was not subject to the approval of Major League Baseball or its clubs.