Bullpen can't close door on Mariners
Leclerc avoids damage in 6th, allows go-ahead run in 7th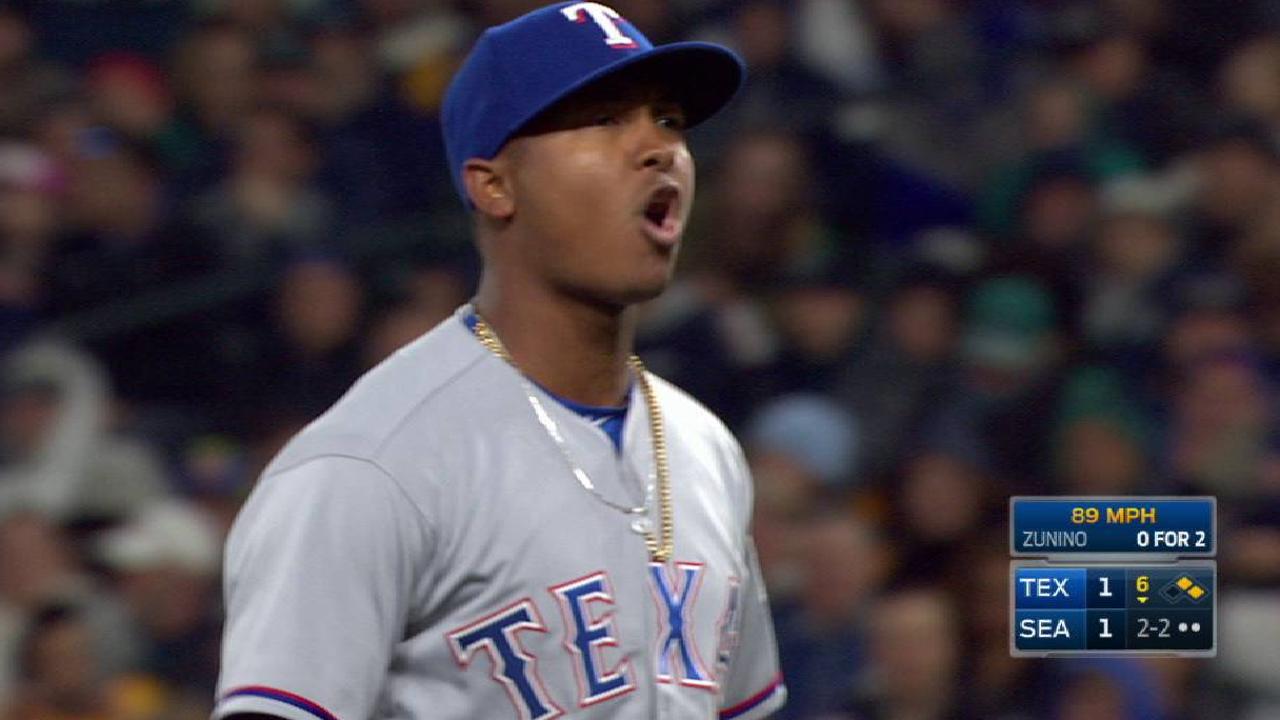 SEATTLE -- The Rangers entered Friday night's game against the Mariners at Safeco Field with a reeling bullpen and, as a result, a losing record.
The latter part of that equation didn't change in a tough 2-1 loss to Seattle, but maybe the former did. Despite the fact that Texas relievers have accounted for a league-high-tying four losses in the early part of the 2017 season, there is reason to believe that better days are ahead.
Friday was a good example. Rookie right-hander Jose Leclerc was the one who took the loss on Friday, but he and two other Texas relievers combined for three innings of one-run ball, although one more inch of height on the game-winning hit would have made it three runs.
"They gave us an opportunity, really, to stay in this ballgame," Rangers manager Jeff Banister said. "I really feel like the bullpen has established itself over the last couple days, and how they've thrown the baseball. It's nice to see."
The numbers entering the game weren't pretty. The Texas bullpen had given up 20 earned runs in 28 1/3 innings, allowed four-plus runs four times in nine games and blown three saves while racking up three losses.
On Friday, after starter Martin Perez worked his way through five innings of one-run ball while walking four batters and striking out four, throwing 98 pitches, of which only 53 were strikes, the bullpen once again had its work cut out.
Leclerc was brilliant in the sixth inning, inheriting runners on first and second with none out and striking out all three batters. In the seventh, however, he got into some trouble.
A Jarrod Dyson leadoff single and stolen base plus a Guillermo Heredia bunt single that put Dyson on third created problems, and those were exacerbated by a long fly ball off the bat of the next batter, Mitch Haniger, who belted a Leclerc slider off the top of the wall in left field.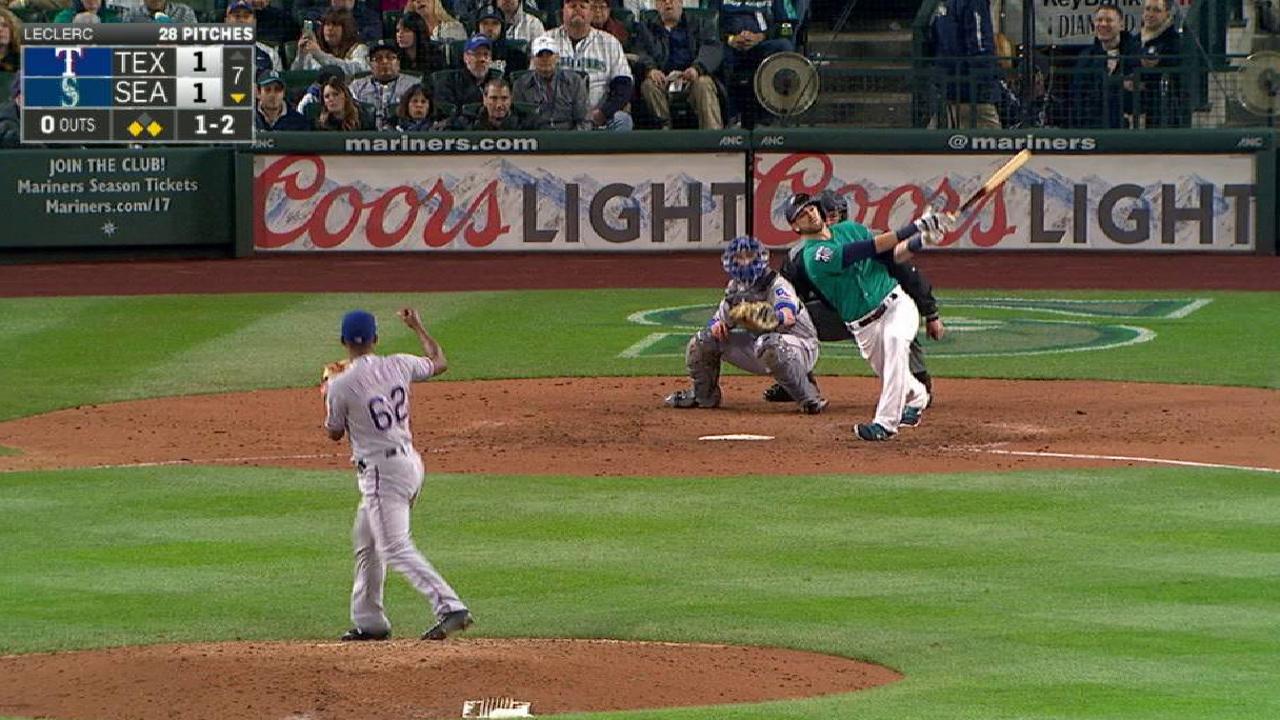 The ball was first ruled a three-run home run, but a replay review showed that the ball caromed off the yellow line at the top of the wall, making it a one-run single.
"The whole inning starts with Dyson getting on base and stealing the base and getting the bunt down and doing those little things," Mariners manager Scott Servais said. "We've talked about it, having that kind of team. We have those kind of athletes at the top and bottom of the lineup."
The 2-1 deficit held for another loss even after Dario Alvarez (1/3 of an inning) and Jeremy Jeffress (1 2/3 innings) combined to hold the Mariners scoreless for the last two innings. Those are the numbers the Rangers will try to focus on as they move on into the long season.
"It wasn't a lot we needed to tweak," Jeffress said. "We'll just keep it rolling like we are now, because we're a good group of guys and we stick together. That's one of the main things."
Doug Miller is a reporter for MLB.com. Follow him on Twitter @DougMillerMLB. This story was not subject to the approval of Major League Baseball or its clubs.