Graveman, Melvin downplay righty's early exit
A's starter throws 74 pitches in 5 frames, but has trouble staying loose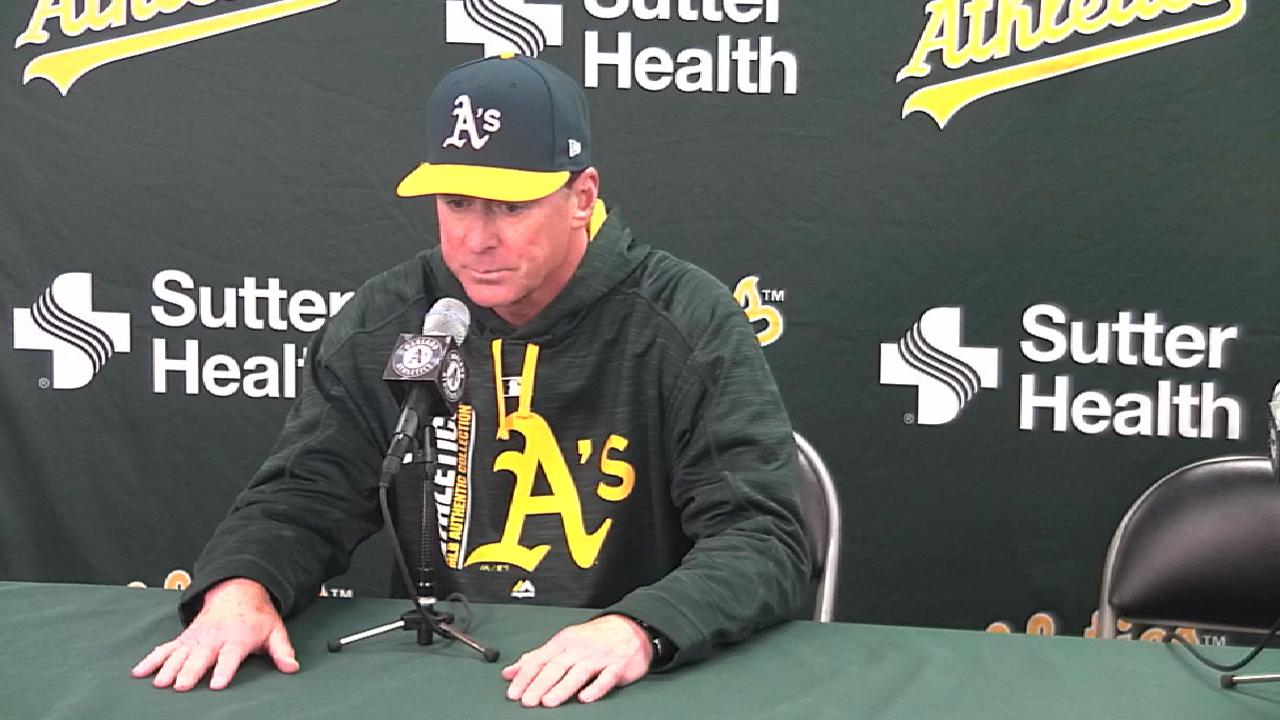 OAKLAND -- Kendall Graveman made an early exit in Friday night's 7-2 loss to the Astros, but the A's right-hander and manager Bob Melvin insist it was a precautionary move that should have no bearing on his future availability.
Graveman and Houston ace Dallas Keuchel were locked in a pitcher's duel to begin the contest, but Graveman was pulled after just 74 pitches through five innings when he struggled to stay loose in the chilly weather.
"I felt good," Graveman said. "As the game went on, it was a little bit harder to stay loose. But it's nothing that should raise any doubts or questions. I feel fine."
Neither Graveman nor Melvin pinpointed where the right-hander was feeling discomfort. Graveman threw 104 pitches on Opening Night and 85 in his last start, against Texas, hardly eye-opening numbers, but both he and Melvin mentioned his previous workload as a factor.
"I didn't go up to BoMel and say [pull me out of the game]," Graveman said. "He could kind of tell that, it was a cold night, not staying loose. We had already communicated that with him. As the game went on, I started to give up harder hit balls. You didn't see the sink as much and I think that's kind of what it boiled down to."
Graveman missed the final five weeks of his 2015 rookie season with a strained left oblique muscle and was limited to 21 starts. He finished with a team-high 186 innings across 31 starts for the A's last season.
Graveman (2-1) finished five innings, allowing five hits and two walks while striking out none. He threw 40 strikes compared to 34 balls, but the only run he allowed came on a fifth-inning solo shot by Astros outfielder Norichika Aoki. Graveman was saddled with his first loss of '17, but lowered his ERA to 2.00 on the season.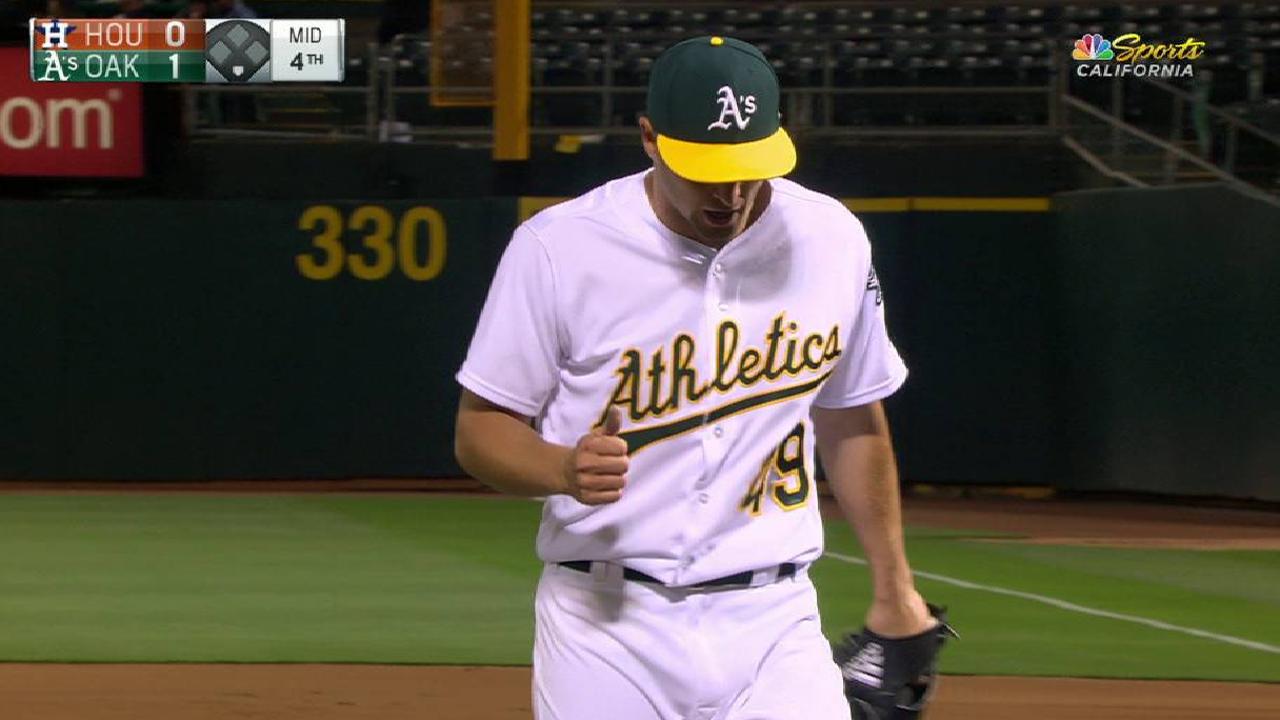 Once Graveman left, Houston was able to break the game open with six runs against the bullpen, aided by a couple of costly errors by A's third baseman Trevor Plouffe. Khris Davis and Plouffe hit solo home runs to account for Oakland's scoring.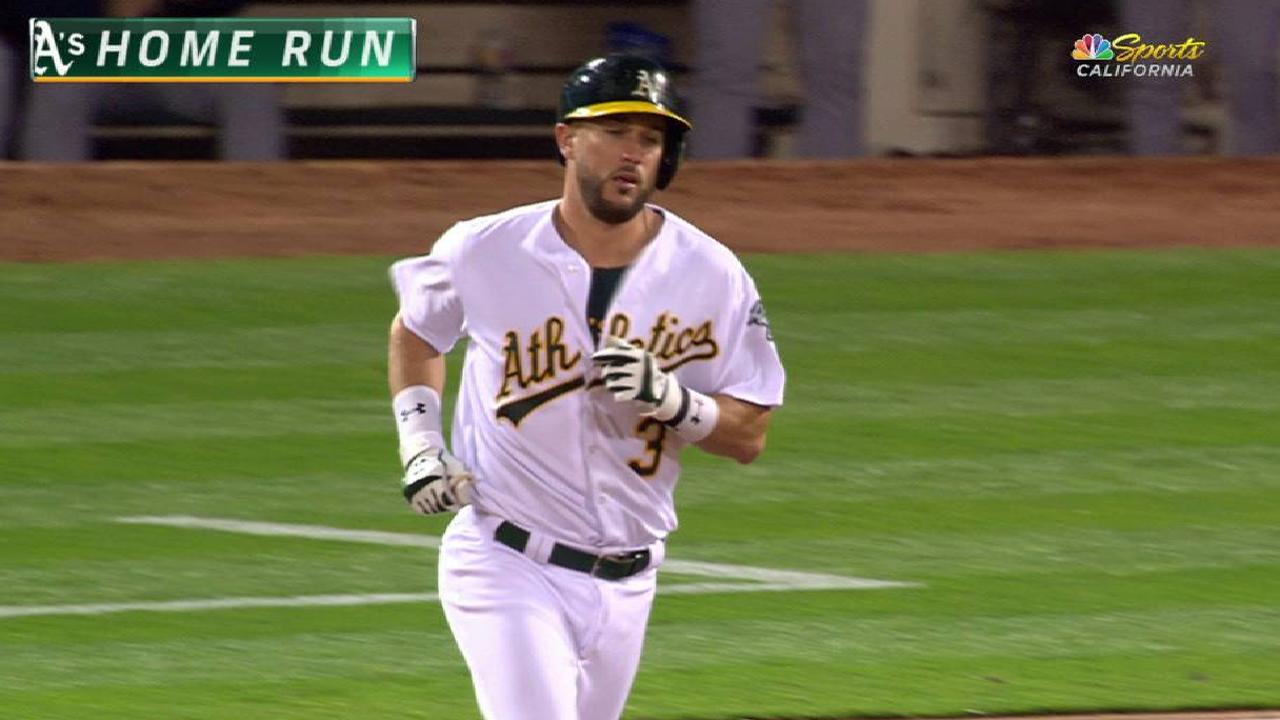 The A's can ill-afford another injury to their starting pitchers. Staff ace Sonny Gray has been sidelined since mid-March with a lat strain, the main reason Graveman has been thrust into the Athletics' No. 1 rotation spot to begin the year. Considering Jesse Hahn has already been promoted from Triple-A and taken over for fifth starter Raul Alcantara, it's no wonder the A's are taking a cautious approach.
"He didn't feel great," Melvin said, adding he expects Graveman to make his next start, "and I just wasn't going to mess around with it. Makes no sense to have him keep pitching if we feel like something could potentially happen. He's too important to what we're doing. Just can't mess around with it."
Asked if he will take the mound for his upcoming scheduled start, Graveman said, "For sure."
Alex Espinoza is a contributor to MLB.com, based in the Bay Area. This story was not subject to the approval of Major League Baseball or its clubs.