Statcast of the Day: Hold leaves Cards stranded
Grichuk left at third as tying run in ninth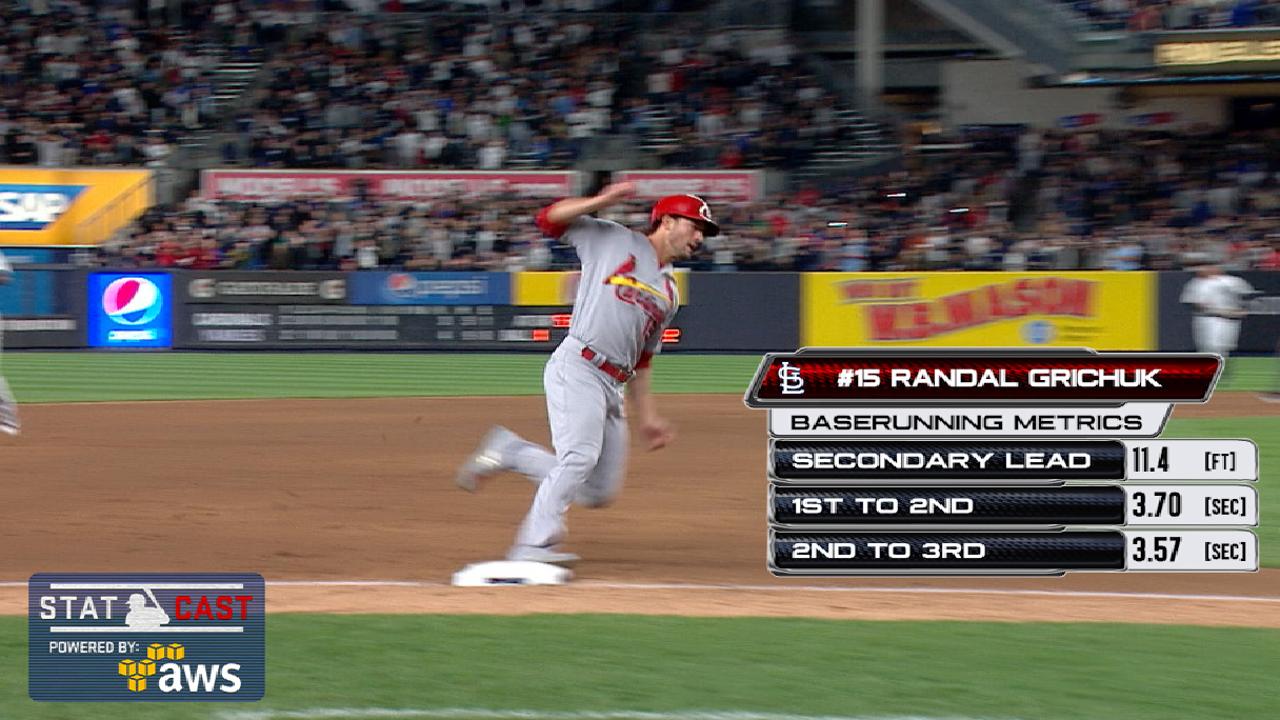 The Cardinals haven't scored off Aroldis Chapman since Sept. 2, 2011, so it wouldn't have been too surprising if they took a risk in Friday's 4-3 series-opening loss at Yankee Stadium.
Down a run with two outs in the ninth inning, Randal Grichuk drew a walk off Chapman. That brought up Jose Martinez, who ripped a 106.3-mph double into the left-field corner. With Grichuk burning toward third base as Brett Gardner relayed the ball to shortstop Ronald Torreyes, Cardinals third-base coach Chris Maloney had a decision to make: Push the envelope, send Grichuk and force Torreyes to make the throw home; or, hold Grichuk up and hope the Cards could scratch out another hit off one of the most dominant closers in the game.
Maloney held Grichuk, and the next batter, Dexter Fowler, grounded out to end the game. Still, the Statcast™ data indicates the Cardinals made the right call. Barring a wild throw, Grichuk likely would have been cooked at the plate.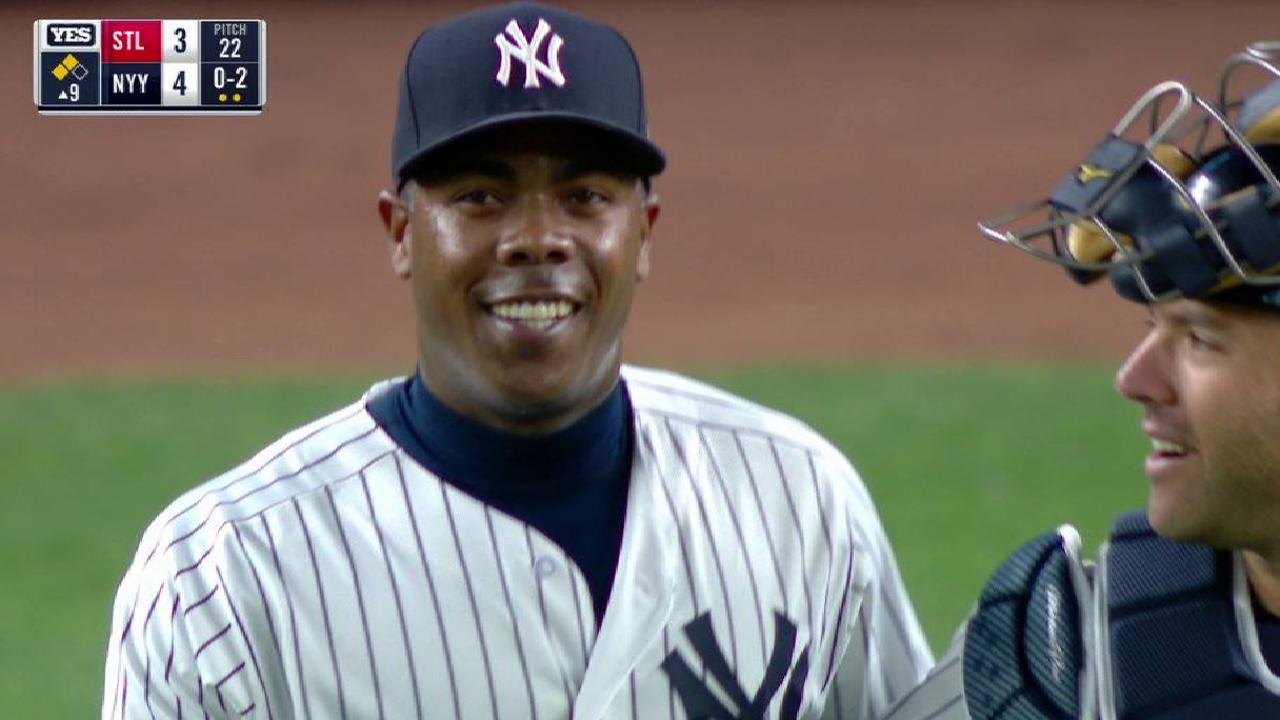 "I didn't think he had a chance," Maloney said. "Even if the throw had been off a few feet either way, he still has time to get him. I wanted to take the chance, but I couldn't."
The first factor working against Grichuk was his short jump against a left-hander -- Grichuk's secondary lead off Chapman was just 11.4 feet. It was reminiscent of a play from Game 5 of last year's National League Division Series between the Nationals and Dodgers, when Washington's Jayson Werth tried to score from first on a two-out hit despite an 11.1-foot secondary lead, ending up getting thrown out easily by shortstop Corey Seager.
Due to Grichuk's limited lead, at the time Torreyes received Gardner's throw, Grichuk had only just rounded third base. Torreyes was 157 feet from home plate, comparable to a third baseman's throw to first on a play deep behind the bag.
"I felt pretty good about Gardy in the corner," Yankees manager Joe Girardi said. "It's a little harder to get a jump off a left-hander, which helps as well. When I saw the ball hit, unless it took a funny hop or we messed up a relay, I thought we'd be able to get it in."
For context, a 90-mph throw from 150 feet away from a base -- say, Orioles third baseman Manny Machado at max-effort arm strength -- will arrive in 1.4 seconds, fast enough for a player like Machado to retire a batter even if he's already halfway down the line. Torreyes' average Statcast-tracked max-effort throw last year was 79 mph, with his hardest at 83.5 mph, so a throw from him would have taken slightly longer, but not much.
Essentially, to be safe, Grichuk would have had to make it home in less than two seconds, and considering how close he was to third base, that would be highly unlikely. A baserunner generally needs close to four seconds to run 90 feet -- Grichuk's second-to-third time on the play, for example, was 3.57 seconds.
Again turning to the Werth play as a comparison, Seager was 135 feet from the plate when he threw home. That's closer than Torreyes was, but Werth was also 25 feet past third, and he was a sitting duck.
There's still the question: With Chapman pitching, was it worth betting on Torreyes -- a backup forced into action with Didi Gregorius injured -- misfiring despite ample time? But if the Cardinals would've been sending Grichuk into a sure out, their decision was more than justified.
"What I saw is, once [Grichuk] got to third base, he was a step, maybe past, by the time it got to the infielder," Cardinals manager Mike Matheny said. "That's going to be a tough one to round him on."
David Adler is a reporter for MLB.com based in New York. Follow him on Twitter at @_dadler. This story was not subject to the approval of Major League Baseball or its clubs.