MLB.com Columnist
Lindsay Berra
Santiago lends voice to autism awareness
Twins lefty wears custom-painted cleats, paints face blue for challenge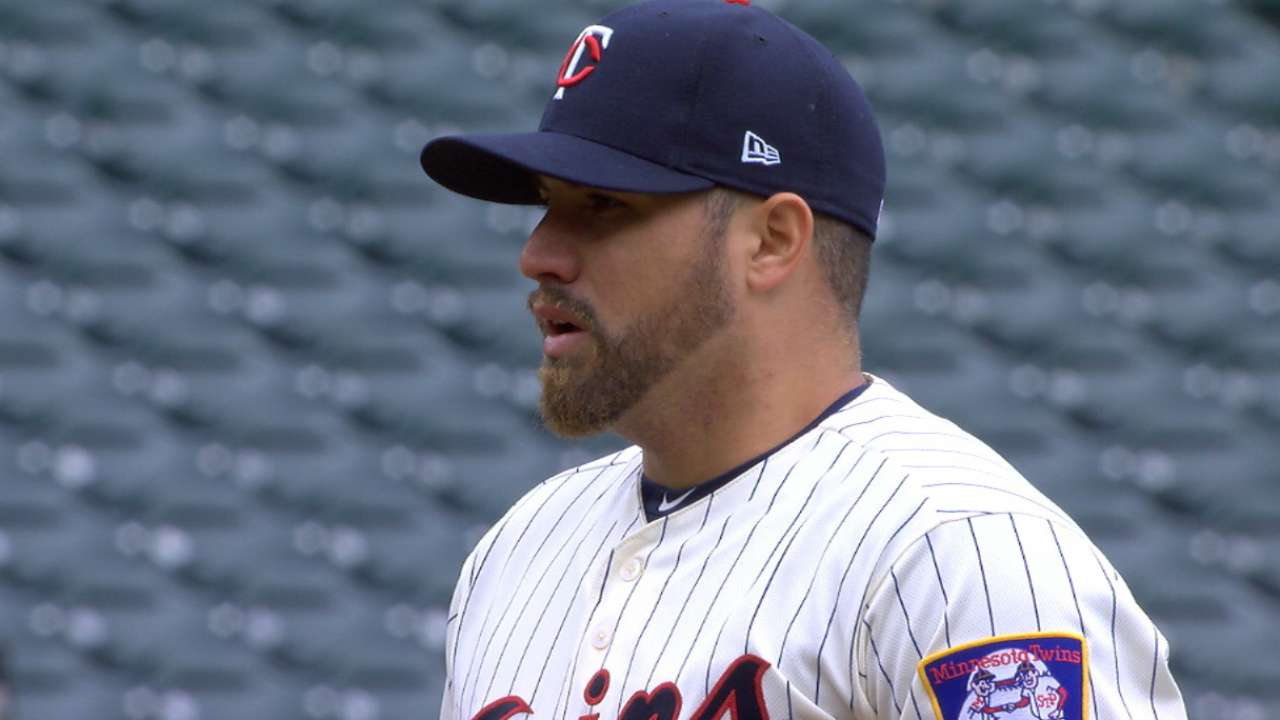 On April 4 at Target Field, Twins left-hander Hector Santiago took the field in a pair of custom-painted cleats bearing the signature puzzle pieces of autism awareness and the name Dominick "Broski" Romano.
Romano, 18, of Fairfield, N.J., has autism and is the cousin of Michael Perez, who paints Santiago's cleats each time the pitcher wants to commemorate an occasion or champion a cause. Romano subsequently challenged Santiago to paint his face blue to participate in the #GoSpectrumBlue challenge to raise funds and awareness for Spectrum Works, the New Jersey-based nonprofit that employs Romano and 50 other autistic adults.
Prior to the Twins' game against the White Sox on Friday night at Target Field, Santiago complied.
"The guy who does my spikes all painted up during the year, he asked me for that favor for his cousin," Santiago said. "I wanted to show my support for autism awareness and him. It started off with the cleats, and now they've challenged me, kind of like the Ice Bucket Challenge. I'm always trying to be involved in the community, so what better way to do it than to help someone you know personally and someone from where I grew up in Jersey."
Fresh cleats for @hecsantiago53. #autismawarenessmonth #MNTwins pic.twitter.com/g4luVhMDX0

— Minnesota Twins (@Twins) April 5, 2017
With his face painted blue, Santiago passed the #GoSpectrumBlue challenge on to fellow Twins pitcher Ryan Pressly.
Spectrum Works provides job training and employment to individuals with autism by building inclusive workforces at its partner companies. The job training program allows young adults with autism to enter a workplace as a paid trainee, work alongside neuro-typical coworkers and learn the skills needed to be outstanding employees. The pilot program began at Green Distribution, a large T-shirt screening company that provides concert shirts for acts from the Rolling Stones to Lady Gaga. Spectrum Works also currently partners with the fashion company Rent the Runway and hopes to use proceeds from the #GoSpectrumBlue campaign to expand their partnerships both nationally and internationally.
"Our vision is to implement our job training and employment program in companies across the country, and ultimately around the world," said Spectrum Works CEO Ann Marie Sullivan. "It means so much to us that someone like Hector has taken an interest and cares to help us make an impact in lives of adults with autism. He is helping us to spread our message that people with autism can and want to work."
Santiago also decided to #GoSpectrumBlue in honor of Twins bullpen coach Eddie Guardado, whose daughter, Ava, has autism. Santiago gifted Guardado a signed pair of painted Autism Awareness cleats, and he also had a pair painted specially for Guardado.
Those who would like to participate in the #GoSpectrumBlue challenge can order U.S.-made, vegetable-based paint kits at GoSpectrumBlue.com. They are urged to paint their faces blue and post their photos or videos on social media with the hashtag #GoSpectrumBlue.
"We are challenging people around the world to paint their face blue and challenge three other people to do it," said Sullivan. "The paint packaging was designed by our employees with autism, and the paint will be distributed with the assistance of our employees with autism. We hope this will go viral so that everyone will know that individuals with autism have potential. They just need a supportive work environment and an opportunity."
Lindsay Berra has covered a variety of sports, from baseball and hockey to tennis and the Olympics, since 1999. She joined MLB.com in 2013. This story was not subject to the approval of Major League Baseball or its clubs.