Easy as 1-2-3: Yanks' relief trio keeps rolling
Clippard, Betances, Chapman close out win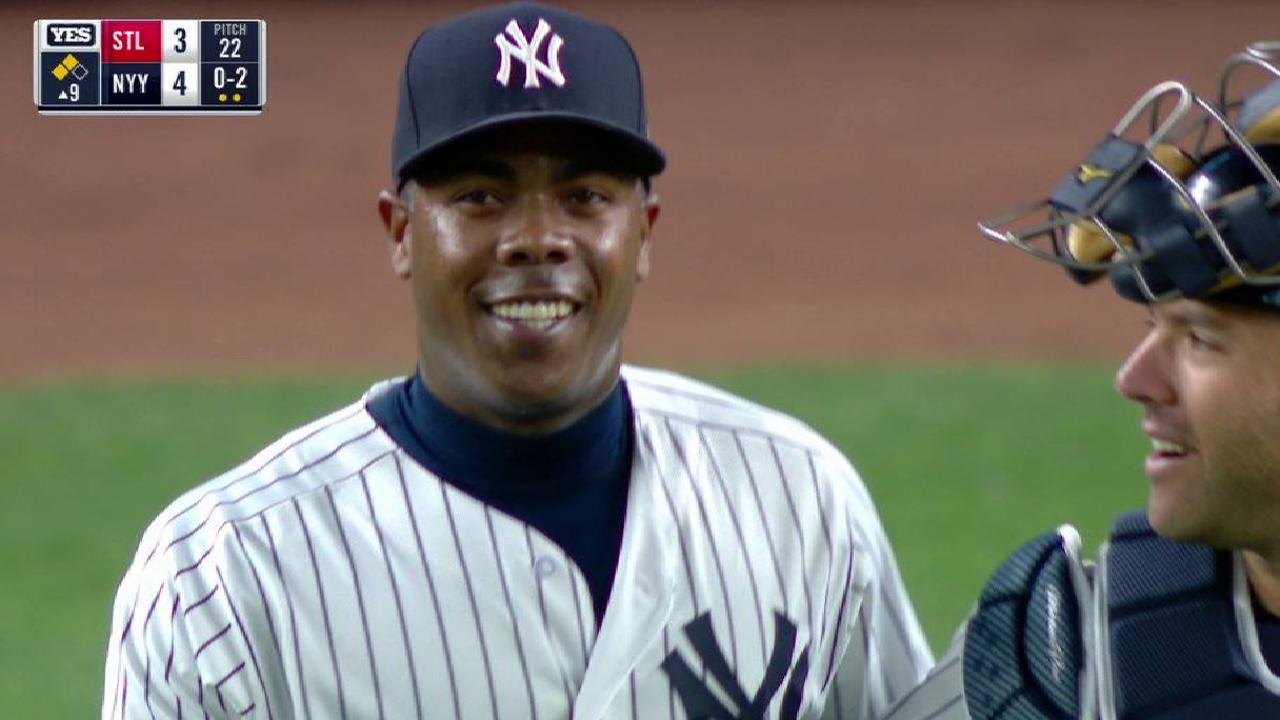 NEW YORK -- The Yankees' bullpen has been as good as advertised again this season, and with each effective outing, confidence in the trio of Tyler Clippard, Dellin Betances and Aroldis Chapman continues to grow.
Those three relievers combined for 2 2/3 scoreless innings in Friday's 4-3 win over the Cardinals, extinguishing a pair of rallies to close out New York's fifth consecutive win.
"That's what it's all about. That's the fun part of being a reliever," said Clippard, who wriggled out of a one-out spot with runners on second and third in the seventh. "Coming into those jams and getting out of them, it's fun to hand the ball off to Dellin and Aroldis after you get out of something like that."
The Yanks' bullpen entered Friday leading the Majors in ERA (0.89), among a slew of other categories, so manager Joe Girardi felt the game was still in good hands after a tiring Masahiro Tanaka left a seventh-inning slider up for a Randal Grichuk RBI double, which cut their lead to 4-3.
"These guys are really good at what they do. They've shown that year after year," Girardi said. "They're used to those pressure situations, and they handle them extremely well."
Clippard entered in the seventh and got Kolten Wong to fly out, then gulped as Dexter Fowler slugged a ball to the warning track in right field, where Aaron Judge settled underneath it just in front of the wall. Opponents are just 1-for-16 (.063) this year against Clippard.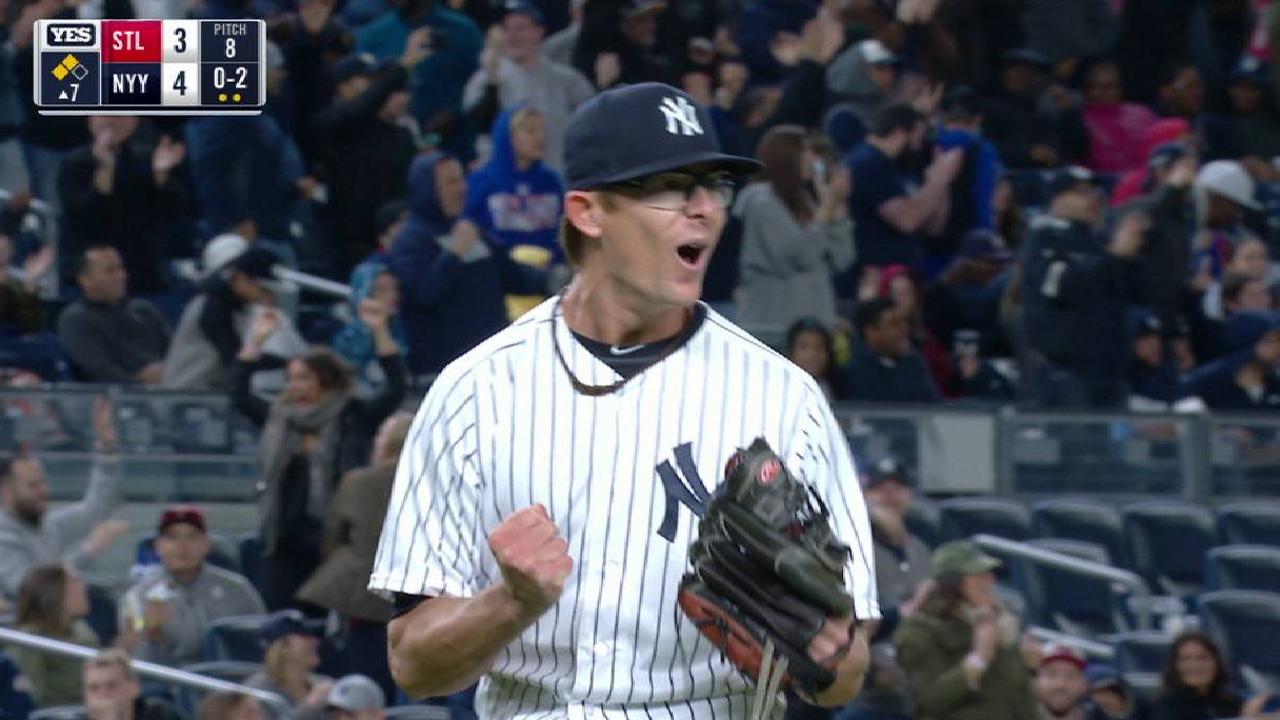 "I wasn't sure. Obviously I left it a little bit over the plate," Clippard said. "I was trying to elevate to either get a swing and miss, or to set up the next pitch. I pulled it lower in the zone than I wanted, but it was away enough to where he didn't get enough of it."
Betances struck out the side in a scoreless eighth, working around a two-out walk, before Chapman was summoned for a third consecutive game. Girardi abhors using relievers three straight days, especially early in the season, but he permits more leeway to the flame-throwing Chapman.
"It's the same as last year," Chapman said. "If I feel good and I'm ready to pitch, I'm going to pitch."
Known for his fastball/slider combo, Chapman has been fond of his developing changeup. He showed that to the Cards immediately, floating two to Yadier Molina before gassing a 100.5-mph heater past the catcher for a strikeout to lead off the ninth.
"I feel bad for the hitters, to be honest with you. It's not fair," Betances said. "I've been playing catch with him. His changeup is really good, and his breaking ball is good as well. It's going to be tough."
Not having permitted a run to the Cardinals since 2011 -- a stretch that now spans 30 consecutive appearances -- Chapman's streak appeared in jeopardy as pinch-hitter Jose Martinez ripped a two-out double to left field, advancing Grichuk to third base as the tying run.
"You have to be ready for a fastball. You have to be ready early," Martinez said. "That's it. 98 percent of the time, he's going to throw the fastball."
In this case, three triple-digit fastballs got Chapman out of the fix, with Fowler grounding out to second on a 101-mph offering.
"When we've got the 'pen coming in, there's no worries," Yankees catcher Austin Romine said. "You just let them work. Clip coming in today, he got out of a jam for us, and Dellin did the same. We've got full confidence in these guys coming in from the 'pen that they're going to get the job done."
Bryan Hoch has covered the Yankees for MLB.com since 2007. Follow him on Twitter @bryanhoch and on Facebook. This story was not subject to the approval of Major League Baseball or its clubs.