MLB.com Columnist
Richard Justice
Beauty in NL East: Braves' home a real belle
SunTrust Park offers jaw-dropping experience, classic feel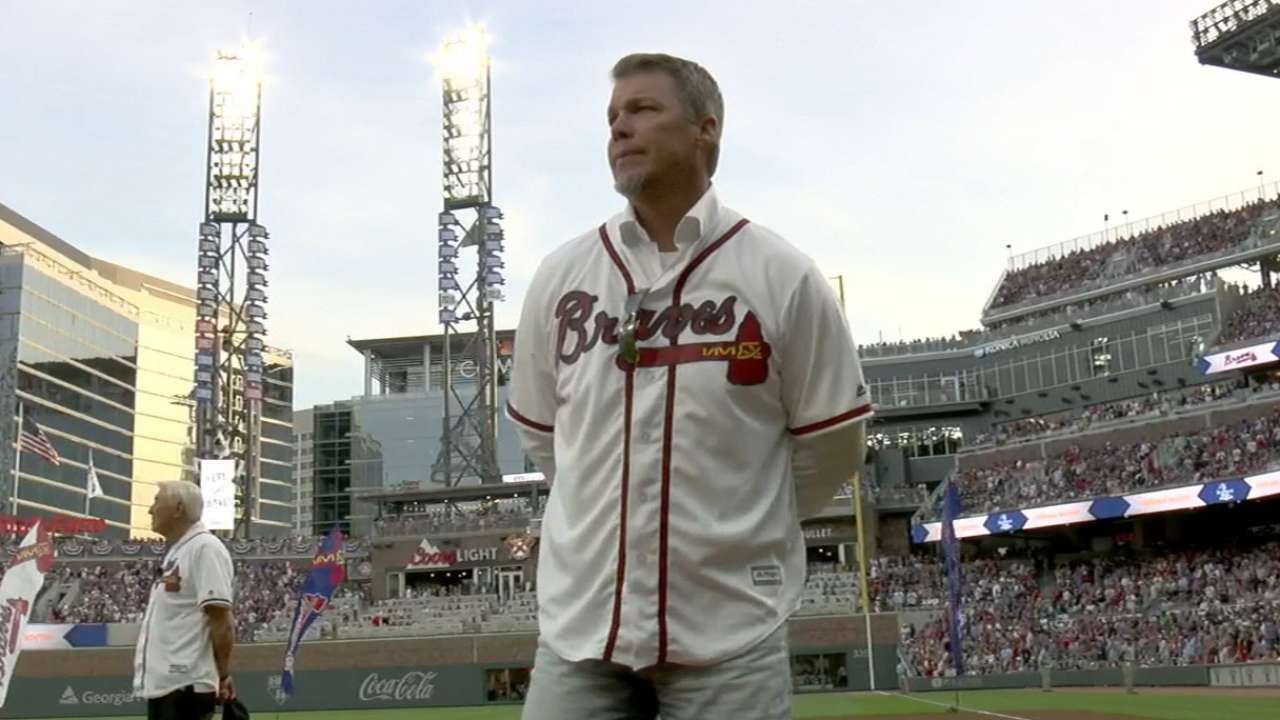 ATLANTA -- The Atlanta Braves have built themselves a spectacularly beautiful, wonderfully intimate home. In that way, SunTrust Park has the timeless, enduring feel of Wrigley Field or Fenway Park.
Isn't that where everything begins? The Braves accomplished so much more than that and appear to have succeeded on every level. In the end, though, it begins with it being a great place to watch a baseball game.
"It feels like a ballpark that has been sort of cured and matured by the fans and the environment and the games played and all the energy," Braves vice chairman John Schuerholz said. "We've only played a couple of exhibition games, but it feels like that already."
He spoke those words standing a few feet from home plate several hours before the Braves opened their new home with a 5-2 victory over the Padres in front of a festive sellout crowd of 41,149.
Hank Aaron, Chipper Jones, Dale Murphy and other Braves legends drew huge cheers during a touching pregame ceremony that set the stage for the start of a new era.
Even before the first pitch was thrown, Schuerholz was certain that the Braves had done what they set out to do. That is, to retain the pleasure of watching baseball while taking the design and mission of a ballpark to new places.
Perhaps most unique is the location of SunTrust Park, 10 miles north of downtown Atlanta and tucked into a larger development that includes places to eat and shop and be entertained year-round.
The Braves had final say of the design over both SunTrust Park and the shopping development, The Battery Atlanta. Commissioner Rob Manfred called it "the future of baseball."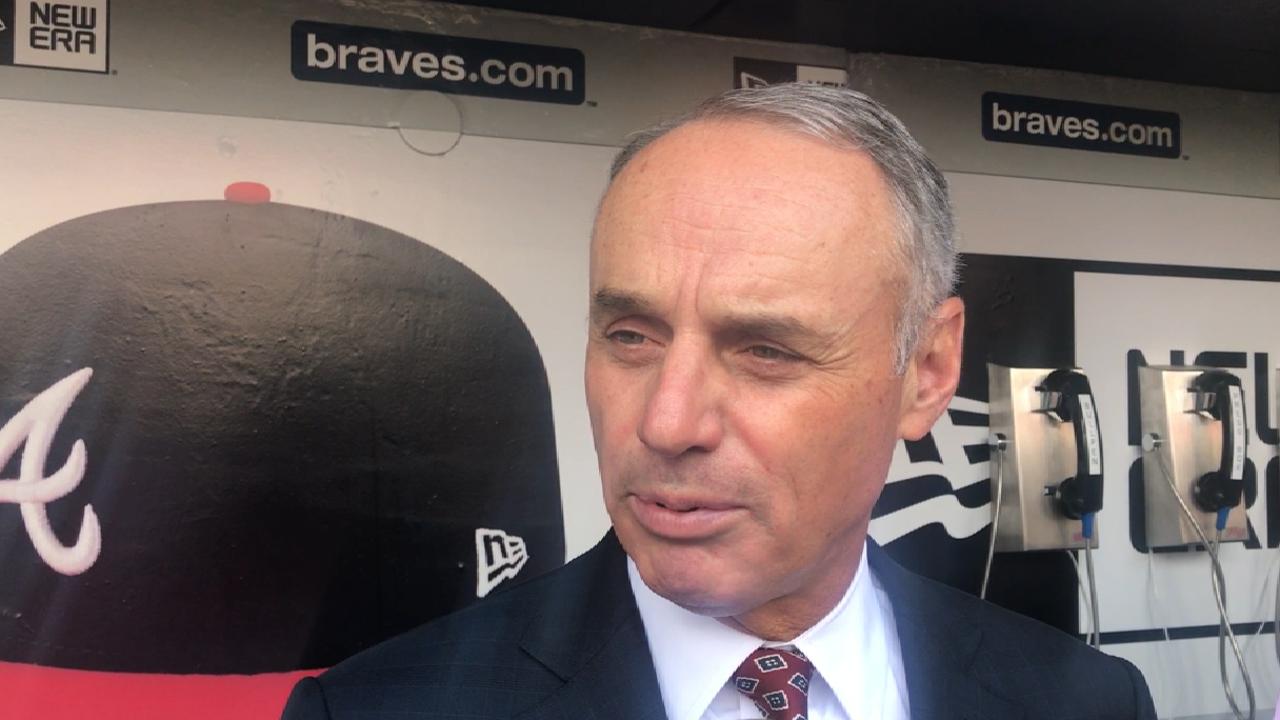 "The Braves wanted this to be the next generation of ballpark that had everything the fans could ever want," said Joe Spear, a principal in charge of the design for Populous, a global architectural firm headquartered in Kansas City. "They wanted the park to be beautiful and to be tied into the development."
Some of those restaurants -- for instance, the Terrapin Taproom and the Coors Light Chop House -- are part of the ballpark structure. Others are close by.
Inside SunTrust Park, there's an assortment of places to gather and eat and drink and watch baseball. There are private clubs of all shapes and sizes as well as 20,000 seats under $20.
Food? How about the Fried Tomahawk Pork Chop sandwich? Or blackened catfish tacos? Or bourbon ice cream? There's also a Waffle House and a Chick-fil-A and something called Intentional Wok. Garlic Fries? Done. Gluten-free beer? Of course.
First, though, there's the sheer beauty of the place with its brick, stone and steel exterior, classic green seats and some of the widest concourses in baseball.
Braves shortstop Dansby Swanson saw the nearly finished place when the team returned from Spring Training a couple of weeks ago. It was nighttime, and with only a few lights aglow, Swanson was struck by the scene.
"I couldn't take pictures," he said. "I didn't want to mess with the beauty of the place, the purity. It felt so right. If I'd taken a picture, it felt like it wouldn't do it justice. It's beautiful -- the backdrop, just the whole vibe of the place. You get such a positive outlook, and I think that's really, really neat."
Home pic.twitter.com/qq7AjcyASx

— Atlanta Braves (@Braves) April 15, 2017
Three designers from Populous, including Spear, walked a reporter through SunTrust Park on Friday, showing off its places to sit, stand, chat, eat, drink.
"I love the idea it'll take most of the fans a whole season to experience all the different choices," Spear said.
He said the uniqueness of SunTrust Park begins with it being part of a larger development. There are also the "neighborhoods" -- the assorted sections of the park built around seat price, location or club.
"We knew from day one it was more than a ballpark," said Earl Santee, a Populous member of the design team. "You can't really say a ballpark is authentic when there hasn't been a game there yet. We worked very hard on the materials and the colors, and if there is such a thing, this is the most authentic place I've seen."
One of the most striking areas is Monument Garden, an area on the lower concourse near home plate to honor the iconic players and memories of the Braves, especially Henry Aaron.
Aaron dominates it, beginning with a beautiful sculpture that captures his power as well as his dignity. Manfred said it "may be the best baseball statue I've ever seen."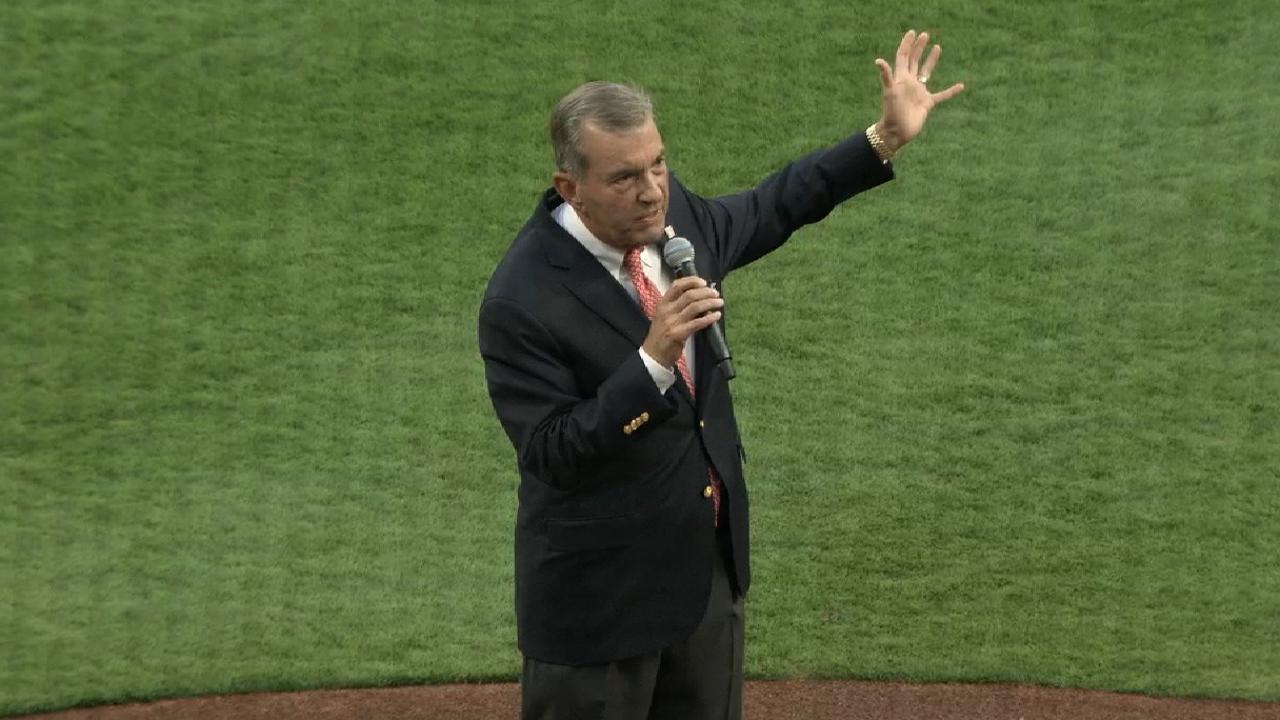 During the pregame ceremony, the Braves honored an array of people responsible for the project, including Schuerholz and three others who were instrumental in both the design and getting it finished in less than three years after groundbreaking: chairman and CEO Terry McGuirk, president of development Mike Plant and president of business Derek Schiller.
"You walk into this place and it's jaw-dropping," Schuerholz said. "We've been in the middle of the visualization and planning of it and the building of it. But it's just remarkable when you see it.
"I've made it a point to walk the concourses during our exhibition games. I didn't have to engage fans. They engaged me with thank yous and appreciation. When you hear that, it makes the day for you."
Richard Justice is a columnist for MLB.com. You can follow him on Twitter @richardjustice. This story was not subject to the approval of Major League Baseball or its clubs.