Miley finding stride with slower delivery
O's starter credits recent improvement to conversation with McGregor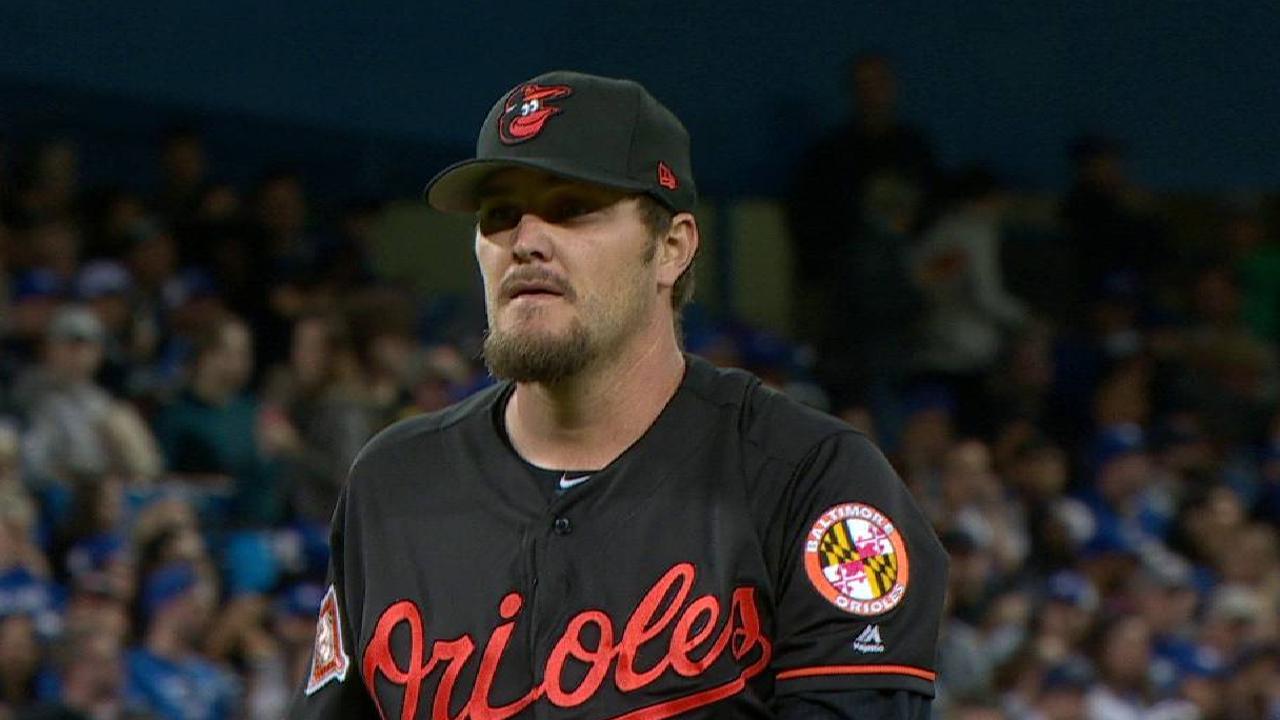 TORONTO -- A late-season conversation with former Orioles pitcher Scott McGregor last year has Wade Miley approaching his starts differently, and it's showing in his results.
Miley (1-0, 2.45 ERA) went six innings, allowing three earned runs on five hits while striking out eight as Baltimore extended its win streak to three games with a 6-4 victory over the Blue Jays on Friday night.
The outing was an improvement on Miley's first start of the season, when he struck out five in five innings but walked seven and picked up a no-decision in a 7-3 loss to the Yankees on Sunday.
"I just spent some time slowing down a little bit throughout the week, slowing my delivery down, and was able to command the fast ball a little bit better," Miley said. "I had the breaking ball a little bit tonight as well, was able to throw the back-door slider and bury it when I needed to."
Miley credited his chat with McGregor with turning things around. Prior to their discussion, Miley went 2-5 with a 6.17 ERA in 11 starts for the O's. In his final three outings of the season, he held the opposition to four runs and struck out 23 batters over 18 2/3 innings.
"The talk I had with him in the outfield last year -- I think right in September when [McGregor] got over there, it kind of stuck with me," said Miley. "I was kind of working too hard throughout games and trying to do too much, kind of backed it off and tried to rely more on location.
"It sounds kind of crazy, but my misses were killing me last year, I was missing over the plate. Now, my misses are off the plate."
Friday marked the seventh time in his career Miley struck out at least eight without issuing a walk. The most recent such outing came Sept. 24, 2016, against the D-backs, when he finished with 11 strikeouts.
The win also improved Miley to 2-4 lifetime against the Blue Jays and 2-2 in five career starts at the Rogers Centre.
"I felt like the slider [and] curveball were there," Miley said. "I think that's the big thing: When you kind of get a handle on that fastball, I think those other pitches kind of work off of that."
Orioles manager Buck Showalter credited Miley's ability to mix pitches for the success Friday night.
"Just a little bit better command of secondary pitches, and once he got in good tempo and gave Caleb [Joseph] some weapons to work with," said Showalter. "He kind of rocked it back and forth and never really got in any predictable sequence.
"Lot of strikes, lot of fun to play behind. Very similar to last night with [Kevin] Gausman."
Dhiren Mahiban is a contributor to MLB.com based in Toronto. This story was not subject to the approval of Major League Baseball or its clubs.