Kelley, Nats bullpen hold their ground late
Baker: 'Our bullpen looked like our bullpen tonight'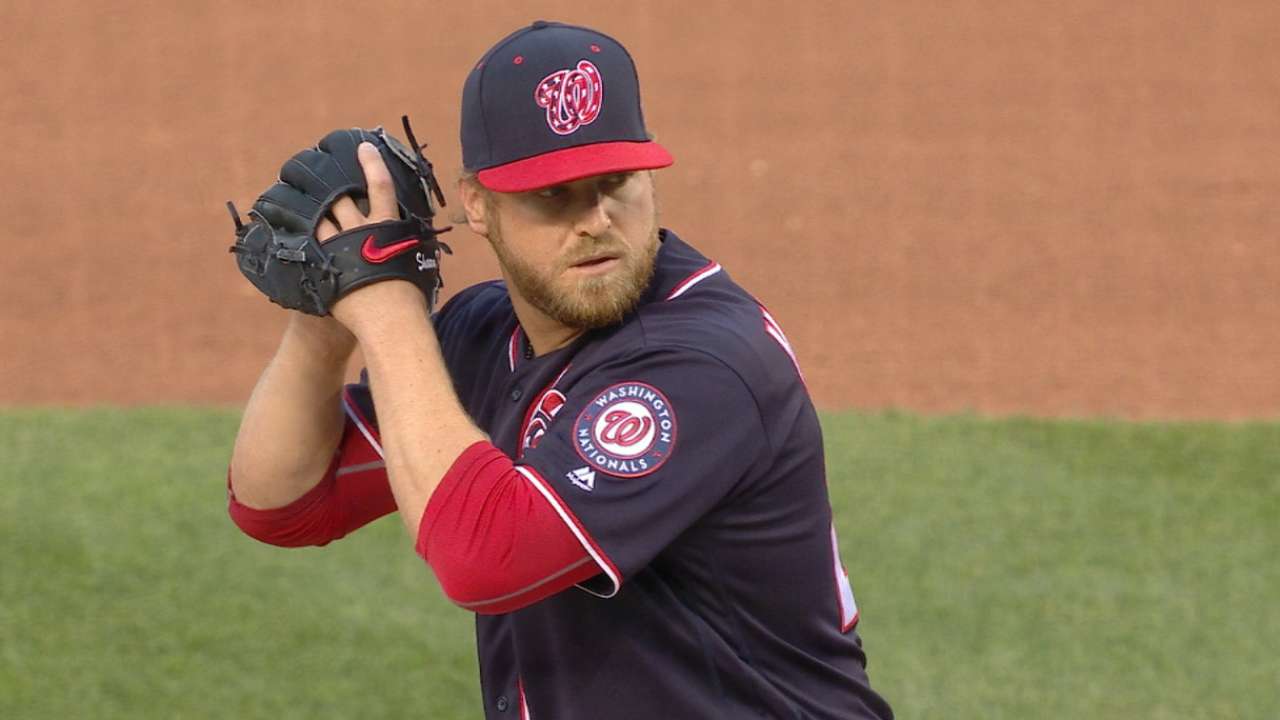 WASHINGTON -- It was just three scoreless innings, but the Nationals can come away encouraged by the performance of their bullpen in Friday's 3-2 walk-off victory against the Phillies. Koda Glover, Blake Treinen and Shawn Kelley -- coincidentally the three pitchers who they considered to be the closer this spring -- each tossed a scoreless inning to give the Nationals time to make a come-from-behind victory in 10 innings.
"Our bullpen looked like our bullpen tonight," manager Dusty Baker said.
Nationals relievers have endured some early struggles to begin the 2017 season. After an offseason where improving the bullpen was a top priority, the first nine games of the year caused worries from fans that perhaps they had not done enough. They began the day with the fourth-worst bullpen ERA in the Majors.
"When it comes down to it we got a group down there that really supports each other and cares for each other," said Kelley, one of the veteran leaders of the relief core. "If we see somebody's down at all or somebody feels like that they are lacking anything, we make sure we're the first ones to tell them: 'Remember who you are. You are really good.'"
It began with a 1-2-3 inning with a strikeout from Glover in the eighth. He had surrendered a ton of contact this season, with only one strikeout, when he usually thrives off swings and misses. Treinen followed up by pitching a scoreless ninth inning to keep the game tied and inducing a double play that his sinker is known for causing. Then Kelley retired the side in the 10th, with a pair of strikeouts to get himself back on track with a second consecutive scoreless outing, after he had allowed runs in his first three appearances.
"We've all discussed with each other this is going to change and this is going to get better," Kelley said. "This is that one window where everybody goes through a little funk, we just did it out of the gate. It's behind us, we had an off day yesterday and let's go. Let's strap it on and get going."
Jamal Collier covers the Nationals for MLB.com. Follow him on Twitter at @jamalcollier. This story was not subject to the approval of Major League Baseball or its clubs.