Freese backs up talk with timely hits
CHICAGO -- After being swept by the Reds on Wednesday, David Freese stood in front of his locker at PNC Park and said the Pirates needed to find timely hits. "Real quick," he added.
After a 12-pitch battle with Cubs starter Kyle Hendricks, Freese delivered the hit the Pirates had been waiting for. He continued his torrid start at the plate, reaching base four times and driving in two runs in the Bucs' series-opening, 4-2 win over the Cubs on Friday at Wrigley Field.
The Pirates scored eight runs during their four-game losing streak. They went 1-for-31 with runners in scoring position, and the lone hit didn't score a run. With Gerrit Cole on the mound against the Cubs, Freese said, early run support would be critical.
"I knew they would come," Freese said. "Today was a day we got some knocks and helped Gerrit out a little bit."
Gregory Polanco walked to lead off the second inning and stole second base. Up came Freese, who -- after five pickoff attempts, seven foul balls and 11 pitches -- worked a full count. Freese spotted a sinker over the middle of the plate and drove it to right field.
There it was, finally, a timely hit. Polanco scored, and the Pirates were on the board.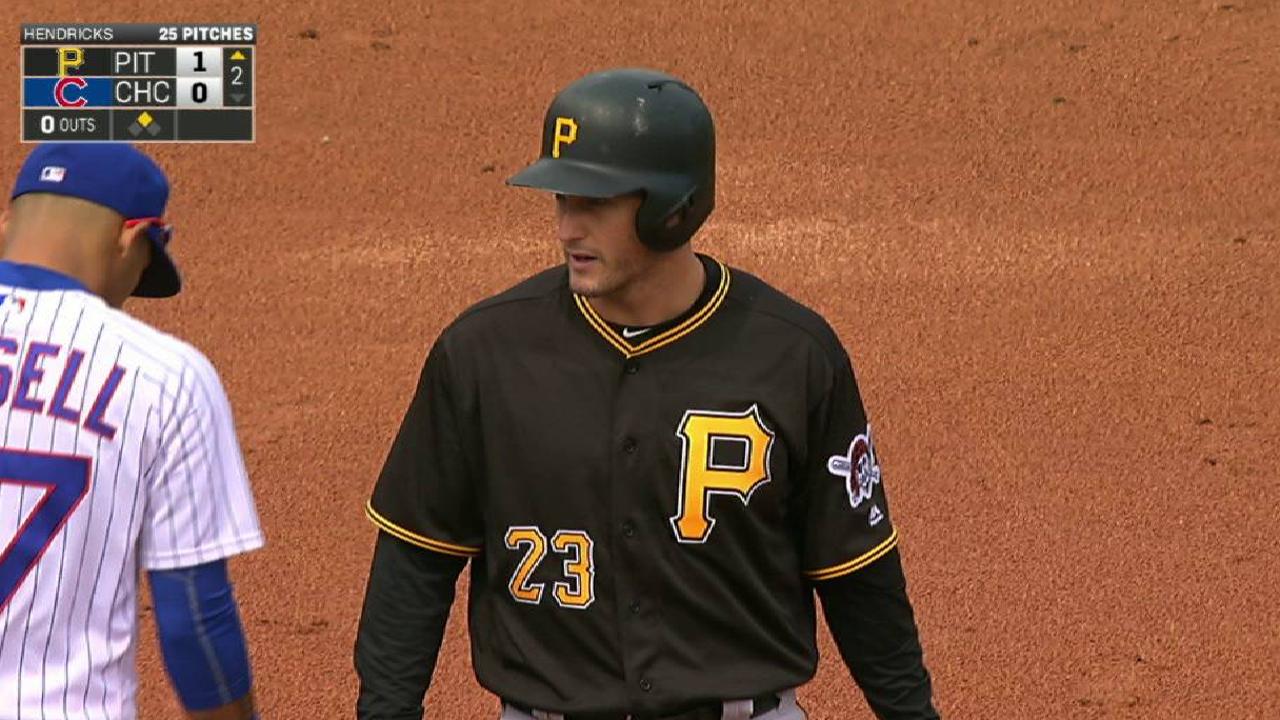 "He pretty much just hit pause and said, 'Guys, I'm going to figure this one out, however many it's going to take,'" manager Clint Hurdle said. "Hendricks threw the kitchen sink at him, and he kept fouling balls off and battling, stringing it out. Then to blast the ball the way he did to right field was an excellent sign."
The Cubs struck back, taking a 2-1 lead after five innings. Andrew McCutchen and Polanco singled to start the sixth. Polanco took off for second and Freese slapped a 95.8-mph fastball from reliever Justin Grimm through the right side to bring home McCutchen.
Francisco Cervelli -- "sick as a dog," according to Cole -- came up with two on and one out. The catcher swung at Grimm's first pitch and blasted it into the right-center field gap for a two-run double. That was the timely hit the Pirates needed most, and it put them on top, 4-2.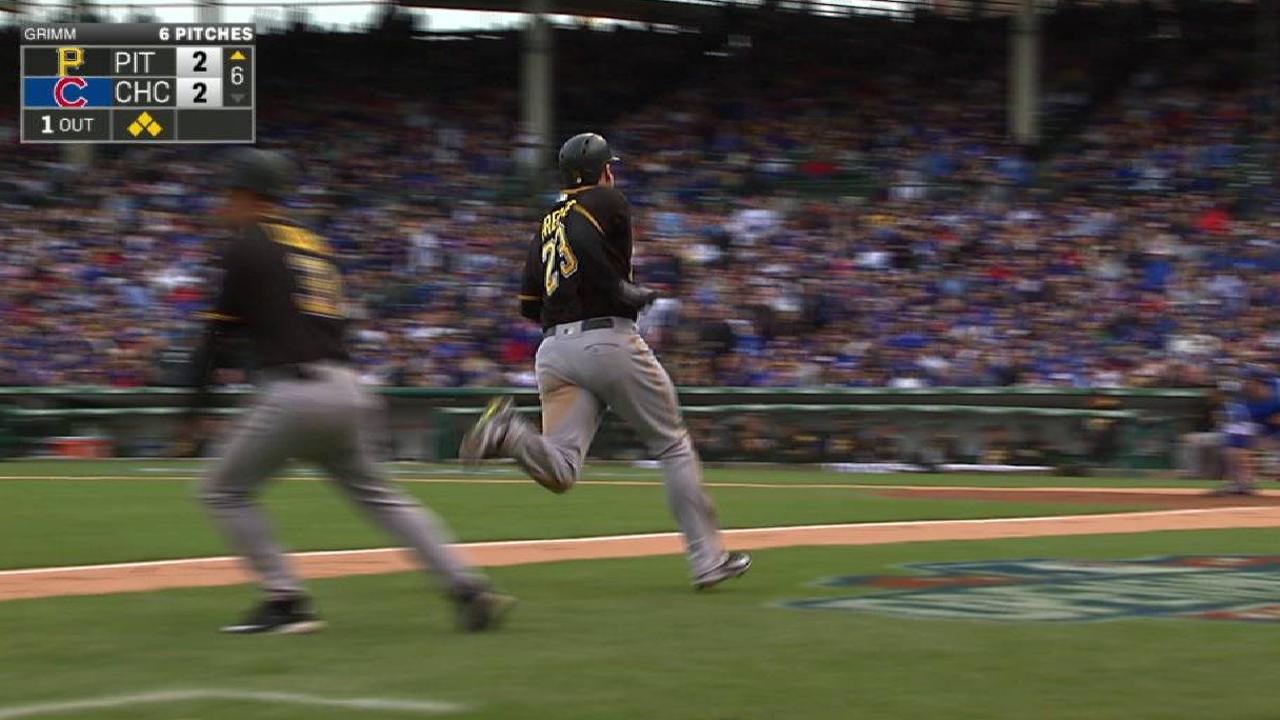 "The potential's there," Freese said. "Just keep grinding and keep showing up, and it's going to happen."
It has proven to be true for Freese, who ended Friday's game as the Majors' unlikely leader in on-base percentage and OPS. The veteran third baseman owns a .440/.576/.760 slash line through 33 plate appearances. He has reached base in nine straight plate appearances. Even when he hit a routine groundball in the fourth, he got to first on Anthony Rizzo's missed-catch error.
"Just fun to watch, man," Hurdle said. "He's a professional player."
Freese is playing most every day in the absence of third baseman Jung Ho Kang, still awaiting his work visa in South Korea after receiving a suspended jail sentence for his third DUI arrest since 2009. For all the Pirates' issues to start the season -- inconsistencies at the plate, in the field, off the mound and on the bases -- they haven't had to worry about Freese.
"I'm focused on today, trying to be as simple as I can. Simple mind. Simple plan," Freese said. "Just clear the head and worry about what's going on at the moment."
Adam Berry has covered the Pirates for MLB.com since 2015. Follow him on Twitter and Facebook, read his blog and listen to his podcast. This story was not subject to the approval of Major League Baseball or its clubs.