Asher 'ready for everything' after busy spring
Right-hander filling fifth-starter role after being traded to Baltimore in March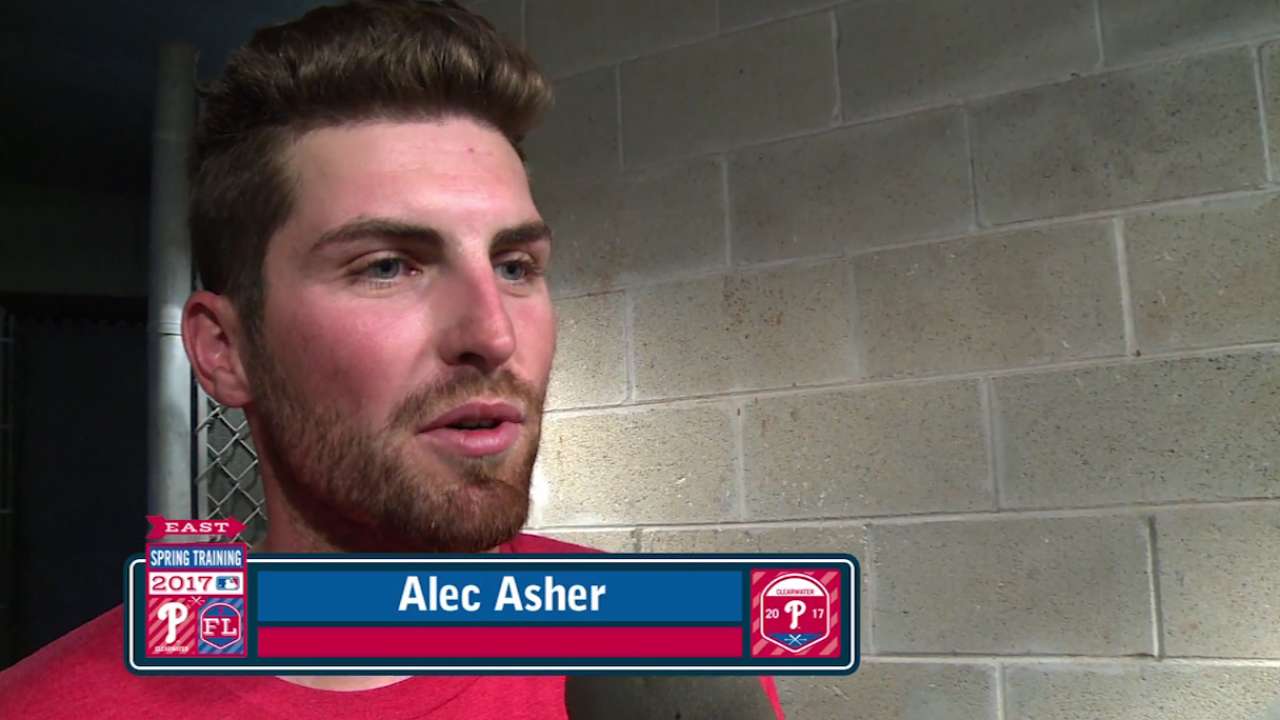 TORONTO -- Alec Asher's whirlwind 2017 season continues on Saturday afternoon when he gets his first big league start as a member of the Orioles.
The 25-year-old right-hander was dealt from Philadelphia to Baltimore at the end of March with the Phillies facing a roster crunch. After just one start with Triple-A Norfolk, the O's tabbed Asher on Thursday to serve as the club's fifth starter when they face the Blue Jays on Saturday in the third game of a four-game series.
"It's been a quick turnaround, but I feel like it's all for good, and I'm happy with it and I'm excited," Asher said. "Right now, I'm just focusing on one start at a time. I can't control anything but what I control on the field. That's just how I look at it -- just go out there, compete and try to win.
Asher pitched 4 1/3 scoreless innings, striking out six in his lone start of the season in Norfolk. With Chris Tillman sidelined by a shoulder injury, the Lakeland, Fla., native knew the callup was a possibility.
"You just pitch the start of the year," Asher said. "You hear speculation, but you just go out and do your business and hope it happens."
Originally a 23rd-round Draft pick of the Giants, Asher never signed with San Francisco due to a bone spur. After a couple years of college, Asher was selected in the fourth round of the 2012 Draft and spent two years in the Minors before being dealt to the Phillies as part of the Cole Hamels trade in July '15.
This past season, the 6-foot-4, 230-pound Asher was suspended 80 games for violating the league's drug policy. Undergoing Tommy John surgery at the age of 14 has equipped Asher for whatever baseball throws his way.
"I'm ready for everything," Asher said. "I try to be prepared for everything, and stuff happens for a reason."
In 12 career big league starts, Asher has a 2-7 record to go along with a 5.88 ERA. In 2016, he made changes to his mechanics, which he hopes will help him earn a regular spot in the O's rotation.
"I changed my pitching style [from a] hard four-seam to more of a two-seam, just started adding a couple different pitches," Asher said. "Tweaking some things, and I had success. I'm just building on that and trying to progress more."
Orioles manager Buck Showalter admitted the club has plenty of options in filling Tillman's vacancy, and that Asher has earned this opportunity.
"It'll be another different atmosphere that he's going to pitch in on Saturday, but we felt like he was our best option at this point," Showalter said.
Worth noting
• Prior to Friday night's game, the Orioles announced they had acquired left-hander Paul Fry from the Mariners in exchange for 2016-17 international signing bonus slot No. 105. Fry was 0-1 while carrying an 18.00 ERA in one appearance for Triple-A Tacoma this season.
To make room on the 40-man roster, right-hander Parker Bridwell has been designated for assignment.
• With the Orioles in Toronto for a four-game set at Rogers Centre, Showalter wanted to rest certain players. Catcher Welington Castillo will have the night off on Friday, while shortstop J.J. Hardy is expected to have a day off during the weekend.
Dhiren Mahiban is a contributor to MLB.com based in Toronto. This story was not subject to the approval of Major League Baseball or its clubs.