Rough night for Calhoun on bases, in field
Angels RF thrown out at third, misjudges double that leads to two runs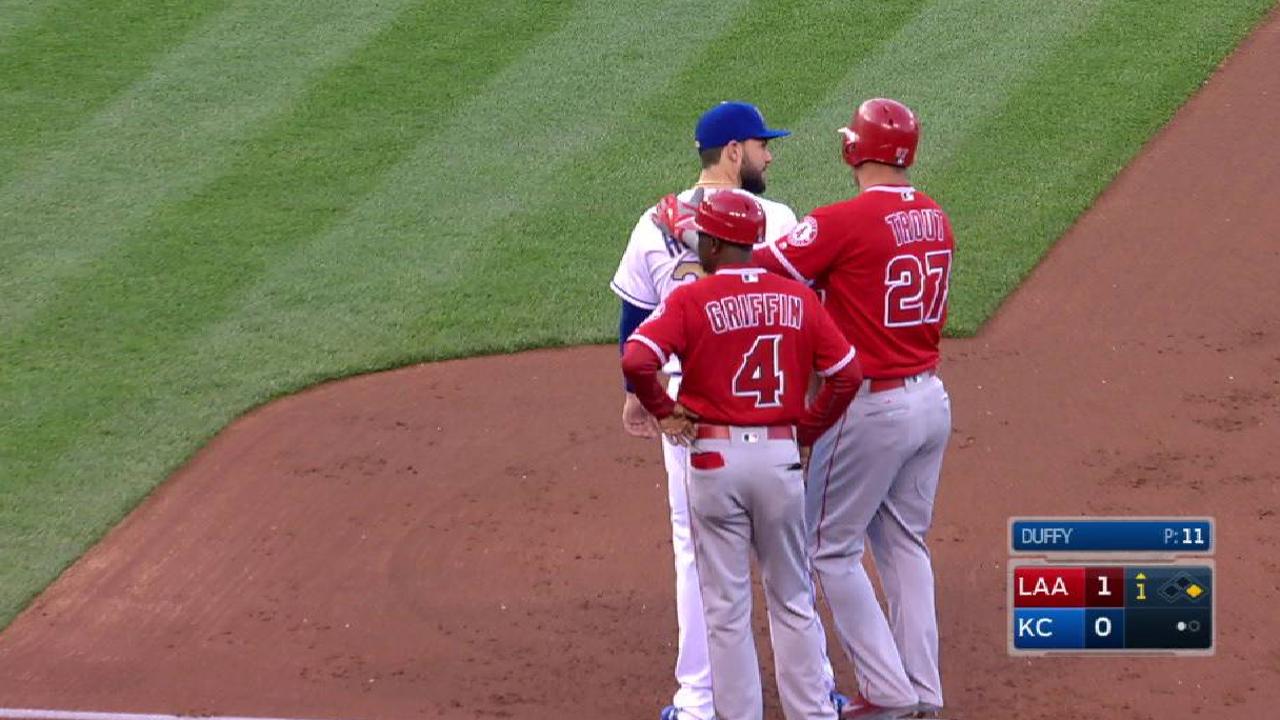 KANSAS CITY -- Friday proved to be an uncharacteristically tough night for Angels right fielder Kole Calhoun.
Calhoun found himself at the center of two bad plays that factored into the Angels' 7-1 loss to the Royals in their series opener at Kauffman Stadium.
In the first inning, Calhoun drew a walk off Royals starter Danny Duffy to put runners on first and second with no outs for the Angels. But he then undercut a potentially big inning for the Halos when he tried advancing from first to third on Mike Trout's RBI single to center field and was thrown out by Lorenzo Cain for the first out.
"I thought I had a good shot, and you kind of want to push the envelope early in the game," Calhoun said. "He had to make a great throw, and he did."
Added Trout: "It was just a good throw. You can't take it away from Kole. He was being aggressive. You can ask anyone, we're going to be aggressive and sometimes you take a chance and you get thrown out."
Duffy subsequently retired the next two batters to limit the damage to one run, and the Royals quickly erased the deficit on Mike Moustakas' towering two-run home run off JC Ramirez in the bottom half of the inning, which gave Kansas City a 2-1 lead. The Angels trailed the rest of the way, as Duffy settled in and shut them out over the next six innings.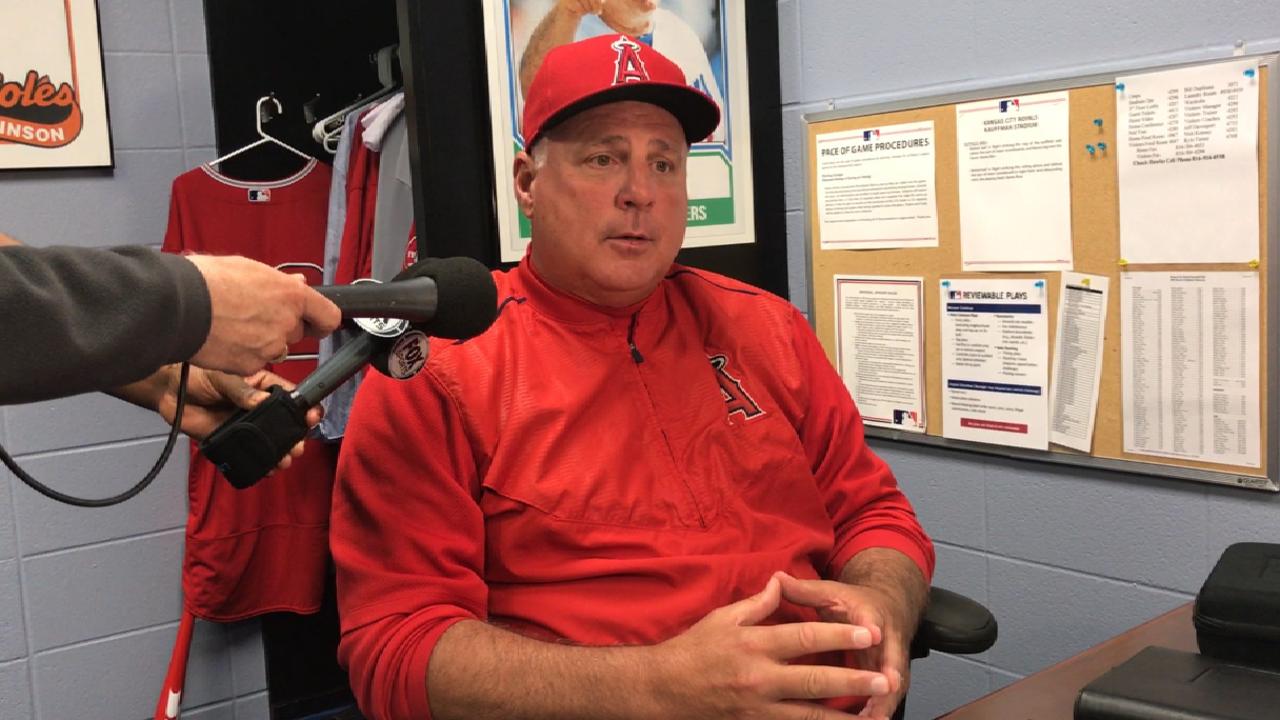 "He had three pitches and he was mixing them up well and getting them for strikes," Angels manager Mike Scioscia said of Duffy. "He used his changeup a lot, just kept us off balance with his fastball. He pitched a good game. We didn't get too many good looks at him."
Calhoun, who won a Gold Glove Award in 2015, also made a costly defensive miscue in the third when he misread a line drive off the bat of Cain and allowed it to sail over his head for a double, giving the Royals runners on second and third with no outs. The ball had a catch probability of 81 percent, according to Statcast™.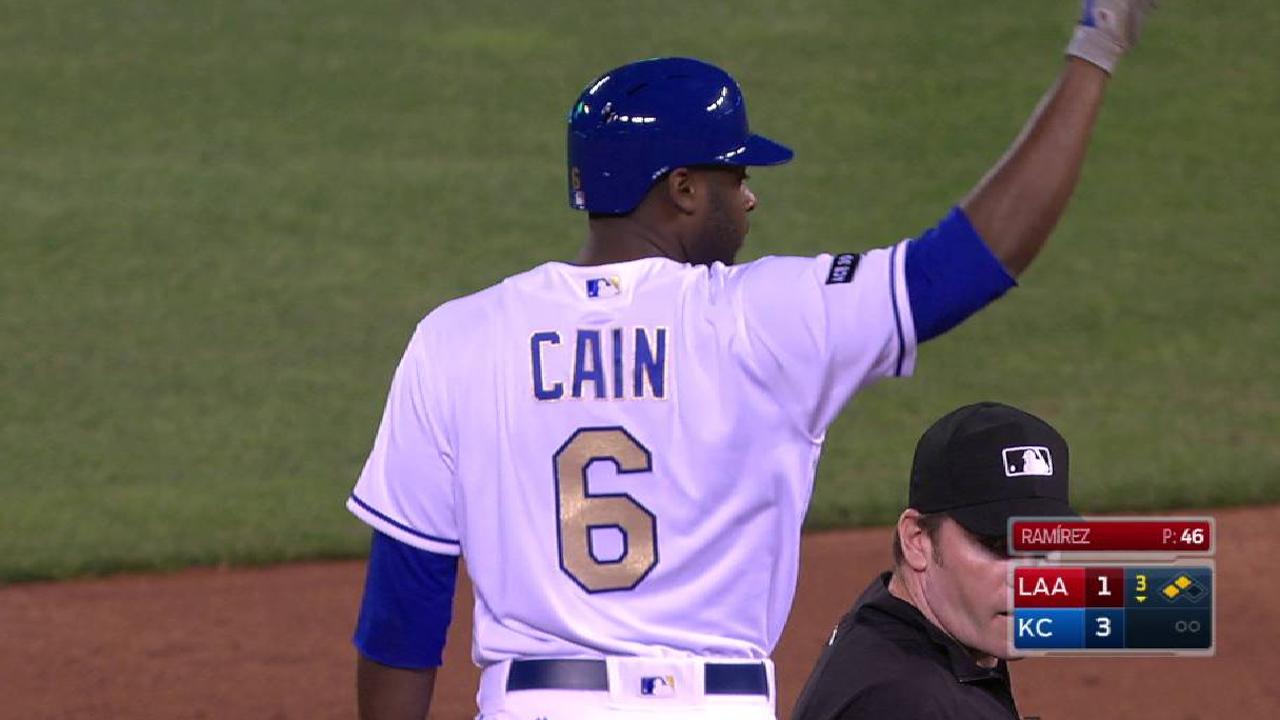 "When I hit it, I thought he would have it," Cain said. "I thought he would make a diving catch."
Kansas City capitalized on Calhoun's miscue, adding a pair of runs on Eric Hosmer's groundout and Salvador Perez's sacrifice fly to build a 5-1 lead.
"I had a bad read on it," Calhoun said. "It's a ball I should catch, and it comes back and cost us two runs. I should have had that ball. Just a bad read, and I couldn't make up for it.
"It was windy, but it's not like I don't know that. I didn't think he hit that ball as well as he did, and I saw it the whole way. It's not like I lost it. I took a couple hard steps in, and before I know it, I've got to jump and the ball is already over my head. It just fooled me."
Maria Guardado covers the Angels for MLB.com. This story was not subject to the approval of Major League Baseball or its clubs.