Cole deals Bucs winning hand at Wrigley
CHICAGO -- The Pirates only beat the Cubs at Wrigley Field once last season, so they know how unfriendly the Friendly Confines can be. Well aware that wins don't come easy here, the Bucs proved it again Friday afternoon. Felipe Rivero and Tony Watson each escaped a bases-loaded jam in the final two innings to secure a 4-2 victory over the Cubs.
"We needed some slow heartbeats out there late," Pirates manager Clint Hurdle said. "They both can get anybody. Just got to settle in, keep fighting, roll their sleeves up and go to work -- that's what both of them were able to do today to turn potential rallies back."
Sorely in need of strong pitching and timely hitting during a four-game losing streak, the Pirates got both on Friday. Gerrit Cole continued his mastery of Wrigley Field, allowing two runs over six innings. He threw 114 pitches, matching the Giants' Madison Bumgarner and the Rays' Chris Archer for the most in a game this season, while improving to 7-1 with a 2.29 ERA in eight career starts in the Cubs' ballpark.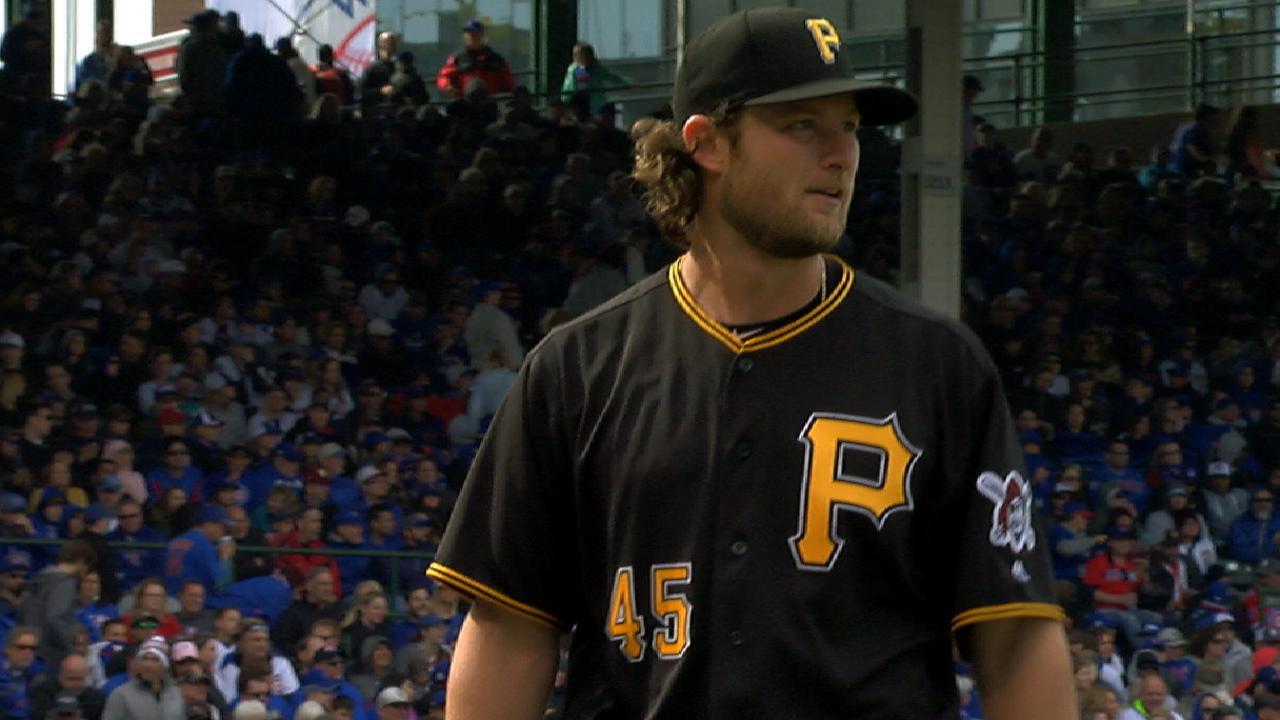 "We didn't play well here last year, and we haven't played well the last four games. It was good for us to put our foot down," Cole said. "We certainly kept it interesting for the Wrigley faithful, but a win's a win. The guys competed hard, really played a nice ballgame."
David Freese swatted two run-scoring hits and reached base four times, and Francisco Cervelli delivered the big blow, a tie-breaking double to right-center field. That was enough to build a two-run lead heading into the eighth inning.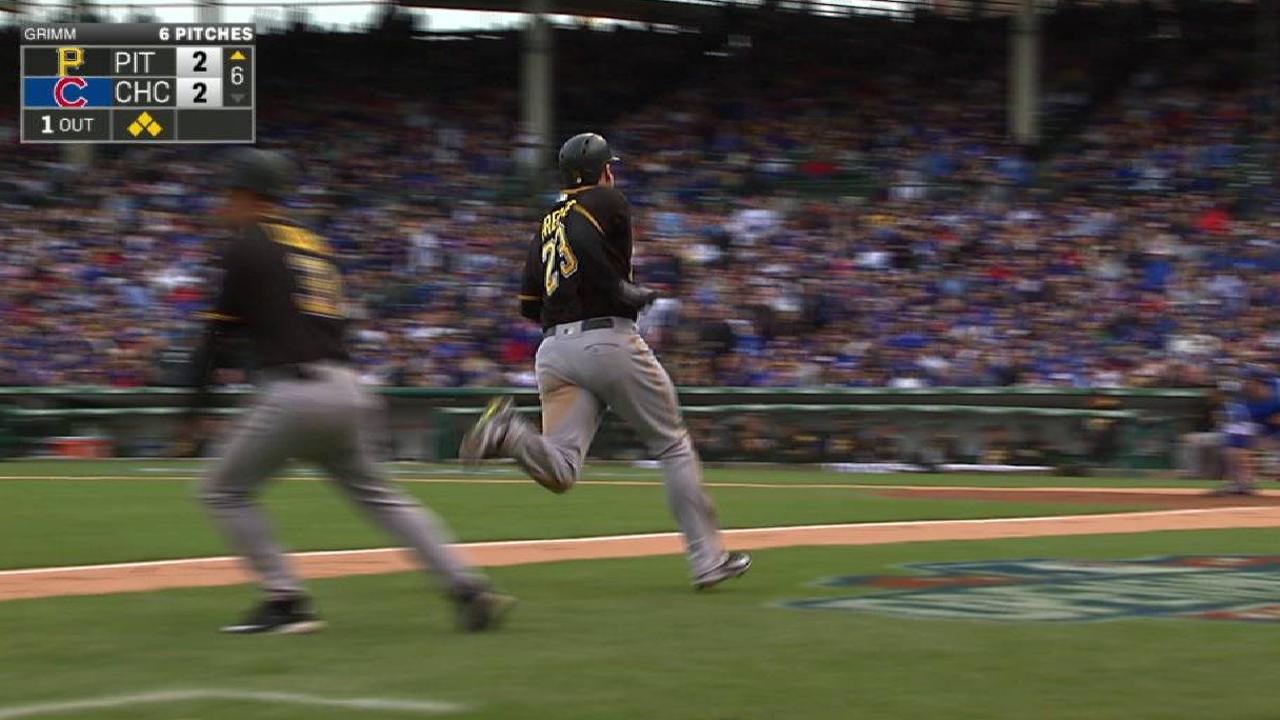 Rivero immediately found trouble, issuing a leadoff walk to Kris Bryant then plunking Anthony Rizzo. He struck out Ben Zobrist to end a 10-pitch at-bat, and Addison Russell lined out to center. Jason Heyward reached on a weak grounder that led John Jaso to stray from first base, and Rivero was slow to cover the bag. With two outs and the bases loaded, pinch-hitter Willson Contreras chopped a grounder to Freese, who stepped on third base for the final out.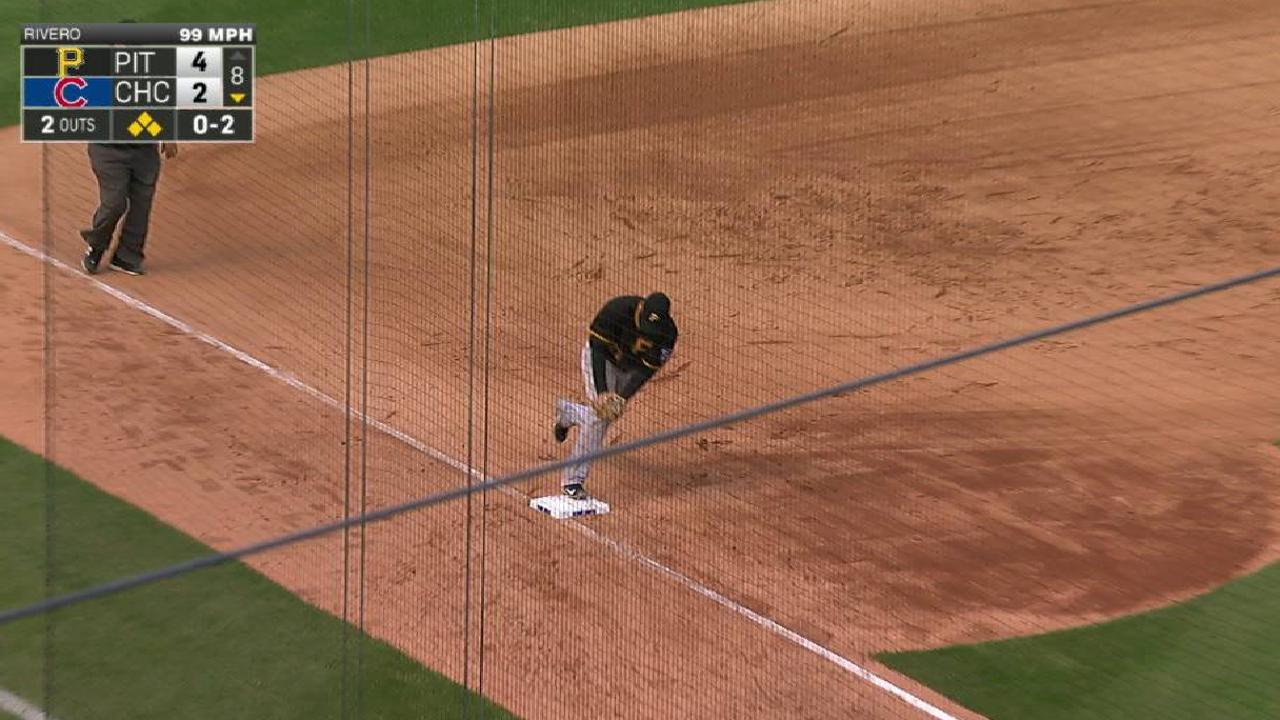 "We put ourselves in position to get a chance in the last few innings to tie the game at least," Zobrist said. "And that, right now with a lot of us I think the rhythm just isn't quite there at the plate. It's early in the season, it's chilly, it's been tough to get it going this week for everybody a little bit but I like how we battled late in the game."
Watson, the closer, quickly retired the first two hitters he faced in the ninth. The 27th out may have been the toughest. Kyle Schwarber walked on four pitches, Bryant reached on an error and Rizzo was hit by another pitch. With the bases loaded, Zobrist hit a chopper to shortstop. The ball took a late hop, but Jordy Mercer fielded it cleanly and fired to Jaso, giving the Pirates a much-needed win.
• Never-say-die Cubs can't find big hit
"You've got to stay yourself out there and try to make the next pitch. That's what happened," Watson said. "We've been battling. We want these wins, obviously, but we recognize there's a lot of season left. Fighting some adversity early is never a bad thing. Get it out of the way, build on this one."
MOMENTS THAT MATTERED
About time: Entering Friday's series opener, the Pirates had one hit in their past 31 at-bats with runners in scoring position -- and that one hit didn't score a run. Freese recently said the Bucs' lack of timely hitting needed to change "real quick," and it did. Freese ended a 12-pitch battle with Kyle Hendricks in the second inning by doubling home Gregory Polanco and knocking an RBI single through the right side of the infield in the sixth. Then Cervelli cracked the go-ahead shot, a two-run double to right-center field. More >
"I knew they would come," Freese said. "Today was a day we got some knocks and helped Gerrit out a little bit."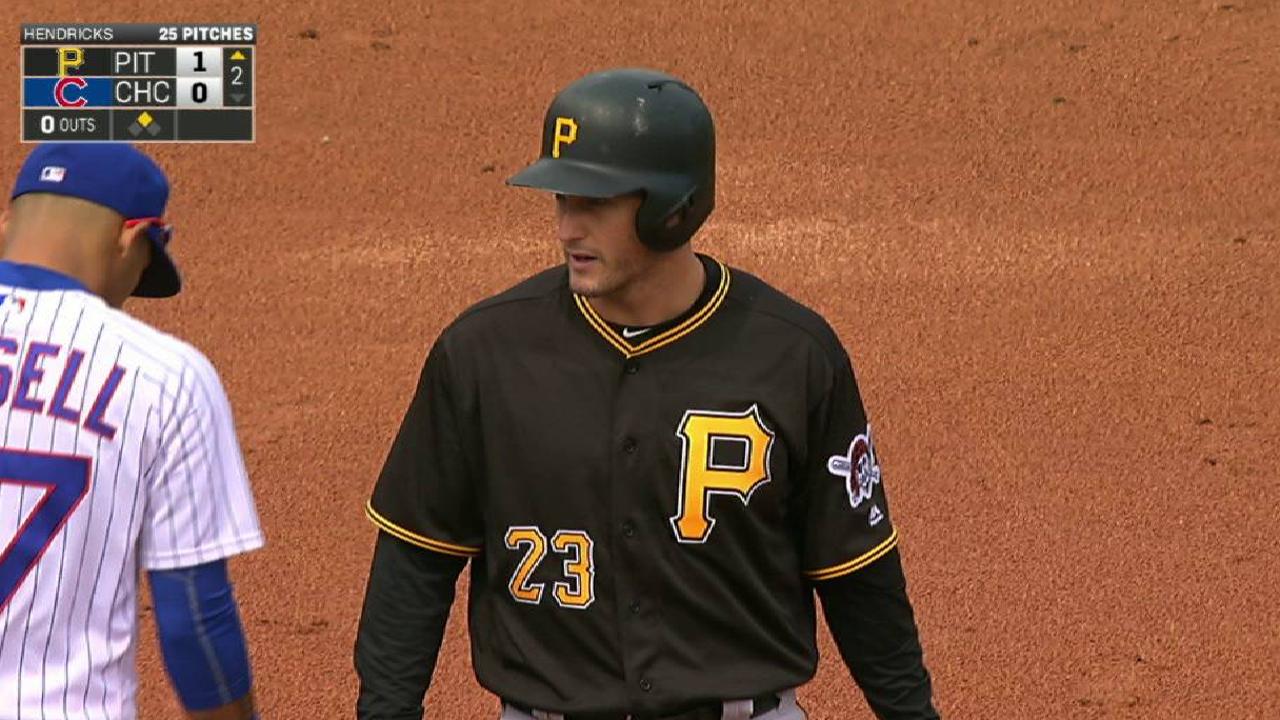 Cole Train: Cole is a self-described "sucker" for Wrigley Field -- the atmosphere, the history, the early-afternoon start times. He's also demonstrated a knack for pitching here. Cole threw 94 pitches in five innings, but Hurdle felt comfortable sending him back out for the sixth. The high pitch count wasn't so much a product of inefficiency -- he only walked one batter, and 63 percent of his pitches were strikes -- but rather the Cubs' deep lineup, which offers no easy outs. They drove up his pitch count to 114, the second-highest total of his career after a 116-pitch outing on June 7, 2015.
"Lot of credit to them. They do a good job at the plate. They're tough from one to nine every time we face them," Cole said. "We could talk about it, but I feel like every time we play them, we could talk about it. It's kind of what they do. We'd like to get some more quick outs, continue to hammer out the process and try to get better."
QUOTABLE
"That was a big win, especially coming off yesterday's loss [to the Red Sox, 4-3, at Fenway Park] and the quick turnaround. Just a good win. Hopefully we can build on it and get a couple more." -- Watson
"They were putting together some good at-bats on me. I had to grind a little bit there but I thought I was pitching pretty well and the sixth inning is just kind of unfortunate. What are you going to do about that? Just move on to the next one." -- Hendricks
SOUND SMART WITH YOUR FRIENDS
Cole has gone at least six innings in each of his eight starts at Wrigley Field, and he has allowed two earned runs or fewer in six of those outings. He has yet to allow a homer in this ballpark.
WHAT'S NEXT
Pirates: Top prospect Tyler Glasnow, coming off an ugly season debut Monday, will try to rebound as he faces the Cubs at 1:20 p.m. CT on Saturday at Wrigley Field. The Pirates are looking to continue their recent success against Jake Arrieta. Once an unhittable opponent, Arrieta allowed 19 earned runs in 17 ⅓ innings over his final three starts against Pittsburgh last season.
Cubs: Arrieta makes his first home start of the season against the Pirates at 1:20 p.m. CT on Saturday. The righty is 17-9 with a 2.18 ERA in 32 day games at Wrigley field since joining the team in July 2013.
Watch every out-of-market regular-season game live on MLB.TV.
Adam Berry has covered the Pirates for MLB.com since 2015. Follow him on Twitter and Facebook, read his blog and listen to his podcast.

Cash Kruth is a reporter for MLB.com.

This story was not subject to the approval of Major League Baseball or its clubs.