Sanchez back, Quackenbush replaces Esch
Catcher says he's moved past concussion symptoms; Blash optioned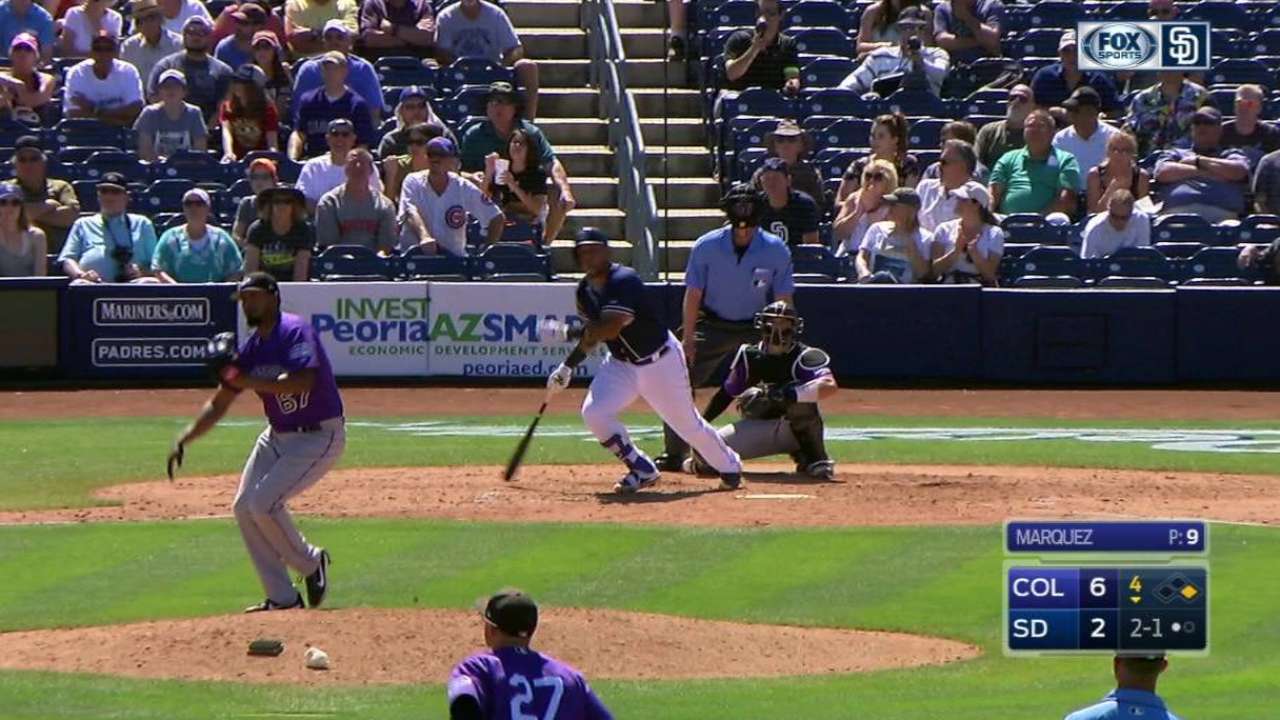 SAN DIEGO -- The Padres reinstated catcher Hector Sanchez from the seven-day concussion disabled list on Friday, while also recalling righty reliever Kevin Quackenbush.
In a pair of corresponding moves, outfielder Jabari Blash and right-hander Jake Esch were optioned to Triple-A El Paso.
Sanchez took a foul ball off his mask on April 6 in Los Angeles and reported concussion-like symptoms afterward. Friday marked his earliest possible return date, and he hasn't felt any symptoms since the day after he sustained the injury.
"I knew it was a light concussion, but you have to be careful with that," said Sanchez, who has now suffered seven concussions. "Two days after, I was feeling really nice, sleeping well, didn't have any symptoms. From that moment, I was thinking about getting back."
The Padres, of course, were cautious with Sanchez, who has an unfortunate history of head injuries. Most recently, he missed significant time in 2014 with a pair of concussions.
"I know I have to be careful with that, take my time to let the brain to recover," Sanchez said. "This is the kind of situation you have to be careful about, especially with what's happened to me and with what I've been through the past couple years."
With Sanchez back on the roster, the Padres, again, are carrying just three primary outfielders in favor of four catchers -- though they currently consider Christian Bethancourt more of a reliever.
In Sanchez's place on the roster, Blash went 0-for-8 with a pair of walks.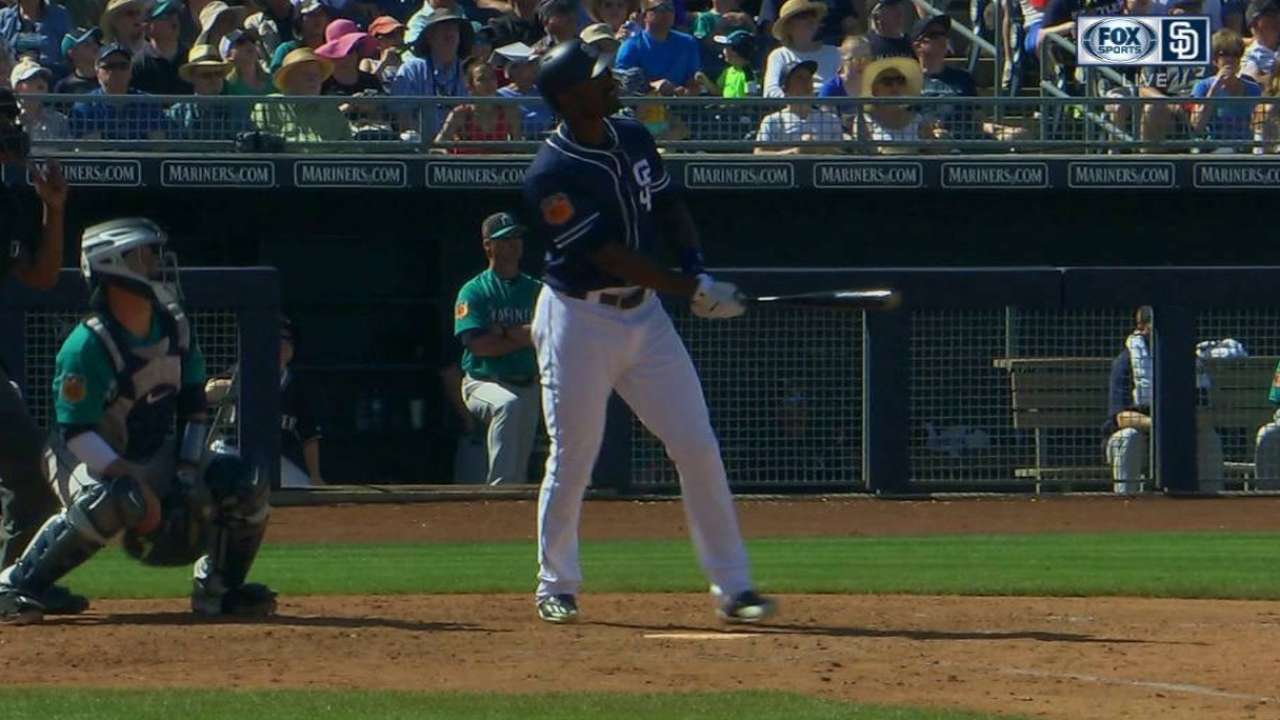 "We want Jabari to go down and find his timing and his rhythm," said Padres manager Andy Green. "At some point in time, you expect to see him back in a Padre uniform."
As for the pitching move, Quackenbush replaces Esch after opening the season in El Paso. Quackenbush -- who was drafted by the Padres in 2011, and has spent as much time in the organization as any player on the roster -- allowed two runs in four innings for the Chihuahuas.
Esch, meanwhile, made his Padres debut Wednesday in Colorado. He walked the first two hitters he faced before exiting without retiring a batter.
Cahill slated for Sunday return
Right-hander Trevor Cahill appears to have recovered fully from the lower back strain that landed him on the 10-day DL last week. He will start Sunday's game in Atlanta, his next scheduled turn in the rotation after he missed Monday's outing in Colorado.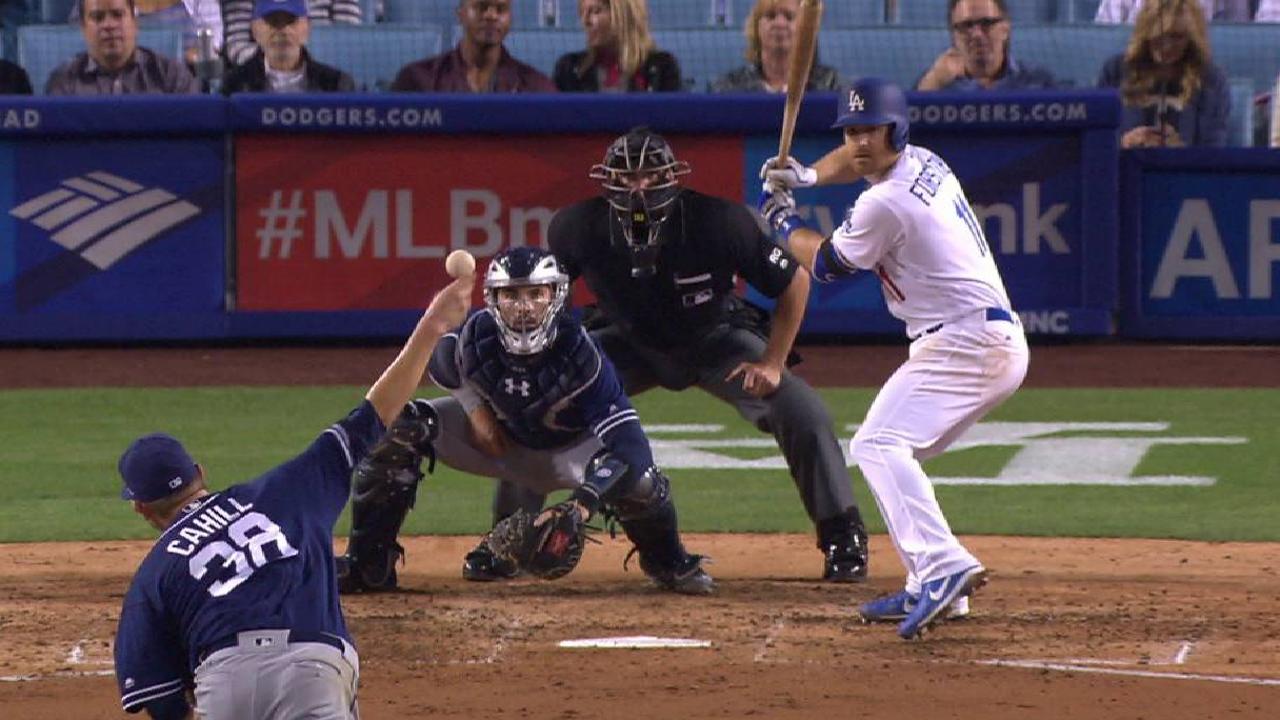 Green noted that Cahill likely wouldn't have been placed on the DL at all, if not for the change from 15 days to 10. That allowed the Padres to skip Cahill's turn in the rotation once, while his back spasms calmed down.
The Padres will need to make a corresponding move when he is reinstated to the roster.
Capps progressing to El Paso
Righty reliever Carter Capps has thrown two scoreless, hitless innings thus far in his rehab stint with Class A Advanced Lake Elsinore. It appears likely his next appearance will come with Triple-A El Paso on Sunday in Reno.
Capps, who hasn't pitched since 2015, underwent Tommy John surgery in March 2016. He joined the Padres last July as part of the trade that sent Andrew Cashner to Miami.
AJ Cassavell covers the Padres for MLB.com. Follow him on Twitter @ajcassavell. This story was not subject to the approval of Major League Baseball or its clubs.