Statcast spotlight: 5 players to watch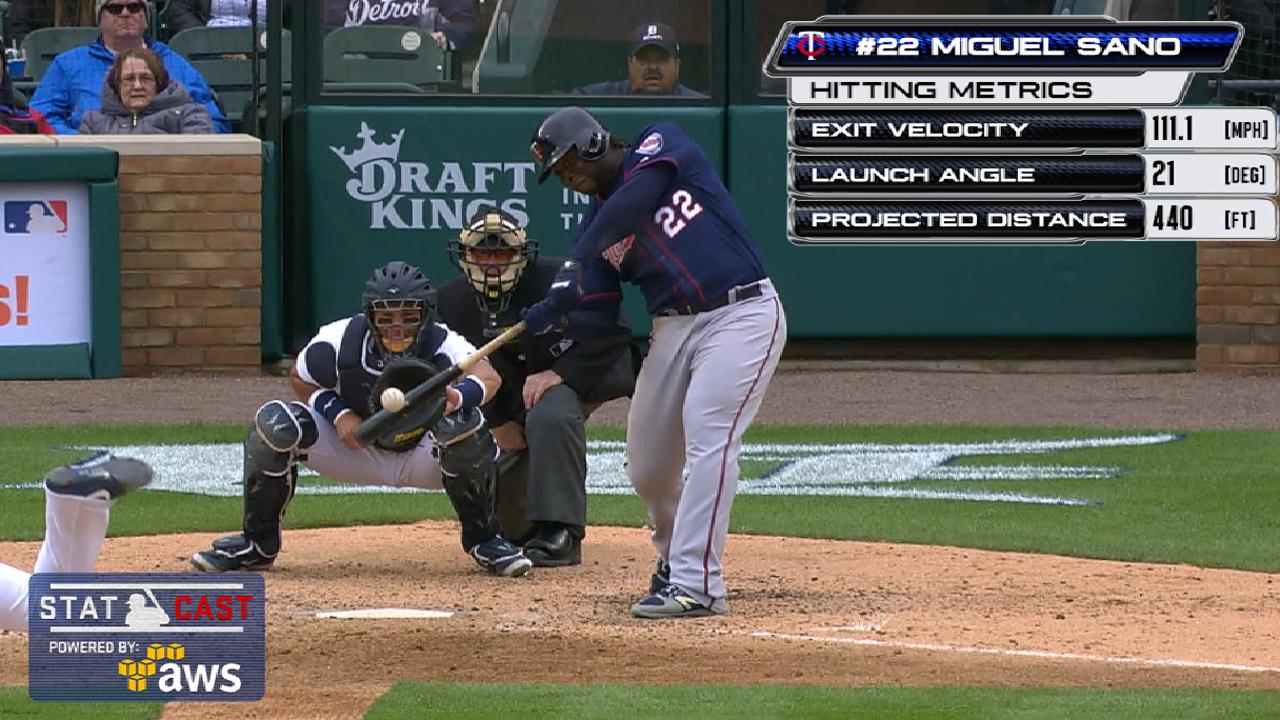 Using revolutionary Statcast™ data, here are five players to keep an eye on today. Watch it all on MLB.TV.
Miguel Sano
8:10 p.m. ET -- White Sox at Twins
Sano has hit some blasts in his time with the Twins, and he really got into his third home run of the season against the Tigers on Thursday. Sano launched one at 111.1 mph for a projected 440 feet. That was his longest home run of the season, his longest since last May, and his fourth longest tracked by Statcast™.
Sano's longest home runs
1. 5/13/16: 464 feet
2. 9/19/15: 448 feet
3. 9/9/15: 447 feet
4. 4/13/17: 440 feet
5. 5/25/16: 439 feet
Miguel Cabrera
7:10 p.m. ET -- Tigers at Indians
Miggy was hitting just .104 without a home run when the Tigers took the field Thursday, but it's no surprise he launched his first long ball of 2017 -- a 106.9-mph laser to the opposite field. Entering play Thursday, Cabrera ranked third in the Majors in average exit velocity at 97.7 mph on his 19 batted balls tracked by Statcast™.
Highest average exit velocity in 2017 (minimum 15 balls in play)
1. Sano: 101.1 mph
2. Nicholas Castellanos: 98.4 mph
3. Cabrera: 97.6 mph
4. Gary Sanchez: 96.5
5. Yandy Diaz: 96.5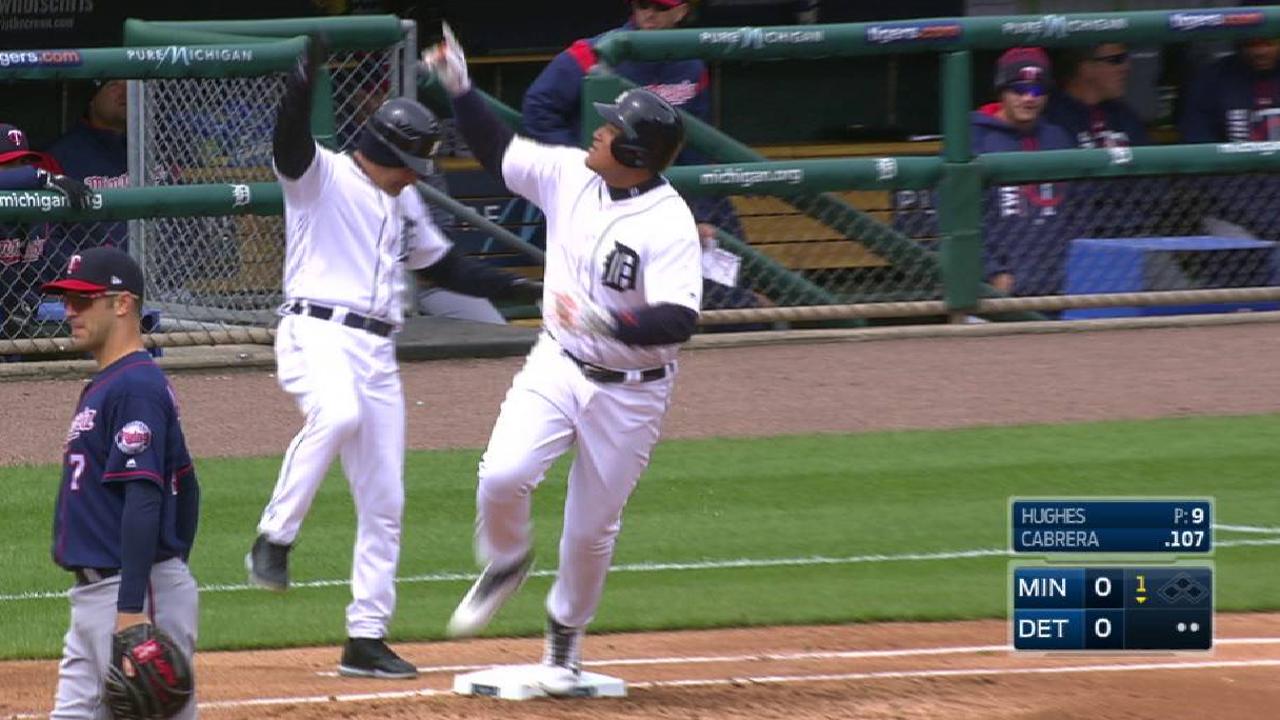 Yoenis Cespedes
7:10 p.m. ET -- Mets at Marlins
With five home runs over the past three days, Cespedes has vaulted into the Major League lead in home runs with six on the season. He's also the MLB leader in barreled balls -- balls that produce an expected batting average of at least .500 and expected slugging percentage of at least 1.500 -- with 10. Last season, Cespedes had "only" 36 barrels -- still plenty, but only half of Cabrera's MLB-leading 72.
Most barreled balls in 2017
1 (tie). Cespedes: 10
1 (tie). Castellanos: 10
3 (tie). Francisco Lindor: 7
3 (tie). Paul Goldschmidt: 7
5. Charlie Blackmon: 6
Danny Duffy
8:15 p.m. ET -- Angels at Royals
Duffy has impressed with quality starts in his first two outings, but his velocity is down from a season ago. When Duffy broke out in 2016, his four-seam fastball velocity jumped up to 95 mph from 93.7 mph the year before, which was the second-highest average velocity among left-handed starters. But so far in 2017, his four-seamer is averaging 92.9 mph, below where he was in 2015.
Highest four-seam fastball velocity for lefty starting pitcher in 2016
1. James Paxton: 96.8 mph
2. Duffy: 95.0 mph
3. Robbie Ray: 94.8 mph
4. Blake Snell: 94.0 mph
5. Carlos Rodon: 93.8 mph
Kendall Graveman
10:05 p.m. ET -- Astros at Athletics
Graveman's two starts so far in 2017 have each set the Statcast™ Era record for highest percentage of sinkers thrown in a game. He threw 93 percent sinkers in his most recent outing. The first record he broke this year? Also his own -- 88 percent sinkers last July 9.
Highest sinker percentage in a game from 2015-17 (minimum 50 pitches)
1. 93 percent -- Graveman, 4/8/17
2. 89 percent -- Graveman, 4/3/17
3. 88 percent -- Graveman, 7/9/16
4. 85 percent-- Williams Perez, 9/6/16
5. 84 percent -- Graveman, 9/23/16