Severino in command, K's career-high 11
Yanks righty draws praise from Hall of Famer Martinez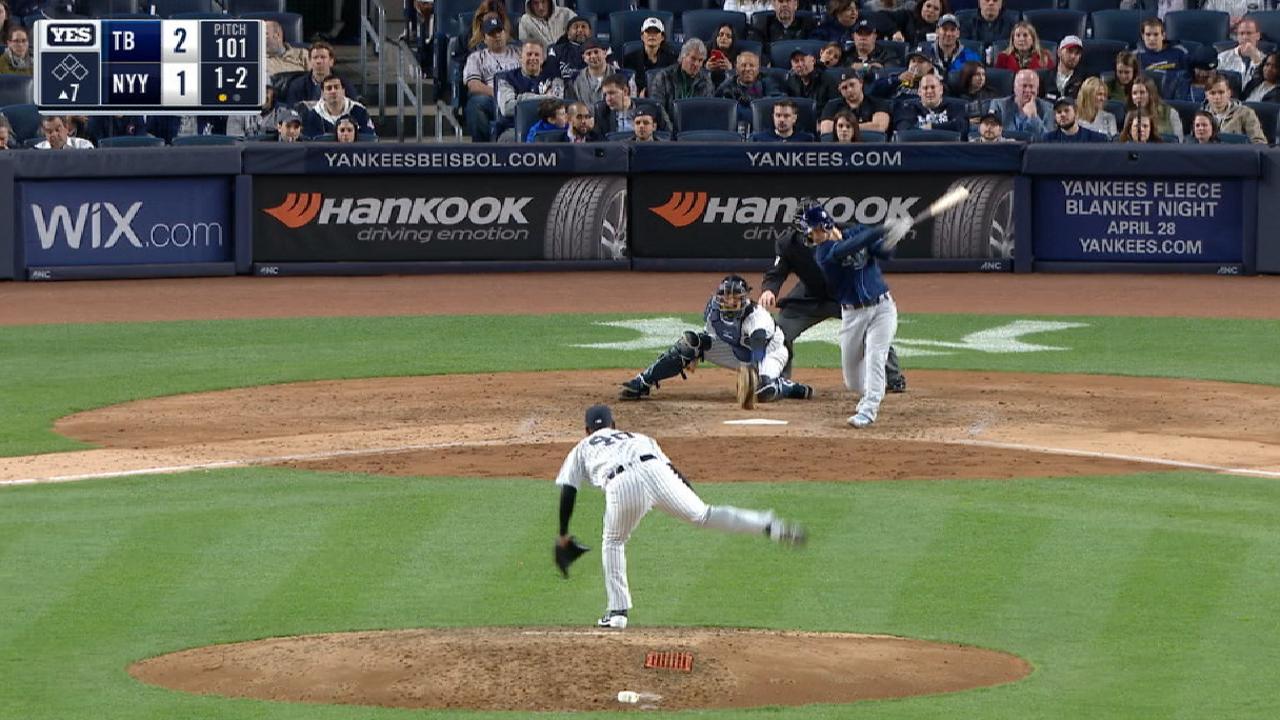 NEW YORK -- There was a challenge issued to Luis Severino after being named the Yankees' fourth starter this spring, with the right-hander being told that he needed to take this opportunity and run with it.
In two starts since rejoining New York's rotation, the 23-year-old has answered that call. Severino struck out a career-high 11 in a 3-2 victory over the Rays on Thursday, picking up his first win as a starter since 2015.
"He's a young pitcher, but there's a ton of upside and potential with Sevy," Yankees manager Joe Girardi said. "Tonight he showed us what he's capable of doing."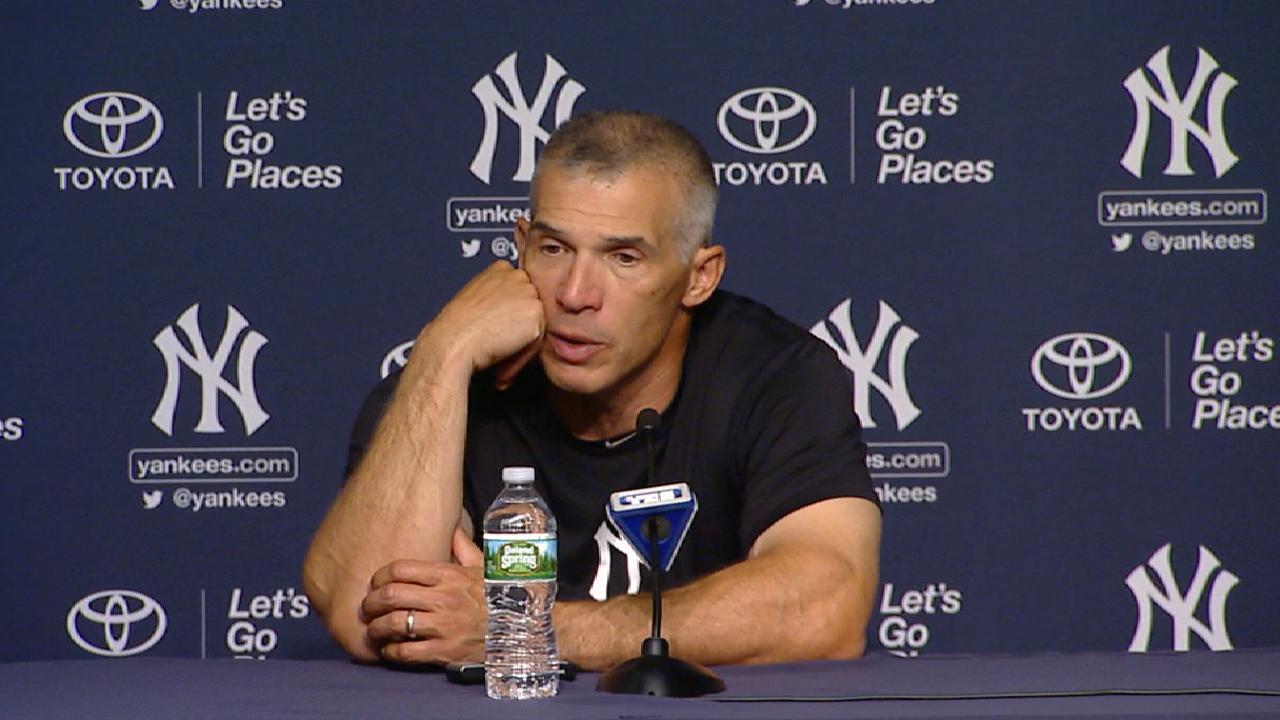 The keys for Severino have been commanding his fastball and trusting his changeup as a third pitch, two things that he was not able to do last year, when he was 0-8 with an 8.50 ERA in 11 starts before heading to the disabled list, the Minors and eventually the bullpen.
That wasn't the case Thursday, as he had Tampa Bay's lineup flailing. Jesus Sucre notched a run-scoring single in the second inning and Peter Bourjos homered in the fifth, but otherwise Severino was in command as he became the first Yankees starter to complete seven innings this year.
"I think all my pitches were working," Severino said. "My slider was feeling very good, my fastball command was there, and I threw a couple of good changeups."
The changeup was a pitch that Severino sought help with over the winter, calling upon a mutual friend to arrange a series of workouts with Pedro Martinez in the Dominican Republic.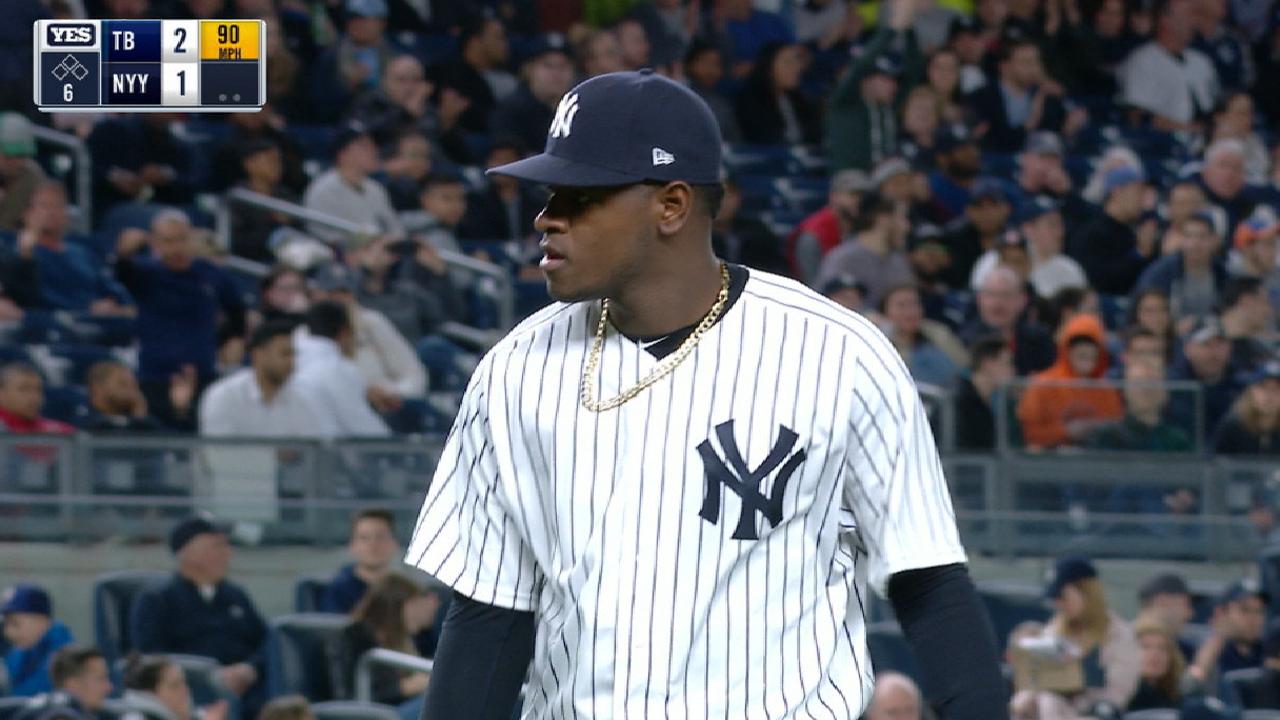 The Hall of Famer offered a glowing assessment of Severino's performance late on Thursday.
Luis Severino was great today, great slider, attacking the strike zone! And I loved his tempo on the mound tonight! So proud of this kid

- Pedro Martinez (@45PedroMartinez) April 14, 2017
Severino smiled when informed of Martinez's comments, saying that he owed the former ace a phone call. Severino's stuff stayed strong through his 104-pitch outing, striking out five of the last seven batters.
"It never fell off towards the end," catcher Austin Romine said. "You get upwards of 80, 90, 100 pitches, sometimes maybe the pitches start sacrificing some movement or location. It just didn't fall off. The fastball still had life, the slider was doing what we wanted it to do, and we kept staying with the changeup."
Severino wondered if the Yankees might dispatch him to the bullpen permanently after last season, but a few more outings like this one should put that idea to rest.
"I thought about that, but I just want to contribute to the Yankees to win games," Severino said. "If they need me as a reliever, I just want to do my job. And as a starter, the same thing."
Bryan Hoch has covered the Yankees for MLB.com since 2007. Follow him on Twitter @bryanhoch and on Facebook. This story was not subject to the approval of Major League Baseball or its clubs.