Price to exercise patience with Arroyo
Right-hander allows five runs over six innings in defeat on Thursday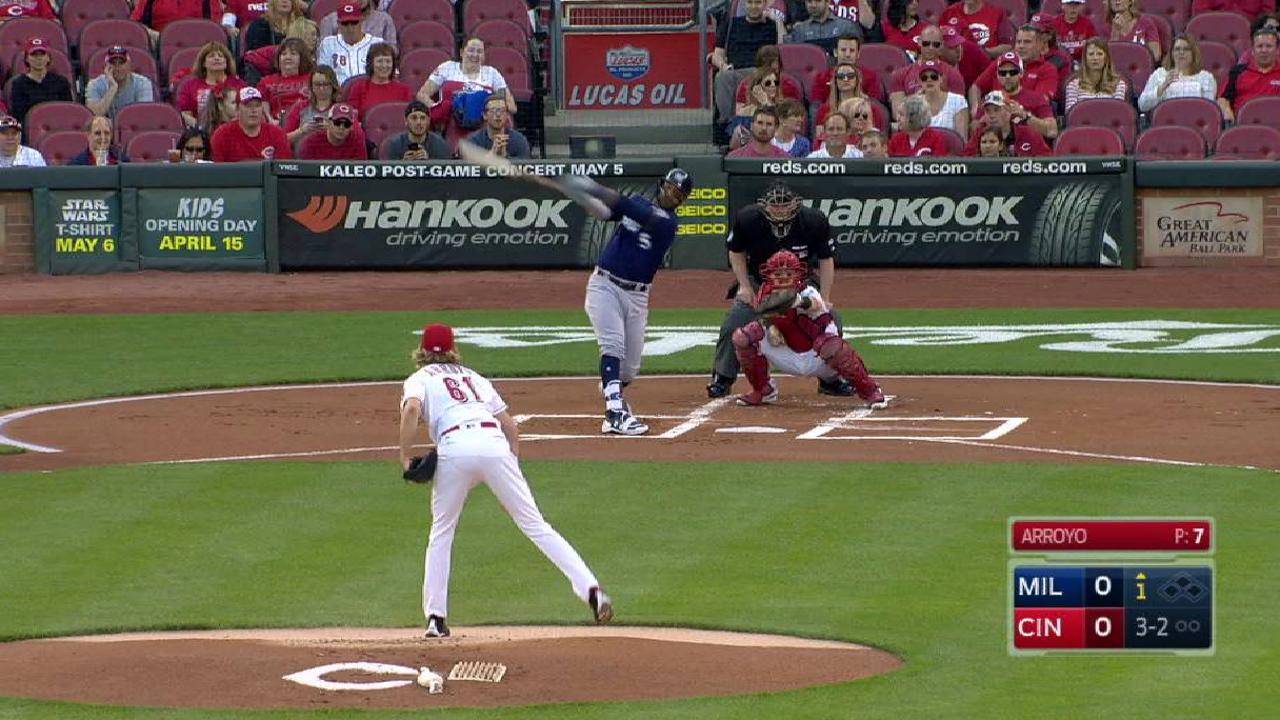 CINCINNATI -- Bronson Arroyo worked for two-and-a-half years to make his comeback. Reds manager Bryan Price is going to give the right-hander more than two rocky starts to figure things out.
Arroyo was on the wrong end of a 5-1 Reds loss to the Brewers on Thursday. On the plus side, the 40-year-old provided six innings. But he also allowed all five earned runs on seven hits, including two home runs. A four-run Brewers third inning that included Ryan Braun's two-run homer off a changeup did him in.
"I feel like I've got less room for error right now," said Arroyo, who did not walk a batter and struck out two. "My [velocity] is obviously not as good as it used to be. It's not easy pitching, period, in the big leagues. I don't feel like I quite have enough to finish guys right now, which is a little bit of the problem."
In the fifth inning, Eric Thames added a two-out solo homer.
"When I saw him in Spring Training, I had, I think, a seven-pitch at-bat," Thames said. "I think I saw every pitch he throws. You've got to get something up in the zone or it's going off the end of your bat. Tonight I lucked out and got something up in the zone."
Through two starts, Arroyo has a 9.90 ERA and has allowed four homers. He lasted four innings, allowing six runs, in his 2017 debut in St. Louis on Saturday for a 10-4 loss.
Price is giving Arroyo, a staple in the Reds' rotation from 2006-13, the space to improve. Following a June 15, 2014, start for the D-backs, he was out of the big leagues because of elbow and shoulder surgeries.
"With Bronson, the question is he's coming off two-and-a-half years of baseball inactivity for the most part, as far as competing," Price said. "I think that deserves the right for him to have some starts under his belt to really evaluate what he's got left after he's pitched for a while as opposed to assessing him like he's a rookie that might not be ready to be here."
Arroyo is giving himself less room, perhaps, than Price. The Reds have Sal Romano at Triple-A Louisville with a 1.38 ERA, possibly to replace the injured Rookie Davis. On the disabled list, Davis could return as soon as April 22 from a bruised right forearm.
"If I go out there, honestly, probably the next two times and still feel like things are not quite crisp and I'm giving up too many hard-hit balls or giving up too many runs and not being able to shut down those big innings, that's the problem," Arroyo said.
Arroyo's velocity averages
| Pitch type | Tonight | Last start | Difference |
| --- | --- | --- | --- |
| Curveball | 74.2 | 73.8 | 0.4 |
| Slider | 74.4 | 73.4 | 1.0 |
| Changeup | 77.2 | 78.4 | -1.2 |
| Sinker | 82.7 | 83.3 | -0.6 |
| Cutter | 85.0 | 85.1 | -0.1 |
| 4-Seamer | 85.1 | 83.9 | 1.2 |
Although he was never known for his velocity during his prime, Statcast™ showed Arroyo averaged 78.8 mph overall with his pitches in his season debut and topped at 86.7. On Thursday, he saw slight velocity increases in his four-seam fastball, slider and curveball but decreases in his changeup, sinker and cutter.
"To be honest with you, it's completely uncharted territory," Arroyo said. "I could stay exactly like this for the rest of the year, or I could continue to get stronger. I felt a little bit stronger today than I did last time out. I'm just hoping it keeps progressing in that direction. I know Bryan's not discouraged just yet. But baseball is a game -- every sport at this level -- you're getting paid to produce, man. It's got to get a little bit better a little quicker."
Mark Sheldon has covered the Reds for MLB.com since 2006, and previously covered the Twins from 2001-05. Follow him on Twitter @m_sheldon and Facebook and listen to his podcast. This story was not subject to the approval of Major League Baseball or its clubs.