With Smith out, Rays ponder LF situation
Outfielder exits with tight right hamstring; Bourjos enters, homers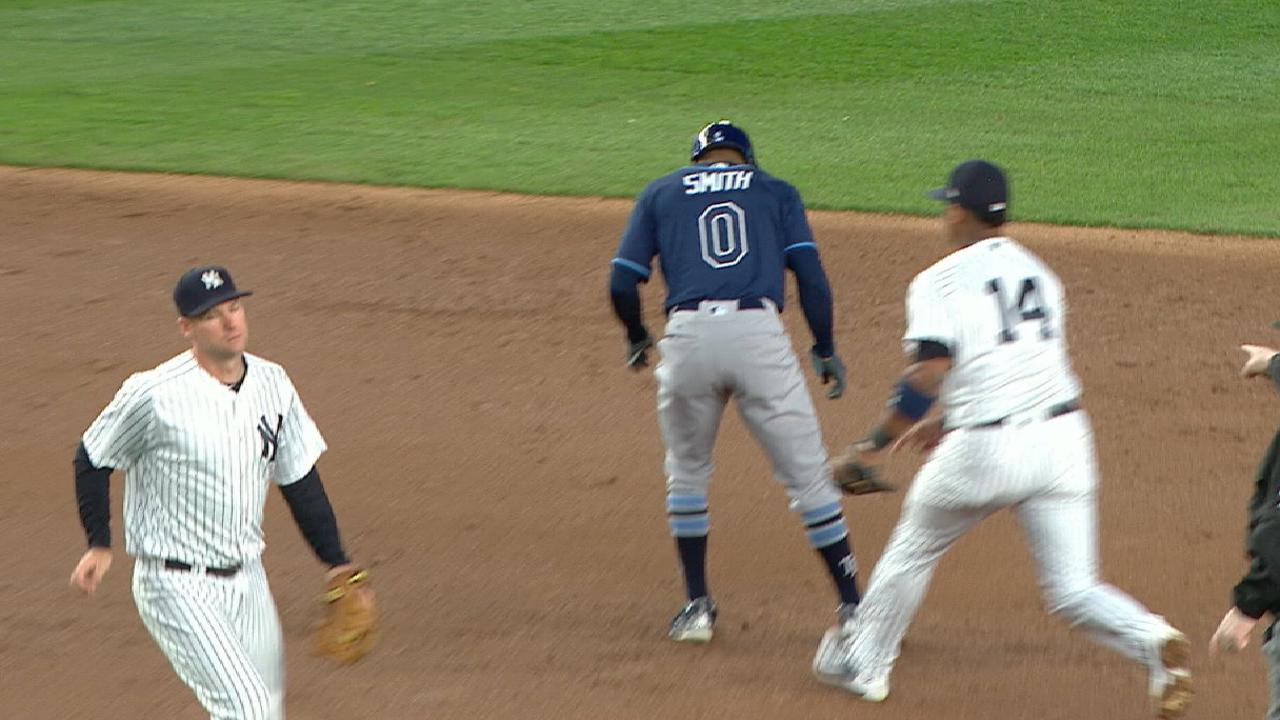 That question rose in the midst of Thursday night's 3-2 loss, which allowed the Yankees to complete a three-game sweep at Yankee Stadium.
Smith beat out an infield single in the second, then ended the inning when he got thrown out after getting into a rundown between second and third following a single by Jesus Sucre that drove home Logan Morrison.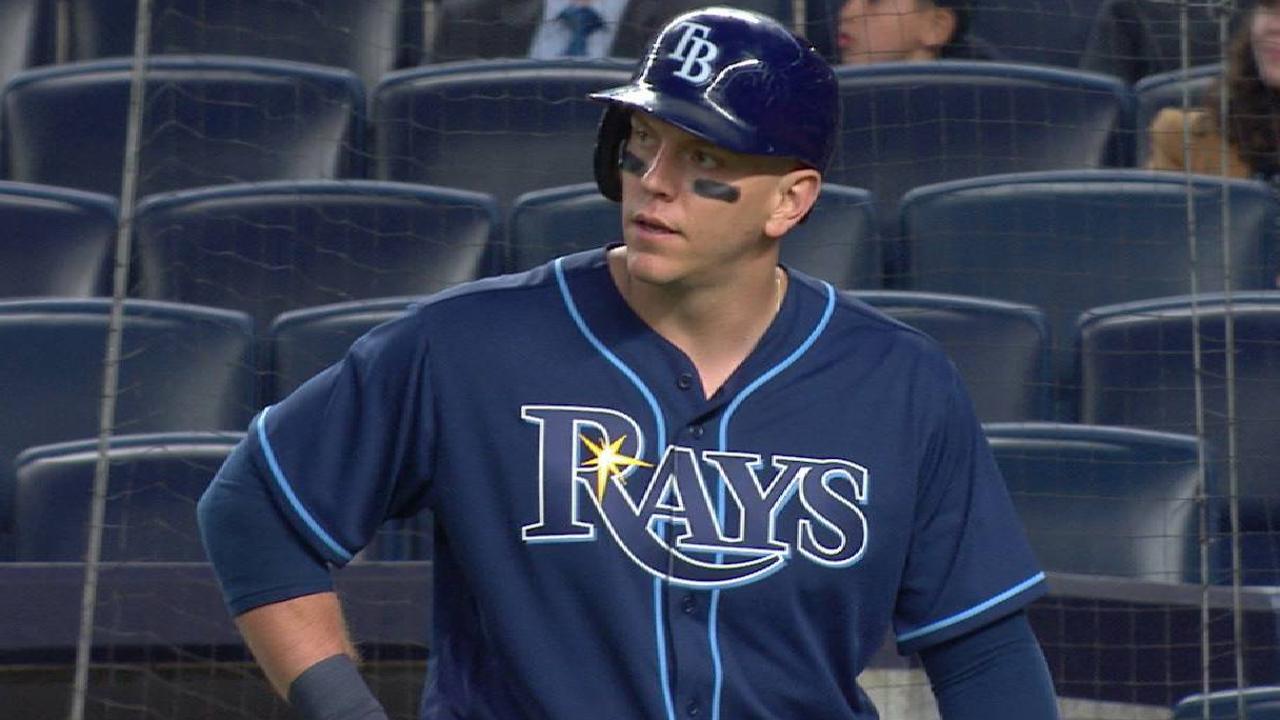 Smith played in the field in the bottom of the second, but Bourjos took his place in left in the bottom of the third as Smith left the game with a tight right hamstring.
"It grabbed me a little bit," Smith said. "The objective was [to get in a rundown so] that LoMo could score at that point."
Rays manager Kevin Cash isn't sure about Smith's condition.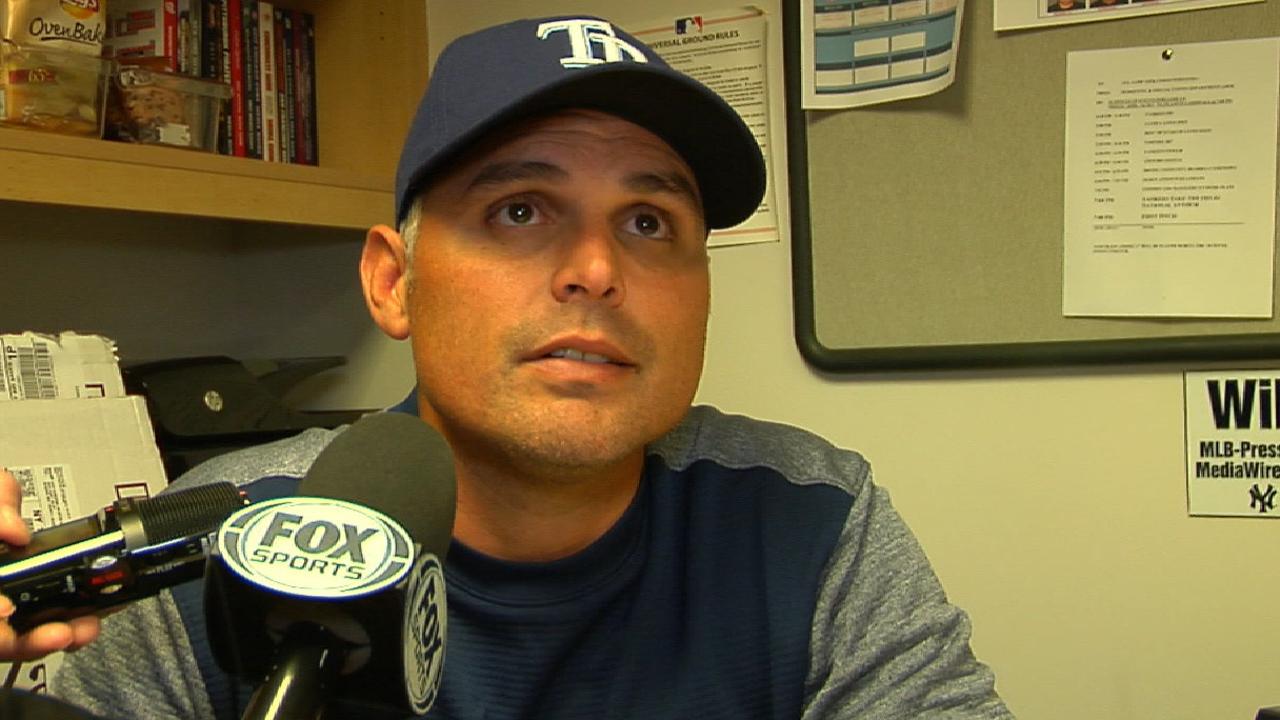 "We'll probably take the night to evaluate how he responds coming into [Friday]," Cash said. "They're tricky things. Especially when you're talking about a guy who really relies on his speed."
Smith said he had "no gut feeling" about whether his injury will linger, adding, "We'll see."
Bourjos, who has seen limited playing time, homered off Luis Severino in his first at-bat. The veteran outfielder's first homer of the season put the Rays up 2-1.
"That's a bad pitch," Severino said. "The mitt was down and away and I missed it."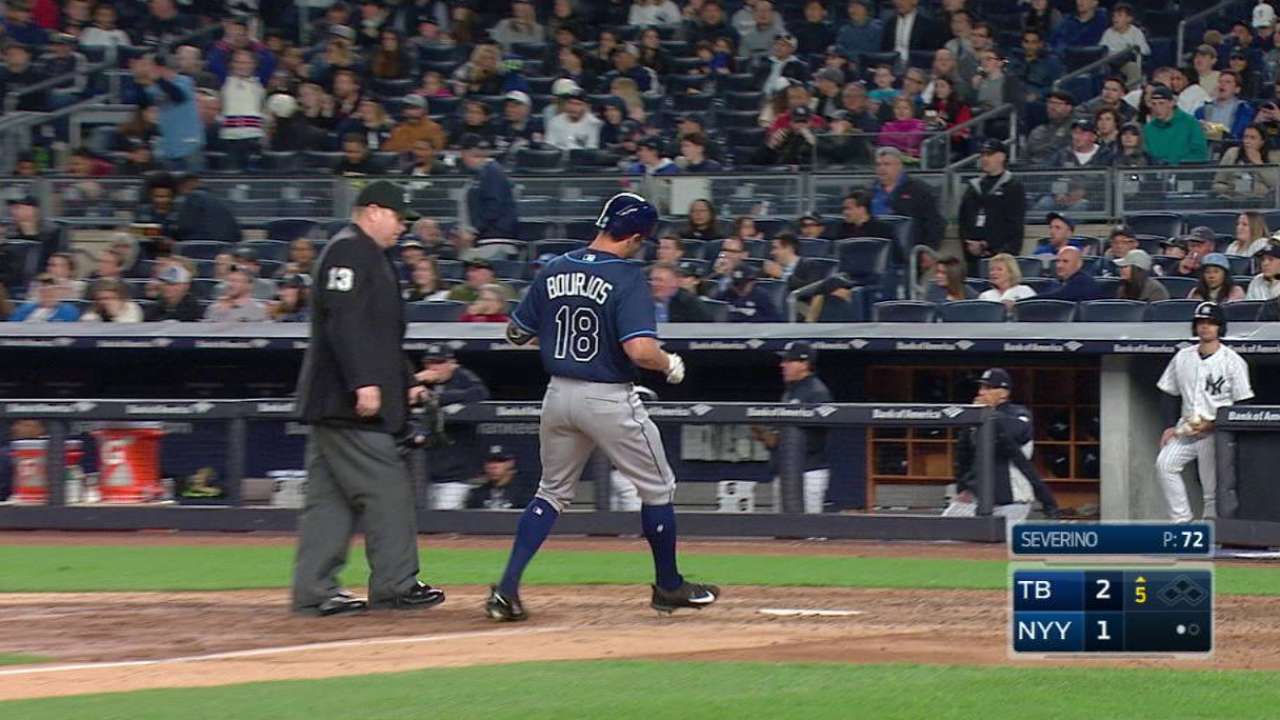 Bourjos, like Smith, is an outfielder who has plied his trade with his legs, so he felt for Smith.
"Obviously it's nothing you want to mess around with," Bourjos said. "I've dealt with some hamstring injuries in the past. Normally it's something that creeps up on you and gets worse if you don't take care of it. Obviously, it's probably smart that he did the right thing, addressing it, and he's back in there [Friday] or Saturday."
If Smith needs to go on the disabled list, the Rays don't have a lot of options. Rasmus should start a rehab assignment this weekend and that isn't likely to be rushed. Meanwhile, shortstop Willy Adames is the only position player at Triple-A Durham, other than catcher Curt Casali, who is on the 40-man roster.
There's the possibility that Tim Beckham and Daniel Robertson, who both worked in the outfield, could see some time there. Or the new and improved Corey Dickerson -- 25 pounds lighter than last season -- might be out in left more often along with Bourjos. Given all the recent work done by the bullpen, the Rays might go with an arm if Smith goes to the DL.
One thing is for sure: If Smith is down, Bourjos is ready to go.
"I'm healthy, so knock on wood," Bourjos said. "Whatever they ask me to do, I'm ready to do. Nothing is going to change my approach at the plate. I just want to go out there and have some good at-bats. And hopefully some balls fall in."
Bill Chastain has covered the Rays for MLB.com since 2005. This story was not subject to the approval of Major League Baseball or its clubs.