Maddon 'enamored' with Cubs' flashy defense
Almora robs Seager of 2 potential extra-base hits to highlight Cubs' glovework Thursday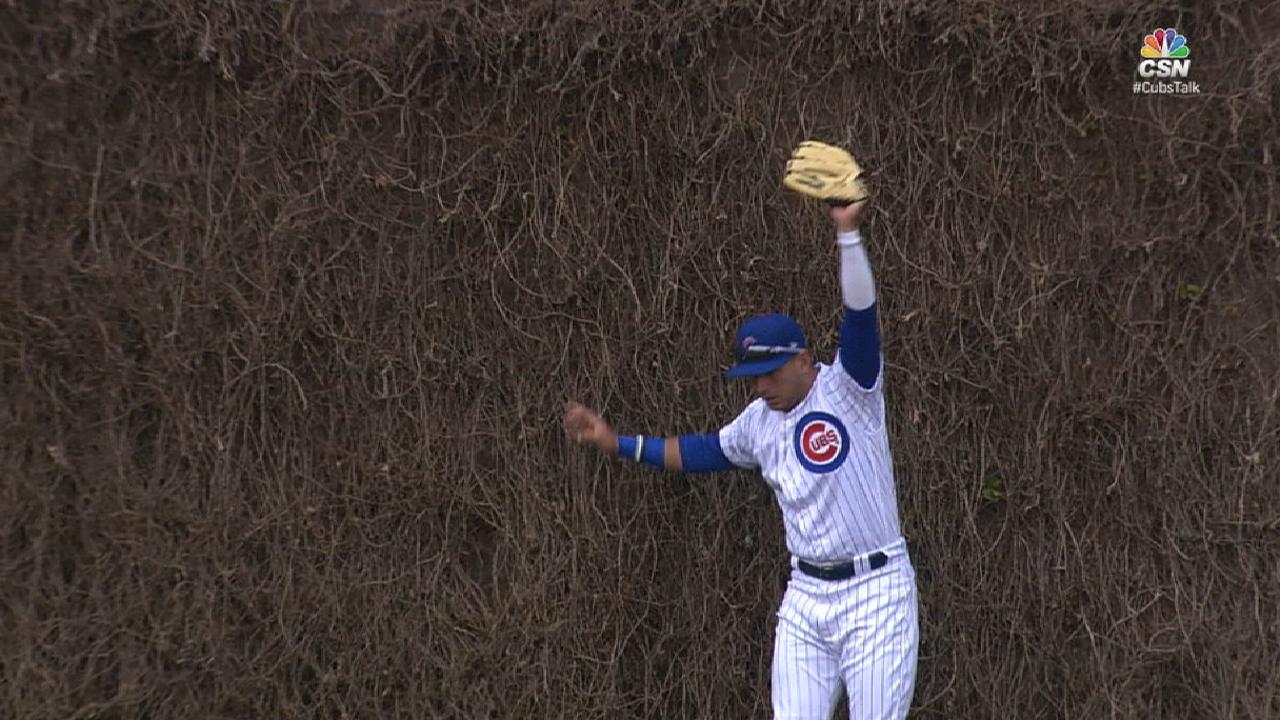 CHICAGO -- Anthony Rizzo and Addison Russell hit home runs on Thursday, but what made manager Joe Maddon happiest was seeing the Cubs continue to play solid defense, including some acrobatic catches.
Center fielder Albert Almora Jr. robbed Corey Seager of two potential extra-base hits, and second baseman Javier Baez ignited a double play with a leaping grab of pinch-hitter Chase Utley's liner in the seventh in the Cubs' 4-0 win over the Dodgers.
"It totally deflates the other side -- it's almost like hitting a home run or getting a bases-loaded double regarding the energy it creates in your dugout," Maddon said of the highlight-reel defensive plays. "We feed off our defense, we absolutely do. When we make a play, the whole bench goes nuts.
"We're really into it. I'm not saying everybody else is not, but we're noted to have a really good offensive ballclub, but I'm more enamored with our defensive side of the game."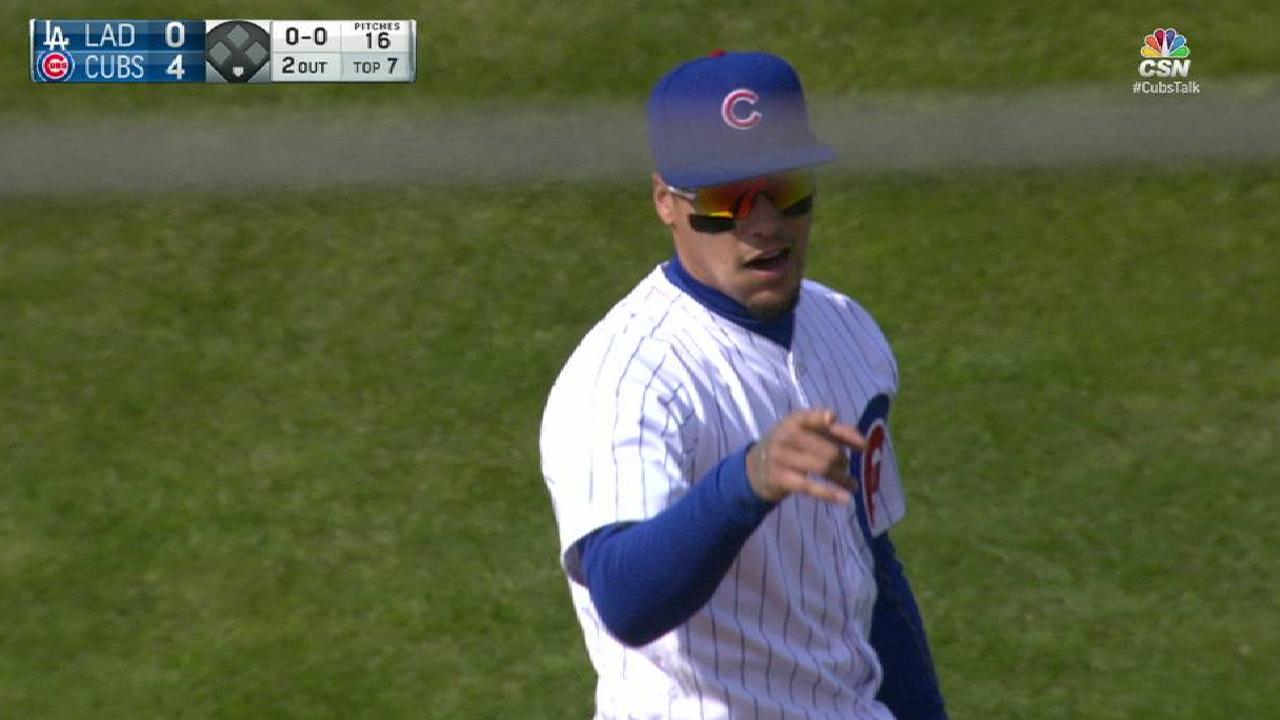 So was Brett Anderson, who picked up his first win with the Cubs. The lefty began the day leading baseball with a 64.5 percent ground-ball rate since the start of 2015. However, right fielder Jason Heyward had to run to get Logan Forsythe's fly ball on the first play of the game, and Almora followed with the first of two catches against the wall.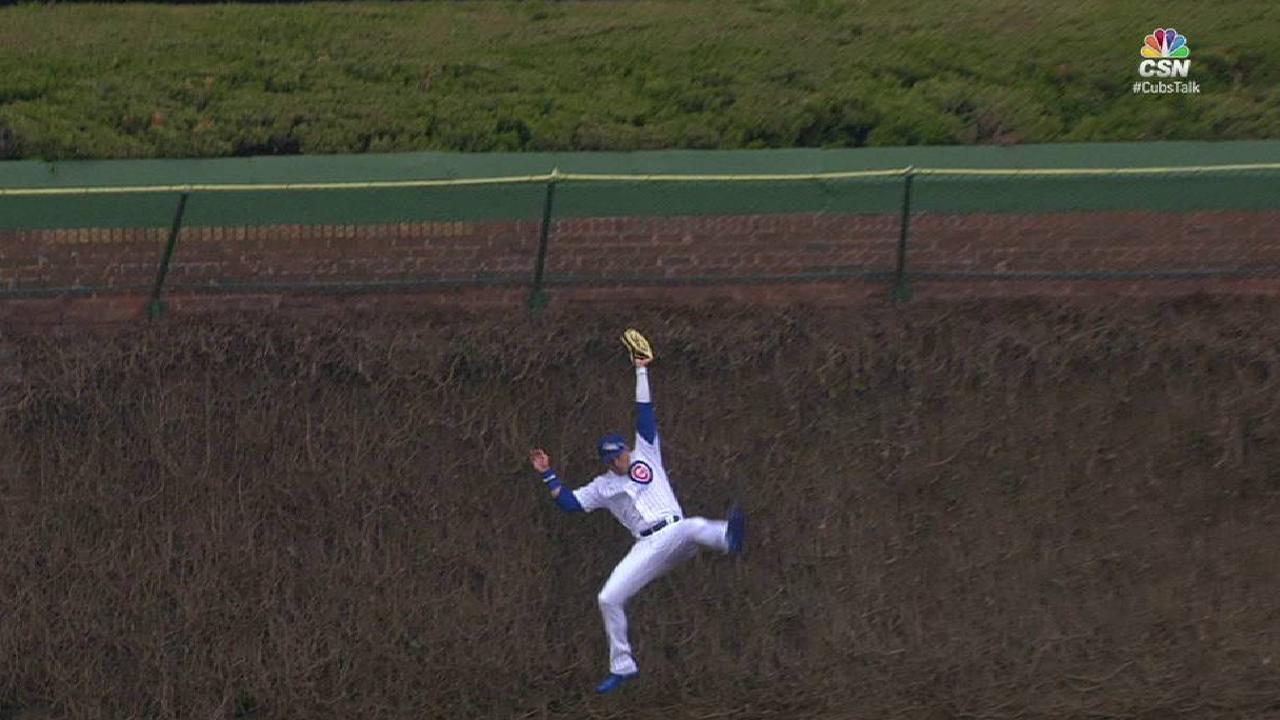 "The plays [Almora] made today, especially the one he had to lean back [against the wall], that's like textbook 101 on a ball over your head," Maddon said. "Not everybody can do that."
"I think I owe Almora my paycheck for the day," Anderson said.
Maddon has stressed that defense wins championships, and one of the T-shirts he handed out this spring said "D-peat."
"If we made a T-shirt for it, it's pretty big," Almora said. "We take pride in that -- you saw that not just with myself, but Javy and [Russell] and Jason on the first play of the game."
Asked if he's thinking about possibly winning a National League Gold Glove Award, Almora smiled.
"Seeing my teamamtes' reaction when I come into the dugout, that's what I play for," he said.
Maddon has compared Almora to Jim Edmonds in terms of technique.
"When you teach outfield play, you really need to teach that kind of a concept, [hearing] the crack of a bat -- big, strong guy; full swing; you don't know if it's off the end of the bat; you never leave the ground; you keep your feet on the ground -- he's taught well," Maddon said. "Beyond instinct, he's been taught really well."
Seager wasn't surprised. He and Almora were once teammates on a national team.
"I've played with Albert, so I should have known better," Seager said. "It happens."
"I've seen him since the Minor Leagues and all the crazy plays he's done," Kyle Schwarber said. "Some of the plays he's makes are unbelievable."
That's just what the Cubs need.
"We played the heck out of defense," Maddon said. "Without that defense, [the outcome] doesn't look anything like that."
Carrie Muskat has covered the Cubs since 1987, and for MLB.com since 2001. She writes a blog, Muskat Ramblings. You can follow her on Twitter @CarrieMuskat and listen to her podcast. This story was not subject to the approval of Major League Baseball or its clubs.