Orioles call up Crichton, deal Drake to Crew
Tillman preparing for Monday rehab start; Asher to start Saturday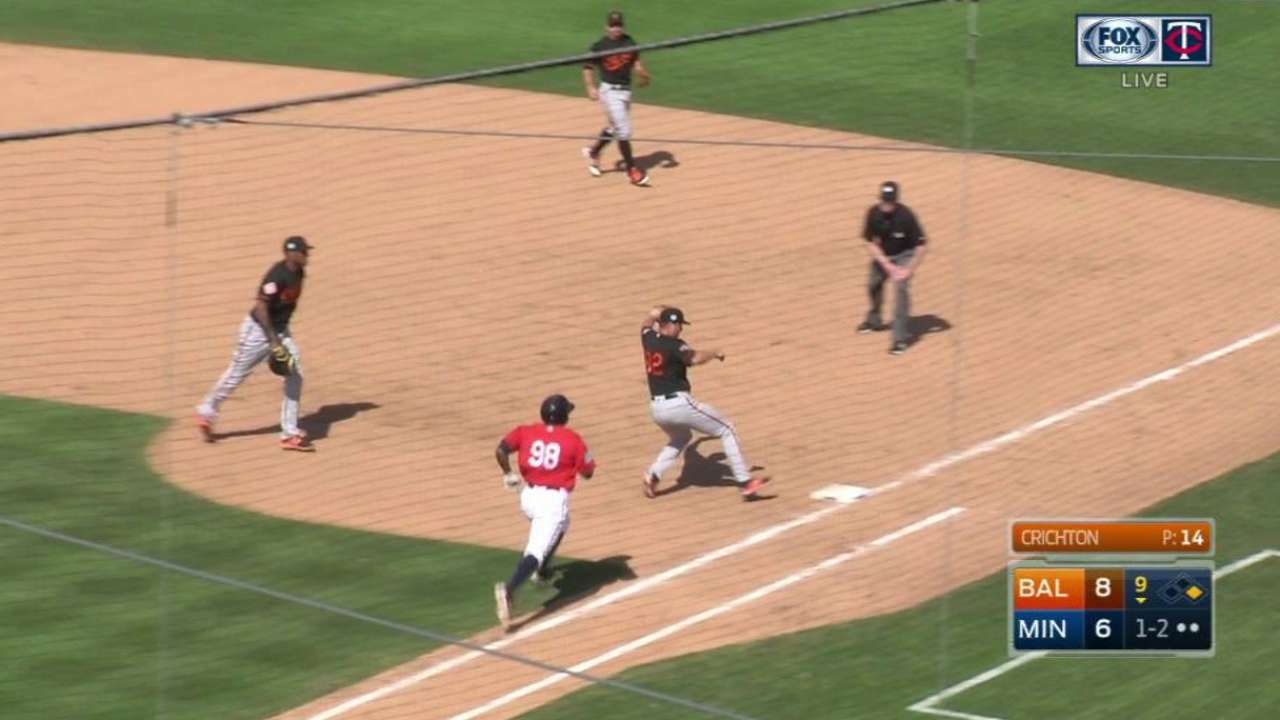 TORONTO -- The Orioles made a move to bolster their bullpen on Thursday evening, adding right-hander Stefan Crichton from Triple-A Norfolk.
Following their 2-1 win over the Blue Jays, Baltimore dealt right-hander Oliver Drake, who was designated for assignment earlier in the day to make room for Crichton, to the Milwaukee Brewers for a player to be named or cash considerations.
"[Crichton] deserves an opportunity to pitch on a consistent basis," Orioles manager Buck Showalter said. "He's shown the ability to be efficient with his pitches. [Though] that can all change at the Major League level, we know that."
Drake made three appearances with the Orioles this season, pitching to an 8.10 ERA over 3 1/3 innings.
The Orioles selected Crichton, 25, out of Texas Christian in the 23rd round of the 2013 Draft. MLBPipeline.com ranks him as Baltimore's No. 30 prospect.
In two appearances with Norfolk this season, the 6-foot-3, 200-pound Houston native was 1-0 with a 3.86 ERA over 4 2/3 innings of work.
"I like the fact that he showed for us, in spring, control and command," Showalter said. "Control is throwing it over the plate; command is throwing it to the right quadrants of the plate, which is probably one of the most important things up here -- to be able to command your fastball."
In a separate transaction with Milwaukee, the O's acquired right-hander Damien Magnifico in exchange for 2016-17 International Signing Bonus Slot No. 15.
Magnifico, a fifth-round pick of the Brewers in the 2012 Draft, made his big league debut this season, pitching to a 6.00 ERA in three appearances for Milwaukee.
To make room on the 40-man roster, right-hander Jason García was designated for assignment.
Tillman working
Right-hander Chris Tillman continues to rehab his right shoulder injury at the team's Spring Training complex in Sarasota, Fla.
"TIllman's taking his workday Friday, everything's going well there. He'll take it there and then travel," Showalter said.
The next step for Tillman will be a three-inning outing with Double-A Bowie on Monday. With Tillman still sidelined, right-hander Alec Asher will be promoted from Norfolk and get the ball on Saturday against the Blue Jays. Asher is 2-7 with a 5.88 ERA in 12 career starts with Philadelphia from 2015-16.
"Look at where we were, and we know that has potential to be a moving piece until Chris gets back," Showalter said of going with Asher. "Kind of play a little matchup there until we know for sure when we're going to get Chris back.
"As we said before, we're going to take advantage of the versatility and the guys we have on the roster that have options that we can go back and forth and hopefully put our best foot forward."
Saturday marks the first time this season that the Orioles have needed a fifth starter.
Bourn progressing
Michael Bourn, who is in the Orioles' organization on a Minor League deal, is progressing with respect to a broken finger suffered during Spring Training.
"He's in hitting progression, trying to restore the range of motion and the strength in that finger before he gets full throttle," Showalter said. "He's not really quite there yet to get on the field in games."
Dhiren Mahiban is a contributor to MLB.com based in Toronto. This story was not subject to the approval of Major League Baseball or its clubs.