D-backs off to hot start, but staying cool
GM Hazen on maintaining momentum: 'We haven't earned anything yet'
SAN FRANCISCO -- It's not that D-backs general manager Mike Hazen isn't happy with the way his team has started the season. It's just he knows that while a 7-3 record is nice, there are still 152 games left to be played.
"We do ... keep it in perspective and make sure that everyone understands all the way through the organization that we have a lot of work to do and [need to] keep doing those things," Hazen said. "And remind ourselves how you get to this point in time with your record is all the work that got put in. That can't stop, even through a long season."
There have been plenty of positives so far for Arizona, especially when juxtaposed with the club's miserable 2016 season, in which it finished 69-93.
The D-backs won six of seven games in their season-opening homestand. In 2016, for whatever reason, they struggled at home; it was not until May 6 that they won their sixth home game.
"It's all positive getting off to a good start," Hazen said. "It's something where guys can build confidence, they can feel good about themselves. I think it helps build a good atmosphere on a daily basis, because at the end of the night, you're shaking hands a lot."
If you're waiting for a "but," here it is.
"But we know it's the first week of the season, and we haven't earned anything yet," Hazen said. "We're playing some good teams, which is good. I think it's a good mark for us to measure ourselves against in a lot of ways, but there's a long way to go."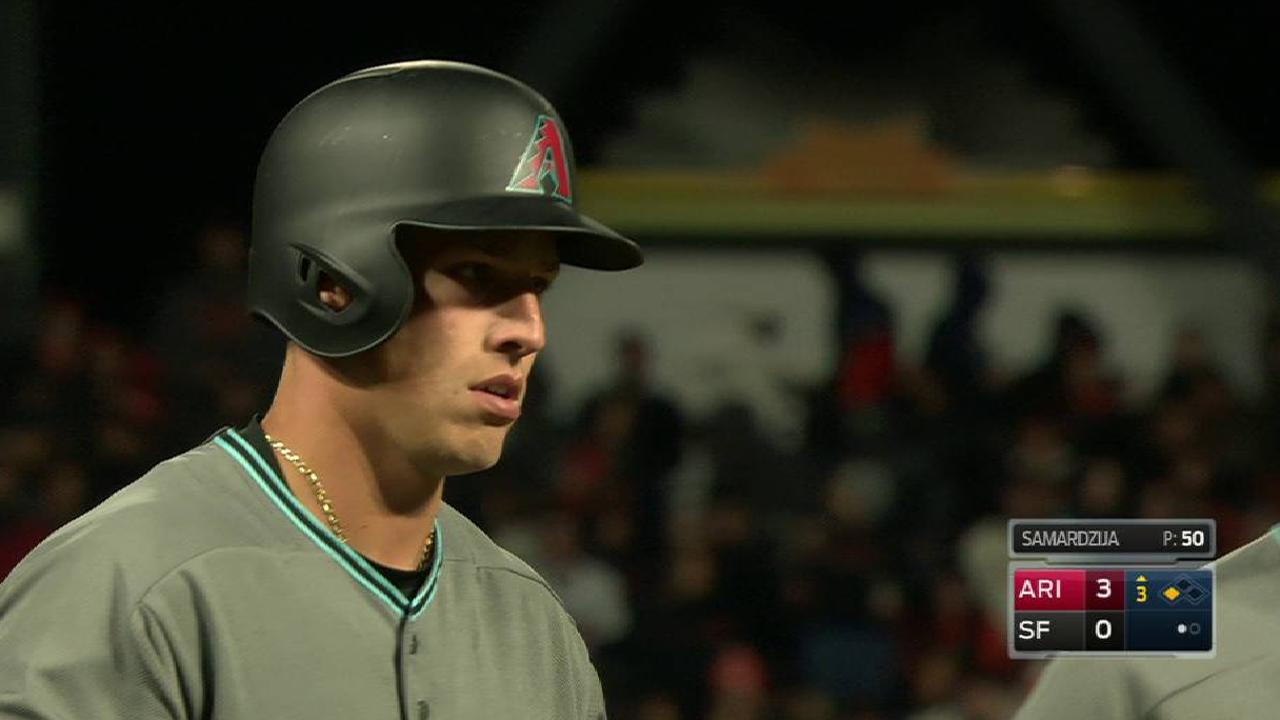 Arizona manager Torey Lovullo has done his part to walk the fine line between making sure his players enjoy their success while not allowing them to dwell on it.
One thing that helps the D-backs feel good about their start is that it's come against teams expected to be in the postseason hunt. Seven of the games have been against the Giants, and three of them have been against the defending American League champion Indians.
Things won't get easier, either, following Thursday's off-day, as Arizona opens a four-game series at Dodger Stadium.
"The start is the start, and doing it at home and doing it against good teams, those are all a credit to the players," Hazen said. "We've played well. I think seeing a lot of the hard work going into Spring Training sort of play itself out from a results standpoint in a positive way early in the season is good. It's a good reaffirmation of what Torey and his staff has tried to do."
But there's still a long way to go.
Steve Gilbert has covered the D-backs for MLB.com since 2001. Follow him on Twitter @SteveGilbertMLB. This story was not subject to the approval of Major League Baseball or its clubs.