Ramirez gets start in place of Richards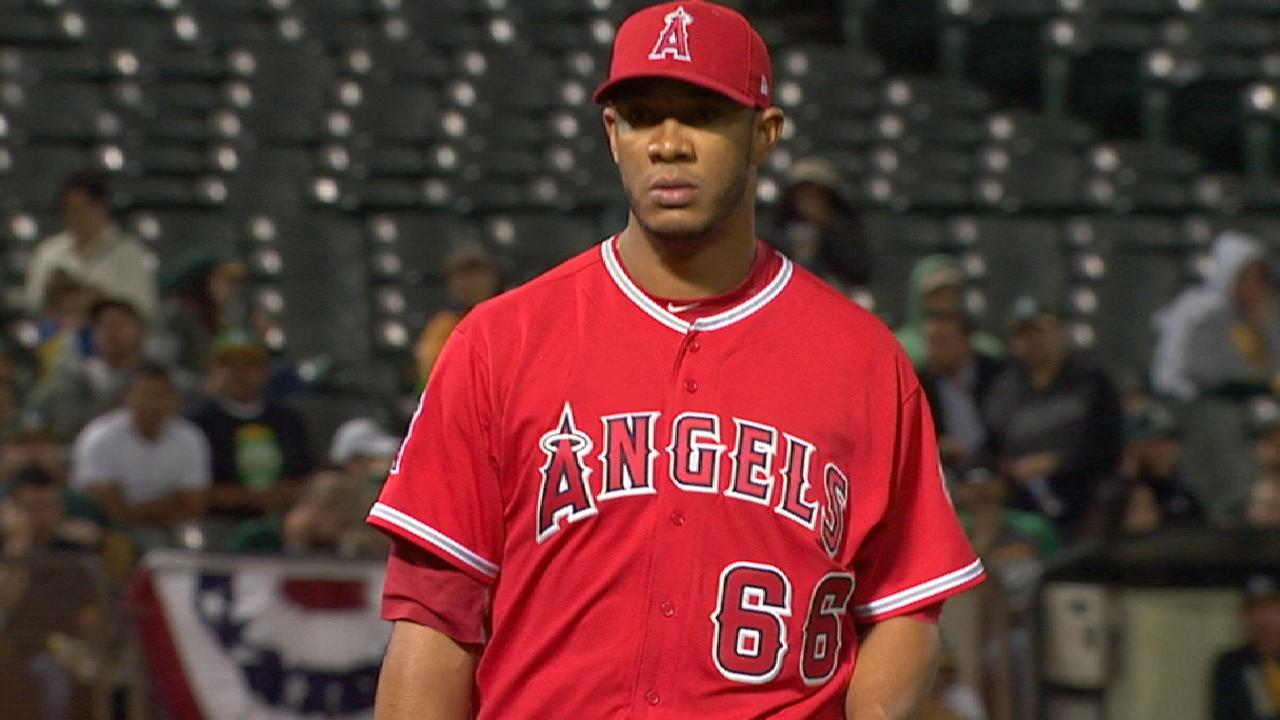 ANAHEIM -- An experiment the Angels flirted with in Spring Training is about to get its first test run.
Right-handed reliever JC Ramirez has been named to start Friday in place of injured righty Garrett Richards (biceps strain). For Ramirez, 28, it will mark the first start of his career.
"I think JC has enough length in him," said Angels manager Mike Scioscia. "We feel that it's an opportunity to test what we tried to do in the spring starting. He had some flashes of brilliance. It will be a good opportunity for him."
Ramirez came up in the Minors as a starter, but he was converted to a reliever by the Phillies in 2012 and has been in the bullpen ever since.
The Angels, however, think Ramirez has potential as a starter, so they stretched him out during Spring Training.
"We had talked about it for a while internally," Scioscia said. "JC has such a great arm that he has always maintained his stuff through some higher pitch counts that everyone thought he was a candidate to do this.
"The only fly in the ointment is you're taking a multi-inning power arm out of the bullpen that's already stretched. Naturally we're going to have to pay a lot of attention to where this goes in the next couple of weeks."
Richards injured his arm in his first start of the season and has yet to begin a throwing program. He will not join the team on its upcoming seven-game trip.
The Halos are uncertain how long Richards will be out, meaning they don't know how much recovery time he will need or how many starts they would like to get from Ramirez.
"I don't know," Scioscia said. "We don't have a crystal ball, but I think the opportunity for JC to pitch is there, and hopefully he'll take advantage of it. Right now there is no time frame on how long he'll be in our rotation. It could be the whole year."
Worth noting
Infielder Luis Valbuena remains out with a right hamstring strain and will not join the Angels on their next road trip. Valbuena, who was seen as the Halos' primary first baseman this season, injured the hamstring during a spring game March 22. He was expected to be out four to six weeks.
Scioscia said Valbuena will need a rehab stint in the Minors when the hamstring proves healthy. Valbuena has been hitting and fielding, and he began a running program.
"Depending on how his running sessions go -- which are slowly getting ramped up and more aggressive -- we'll get some indication when he's ready to get some at-bats in the Minor Leagues," Scioscia said. "He still has some work to do as far as running."
Steve Dilbeck is a contributor to MLB.com and covered the Angels on Thursday. This story was not subject to the approval of Major League Baseball or its clubs.