Most popular jerseys: Champs lead the way
Top 20 list dominated by Cubs' bright stars, young talent around MLB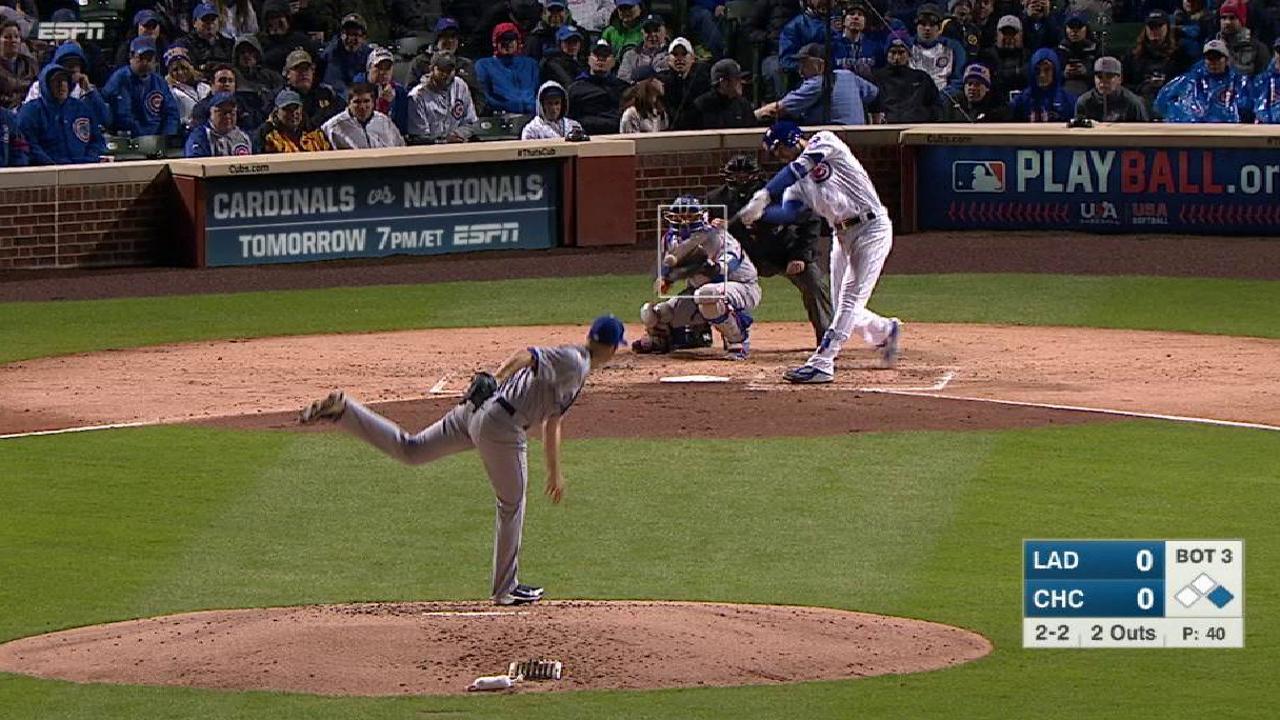 Major League Baseball's rankings of the top 20 most popular jerseys is out, and two important trends have emerged: It marks the first time that half of the players are 25 or younger, and domination by Cubs players at the top illustrates a historic offseason shopping spree.
The Cubs have four of the top five on a list that was jointly announced by MLB and the MLB Players Association, an unprecedented rule in the eight years of tracking. Kris Bryant and Anthony Rizzo, who combined for the 5-3 putout that made history after a 108-year World Series drought, rank first and second overall, followed in order by Dodgers ace Clayton Kershaw, Cubs second baseman Javier Baez and Cubs left fielder Kyle Schwarber.
The list is based on sales of Majestic jerseys at MLBShop.com between the 2016 World Series and '17 Opening Day.
Bryant, the reigning National League Most Valuable Player Award winner, not only has the most popular jersey in baseball, but his No. 17 also is the top seller since the start of the 2015 season, his rookie year. Right behind him is his "partner" in the popular MLB "Bryzzo Souvenir Company" commercials, proving that it indeed has been a "good year" for sales.
The average age of players on this list is younger than any previous list's mean age, reflecting the best crop of young star talent in the game's history. Bryant, Baez and Schwarber are three of 10 players who made this list aged 25 years or younger, while Baez and Schwarber are two of six new faces cracking the top 20.
Also making their debut on the list are Dodgers shortstop Corey Seager (No. 7), Yankees catcher Gary Sanchez (No. 9), Red Sox right fielder Mookie Betts (No. 14) and Indians shortstop Francisco Lindor (No. 16).
Five-time All-Star Mike Trout (No. 10) of the Angels has now appeared in every one of these rankings since his professional debut. Trout, the reigning American League MVP Award winner, has had one of the 10 most popular player jerseys on nine of the previous 10 lists.
Players representing 14 clubs make up the top 20 most popular player jerseys, which includes nine infielders, five outfielders, three catchers and three pitchers. The full list:
1. Kris Bryant, Cubs
2. Anthony Rizzo, Cubs
3. Clayton Kershaw, Dodgers
4. Javier Baez, Cubs
5. Kyle Schwarber, Cubs
6. Noah Syndergaard, Mets
7. Corey Seager, Dodgers
8. Buster Posey, Giants
9. Gary Sanchez, Yankees
10. Mike Trout, Angels
11. Yadier Molina, Cardinals
12. Madison Bumgarner, Giants
13. Yoenis Cespedes, Mets
14. Mookie Betts, Red Sox
15. Bryce Harper, Nationals
16. Francisco Lindor, Indians
17. Freddie Freeman, Braves
18. Dustin Pedroia, Red Sox
19. Jose Altuve, Astros
20. Josh Donaldson, Blue Jays
Mark Newman is enterprise editor of MLB.com and a baseball writer since 1990. Read and join other baseball fans on his MLB.com/blogs hub. This story was not subject to the approval of Major League Baseball or its clubs.