Margot, Renfroe comprise outfield of dreams
Pair of rookies delivering early as Padres' future looks bright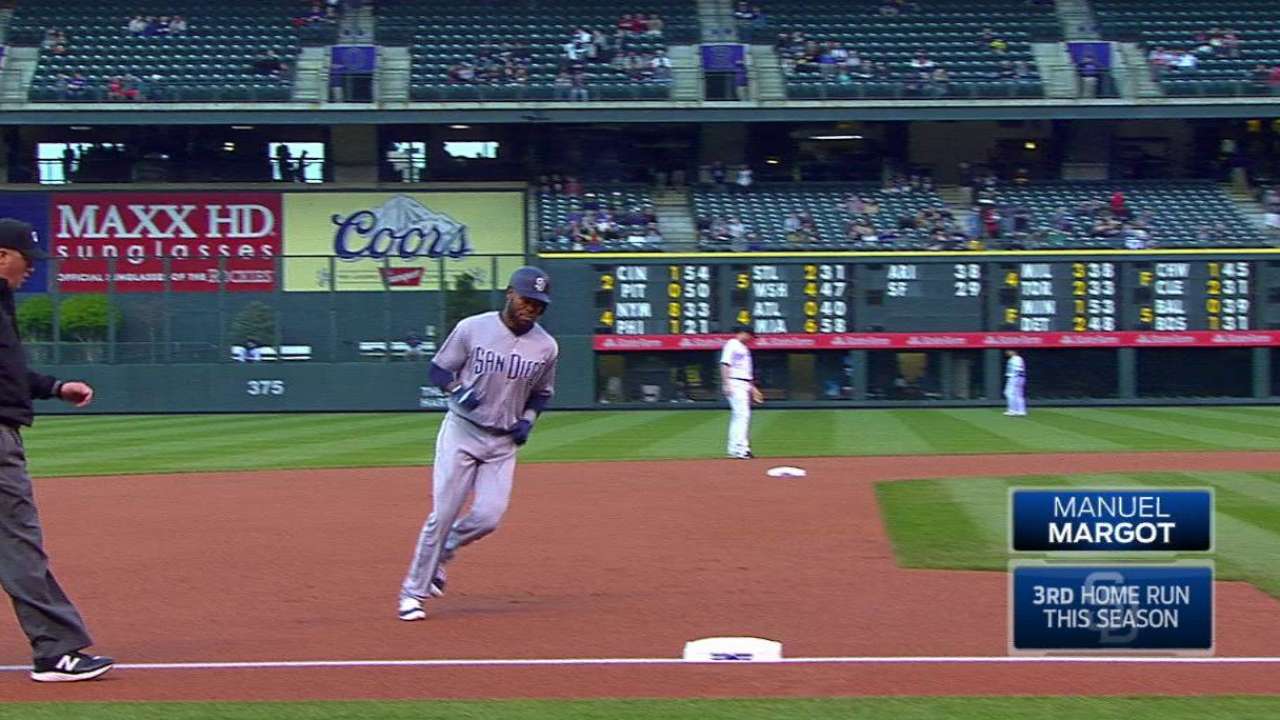 SAN DIEGO -- For the past year and a half, Padres fans have dreamt of an everyday outfield featuring Manuel Margot in center field and Hunter Renfroe in right.
Well, it's here. And the two rookies have come as advertised.
San Diego's top two offensive prospects probably won't remain "prospects" much longer. They're already carving themselves a niche at the big league level.
Margot burst onto the scene with homers in his first two at-bats during the Padres' home opener Friday. Through 10 games, he's hitting .325. Renfroe, meanwhile, is batting .250 with four of his 10 hits going for extra bases.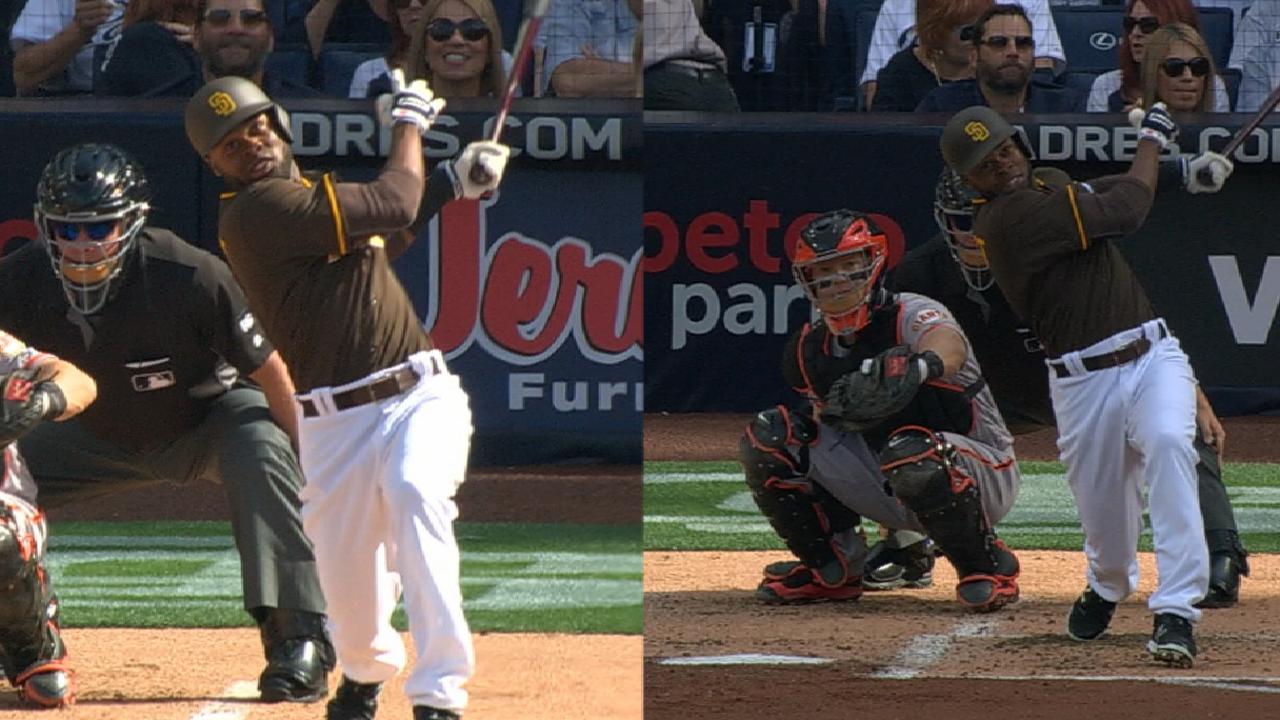 "I wish it had happened sooner," Renfroe said with a laugh. "But it feels good to have come up together and have the relationship that we have."
With adjoining lockers in San Diego's home clubhouse, the duo offers quite the contrast.
There's Renfroe, a country-bred Mississippi State product, built like a linebacker with broad shoulders and massive arms. And there's Margot, an agile native of the Dominican Republic with long legs and a thin frame.
From the outside, it seems like a bit of an odd pairing. But no one's a bigger Margot fan than Renfroe. And vice versa.
"He's a worker," Margot said through a team interpreter. "He's a person anyone would want on their team. ... He's someone who gives you energy, he's someone who pays attention. It would be a real pleasure to play next to him for the rest of my career."
Said Renfroe: "We have a lot of fun. He's a great baseball player. I want to see him go as far as he possibly can in this game."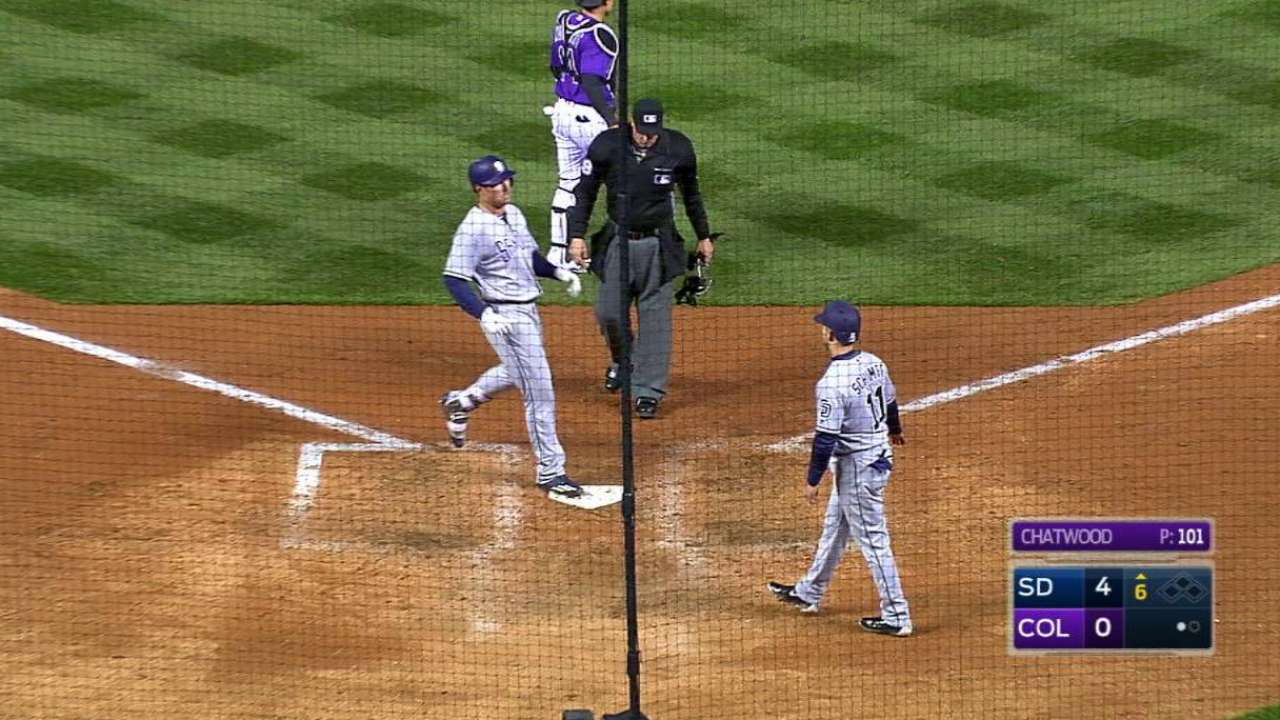 Success is nothing new for Margot and Renfroe, who helped lead Triple-A El Paso to a Pacific Coast League title last season. It's obviously early, but they're among the half dozen or so favorites for the National League Rookie of the Year Award.
Manager Andy Green noted that their simultaneous arrival likely brought some added comfort. If all goes according to plan, Renfroe and Margot will help comprise the Padres' outfield for the better part of the next decade. They represent the first "wave of talent" ushered to the big leagues under general manager A.J. Preller's long-term vision.
San Diego fans have already embraced the two rookies. Last July, they received a partial standing ovation at the All-Star Futures Game at Petco Park despite never having played a big league game.
Margot promptly rewarded the home fans with a brilliant home-run-robbing catch. Renfroe would wait until his September callup to endear himself. In his seventh career game, he mashed arguably the most impressive home run in Petco Park's history, a moonshot onto the roof of the Western Metal Building.
"You want [the fans] to rally around guys that are good baseball players, first and foremost," Green said. "So if there's a sentiment from these fans to wait and see how good these guys are, I understand that. ... In due time, they're going to realize these guys are really good. And our hope and goal is that they're guys that are here for a very, very long time."
AJ Cassavell covers the Padres for MLB.com. Follow him on Twitter @ajcassavell. This story was not subject to the approval of Major League Baseball or its clubs.