MLB.com Columnist
Barry M. Bloom
Victory has Cain pointed in right direction
Veteran righty securing rotation role with Giants early on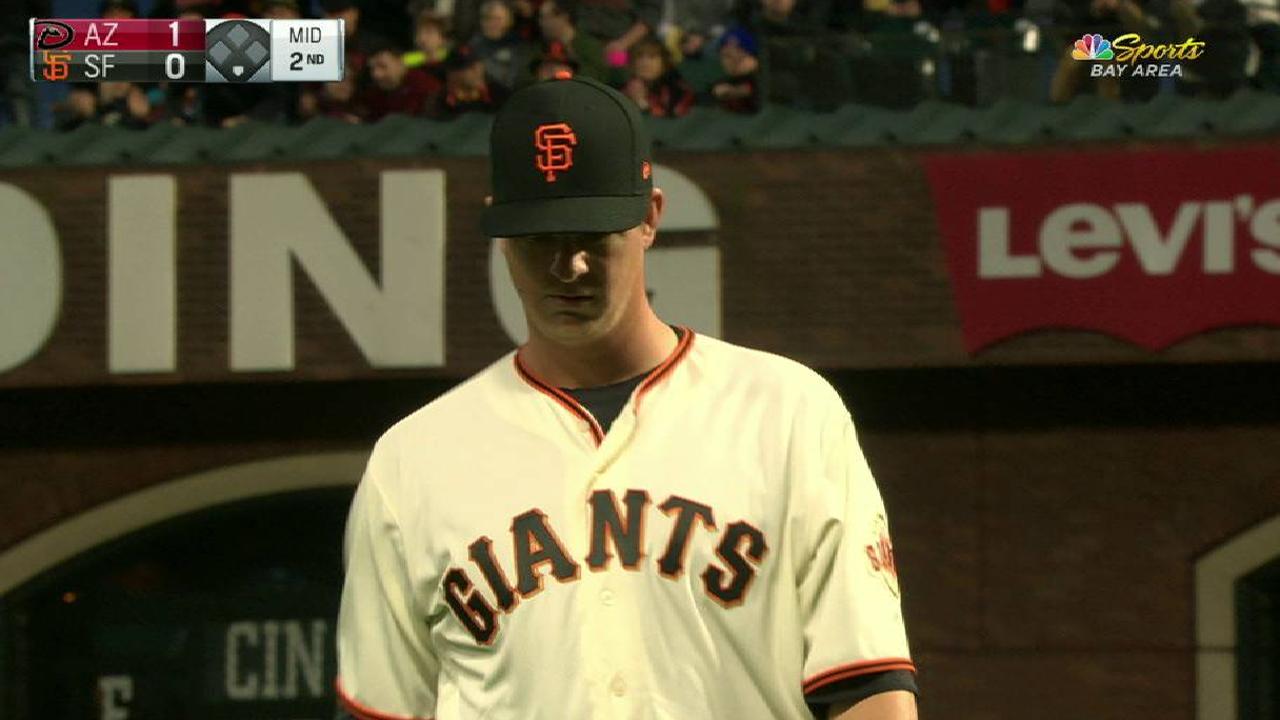 SAN FRANCISCO -- Matt Cain earned a stay of demotion on Wednesday night in a 6-2 win over the D-backs at AT&T Park, but at this stage of his career, there's no doubt he's going from game to game.
Manager Bruce Bochy admitted there have been ongoing discussions about what the Giants plan to do with the fifth spot in their rotation, but as long as Cain is competitive, he'll remain in that role.
Cain pitched into the sixth inning, allowing one run on five hits with three walks and six strikeouts to win his first game since Aug. 6. Despite it all -- despite the recent seasons filled with arm injuries and disappointment -- he said he doesn't feel like he's pitching to save his job.
"If I'm thinking about that, I'm in the wrong frame of mind, big time," Cain said.
There's no one more to loyal to the guys who won for him than Bochy. Cain, Madison Bumgarner and Buster Posey are the only players left who played for all three World Series-winning teams in every even year from 2010-14.
Cain, in his 14th season, has the longest tenure of all of them, coming up in 2005 near the end of the Barry Bonds era. That means a lot to the man most people simply call "Boch," who gave a lot of rope to Barry Zito, Tim Lincecum and Jake Peavy before those pitchers reached the end of the line.
"I think it's something that he's earned," Bochy said about Cain. "Look at what he's done for us. We have those championships because of this guy. He's the longest-tenured Giant, and some guys earn a certain thing. I'll go back to Barry Zito. He had his ups and downs, and we stayed with him and he helped us win a World Series there [in 2012].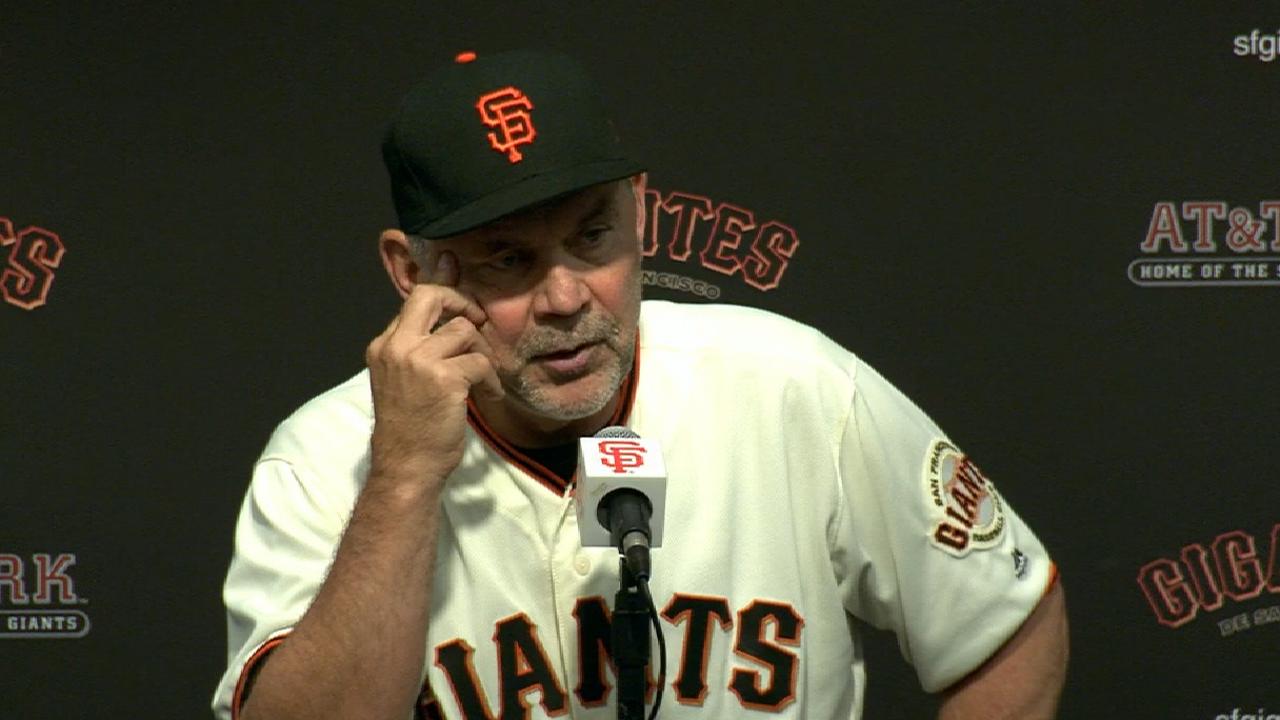 "I feel the same about Matty. I think we all do. We all pull for him. He's very well liked and been a big part of our success. You give guys like that a longer leash. They've earned it."
Part of it is that San Francisco still owes Cain $27.5 million at the back end of his six-year, $127.5 million contract -- $20 million for this year and at least a $7.5 million buyout on next year's $21 million club option. So Cain is going to go out there as long as he's ambulatory.
The 32-year-old right-hander hasn't pitched a full season since 2013. The litany of injuries have included right forearm issues, a pulled hamstring and elbow inflammation that led to bone chips removed via surgery -- and the list seems to go on and on.
Cain has made 51 starts since all the problems began, and he missed the entire postseason run to the Giants' most recent World Series victory over the Royals in 2014.
Bochy hasn't given Cain a leash -- he's given him an endless extension cord.
Cain said he feels healthy now. That was evident on Wednesday night, because the velocity of his fastball at times got up into the low 90s. But when asked if he remembered the last time he pitched without pain, Cain said, "I don't know. I couldn't tell you."
Perhaps that tells you everything.
"There always seems to be little things here and there," Cain said. "I'm just glad to be able to pitch every fifth day and work on some things in between starts. That's been nice. It's nice to go out there and just focus on the game without worrying if your body is going to keep going."
It's no wonder then that San Francisco's brain trust has been mulling over options, working under the assumption that each start by Cain could be his last.
After a four-game home series beginning Thursday night against the Rockies, the Giants have days off wedged around a two-game series in Kansas City on Tuesday and Wednesday. That gives Bochy a chance to drop his fifth starter for a turn and then reset afterward with an eye on a four-game series at home against the National League West-rival Dodgers on April 24-27.
The Dodgers are a .217 hitting team against left-handers, .264 against right-handers. So it would behoove Bochy to line up left-handers Bumgarner, Matt Moore and rookie Ty Blach that week against Los Angeles.
The Giants are pondering that possibility against their longtime rivals.
"It's tough to move your rotation around, but we've talked a lot about that," Bochy said. "You can move it around a little here or there, yeah, you have that kind of flexibility."
When asked whether that flexibility includes moving Blach into a spot start, Bochy added, "Yeah, sure it is. We have that sort of flexibility with Ty. He's accustomed to it. Last September was an invaluable experience for him, learning to pitch out of the 'pen and getting a spot start here or there. So we're keeping that door open."
When that door swings wide open is primarily up to Cain. And for now, Bochy said, the stay remains in place, and Cain is next up to start again against the Royals on Tuesday night.
Barry M. Bloom is a national reporter for MLB.com and writes an MLBlog, Boomskie on Baseball. Follow @boomskie on Twitter. This story was not subject to the approval of Major League Baseball or its clubs.