Gearrin bails out Cain with stellar relief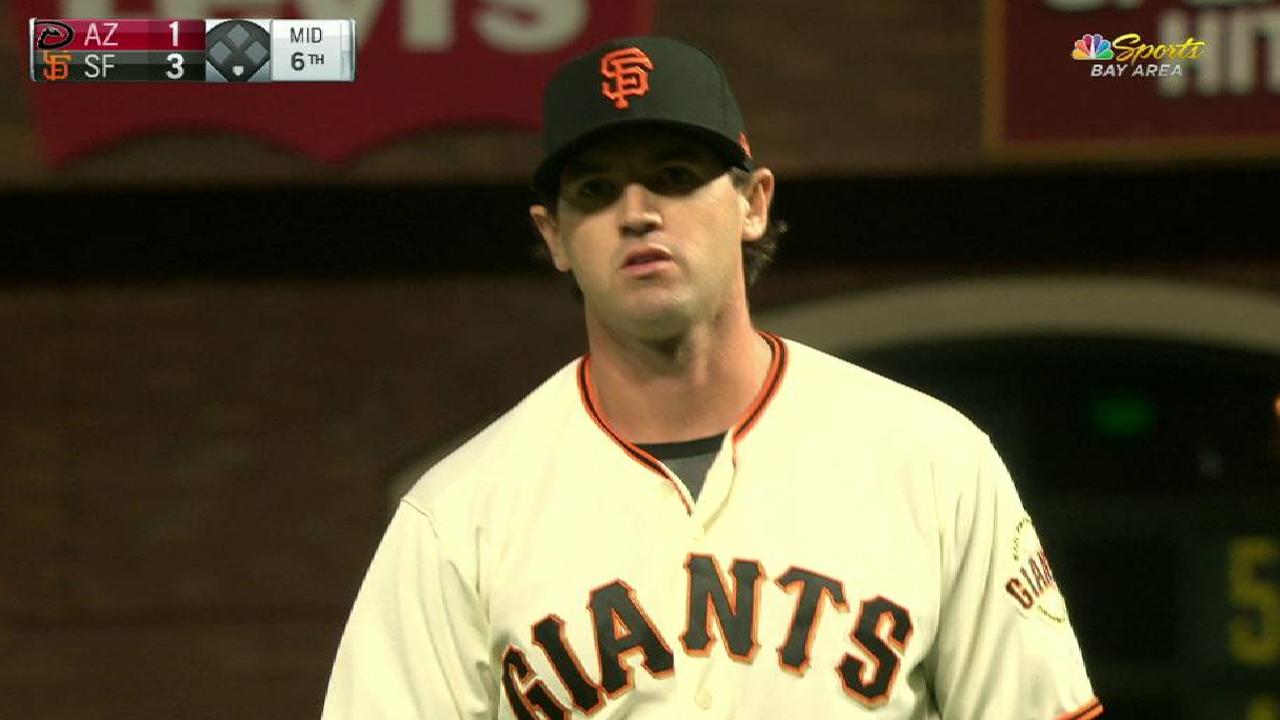 SAN FRANCISCO -- Right-handed reliever Cory Gearrin defused a potentially toxic situation for the Giants during Wednesday's 6-2 win over the Arizona Diamondbacks, striking out the side in the sixth inning to preserve a strong start by Matt Cain.
After Cain gave up a leadoff double and a walk to begin the frame, Gearrin was summoned from the bullpen to protect a two-run lead. He rose to the occasion by striking out Brandon Drury, Chris Owings and Jeff Mathis back-to-back-to-back to end the frame.
"That's pretty impressive what he did tonight," Giants manager Bruce Bochy said. "First and second, nobody out, you're hoping for a ground ball, but he ends up striking out the side. Sure, that was his best outing [this year]. Been using him for a hitter or two, but three guys, three strikeouts -- doesn't get better than that."
Cain was happy with Gearrin's ability to close the door on the D-backs when it looked like they were threatening. It helped the starter pick up his first win since Aug. 6.
"That was a huge moment in the game," Cain said, "Cory coming in and bailing me out that sixth inning."
Following Gearrin's shutdown performance, George Kontos also retired Arizona slugger Paul Goldschmidt to end the seventh and strand a runner on second, before Derek Law gave up a run in the eighth and Hunter Strickland wrapped up the victory. It was a welcome sight for the Giants, who entered the contest with a 5.85 bullpen ERA, ranking 23rd in MLB.
"Bullpen pitched great," Gearrin said. "I felt like everybody really went out there and threw well. It was exciting. We hung in."
The 30-year-old Gearrin has been a bright spot for Bochy so far, tossing three scoreless frames across four outings to start this season.
"I feel good. I feel healthy," Gearrin said. "Just keep going out there and doing what I'm doing. It's nice to be back in San Francisco where the ball can sink and move a little bit out of Arizona. I think everybody's really getting in a good flow and being home, being in front of our home crowd, it has a big impact. It matters to us."
Alex Espinoza is a contributor to MLB.com and covered the Giants on Wednesday. This story was not subject to the approval of Major League Baseball or its clubs.