Lackey shifts focus back to task at hand
Veteran fans 10 in tough-luck loss after pregame festivities, leadoff HR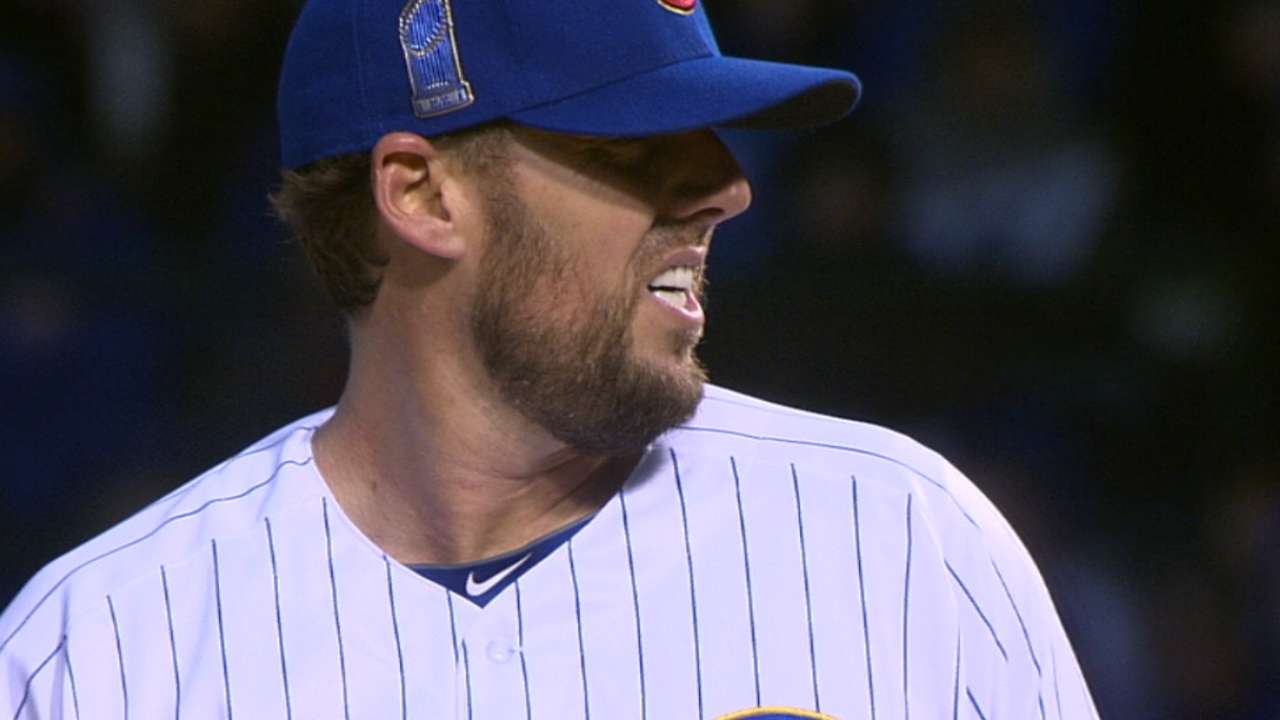 CHICAGO -- John Lackey walked into the interview room Wednesday proudly wearing his new World Series ring.
"It's heavy," the Cubs pitcher said, showing off his new bling. "It's really nice. Seriously, I've been fortunate to have a couple of them, but this is next level for sure. I think the whole team, to the Ricketts family, we want to say thanks. It's pretty sick."
Lackey altered his routine so he could get take part in the pregame ceremonies, then went to the bullpen to prepare to face the Dodgers, who spoiled the party with a 2-0 win.
"The celebration's over," Lackey said. "It's time to start to work on another one."
That attitude is shared by others in the Cubs clubhouse as well. As much as they'll enjoy counting the diamonds and looking at the sapphires and rubies, it's time to move on.
"We'll be really proud of that thing," Kyle Schwarber said of the jewelry to commemorate the Cubs' first World Series championship since 1908. "It's time for 2017."
• Cubs unveil bling at Friendly Confines
The Dodgers have had enough reminders of last year's National League Championship Series, when they were ousted by the Cubs in six games. On Monday, the Cubs raised their championship banners, and on Wednesday, the players received their rings. The Dodgers' win evened the series, and reinforced that it's time for the Cubs to move on.
"We're really happy we could celebrate, and now that it's done, we're really focused on trying to get back there again," Schwarber said. "That's the best feeling in the world to win it."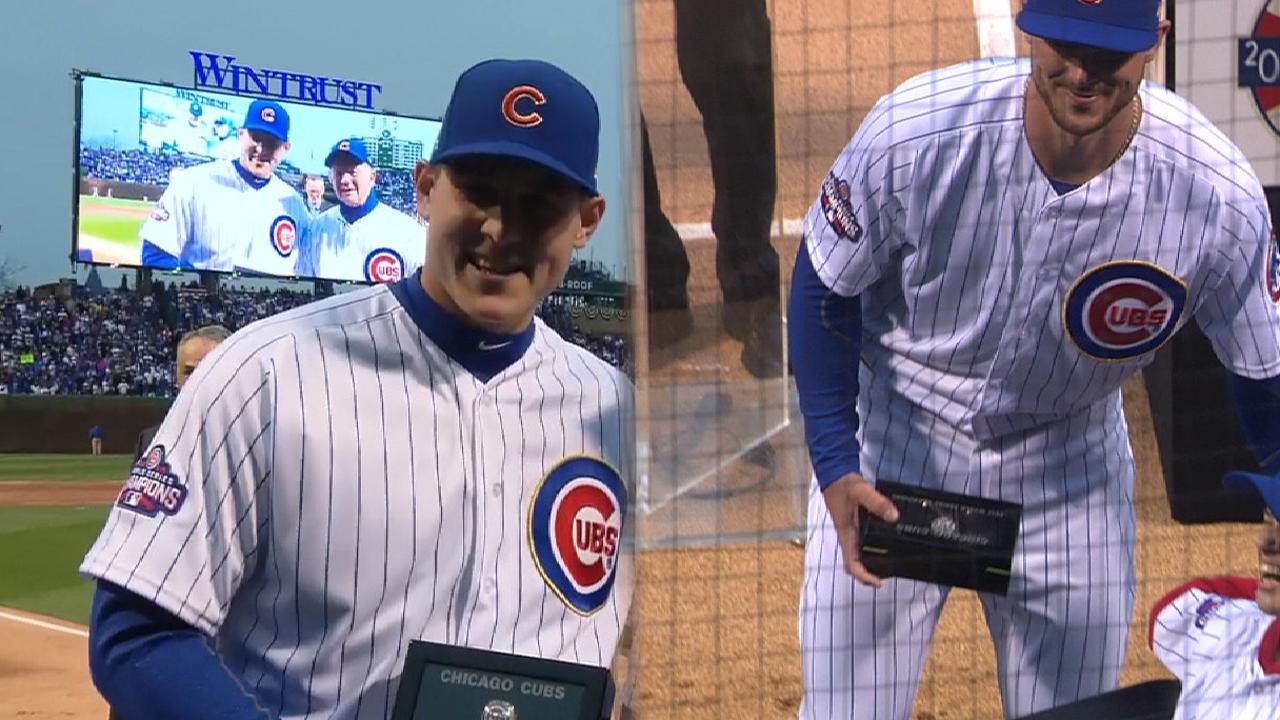 The Dodgers held the Cubs to five hits, while the wind stymied fly balls by Anthony Rizzo and Willson Contreras that might have gone out at Wrigley Field on another day. Somehow, Andrew Toles was able to line a homer to right, keeping the ball low enough that the wind wasn't a factor, which ended up being all the Dodgers needed.
Lackey wasn't happy with the homer, obviously, but he was ticked even before that. The right-hander didn't like home-plate umpire Greg Gibson's call on the first pitch of the game. Toles launched a 2-0 pitch for the homer.
"The first pitch might have been a strike, or was a strike, and I think that threw him off a little bit," manager Joe Maddon said of Lackey. "Once he regrouped, he was outstanding after that."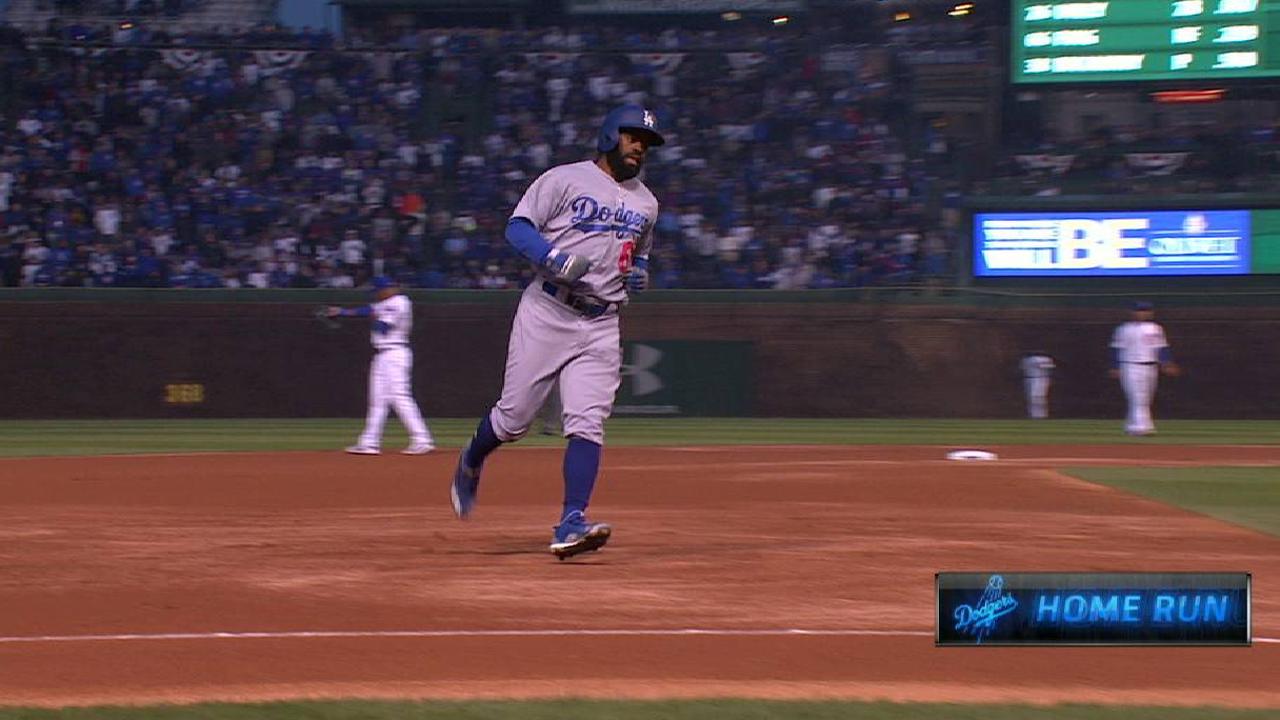 Lackey did retire 14 of the last 15 batters he faced, and notched his 22nd career double-digit strikeout game with 10 K's. Maddon knows the veteran pitcher well from their days together on the Angels. Maddon was a coach then, and he and Lackey were drinking buddies.
"I don't think he's necessarily satisfied with any of this," Maddon said of Lackey, who now has three World Series rings, having won with the Angels and with the Red Sox. "I love that. That's part of the edginess he brings. One day, he will retire to West Texas and we will not see him again outside of a photograph on occasion riding a horse. In the meantime, he's alive and doing really well right here."
Carrie Muskat has covered the Cubs since 1987, and for MLB.com since 2001. She writes a blog, Muskat Ramblings. You can follow her on Twitter @CarrieMuskat and listen to her podcast. This story was not subject to the approval of Major League Baseball or its clubs.