Speedy Davis does it all in A's win in KC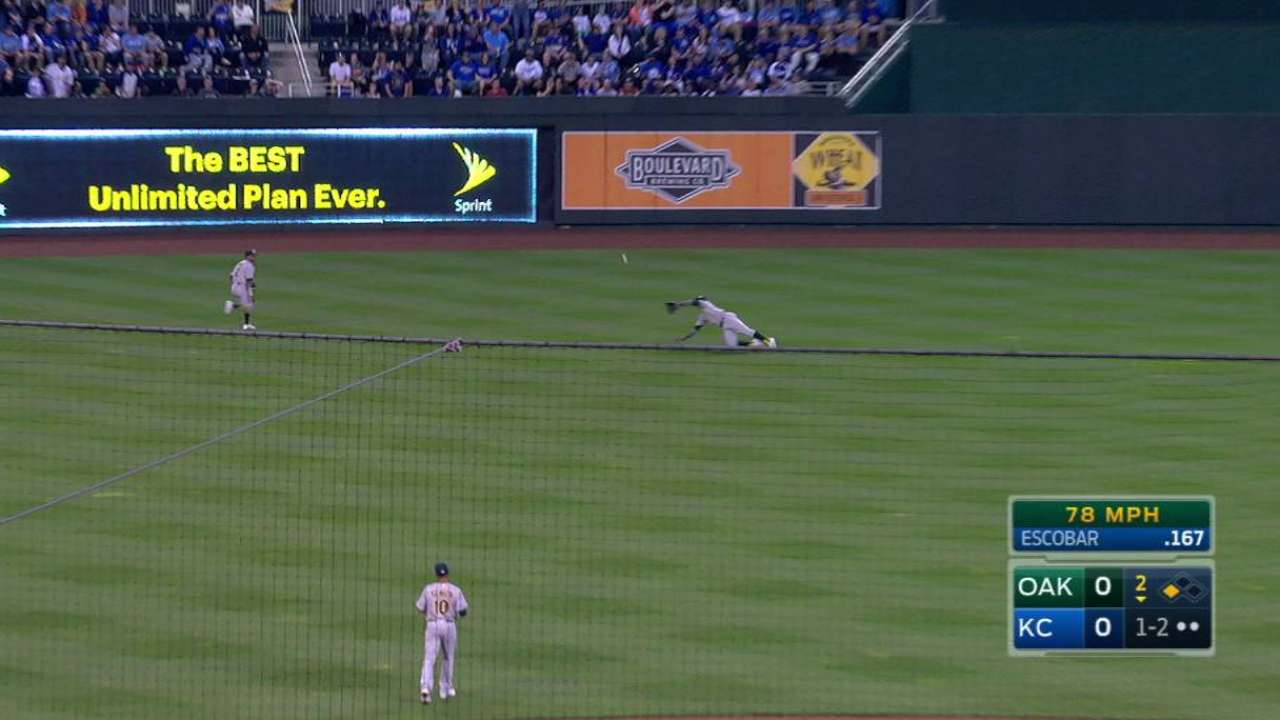 KANSAS CITY -- Rajai Davis did a little of everything in the A's commanding 8-3 victory over the Royals on Wednesday night.
Every A's starter got on base, and all but one recorded a hit. Davis collected two knocks from the No. 9 spot, but it was his play on defense that helped Oakland hold the Royals scoreless through seven innings.
The veteran center fielder made a run-saving grab to end the second, one of three frames in which starter Andrew Triggs put the leadoff man on base but exited unscathed.
Triggs allowed a double to Salvador Perez to open the second, but he induced back-to-back groundouts from Brandon Moss and Cheslor Cuthbert. Triggs then watched Raul Mondesi send a curveball to the left-center field gap, where Davis appeared just in time for the diving snag.
"Shoot, if that ball falls, with two outs, a man on second, it could be a different game," Triggs said, "because you get that early run and who knows what happens."
Per Statcast™, Davis covered 64 feet in four seconds to make the play, which is a 41-percent catch probability.
"At the time, that's huge for us, to come up with that one, and then coming up with some big hits and driving in some runs," A's manager Bob Melvin said. "Whenever [Davis is] on base, they're very conscious of him, and that lends to some hitters getting some better pitches to hit."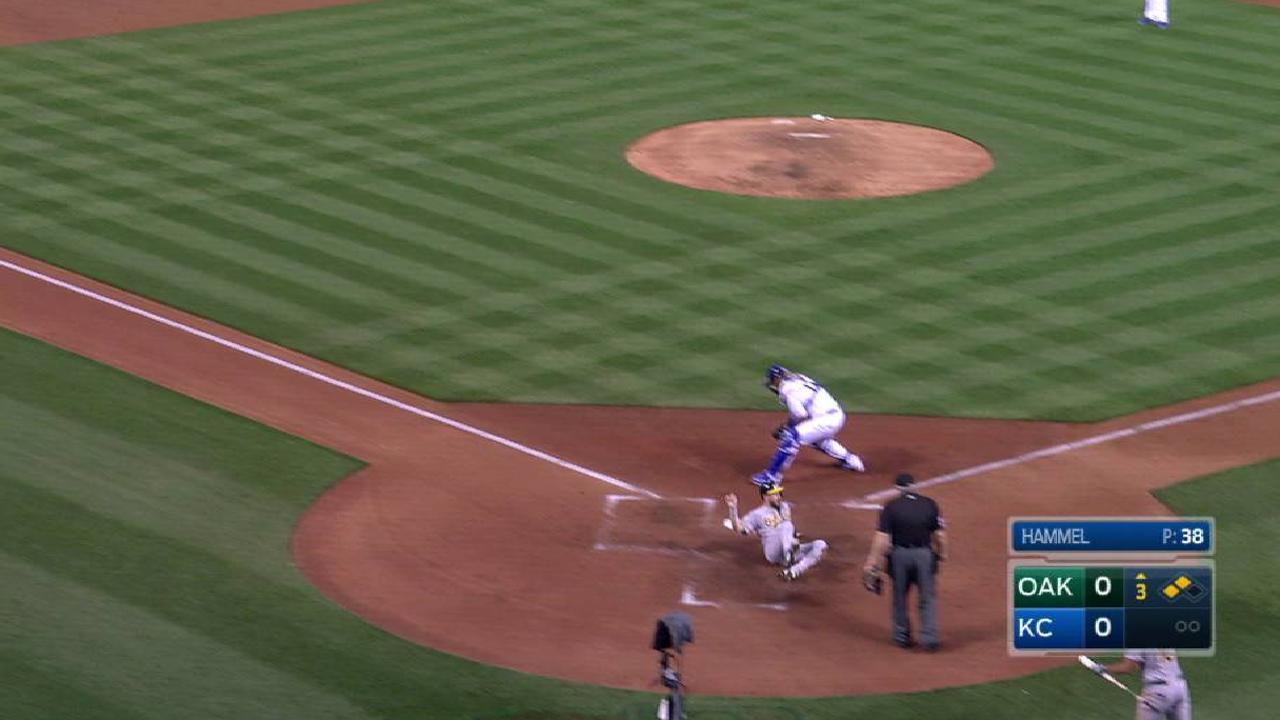 At the plate, Davis drove in the game's first run with an RBI double in the third. He later singled home a run in the sixth -- part of a four-run rally by the A's -- to improve to 5-for-17 on this road trip, after finishing 2-for-17 on the club's season-opening homestand.
The A's decision to sign Davis this offseason was two-fold: They needed a center fielder and a leadoff bat. But Davis has been in the No. 9 hole just as many times as the leadoff spot, as the A's continue to sort out their best lineup.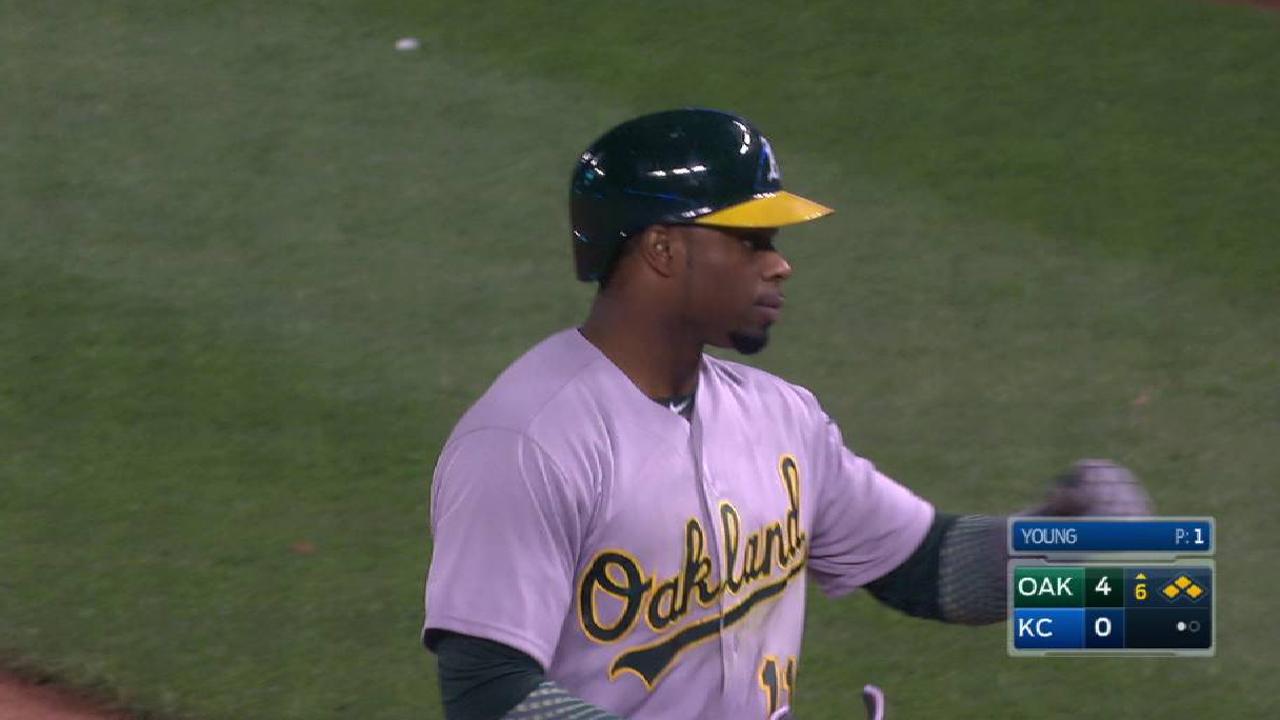 On Wednesday, the A's had four players record multiple hits. Leadoff hitter Marcus Semien, the lone starter without a hit, walked twice and scored both times.
The A's committed an error -- charged to Triggs -- for a sixth consecutive game, but they made up for it with several phenomenal plays. Along with Davis' catch, Matt Joyce made an impressive grab in the ninth to rob Cuthbert of extra bases.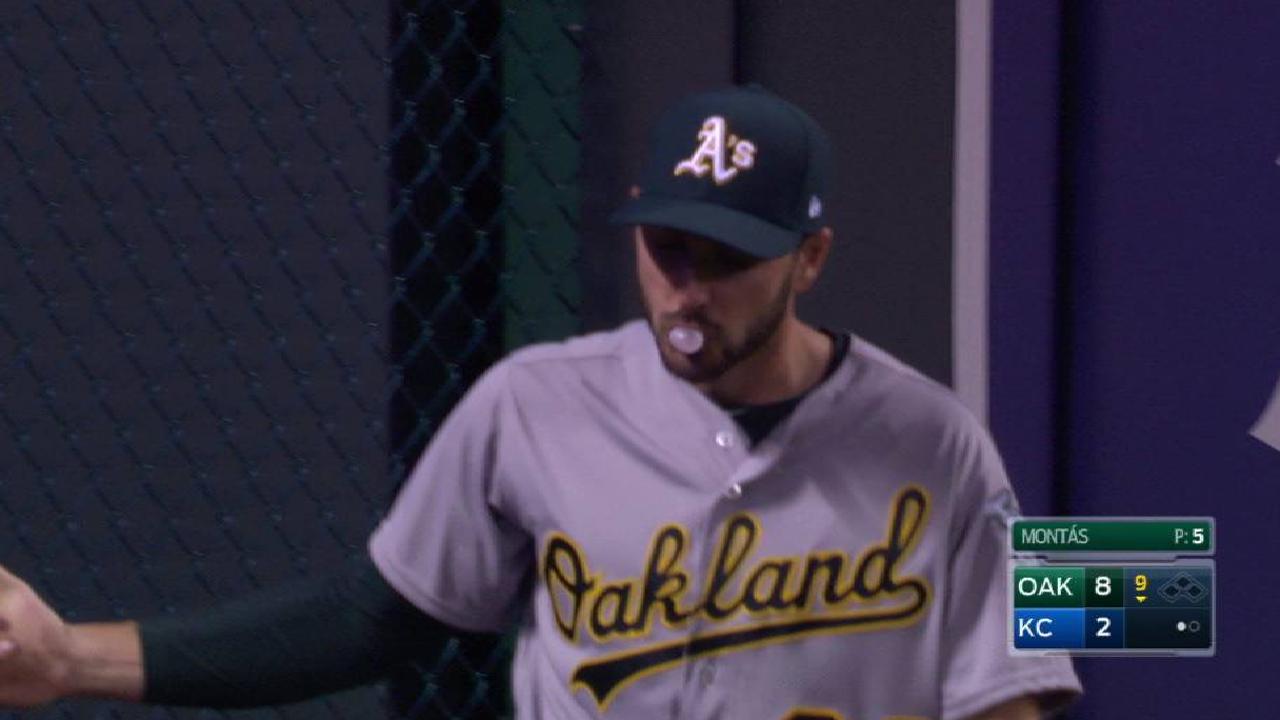 "Our outfield defense has been phenomenal," Semien said. "Those save runs, and that's what's going to make the difference in close games. I think our defense has been great."
Jane Lee has covered the A's for MLB.com since 2010. This story was not subject to the approval of Major League Baseball or its clubs.