Pirates eager to put difficult series in the past
Bucs will play seven games over next week vs. Red Sox, Cubs, Cardinals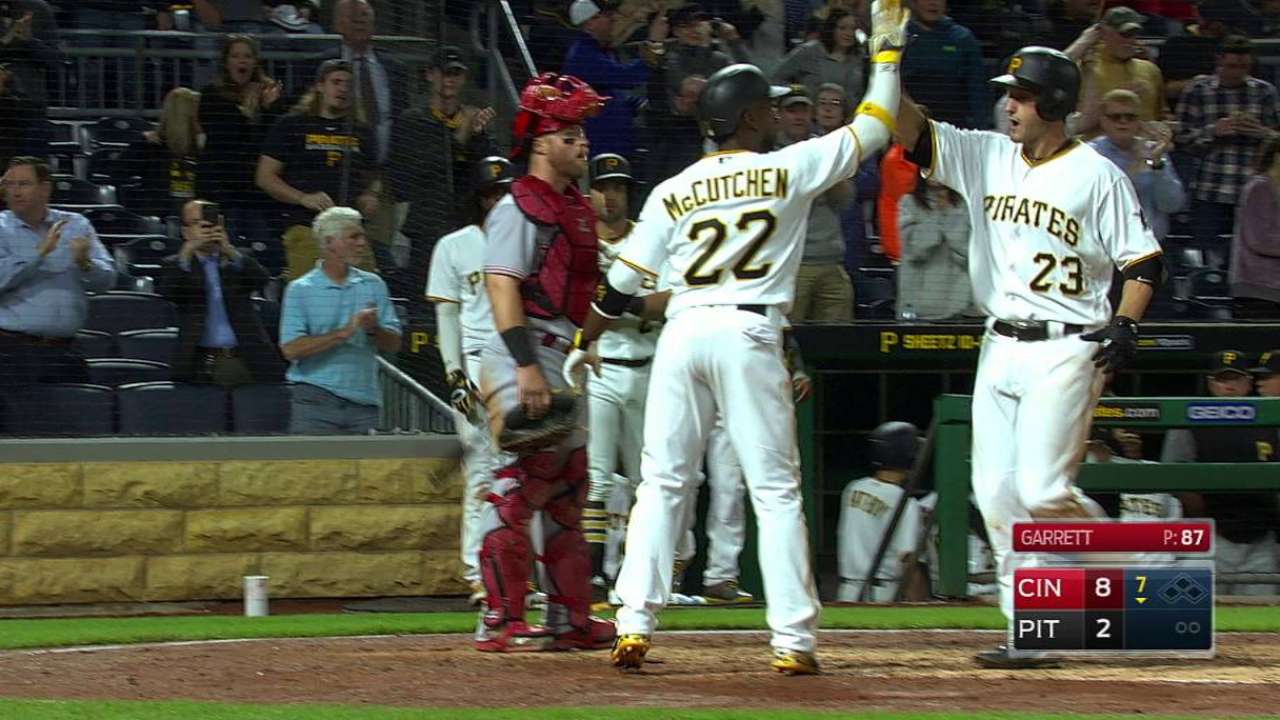 PITTSBURGH -- It's early, but it's not getting easier anytime soon for the Pirates.
Fresh off sweeping the Braves, the Bucs dropped three straight games and were swept by the Reds in their first homestand of the season. They lost the series finale, 9-2, on Wednesday night, and it was representative of their series-long struggles at PNC Park.
Right-hander Ivan Nova was done in by one bad inning. The bullpen couldn't keep the game close. They bats could not muster much offense, and it seemed as if they had an even harder time scoring once they put runners in scoring position.
The Pirates were outplayed by the Reds and outscored in the series, 22-5. They now must move on quickly. Their seven-day road trip through Boston, Chicago and St. Louis begins Thursday afternoon at Fenway Park. As they dressed in the clubhouse for a late-night flight to Boston, the Pirates were already prepared to turn the page.
"That's what you do. You play and put it behind you," Pirates third baseman David Freese said. "We don't remember the Braves series, and we're going to forget about this series. It's all about what's happening on that day."
The season is far too young to yield any definitive conclusions about any team. The Pirates have played eight games, less than 5 percent of their schedule. But the next week is a challenging slog through the Red Sox, Cubs and Cardinals, and there are deficiencies the Bucs must address to avoid falling into a more significant hole and slicing into their already-thin margin for error.
Most importantly, the Pirates need more offense. They managed three extra-base hits against Cincinnati, and they all came Wednesday: Freese's two-run homer and a pair of doubles by Andrew McCutchen and Jordy Mercer.
They also must deliver more timely hits. They finished the series 0-for-24 with runners in scoring position.
"That's just something we have to get better at, team-wide, real quick. That's important," Freese said. "If our pitchers can do their part like they have for the most part, we have to step it up offensively. Timely hitting wins ballgames."
Pirates manager Clint Hurdle said the club will continue to review their hitters' at-bats to make sure what they see and feel matches up with what is actually happening. To this point, Hurdle said, he hasn't noticed anyone pressing at the plate.
"Sometimes the game's hard to play. For us, 72 hours ago, we were having completely different conversations," Hurdle said. "Now, three days later, the train has changed. … What we need to do is continue to pay attention to us, our checkpoints on offense and make sure that we're staying within our skill sets. It's no more than that."
As the Pirates boarded a bus for the airport Wednesday night, they had little time to contemplate the sweep. Their lone game at Fenway Park loomed 15 hours away. After a series like this, perhaps a quick turnaround isn't such a bad thing.
"We've got to forget about those last three days and be ready to go tomorrow," Nova said. "Forget about what happened today and move forward tomorrow. … We are professionals. We're going to find a way. Tomorrow's a good day."
Adam Berry has covered the Pirates for MLB.com since 2015. Follow him on Twitter and Facebook, read his blog and listen to his podcast. This story was not subject to the approval of Major League Baseball or its clubs.