Cervelli enjoys mentoring young staff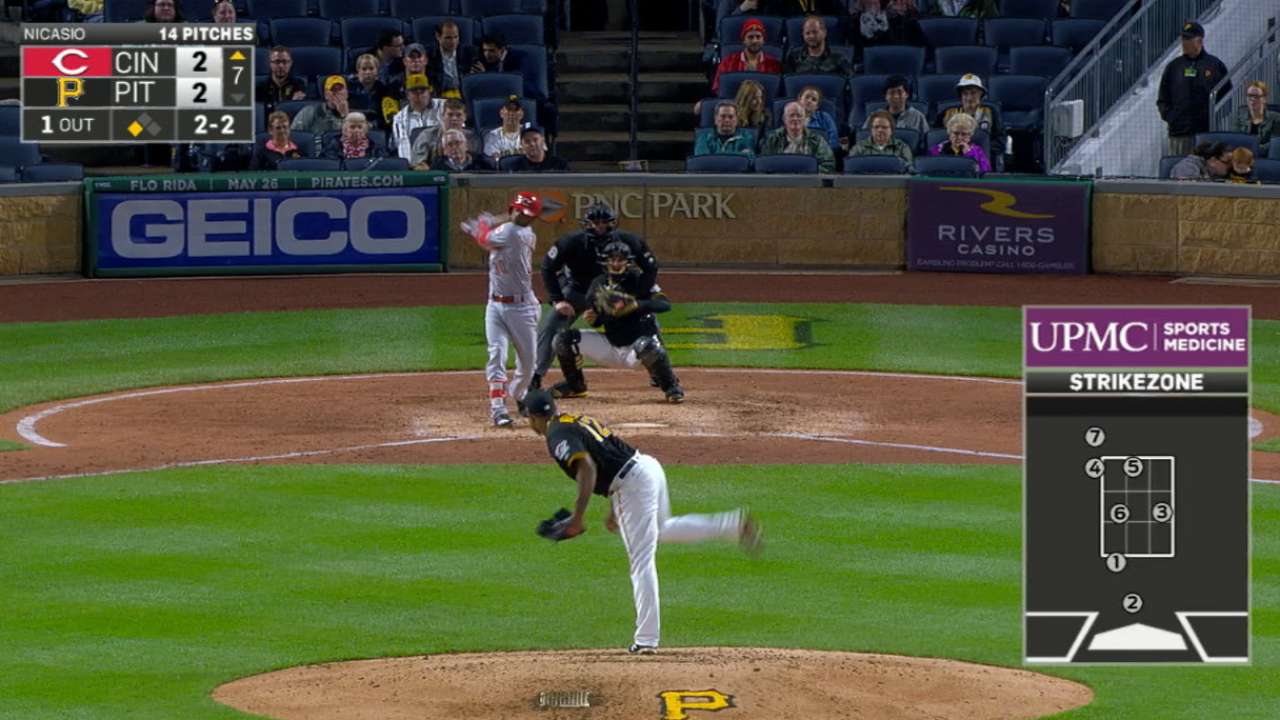 PITTSBURGH -- Francisco Cervelli leans on a simple adage behind the plate. "Before you run," Cervelli says, "you have to walk."
But let's start with the running, which is what Cervelli did with veteran reliever Juan Nicasio in the seventh inning of the Pirates' 6-2 loss to the Reds on Tuesday.
With one out and a runner on third in a tie game, the Pirates needed a strikeout. Arismendy Alcantara fell into a 2-2 count and then fouled off two pitches, a high fastball and a low slider. Cervelli then called for a fastball up and in, and Alcantara swatted it foul.
Before setting up for the next pitch, Cervelli held his hands together, advising Nicasio to hold the ball in his glove. He nodded several times, still holding, then moved his glove and signaled with his other hand for Nicasio to start his delivery.
The timing trick worked. Alcantara awkwardly attempted to call for a timeout, but it was too late. Nicasio perfectly executed the same pitch -- 94.7-mph fastball, up and in -- and Alcantara swung through it. Cervelli stood up and pumped his fist.
"I want a strikeout, and I have to do anything possible," Cervelli said. "It probably comes with experience. I get to know the hitters. Some hitters need better timing than others. In that situation, I think as a hitter. If I've got a pitcher who's doing a lot of stuff, it's tough."
They did it again against Billy Hamilton, and it nearly worked. Cervelli took command to disrupt Hamilton's timing, waving his right hand to call for pitches. Hamilton swung at a 1-2 breaking ball below the strike zone, but it wasn't low enough. Cervelli wanted the pitch to bounce, and it was just high enough for Hamilton to golf it into center for a go-ahead single.
Cervelli knew he could mix it up with the 30-year-old Nicasio. He typically keeps it simpler with younger pitchers, and the Pirates have plenty. Only one starter, Ivan Nova, has seen his 27th birthday. Nova and Gerrit Cole are the only starters with significant Major League experience.
"The most important thing is the guy on the mound," Cervelli said. "We can go little by little. That's the way you learn in baseball. You need to walk first, then run."
Jameson Taillon is young, but he's polished and a quick learner -- and he has complete trust in Cervelli. At the end of their pregame meetings, after discussing strategy and plans of attack, Taillon tells Cervelli, "I'm with you."
In Taillon's first start of the season, Cervelli incorporated disruptive timing patterns against certain Red Sox hitters with rhythmic mechanics. Cervelli is also unafraid to call for more unconventional pitch sequences with the second-year right-hander.
"A guy like Nova might be able to process more than younger guys, when all we're focused on is pitch execution," Taillon said. "I've definitely noticed he's started to throw some different things at me."
Cervelli looks out for the Pirates' younger pitchers in other ways, too. After Tyler Glasnow struggled badly in his season debut, reporters approached Cervelli to ask for his perspective. Cervelli put the blame entirely on his own shoulders, saying, "I have to do my job and guide him."
"I think it's an interesting year for him. It's an interesting role," Taillon said. "I think it's new to him, being the veteran guy with younger pitchers, but he's doing a great job with it."
Adam Berry has covered the Pirates for MLB.com since 2015. Follow him on Twitter and Facebook, read his blog and listen to his podcast. This story was not subject to the approval of Major League Baseball or its clubs.